Welcome to the ultimate Walt Disney World Resort Showdown! We will be delving into some of our favorite Disney resorts and checking out their theming, food, rooms, and recreation. 
We'll be pitting resorts against one another and hopefully helping you decide which resort is the best fit for you and your family along the way!
Now, these two resorts were not always connected by name, even though they were connected by theme to an extent. Port Orleans — French Quarter opened as just Port Orleans back in May of 1991. Port Orleans — Riverside opened fairly soon after (in February 1992) but with the name Dixie Landings. These resorts were built around southern charm and a nod to the state of Louisiana.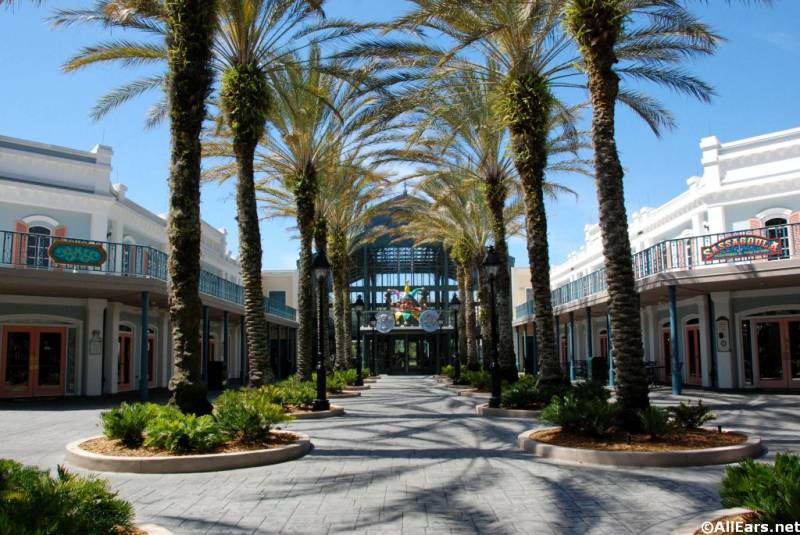 Port Orleans was built to showcase the architecture and nightlife of the New Orleans French Quarter while Dixie Landings was inspired by rural Louisiana. In 2001 Disney decided to eliminate the negative connotations associated with the Old South and changed Dixie Landing's name to Port Orleans — Riverside. This merged the two resorts, and Port Orleans became known as Port Orleans — French Quarter.
So what makes these two resorts distinct? And more importantly: which Port Orleans Resort will win this head-to-head battle? Let the showdown begin!
Theming
Port Orleans — Riverside
Port Orleans — Riverside is a visually stunning resort inspired by the deep south with a whimsical backstory for guests. As the story goes, it was founded by two brothers looking to escape the hustle and bustle of the "city" (aka Port Orleans — French Quarter). Both brothers decided to come up the Sassagoula River and stake out their property with Everette, the reclusive brother, settling on a small Island in Alligator Bayou.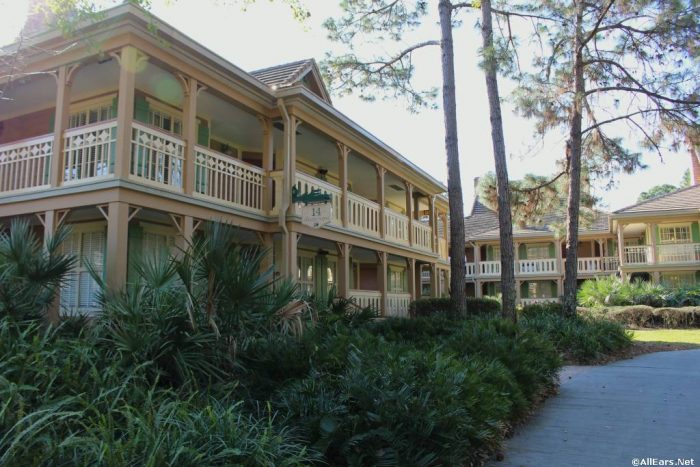 As time passed, word spread of an eccentric old man living on the island. To visitors' surprise, they found a kind old gentleman who used his woodworking skills to build playsets for the children who would come to pay him a visit. It soon earned the name "Ol' Man Island" and serves as the resort's main recreation and pool area.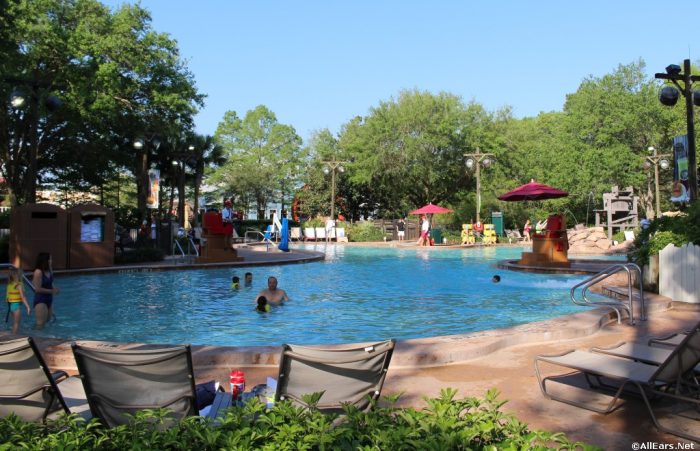 The more outgoing brother, Jonathan, moved up river with his longtime sweetheart, Millie, and found himself captivated with an area along the river that contained lush grasslands and spectacular stands of stately trees. Jonathan built his sweetheart a mansion along the river as well as a mill and named the location Magnolia Bend.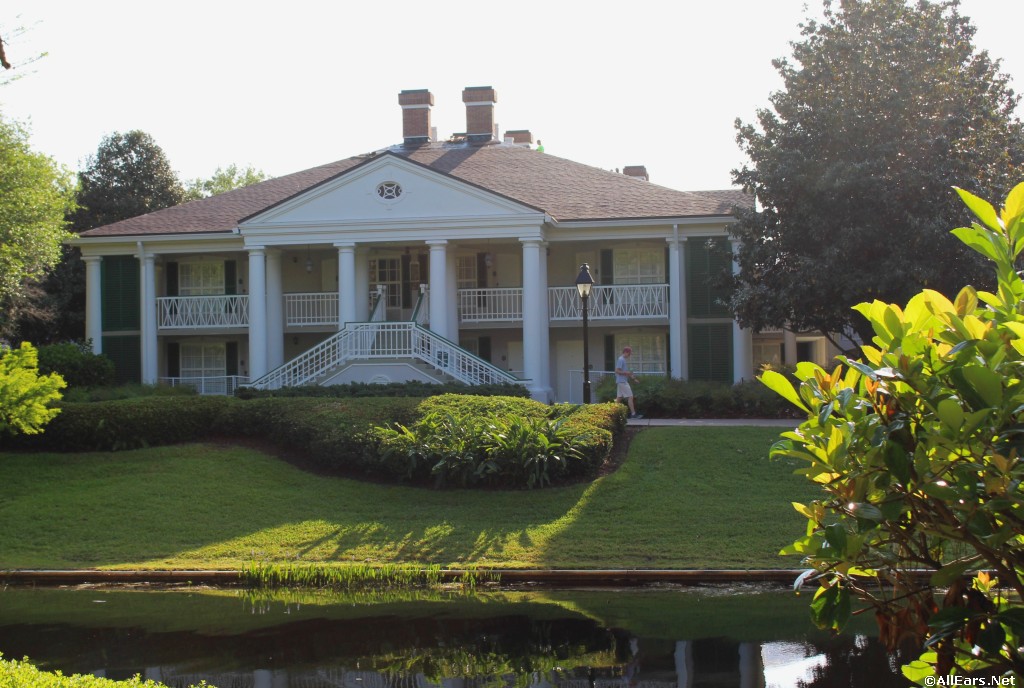 Others soon followed in his footsteps, and multiple mansions sprung up along the Sassagoula River. The story behind this resort as well as the overall atmosphere makes this a favorite among Disney guests. Whether you prefer the stately homes of Magnolia Bend or the country cottages in Alligator Bayou, there is no denying the extensive thought that went into the creation of this resort. 
Port Orleans — French Quarter
Inspired by the easy-going atmosphere of the New Orleans French Quarter or "The Quarter", Port Orleans — French Quarter is also popular among Disney resort guests. With jazz playing in the background, this resort will place you right in the heart of New Orleans during the peak of Mardi Gras with its stunning architecture, energetic nightlife, and iconic food.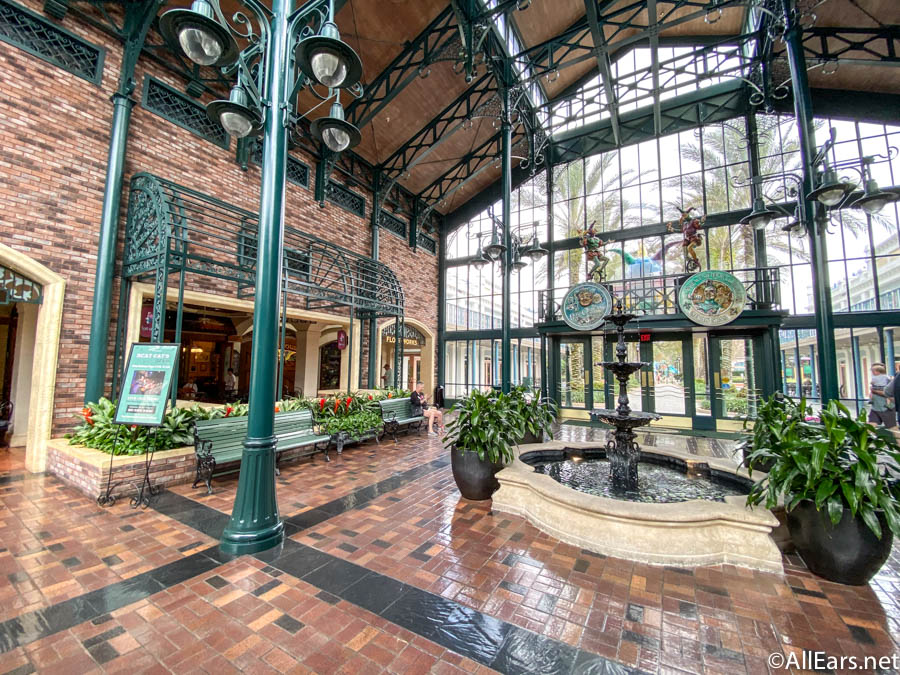 After the Louisiana Purchase in 1803, only a handful of buildings in The Quarter maintained their colonial French and neoclassical Spanish architectural design. A series of fires in the 18th century due to the buildings primarily being made of wood brought strict building codes to prevent such disasters from recurring. Buildings were constructed with strong brick and thick fireproof walls between adjoining buildings to resist hurricanes and avoid further city-wide disasters. As construction was underway, elements of the original colonial French buildings inspired the design of the new structures which created the iconic look that many associate with the New Orleans' French Quarter.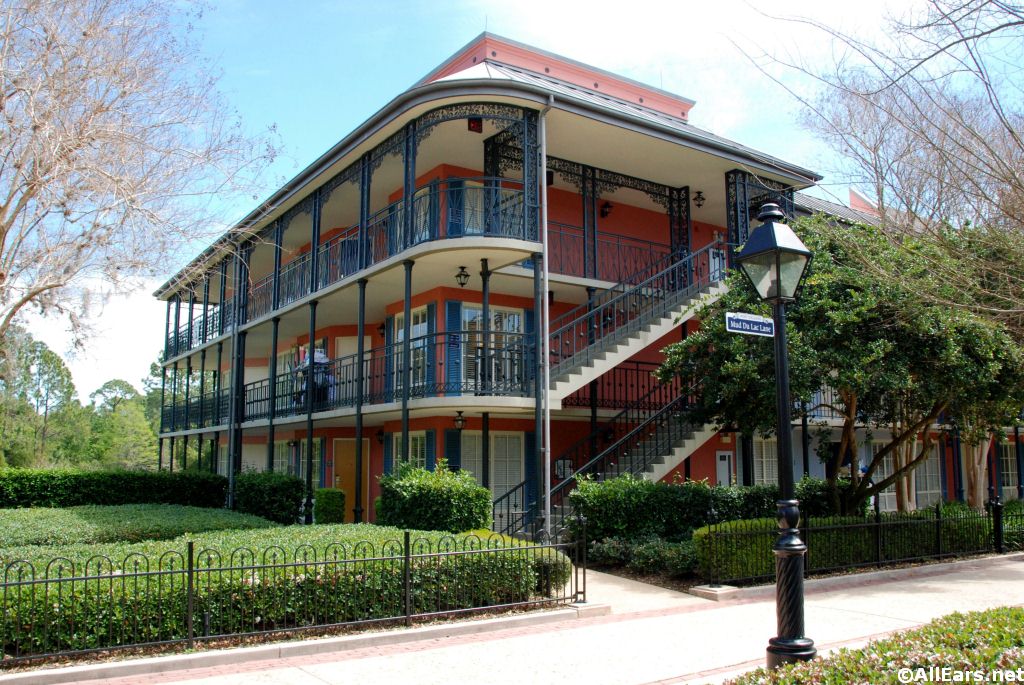 This look was recreated for Port Orleans — French Quarter which allows guests to feel that they are staying in the heart of the Crescent City.
Winner:
While many guests prefer the architectural style of Port Orleans — French Quarter, it's hard to deny the clear effort of storytelling at Port Orleans — Riverside. The story created to explain the mansions along the river and cottages hidden away in the bayou gives us the classic Disney theme that sets Disney apart from its competition. Port Orleans — Riverside is our winner!
Food
Port Orleans – Riverside
While the theming of Port Orleans — Riverside reminds us of Disney's attention to detail and focus on a good story, the food at Riverside has come with mixed reviews through the years. Riverside Mill Food Court is your standard dining location for a quick bite with classic Mickey Waffles in the morning as well as late-night eats after a long day of park fun.
Where this resort could really shine is in their sit-down dining location, Boatwrights. Boatwrights features Cajun flavors of the Louisiana Bayou which offers guests an authentic southern dining experience. AllEars readers have rated Boatwrights 8.34/10 with 93% of readers recommending the Table Service spot. But there are still those who believe Boatwrights needs to step up its game due to its proximity to Disney Springs, where dining is king. If you love traditional cajun-creole dishes, you might be a fan!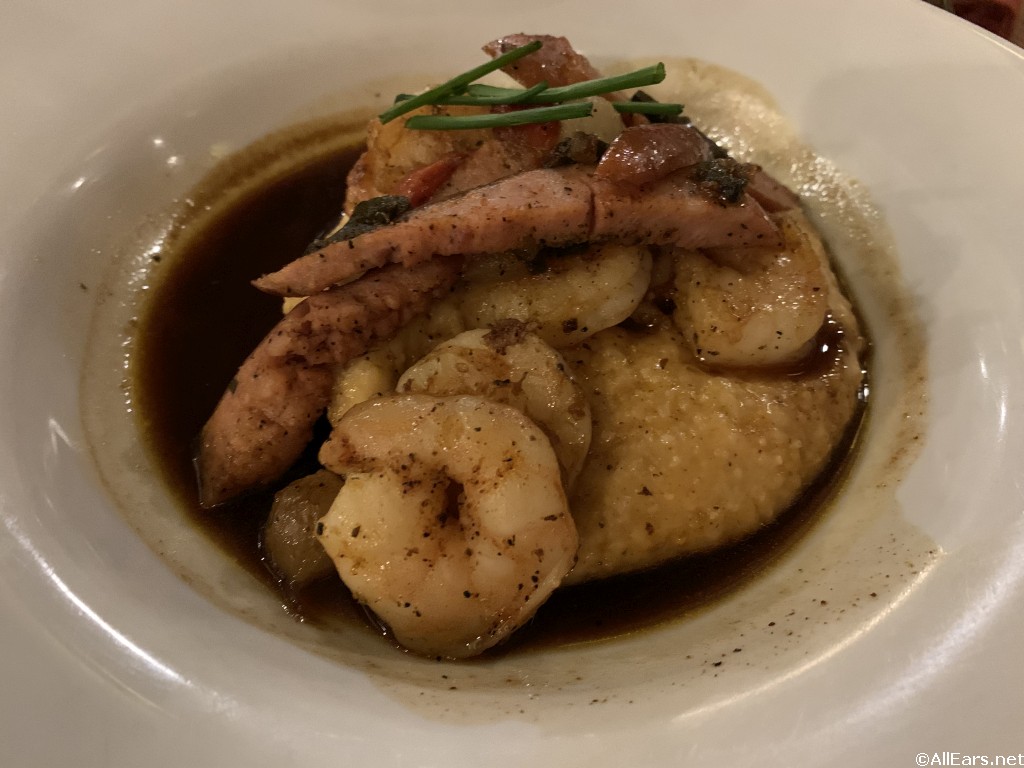 Unfortunately, Riverside will always be compared to the food served at French Quarter which may be the cause for its unpopularity. 
Port Orleans — French Quarter
While Port Orleans — French Quarter does not have a Table Service dining location, its Quick Service food still tends to outshine its sister resort for the majority of guests. Sassagoula Floatworks and Food Factory is this resort's Quick Service location where you'll find classic Louisianian eats (get the jambalaya!) while Scat Cats Club allows guests to take a breather, listen to some jazz, and sip on southern-inspired cocktails.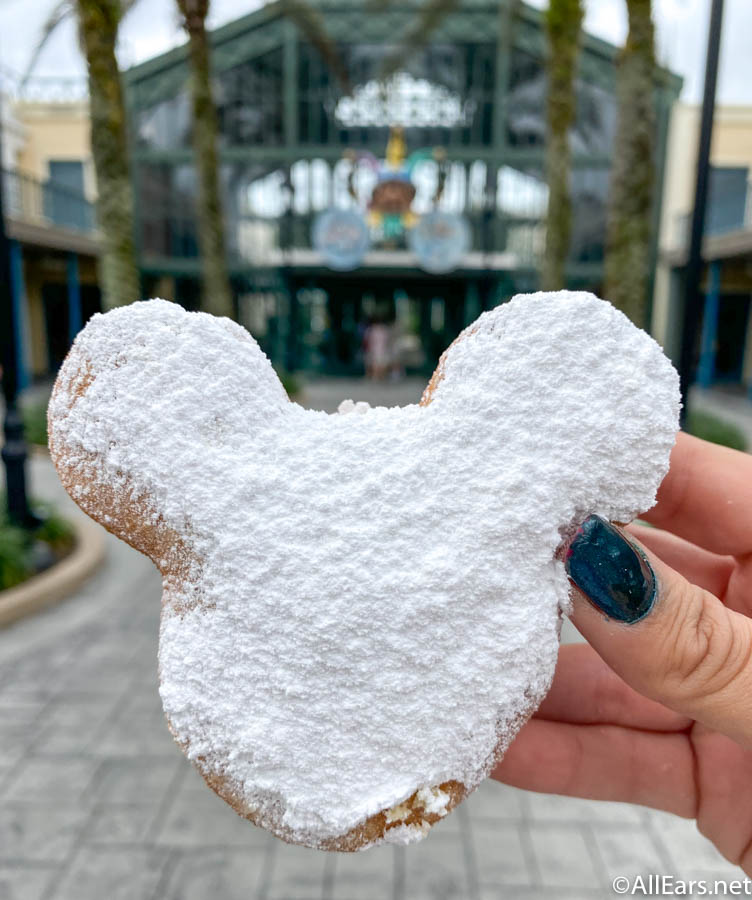 The most notable item found at Port Orleans — French Quarter are the Mickey-shaped beignets. Much like the actual French Quarter, guests will travel to this location just to snack on beignets while enjoying the serene, laid-back atmosphere of Port Orleans. Even if you aren't staying at this resort, you may want to consider spending a relaxed evening listening to classic New Orleans Jazz and trying these tasty treats.
Winner:
This one has to go to Port Orleans — French Quarter!
Pool
Port Orleans — Riverside
Riverside's pool area, Ol' Man Island, contains a fun backstory, but that isn't the only reason why it's loved by guests! At 3.5 acres, this island makes for a great location for young children to explore and let their imaginations run wild.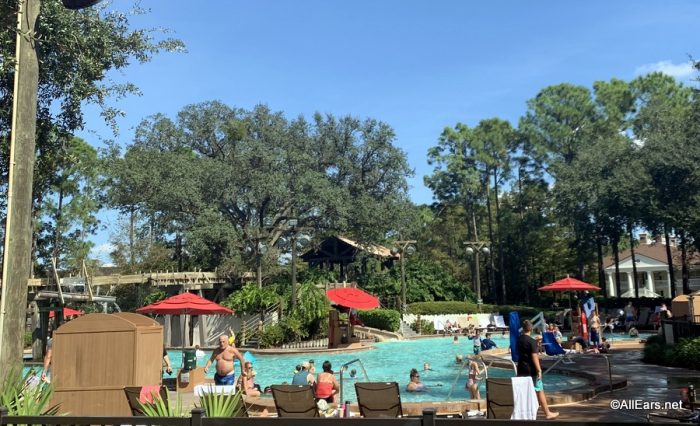 Refurbished in 2016, this old-fashioned "Swimmin Hole" contains a 95-foot-long rustic waterslide, waterfalls to duck under, and multiple wooden play structures built by Ol' Man Everette.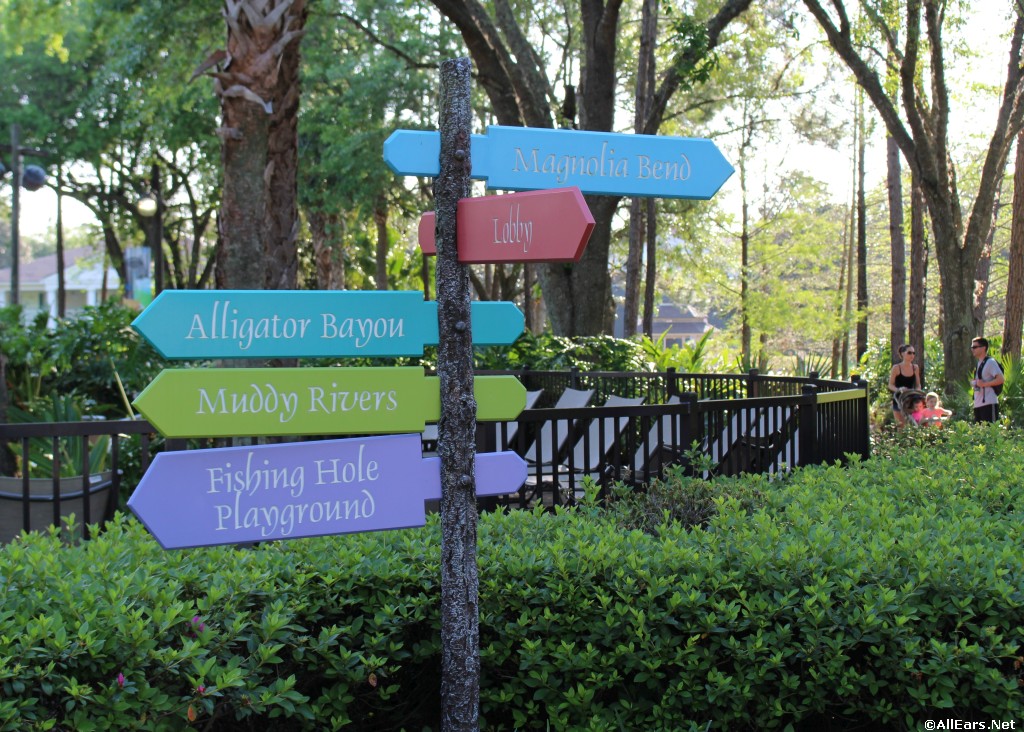 Walk along the many pathways and discover hammocks to lounge in as well as campfires for roasting marshmallows. Muddy Rivers Pool Bar offers beautiful outdoor seating as well as famous cocktails found in New Orleans like the classic Hurricane from Pat O'Briens. 
Port Orleans — French Quarter
Although Port Orleans — French Quarter has a much smaller pool area, it's hard to ignore the stunning structure that looms over guests as they enjoy their day in the sun. Doubloon Lagoon features Scales, a friendly Sea Serpent that allows guests to slide down his body and through his mouth into the shiny blue water below.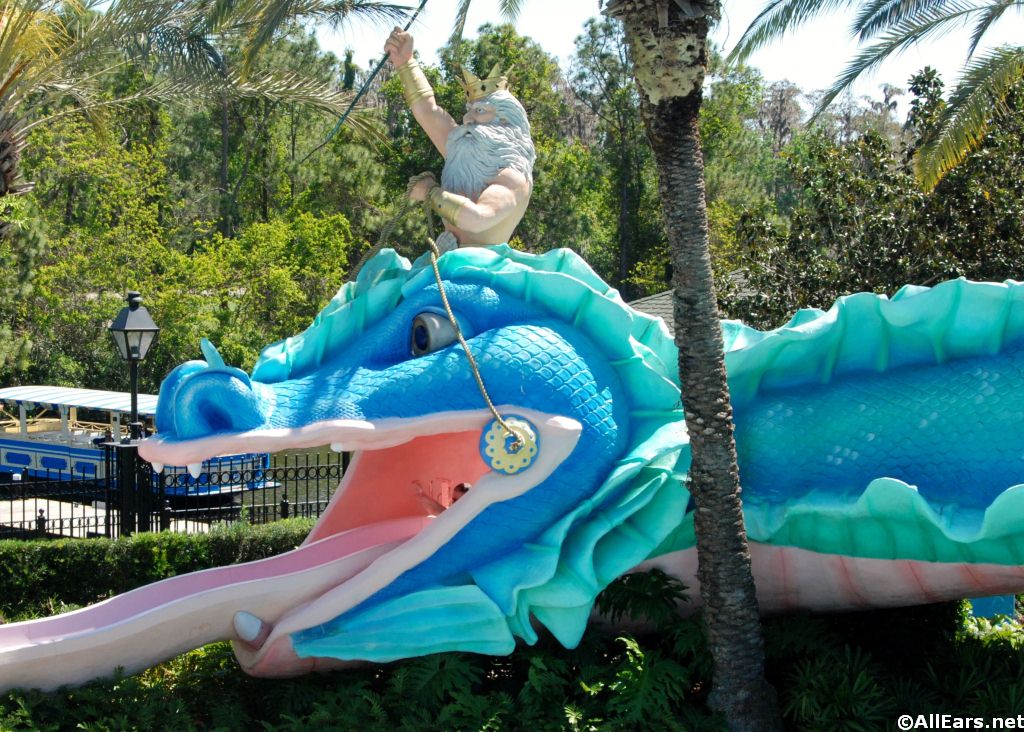 This structure is jaw-dropping at first glance and gives Ol' Man Island a run for its money. Doubloon Lagoon also features multiple other Mardi Gras characters including the likeness of King Neptune who sits atop Scales' head. This location is seen as a very intimate setting due to its size, but it still includes Mardi Grogs Pool Bar which serves food as well as multiple specialty drinks similar to that of Muddy Rivers Pool Bar at the sister resort.
Winner:
Guests at either Port Orleans Resort can swim in any of the pools at either Resort, so the real winner is you! As for this competition, though, we have to go with Ol' Man Island due to its sheer size and adventurous atmosphere.
Recreation
Port Orleans — Riverside
When it comes to recreation for these two resorts, there isn't much that separates one resort from the other. Both resorts are connected to a jogging trail used by runners and guests looking to take a leisurely walk.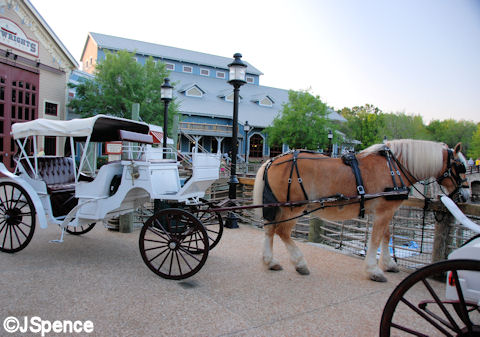 You'll find horse-drawn carriage rides outside of Riverside, but guests staying at French Quarter are welcome to take the stroll over to Riverside to participate in this recreational activity. Guests staying at Riverside also have the option of fishing, which can be enjoyed by guests from French Quarter as well.
Port Orleans — French Quarter
Painting on De Bayou is offered at Port Orleans — French Quarter Wednesday evenings in the Scat Cat's Club. At $35 per person, you have the opportunity to create a masterpiece right in the heart of the Big Easy. This activity is also open to guests staying at Riverside and is not exclusive to guests at French Quarter.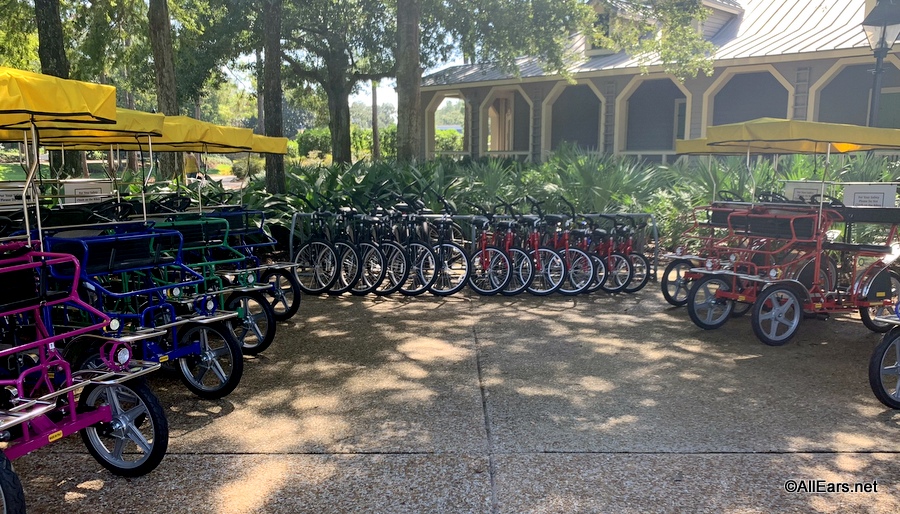 A Movie Under the Stars is offered at both resorts as well as surrey bike rentals, shopping, and an arcade.
Winner:
Many of these recreational activities are one and the same for both resorts. Those that differ can be easily accessed and enjoyed by guests staying at the either resort. Because of this, we are going to go ahead and make this one a tie! French Quarter and Riverside both win this race!
Rooms
Port Orleans — Riverside
As mentioned when discussing this resort's theming, Port Orleans — Riverside offers two types of rooms, Alligator Bayou and Magnolia Bend. You'll find Alligator Bayou rooms tucked away and surrounded in shrubbery meant to represent the backwoods cottages of the Bayou.
The interior of these rooms reflect standard Moderate Resort rooms. Magnolia Bend offers a more grandiose appearance along the Sassagoula River and an interior boasting oakwood furnishing with elegant accents. It is here you will also find special Royal Rooms that contain stunning artwork and furnishings fit for a bunch of princesses.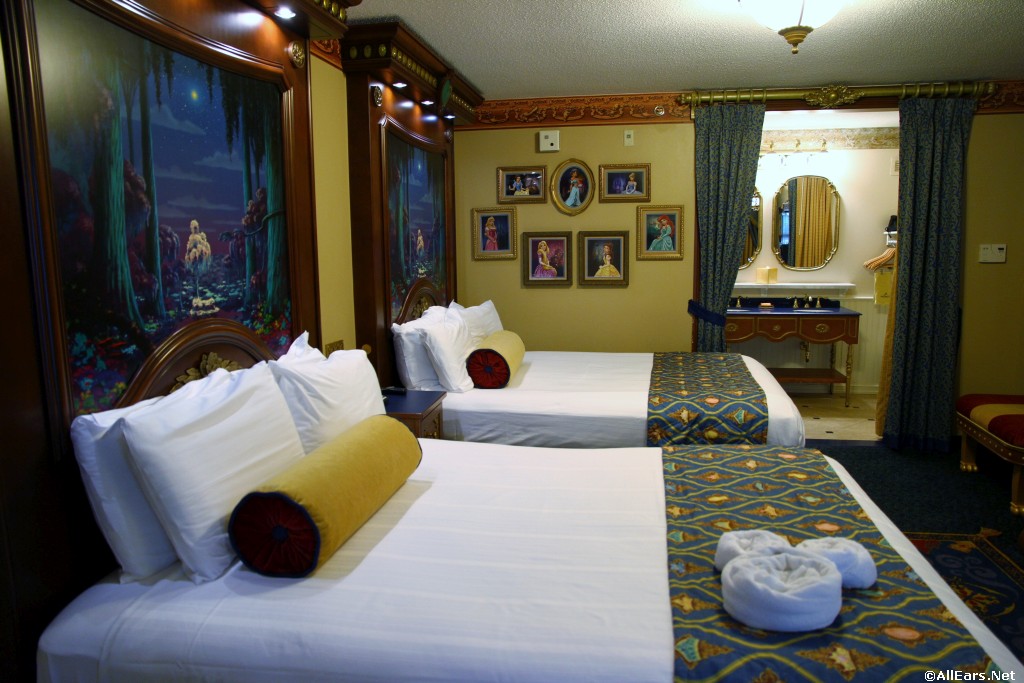 Port Orleans — French Quarter 
You will find four types of rooms at Port Orleans — French Quarter: Garden, River, Pool, and Standard view rooms.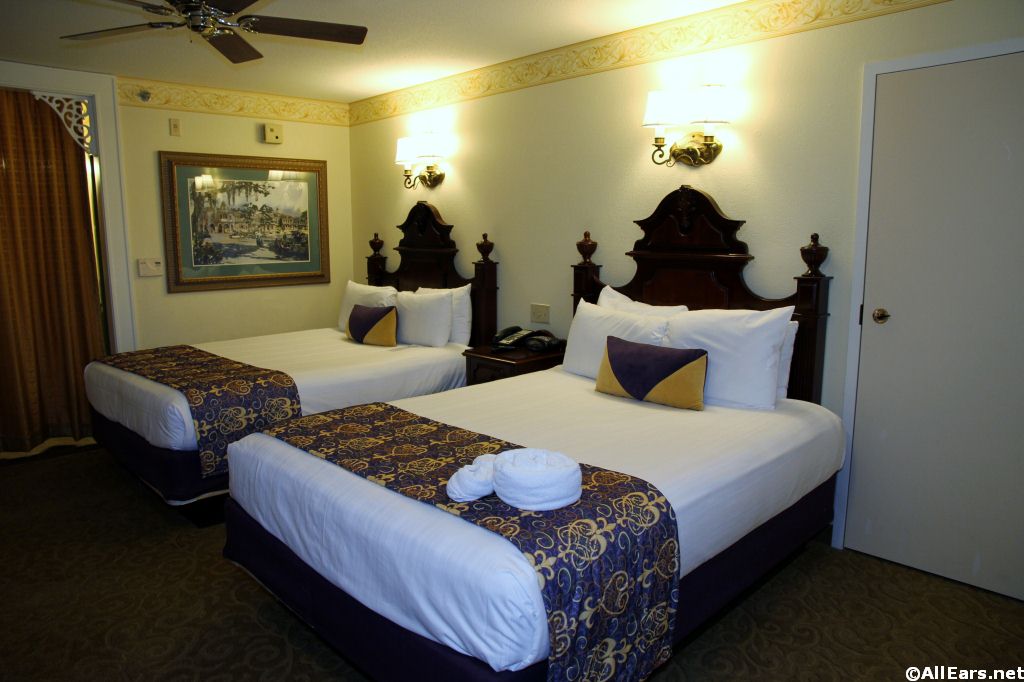 While each room offers different views, the interior of these rooms remain the same with dark wood furnishings. If you are looking for a bit of variety, try getting a room on the corner of one of the buildings. These rooms will provide two windows! While their exterior offers brilliant architecture, the interior is a bit underwhelming in comparison to that of Riverside.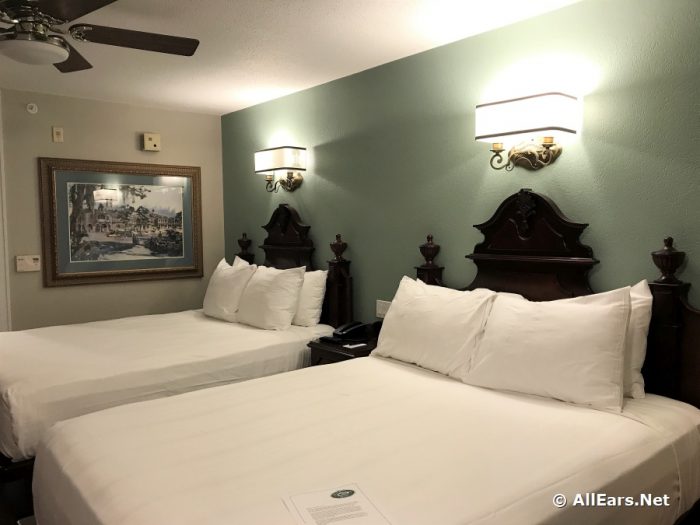 Winner:
Port Orleans — Riverside offers a better variety for the style of room you are looking for as well as the charming Royal Rooms. 
And the winner is…
Port Orleans — Riverside: 4
Port Orleans — French Quarter: 2
And there we have it, folks! It looks like Port Orleans — Riverside wins this battle. But we know plenty of French Quarter fans who would argue there's something intangible — a vibe, if you will — that draws them back over and over. So what we're saying is, you can't go wrong either way! 
Which Port Orleans resort is your favorite and why? Let us know in the comments!
Join the AllEars.net Newsletter to stay on top of ALL the breaking Disney News! You'll also get access to AllEars tips, reviews, trivia, and MORE! Click here to Subscribe!