When you gotta go, you gotta go!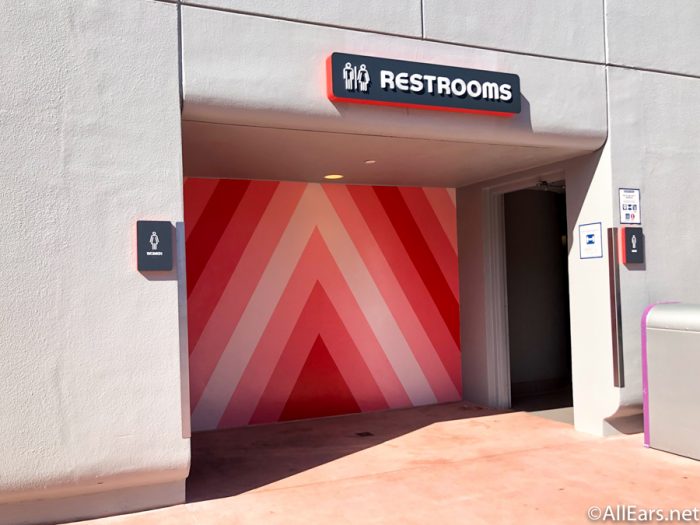 But, in Disney World, not all bathrooms are created equal. Some bathrooms are spacious, but really not heavily themed. But, others have some INCREDIBLE theming that'll make you want to spend more time in the restroom than you originally intended (and may even have you taking photos inside the bathroom that are not mirror selfies)! Forget the theming all around you in the parks, these bathrooms are where it's at.
 Ready to go on a tour of Disney's best themed bathrooms? Here's our ranked list for you!
9. Disney's Art of Animation Resort — Resort Hotel Rooms
At the bottom of our list (but by no means the worst) are the bathrooms within Disney's Art of Animation Resort's hotel rooms. From the Cars themed bathrooms with that awesome "Carwash" mirror…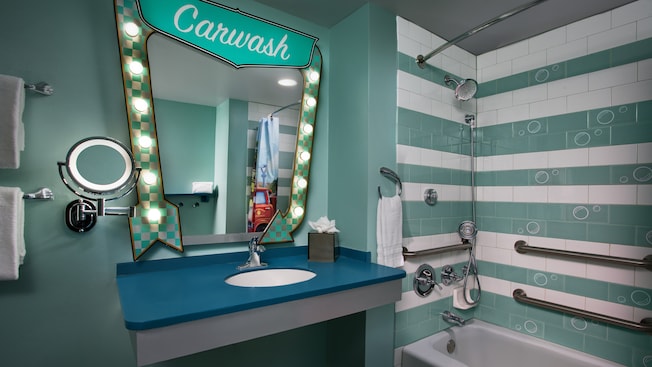 …to the Little Mermaid ones with that awesome mirror and beautiful tiles meant to look like Ariel's grotto. There's so much to love here!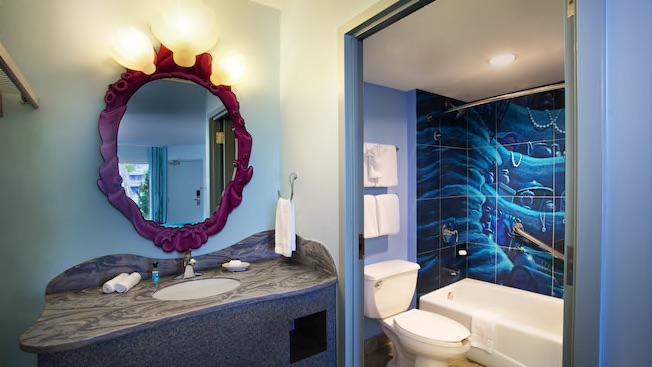 Are these the most over-the-top bathrooms in Disney World? No. But they are super cute and (we feel) totally deserved a mention on this list.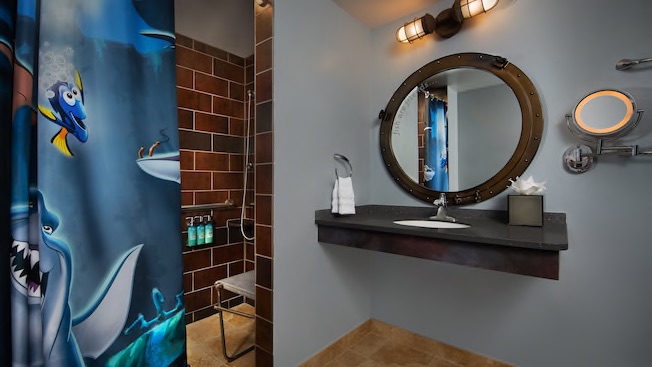 The bathrooms may look slightly different depending on exactly what type of bathroom you get, but you can actually go to the Disney website for Art of Animation and scroll through photos of all the different types of rooms.
Overall, we love the colors used, how the tiles and shower curtains add to the theme, and especially how the mirrors are also well themed.
8. Pandora — The World of Avatar Restrooms
The bathrooms in Pandora — The World of Avatar in Disney's Animal Kingdom are so well themed (particularly on the outside) that they made our list of 6 insane bathrooms Disney should set tickets for last year, and we still feel like they're some of the best!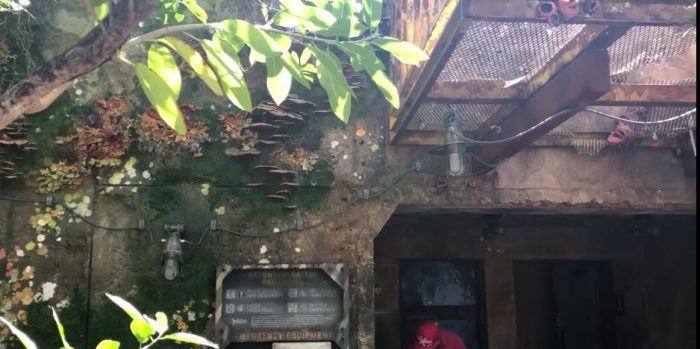 The outside of the restrooms fit with the land's overall theme. They've got that sort of industrial look but it's clear that nature has taken over.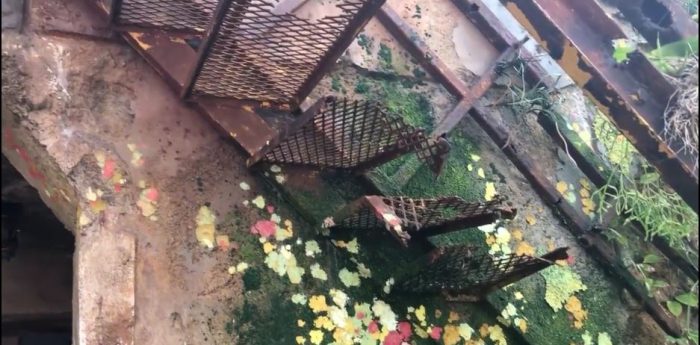 The inside of the bathroom unfortunately doesn't really carry through more of that theming, but they are quite nice.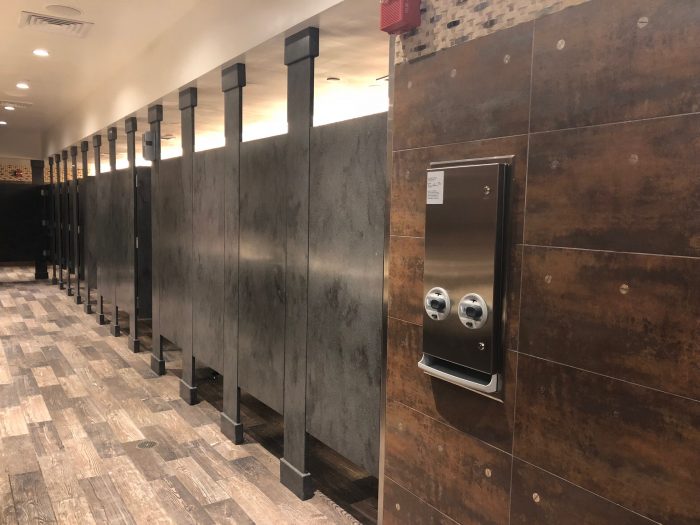 Still, for us, it's the outside of these bathrooms that really make them an easy choice for our themed bathrooms list.
7. Hollywood Brown Derby Restaurant Restrooms
Eating a delicious meal at the Hollywood Brown Derby in Disney's Hollywood Studios is great enough, but stop by their restrooms and the fantastic atmosphere of the restaurant continues. You'll find black and white checkered tiles, keeping with a 1930s type of feel, and (of course) more of those signature caricatures on the walls.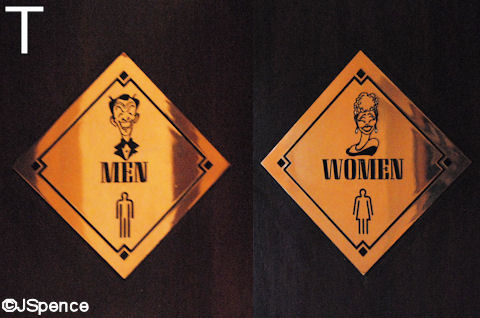 We love that the bathroom wasn't an oversight here. Whether you make a quick trip to the restroom at the beginning, middle, or end of your meal, you keep that distinctive, old Hollywood feel with you.
6. AbracadaBar Bathrooms
The theming is even stronger (and more fun) over at AbracadaBar on Disney's BoardWalk. AbracadaBar is a lounge that takes you back to the "golden age of magic." The bar itself is wonderfully themed, and its bathrooms are no exception!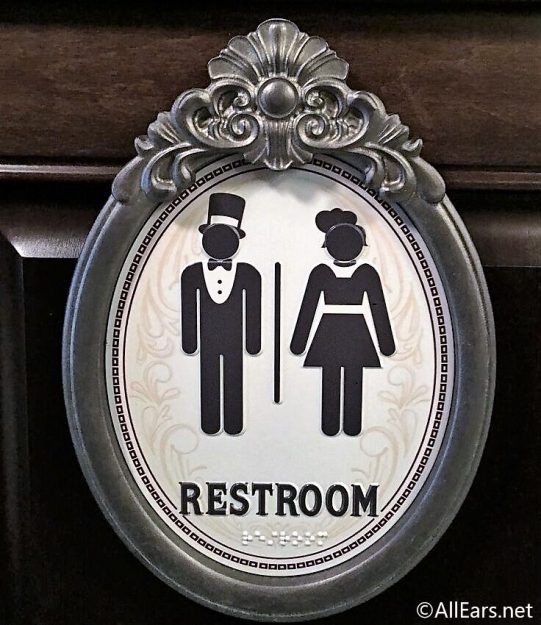 You'll feel like you're in a theater, rushing backstage for your costume change before the next number.
And with those beautifully lighted mirrors (meant to look like vanity mirrors that would be backstage at a theater), you'll feel like you're truly the star of your own show.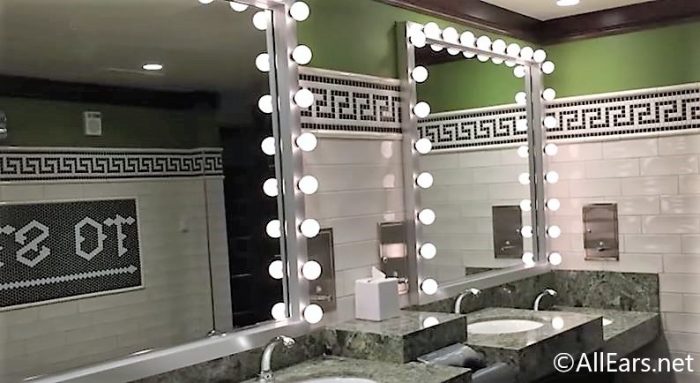 And, once your hands are clean and your nose is powdered, we're sure you'll be ready to give the performance of a lifetime!
5. Frozen Bathrooms
Okay, now we're really getting into some heavy hitters! If you need to "let it go," one of the best themed bathrooms in all of Disney World is the Frozen-themed ones in the Norway Pavilion at EPCOT. From the signs on the outside with women and men dressed in the Norwegian Cast Member costumes…
…to the beautiful details on the tiles, this bathroom has it all.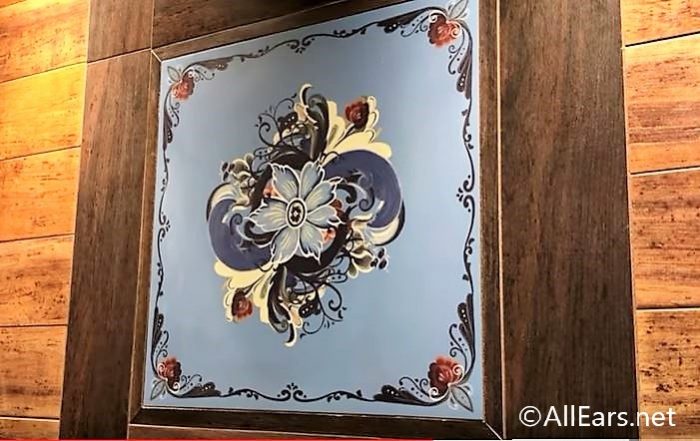 We especially love the mix of blue and brown on the inside. The blue is reminiscent of Elsa and her snowy powers, while the crown reminds us a lot of the woods and Kristoff's sleigh.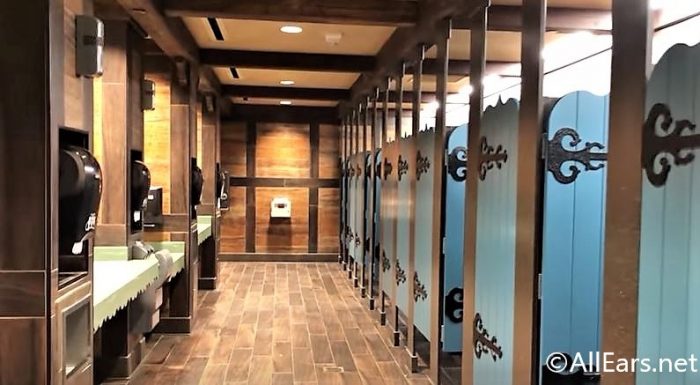 Overall, the theming here really is subtle, but fantastic.
4. Star Wars: Galaxy's Edge "Refreshers"
In Star Wars: Galaxy's Edge, the restrooms are so themed that they have their own Star Wars name — refreshers! But, Batuu is used to having many travelers come through so don't worry, you'll still find signs pointing you to the "restrooms."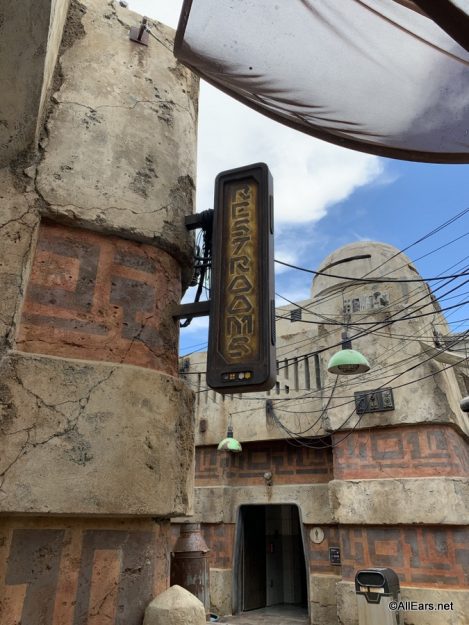 The outside of these "refreshers" are really well themed and definitely feel like they came straight out of the Star Wars universe. The walls and signs are all roughed up, there are panels with various buttons on the outsides of the doors that look like just the things you'd push as you're running in there to close the doors and stop some Storm Troopers from blasting you to pieces, and the doors are uniquely arched and shaped.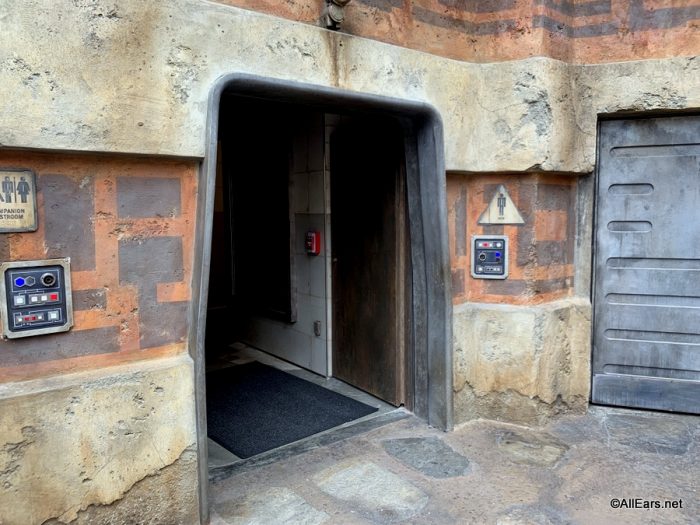 Head inside, and you'll be met with more of that theming. The sinks are all weathered and there's exposed pipework and lighting to give it a really unique, industrial but other-worldly feel.
So, whether you really need to go, or you just want to check out some more cool, Star Wars theming, these bathrooms will definitely keep you "in" the world of Batuu.
3. Toy Story Land Bathrooms
Also in Disney's Hollywood Studios is Toy Story Land. The restrooms for this land are located toward the back — by Alien Swirling Saucers — and are beautifully bright and colorful! Even just from the outside, there's TONS of detail here! There are building blocks forming the main structure, Scrabble tiles spelling the world "Restrooms" and the Cootie bug from the game! You can also see how the word "boys" and "girls" are spelled out on either side using those letter blocks.
Step inside and the fun continues with tiles on the wall made to look like crayons…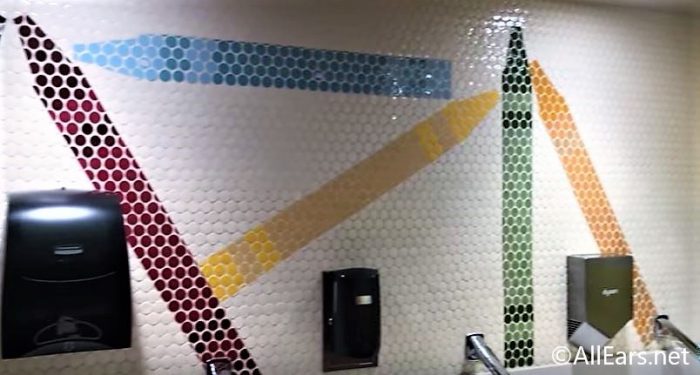 …a checkerboard for the floor, and super colorful doors!
It's basically like your childhood games and toys sort of exploded into the form of a bathroom, and it's fantastic. Can a bathroom make you happy? Because we're pretty sure this one can!
2. Tangled Restrooms
In terms of public access, #2 on our list — the Tangled Restrooms in Magic Kingdom — are really #1 (you'll see what our official #1 is in a second)! Walking up to this space, you almost expect this to be an entrance to a Tangled ride or maybe a Rapunzel meet-and-greet, but no…it's bathrooms!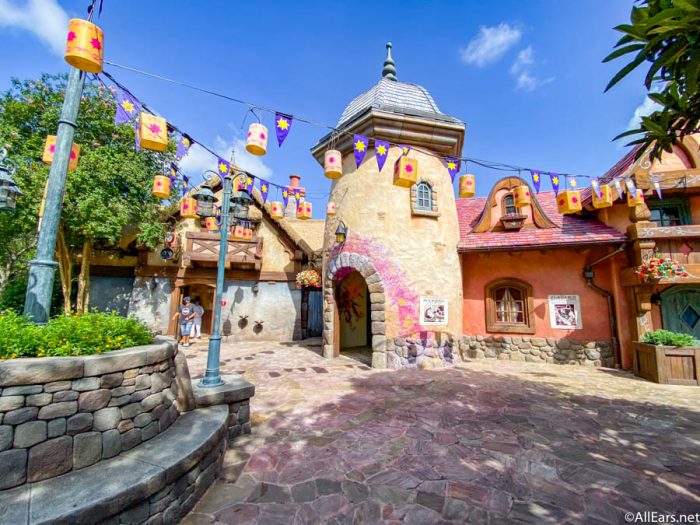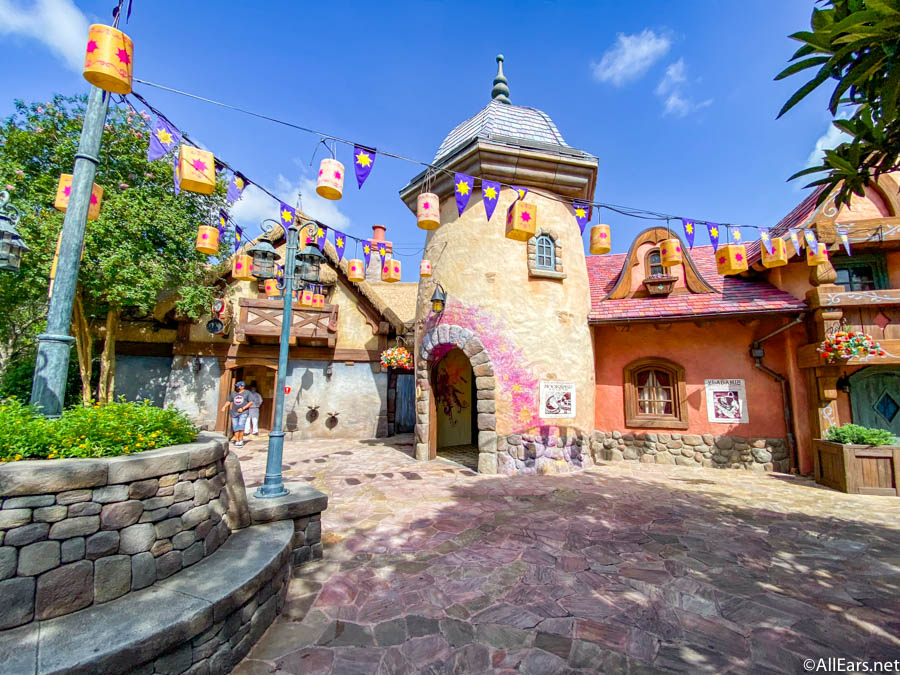 On the outside area, you'll find beautiful lanterns and flags with the sunny symbol of the Kingdom of Corona…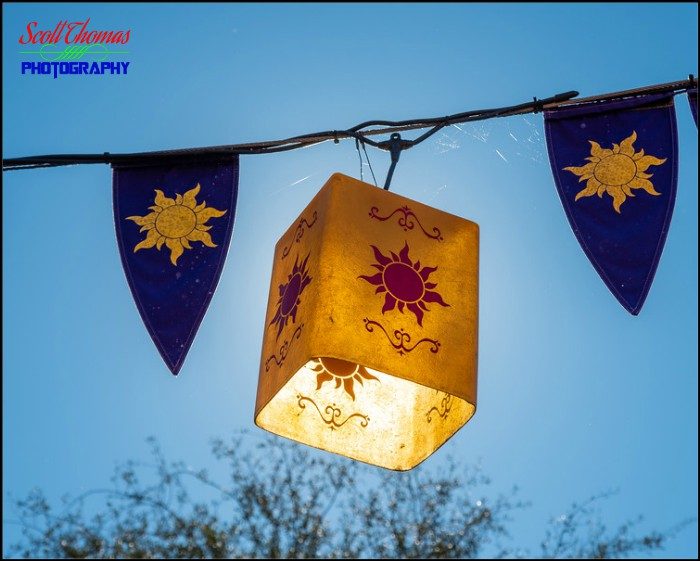 …as well as some fantastic seating areas with places for you to plug in your phones and do a bit of recharging (for yourself and your electronics).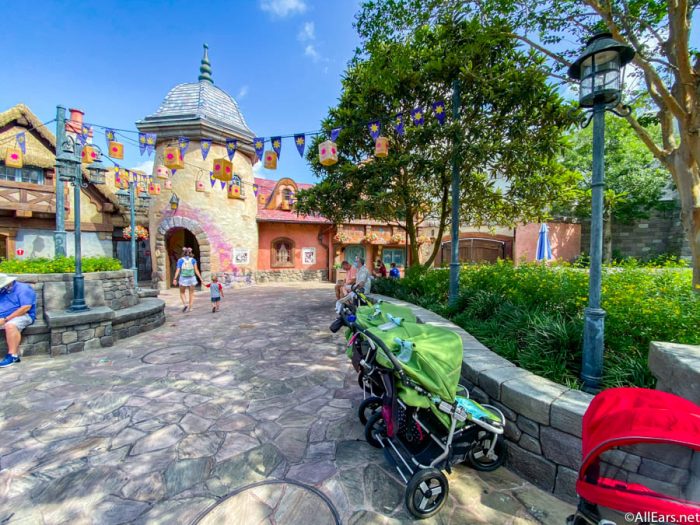 The outside looks even more magical at night when those lanterns light up the sky!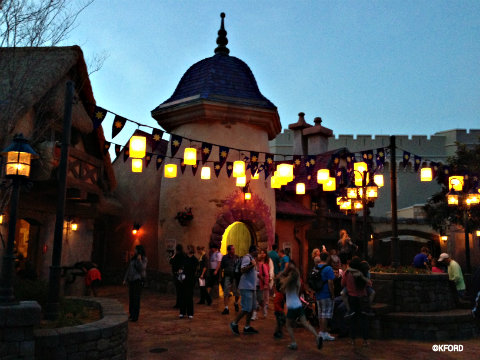 As you approach the actual bathroom entrance, you'll see some of Rapunzel's drawings right at the beginning.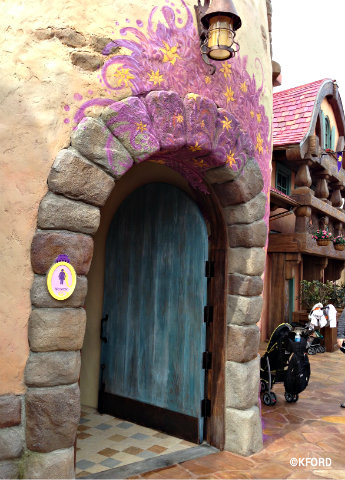 And you'll see more of these gorgeous creations on the inside, along with frying pants, wanted posters, and more all around the area.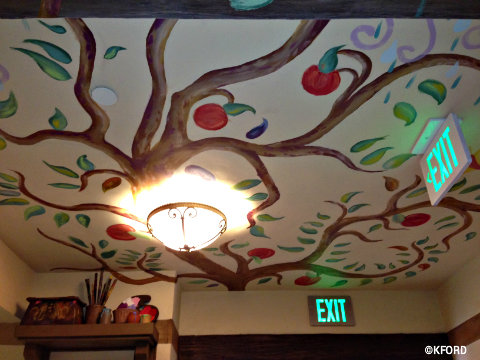 Basically, it's any Rapunzel fan's dream. It's incredibly detailed and it feels like Rapunzel or Flynn could just pop up at any second!
1. Cinderella Castle Suite Bathrooms
Finally, at the top of our list are the Cinderella Castle Suite Bathrooms! Truly, these restrooms will have you feeling like a QUEEN.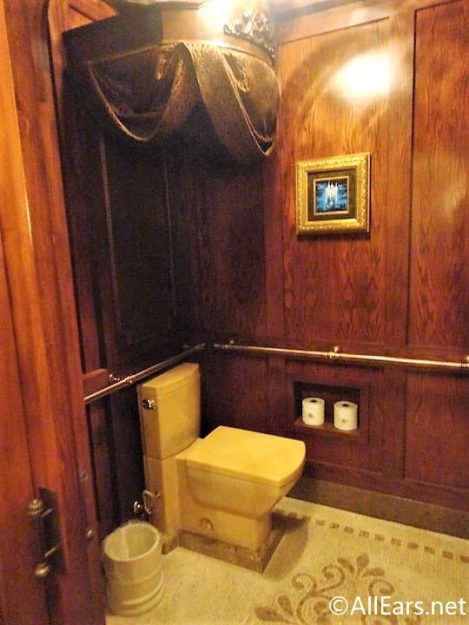 The Castle Suite is located inside of Cinderella Castle, but is usually only used for marketing promotions and giveaways. Last year a customizable tour (priced at $12,000!) was introduced that could give guests the chance to see the Castle Suite. But, for now, we'll stick to some photos. You can see the incredible detailing in this restroom — all the beautiful tiles, arches, vanity seating and mirror, stained glass, and beautiful materials.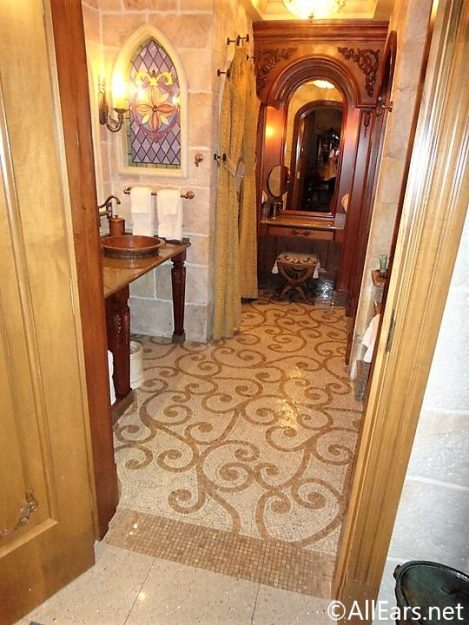 Just look at the custom mosaics in the tub! The mosaics feature more than 30,000 tiles made of glass, and even real gold and silver.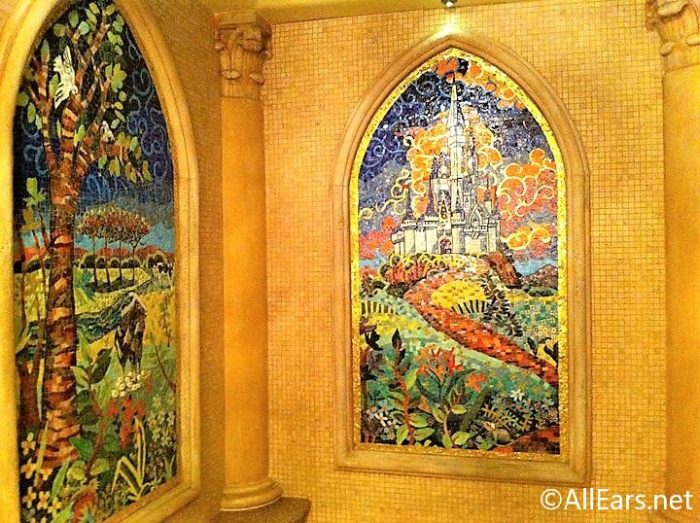 There are also adjustable water features, like a waterfall, but the ceiling is what really takes our breath away. The ceiling has twinkling stars and fireworks on it, which you can see as you adjust the lighting around the tub.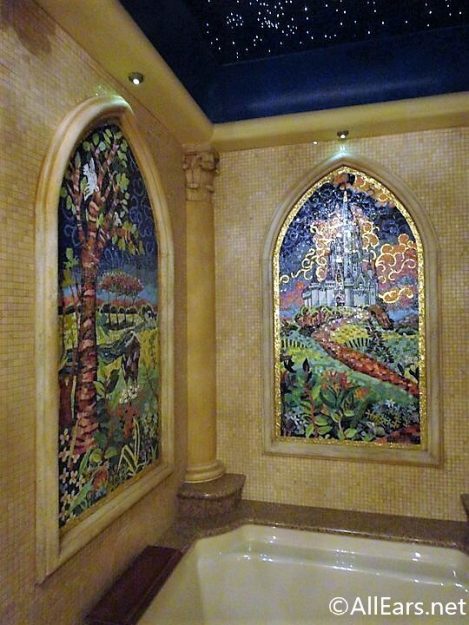 In every way, shape, and form, this bathroom is really designed and themed for royalty, which is why it takes the top spot on our list!
And that's our list for the best-themed bathrooms in Disney World. Whether you're actually using these restrooms or just popping in to check out their awesome theming, we'd say these are definitely worth a visit. What do you think is the BEST themed bathroom in Disney World? We'd love to hear from you! Tell us what you think in the comments below!
Join the AllEars.net Newsletter to stay on top of ALL the breaking Disney News! You'll also get access to AllEars tips, reviews, trivia, and MORE! Click here to Subscribe!