Walt Disney World is beautiful, there's no doubt about that! From the rolling landscapes of EPCOT's World Showcase to the picturesque Cinderella Castle and Tree of Life, there is a lot to be in awe of.
But did you ever think you'd find the Disney World BATHROOMS so beautiful? Some are basically attractions in and of themselves. Here are six of the most stunning places you can head to when nature calls — or if you just want a good photo for Instagram.
1. Tangled Bathrooms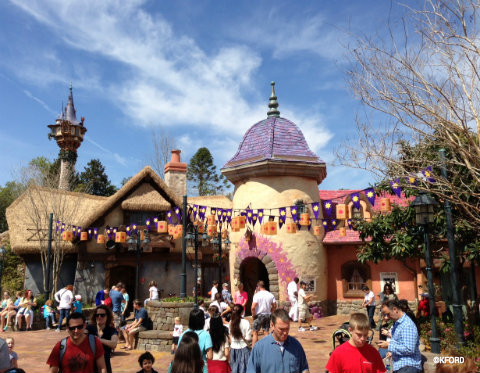 No surprise here, the "Tangled Bathrooms" are first on our list. Located in Magic Kingdom, in between Fantasyland and Liberty Square, these restrooms are probably the most beautiful in all the land. The walls are covered with paintings by Rapunzel herself, and you can find "Wanted" posters for Flynn Rider and the other ruffians.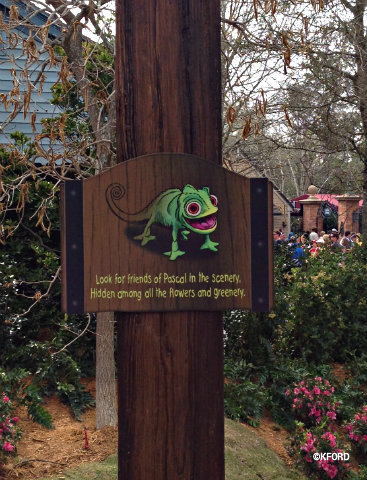 Not only can you use the facilities, but there is seating as well as hidden electrical outlets, for taking a break and charging up a device. They have also hidden  Pascals (Rapunzel's chameleon) around for you to find!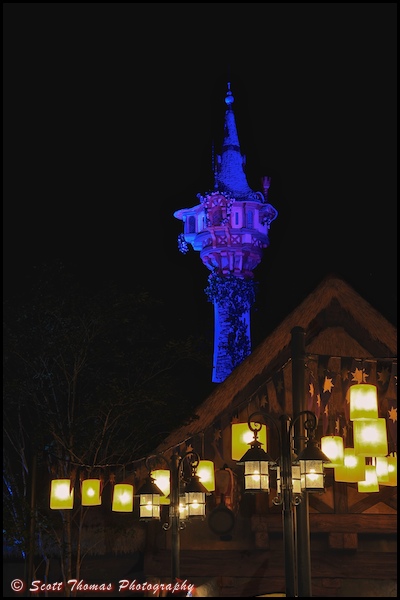 These bathrooms are truly a work of art, and are even home to one of the coolest Disney PhotoPass Magic Shots you can find! Starting at dusk on most evenings, you can have your photo taken with a lantern — just like Flynn and Rapunzel. How cool is that? These bathrooms are honestly better than some attractions and we absolutely recommend visiting on your day at Magic Kingdom. Best Day Ever!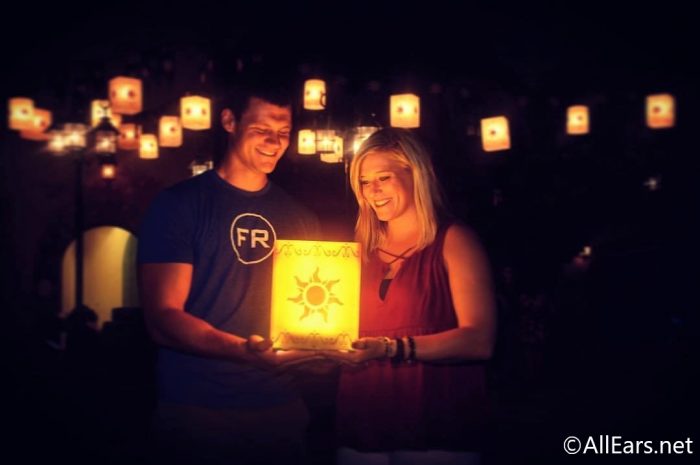 2. Frozen Bathrooms
From one kingdom to another —  the next bathroom break we are taking is in Arendelle, home of Frozen sisters Anna and Elsa.  And by Arendelle, of course we mean the Norway Pavilion at Epcot.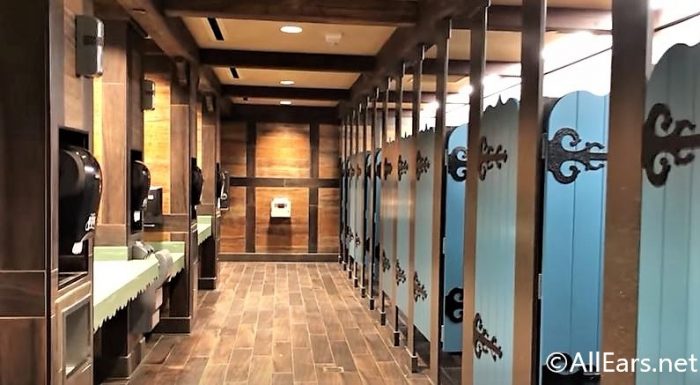 Look how pretty these are! The doors are painted in Elsa's signature color, and remind me of sleds. The bathroom is also almost entirely wood (or made to look like wood) which is very in keeping with Scandinavian architecture.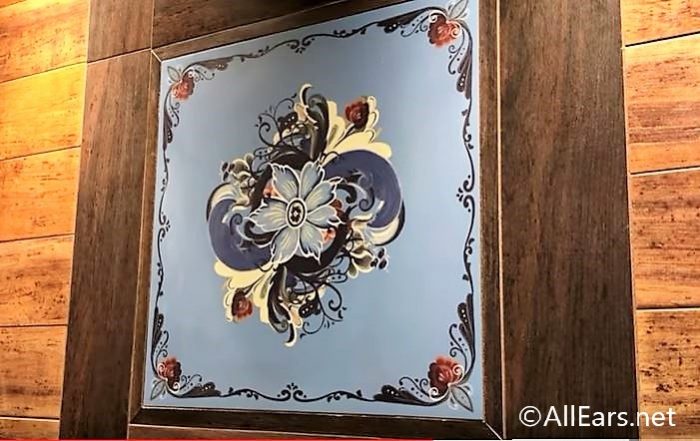 Gorgeous tile work hangs near the sinks, which just showcases the effort Disney puts into every single thing. One of the cutest details can be seen before you even enter — the "Men" and "Women" signs are dressed in the Norwegian Cast Member Costume. Talk about attention to detail!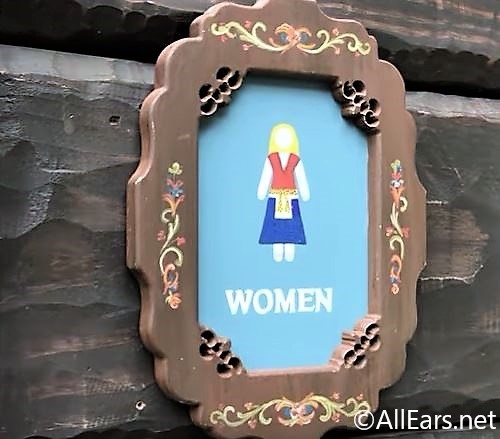 3. Toy Story Bathrooms
In a land made of K'nex, Popsicle sticks, and Tinker Toys, you just know the bathrooms are going to be cute!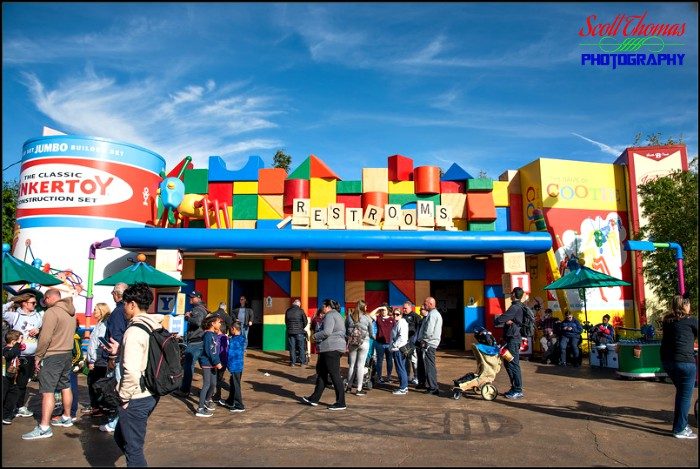 The newest bathrooms at Disney's Hollywood Studios are in Toy Story Land, and just like the rest of the area, it looks like Andy constructed them himself. The more you look, the more detail you'll see! Notice the Restrooms sign made of Scrabble tiles or the Cootie and his box?
You'll also see the "Girls" sign made out of blocks (yes, there is a "Boys" sign on the other side) and the super colorful wall!
Inside the restrooms are just as colorful…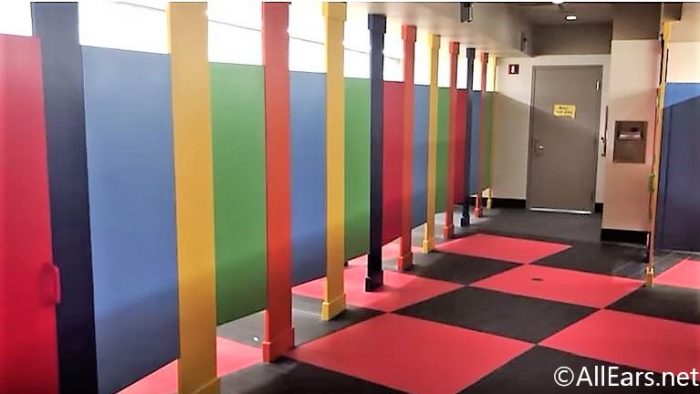 Each stall is a different BRIGHT color, and the floor is designed to look like a giant checker board. On the wall you'll see tile mosaics with dominoes and crayons.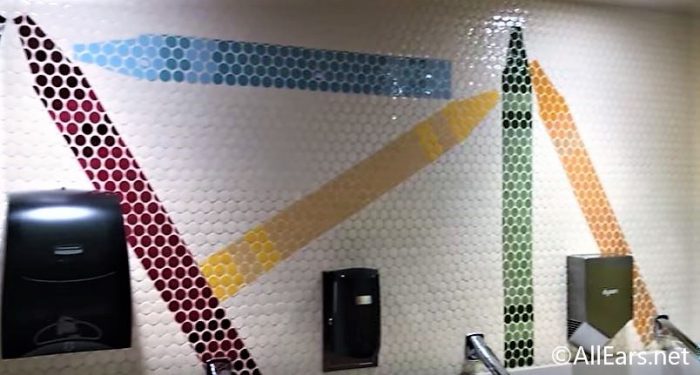 Overall, this is a super adorable restroom that fits completely in this super adorable land!
4. Pandora Bathrooms
Of course Animal Kindgom's newest land is going to be home to the coolest bathrooms in the park.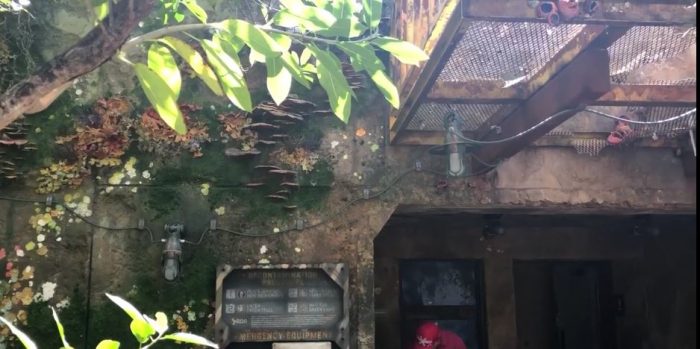 The bathrooms in Pandora stick with the land's theme of abandoned RDA (the human company from the film Avatar) facilities that have been overtaken by the planet's natural wildlife.
You can see leading into the restrooms these abandoned stairs, as well as moss and greenery growing from the wall.
Inside isn't quite as exciting as outside, but you will find this gorgeous wood and tile. Take a break from exploring the Na'vi planet and pop in to check them out yourself!
5.  AbracadaBar Bathrooms
Prepare to be dazzled by the next restrooms on our list — located in AbracadaBar on Disney's BoardWalk! This lounge is themed after 1920's and '30's magicians such as Harry Houdini. The decor of the bar has cards, illusions, and tricks — even some of the drinks are magic!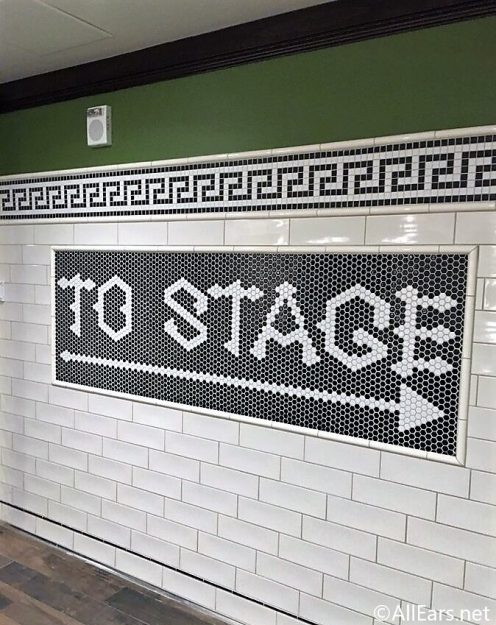 And heading to the bathroom is no escape, as it's themed to be backstage before the big show!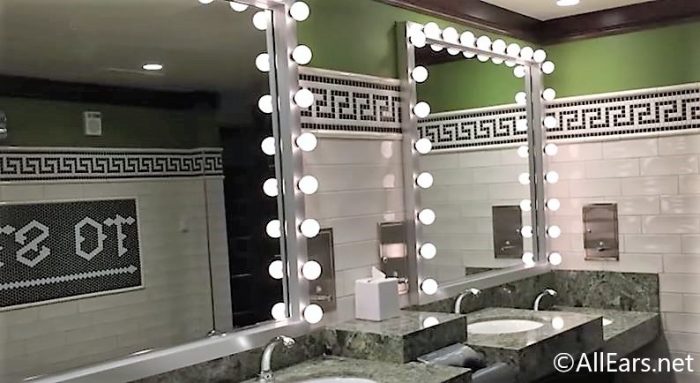 Notice the bright lights around the mirrors? These resemble the vanity lights you'd see backstage in a theater! Even the bathrooms signs are themed.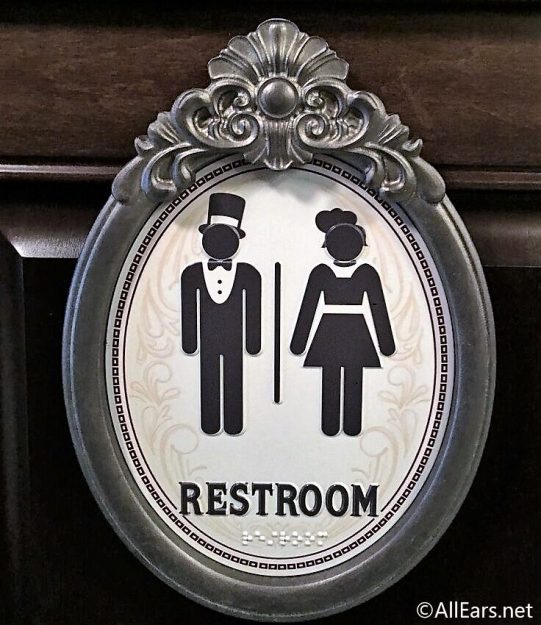 And we especially love the accessible bathroom sign!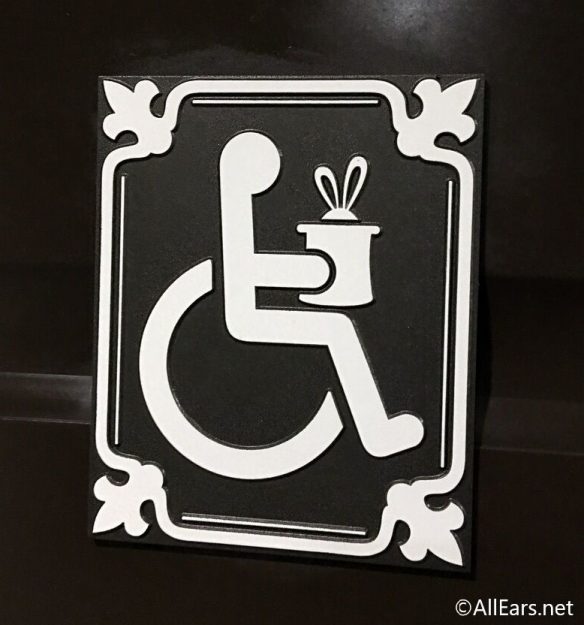 The AbracadaBar is a great spot to pop in after Epcot for a fun cocktail, and we highly recommend heading backstage — er, to the restrooms — when you go!
6. Cinderella Castle Suite Bathrooms
Likely the most beautiful, and least accessible, bathroom in Walt Disney World is located high above the Magic Kingdom in the Cinderella Castle Suite.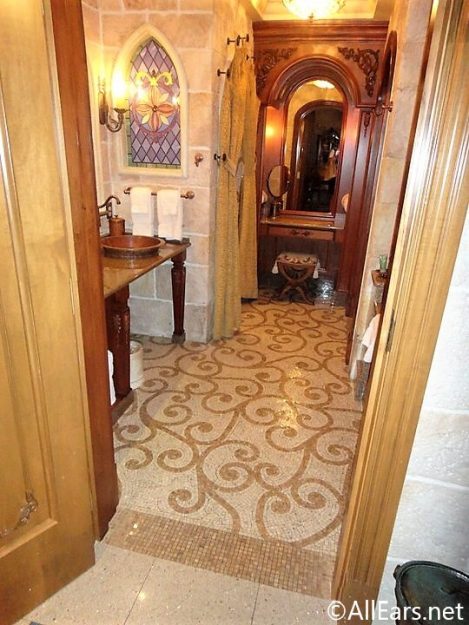 The Castle Suite is located inside Cinderella Castle, and is typically only used for marketing promotions and giveaways. Although with Disney's new $12,000 tour, a visit to the Castle Suite can be arranged.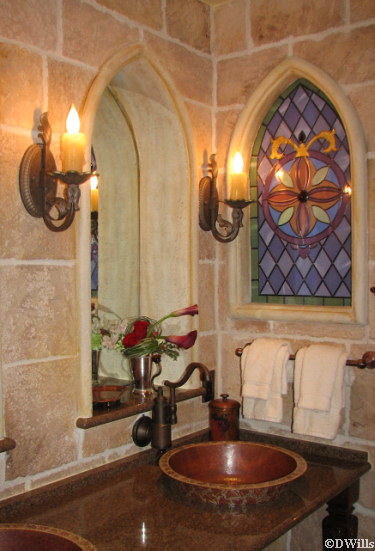 The bathroom features incredible stone work, as well as handmade copper basins. Even the royal throne here is fit for a princess.
But perhaps the most beautiful part of this bathroom is the tub. There is a Jacuzzi, complete with a custom tile mosaic.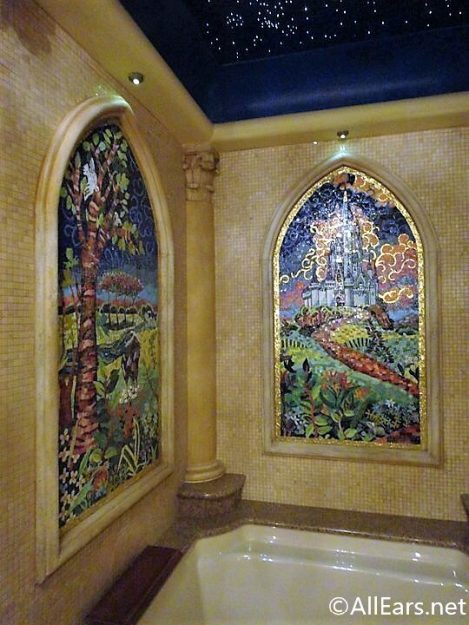 The mosaic has more than 30,000 tiles made of glass, as well as real gold and silver. The tub features adjustable water features, such as a waterfall. And the ceiling above the tub has twinkling stars and fireworks in it, which can be seen as you adjust the lighting around the tub.
Gorgeous, huh!?
Tell us, what are your favorite bathrooms in Walt Disney World?

Remember! When you're in Disney tag @allearsnet in your photos!
Be sure to check out our YouTube Channel for reviews, news, information and more! 
Subscribe to the AllEars® newsletter so you don't miss any of the latest Disney news!