Now streaming on Disney+ is their first original talk show from the Jim Henson Company:  Earth to Ned.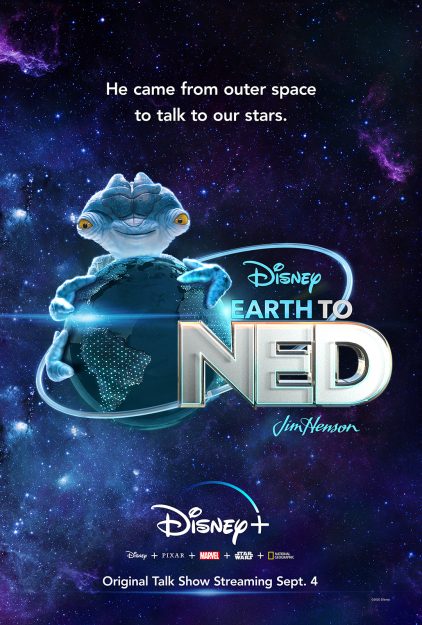 Earth to Ned features Ned, an alien commander charged with the invasion of Earth, and his lieutenant, Cornelius.  Earth is saved from subjugation, however, when Ned discovers and subsequently falls in love with television and begins broadcasting a talk show from the bridge of his ship, beaming in celebrities for discussions on anything from social media to the great Rula Lenska.
In the second half of a recent virtual press junket, puppeteers Paul Rugg (Ned,) Michael Oosterom (Cornelius,) and Colleen Smith (B.E.T.I.) discussed various challenges in developing the characters, tricks to performing the characters, and where they would take the characters in Disneyland.
Press conference highlights:
On how much of the show is improvised: 
Rugg:  "I think, at the beginning, because everyone was like ok, we gotta get this right, it was very structured.  We would have meetings for every interview about the guest, you know, we had a specific angle of attack.  But as they got more comfortable with us, we followed sort of a structure, but we were able to sort of go off and find stuff.  If one of the guests said something, we knew it was ok to sort of track that down and have a good time with it.  So it's a little bit of both."
Oosterom:  "One thing we found during the process, was–we were being trained by people with experience in late-night talk shows as none of us had ever hosted before, and like Paul said, in the beginning we may have been a little like HOW DO YOU DO THIS, but then we realized that every eight minute interview, you're seeing a fraction of the conversation we had with the guest…I think our improv skills helped us get our heads around how to do interviews and also how to just relax into it and have a good time."
Smith:  "If it's obviously a bit that's in the narrative?  That's all scripted.  And then the interview…they wrote a bunch of questions for us, and sort of everything that's in between is us just being weirdos.  Any time someone looks confused or uncomfortable…"
Rugg:  "That's us."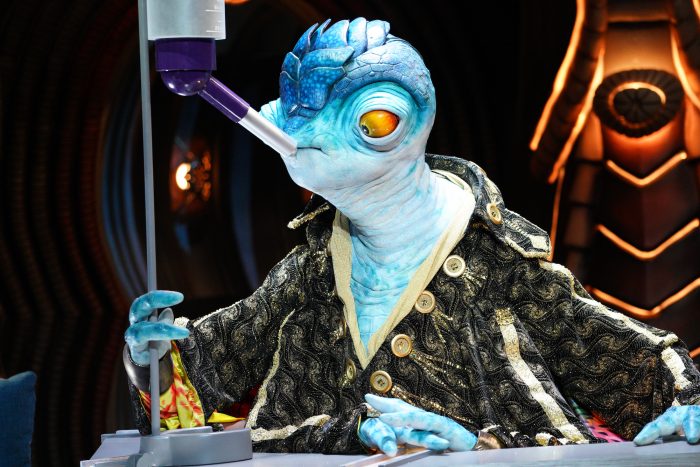 On puppet interviews:  
Rugg:  "We found…if it was just me going up to someone, I'd be arrested for asking some of these questions or at least smacked in the face, but Ned doesn't know anything.  That's something we sort of struggled with in the beginning:  What does Ned know?  How much does he know?  Once we figured out that he's pleasant, but he's kind of…he's not the sharpest tack on the board, it took the sting out of most of his questions, like when he did ask…'how much money do you make?'  From that point on, that was a real turning point for Ned:  Ok, Ned will ask anything, and Cornelius will always either be embarrassed by the question or inform Ned that that was an inappropriate question–or B.E.T.I., in particular…and this is when I learned about what Colleen would do during the show…would have no bones about chiming in the middle going 'this is really stupid.'  It was great to be free enough to ask anything."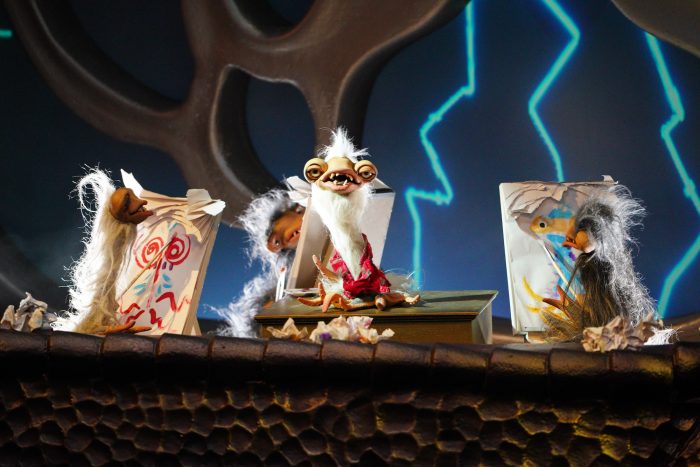 On Clods:  
Smith:  "There were eight actual physical Clods…that they just kept redressing…You could never comprehend they could dress the Clods up.  I mean, they don't have arms.  They're these stick-things, and all of a sudden it's like Obi-Wan Kenobi, or they did the musical, and it's like they did it so quickly and so beautifully, and they would just throw things together or sew something and magically dress the Clod.
"A lot of Ned's arms, they would pop out and do the Clods.  Everybody was running around doing things.  i wasn't allowed anywhere near the Clods."
Rugg:  "I wasn't either."
Oosterom: "I did a Clod a couple times–I think the Clods were harder than Cornelius, for sure.  Because, there's like a hand, and a stick and you gotta keep that straight, and there's a trigger mechanism where you're trying to tilt the head and blinking the eyes and opening the mouth and I was like 'I just want to go back in my little hole over here."
On doing improv within the confines of storytelling:
Rugg: "Knowing that we sort of had a story we were telling–we didn't always do all of these interviews in order, so we would have to remind ourselves within the structure of the series, what Ned's arc is, and what Cornelius' arc is, and what B.E.T.I.'s arc is.  So that was sort of a challenge to know in every episode, what was going on with Ned and B.E.T.I. and Cornelius in the overriding story of them trying to destroy the Earth.  But it turned out to provide a little engine for the show, that there's something bigger going on as we progress through.
Oosterom:  "For Cornelius, one of the things I tried to justify about him, is his alien species has been dominated by Ned's species but he's a cheerful happy guy who likes his job.  So I decided early on that that's in his alien DNA.  Like, his race is the service employees of the universe/galaxy.  But part of his progression, I think you'll see more of this as it goes along, is that Earth influences Cornelius, humanity influences Cornelius, to the point where he eventually grows a spine (and one time in improv, I literally explained that he does not have a spine.  It's kind of a tube filled with fluid.)  And the only time I ever asked the writers for something specifically, is that the first batch of scripts had Cornelius calling Ned 'Ned," and part of the keys for me to play the character is that he always calls him 'sir' or 'commander.'  Always.  So that by later in the season, when he does call him 'Ned,' there's a lot of weight to that.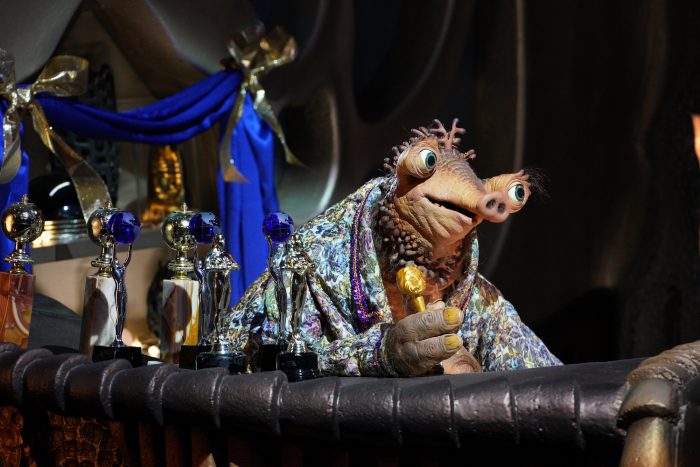 On character inspirations:
Rugg:  "I'm a 60s kid, so when I was a child and I would come home from high school, Merv Griffin would be on…Jiminy Glick–is probably one of my favorite things of all time…Johnny Carson, all those sorts of elements.  What was real important with Ned…is Ned can't be too smart.  So the default position was more bluster, more ego, more know-it-all, even though he doesn't know anything.
"There's a lot of that 70s character to it, which kind of makes sense–Michael and I talked about this early on–Ned's frame of reference television broadcast started in the 40s, so Ned's frame of reference could be stuff from the 40s on."
Oosterom:  "I think we decided that wherever they come from in the galaxy, they started getting television transmissions right around the late 60s, early 70s, which justifies Paul and I."
On where they would take their puppets in the Disney Parks:
Oosterom:  "Well certainly Galaxy's Edge, because Cornelius is a Star Wars nut.  I don't know if it made it in the show, but he loves Star Wars because in Cornelius' galactic battles, there's no John Williams music, so they're pretty boring.   So he loves Star Wars because it's so flashy and fun…Other places in Disneyland and Disney World?  He'd probably like the monorail."
Smith:  "I think B.E.T.I. might like the Hall of Presidents, so she can invade the technology and make the presidents say whatever she wants?  Like accurate things…'I had a heart attack and my wife ran the country!'"
Rugg:  "Probably…is it still there?  Tom Sawyer's Island.  Ned would go there to relax.  He would get stuck in the little rocks."
On a ten-second pitch to describe the show for new viewers: 
Smith:  "An incredibly smart, blue, computer AI creature is forced to put up with two incompetent morons and her programming prevents her from killing them."
Rugg:  "I would go with that.  I think that works."
Oosterom:  "'AND FUN FOR THE WHOLE FAMILY.'  Let's add that in there so we get the demographic as wide as possible.
"'AND IT PAIRS WELL WITH MULAN.'  How's that?"
Earth to Ned is currently streaming exclusively on Disney+.
In case you've missed it, here's the series trailer:
Questions?  Comments?  Suggestions?  Drop us a line below.
Be sure to follow @allearsnet on Facebook, Instagram and Twitter!
Check out our YouTube Channel for reviews, news, information and more!
Click below to subscribe to the AllEars® newsletter so you don't miss any of the latest Disney news!