Debuting exclusively on Disney+ on October 23rd, 2020 is Walt Disney Animation Studios' untold origin story of Frozen's Olaf in the animated short Once Upon a Snowman.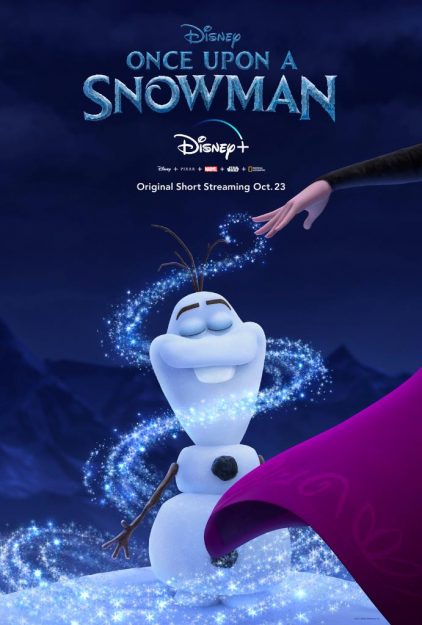 In Once Upon a Snowman, we follow Olaf from his creation at Elsa's hands to his eventual meeting with Anna and Kristoff.  On the way, the genesis of some of his trademark quirks is revealed (how does he know he likes summer?) as he weaves in and out of the larger story of Frozen, in a Rashomon-like fashion.
At a recent virtual press conference, director/writers Trent Correy and Dan Abraham were joined by creative consultant Peter Del Vecho (producer for both Frozen and Frozen 2) and head of animation, Becky Bresee, to talk about revisiting once again the world of Frozen, Olaf's universal appeal, and WDAS' ubiquitous Easter eggs.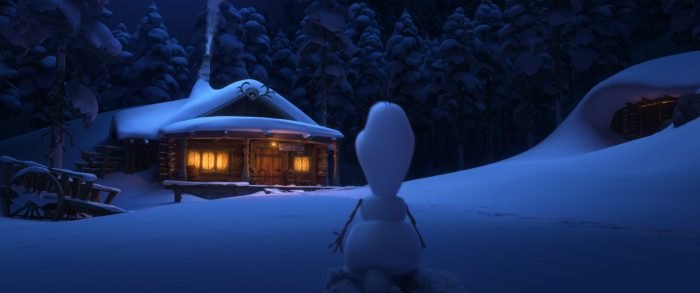 Press Conference highlights:
Correy on the short's inception:
"I started as a crowd animator during the first Frozen and my very first character to animate was Olaf.  I was very lucky to get to animate Olaf for the rest of the show and I very clearly remember seeing Chad Sellers animate…"Let It Go," while I was a trainee:  Elsa meets Olaf and it's beautiful and then she just walks away.  She creates life and she walks away and I was like, there's got to be a story there.
"I love Pinocchio, I loved Bambi and I'm like, I want to see what Olaf's first steps are like and we don't see them for another 20 minutes in the film….Cut to last year, Jennifer Lee, our fearless leader, stood on stage and said, 'we're going to be partnering with Disney+' and I thought right then that this is the perfect opportunity to have this short come out."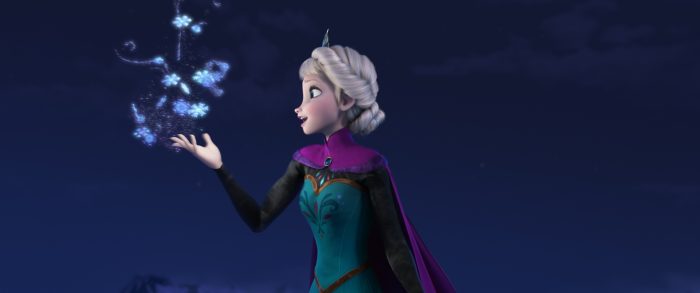 Bresee on how Frozen and Once Upon a Snowman speak to her:
"Well, when I started on the first Frozen, I was really in it for the fairytale of it.  I've always loved fairytales, Disney, art, and that all, it spoke to me…But after a while, it started to become a sister story, and then it spoke to me in a very different way because I have sisters and more so, I have daughters….they're my little Anna and Elsa.  So I was more invested now, even more so than before.  And what's wonderful about Olaf is he's a reflection of the love between these two sisters.
"…It really is not often we get to revisit characters.  And so when Frozen 2 came up, we were like, 'Yay! We get to visit these characters again.' And then to continue on with this story that's very special and ties everything together from those first moments of Olaf…it's a really unique way to revisit the scenes and think about the people who animated the scenes on the movie and then how it all ties in.
"One of my favorite parts on this was I got to animate the moment, the last scene where Olaf walks over the hill approaching Anna and Kristoff.  It was amazing…when you're animating it and you realize this is the moment right before he walks into Kristoff and Anna's life and changes them forever and changes all of us forever, really."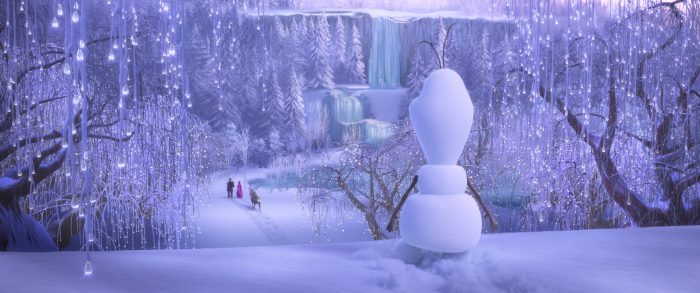 On Olaf's appeal:
Bresee:  "I would say that Olaf has this overwhelming optimism and sincerity about him, and that just never gets old.  It's something that we all sort of aspire to and sometimes fall short.  But Olaf is always there charging ahead with just this eternal optimism and sweetness that I think is a part of all of us, but maybe we wish we had more of."
Correy:  "…I grew up on Disney movies in the '90s.  I loved Aladdin–by far my favorite movie–and the Genie was my favorite character.  And I think what I loved about the Genie was that he could be hilarious and change shapes, but he could also be sincere…From an animator's point of view, Olaf's just everyone's favorite character to animate because he can be very emotional. Like Becky mentioned, he's connected to the sisters, but he's also fun to just break apart."
Del Vecho:  "And I think we can all relate to his sort of innocence as a child. That's a slightly naïve look at the world, but in doing so, I agree, Trent, he can really hit on some profound, emotional things.  You can zero in on things that maybe, as adults, we miss."
Wherever you may be, here's a special message from Olaf's home to yours. "I Am With You" Music and Lyrics Written at Home by Kristen Anderson-Lopez and Robert Lopez. Performed at Home by Josh Gad. Directed at Home by Dan Abraham. #AtHomeWithOlaf #DisneyMagicMoments pic.twitter.com/MB56YLRzbl

— Disney Animation (@DisneyAnimation) May 13, 2020
On hidden Easter eggs:
Correy:  "Oh, well, there's a lot of little fun tidbits throughout the short, because we're showing it from a different perspective, obviously.  One of the ones I love is Oaken selling Anna's coronation dress."
Bresee:  "I want to buy Anna's coronation dress."
Correy:  "It's for sale. I don't know if you can…It's pricey, Becky, it's pricey.  I just, I love that idea that, in the movie you see Anna walk out in her new winter clothing to go up the North Mountain and we get to show what happened to that dress and that Oaken made a small profit."
Del Vecho:  "For sure.  Yeah.  There's other little Easter eggs within the cards that Olaf looks at in the stereoscope.  There's a few different shots in there that people might be keen on from other films in that."
Amy Astley (Moderator):  "Well you can give one of those films if you want. What might people see in those postcards?"
Del Vecho:  "You might see a little Moana."
Astley:  "A little Motunui action there?"
Del Vecho:  "That's right. Then I think there might be a Tangled image?"
Astley:  "Is there?"
Bresee:  "I think so."
Del Vecho:  "Yeah, I think so."
Once Upon a Snowman, will stream exclusively on Disney+ beginning Friday, October 23rd, 2020.
In case you've missed it, here's the new short's trailer:
Questions?  Comments?  Suggestions?  Drop us a line below.
Be sure to follow @allearsnet on Facebook, Instagram and Twitter!
Check out our YouTube Channel for reviews, news, information and more!
Click below to subscribe to the AllEars® newsletter so you don't miss any of the latest Disney news!