This last week, Disney+ took guests back to the days of the drive-in theater with their Disney+ Drive-In Festival held by the Santa Monica Airport.  As bookends to the festival, they held premiere events for two of their new programs — The Right Stuff started off the week, and Clouds brought it to a resounding finale.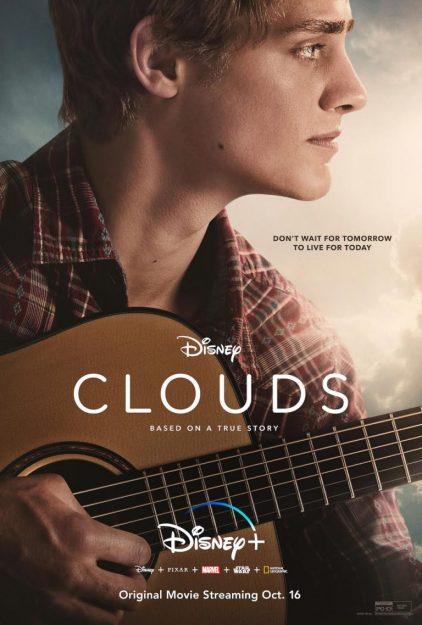 As guests of Disney+, AllEars was invited to attend the Clouds premiere and experience a new movie-going experience for the COVID age.
Arrival
The film was scheduled to start at 7:30PM, however they began letting cars in as early as 6:30PM.  I arrived around 6:35PM and there were already a sizeable number of cars in line.  The line moved slowly but constantly and a good effort was made to have cast members all down the side of the road performing different parts of the check-in process simultaneously.
My guess is that the premiere line took longer than the regular screenings they did throughout the week as a result of heightened security (at one point they had security with dogs sniff out each car) and an additional meal service beyond the provided concessions.
There were several signs up giving instructions on the various COVID precautions:  Guests were not allowed out of their cars unless they were using the restrooms, face coverings were mandatory outside of the vehicles, and no congregating.
After being given both a meal box, a concession box, and an amenity bag, cars were sent through a drive-in photo-op and then guided to their spaces.  Vehicles were socially distanced so that no car was ever directly in front, back, or to the side of another car.
The Experience
The food boxes were impressively large and they were pretty clear that they wanted them back for recycling.  Guests were also given two bags (one for trash and one for recyclables) and were encouraged to put their discards outside their cars during the show for people to pick up.
The one thing I was a little anxious about was the audio, as the idea of needing a jump for my dead car battery seemed unappealing.  They ended up offering audio broadcasts on both an FM station and through supplied WiFi and a cell phone app.
I had initially thought I could just play the app audio through the phone speaker and not use the car audio at all, but the app didn't seem structured to transmit any way except through Bluetooth or an AUX connection.  It turned out that my car has an accessory mode anyway, which decreased the battery drain and I made it out unassisted and under my own power.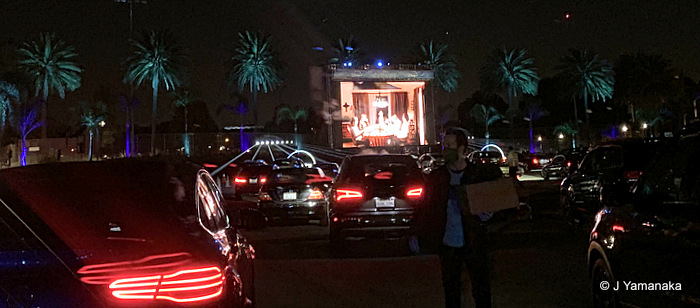 As far as the view went, the screen seemed pretty far away, but I was in the back with the other CRVs.  I could certainly see everything fine, but you probably don't want to expect an IMAX field of vision with your drive-in movie.
I don't think this would be the best way to experience a film where you wanted to obsess over every detail of it, but as the first time I had been out of the house to do anything but purchase food since March, it was amazing to be able to go see entertainment again in a safe and worry-free fashion.
Advice For The Future
Should they do this again, these are my takeaways from the drive-in process:
Go early.  It took me about half an hour to get through the line to the point where I was parked in a space.  Additionally, spots are first-come-first-served, so the earlier you get in, the closer you'll be to the screen.
Maybe get a wash.  Fortunately for me, I just happened to have taken my car to get cleaned after months of it sitting around with an inch of ash on it.  Otherwise, I would have been out there with the guy in back of me, who had to leap out of his car in line and start wiping down the front windshield so his passengers could see the movie through it.
Take a small car if you want to be closer.  The taller trucks, vans, CRVs, etc. were all (understandably) parked in the back.
Consider a portable speaker.  If you're afraid of leaving your battery running for the duration of the film, maybe take either a bluetooth speaker to pick up your phone app signal or a hand-held radio.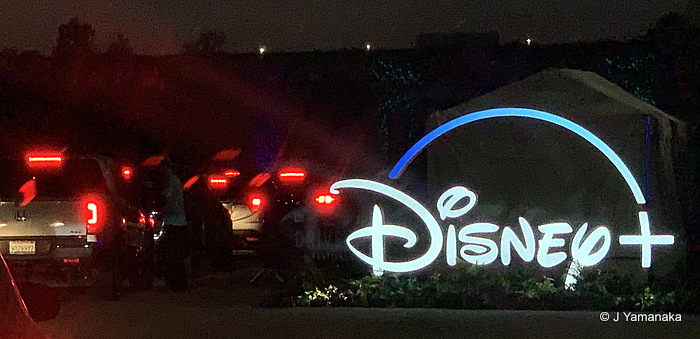 The Film
Clouds tells the story of seventeen-year-old singer/songwriter Zach Sobiech who finds out that the osteosarcoma he thought was in remission has instead metastasized and left him with a predicted life span measured in months.  During the time he has left, he goes on to co-write the titular song "Clouds," which becomes a YouTube sensation and eventually tops the iTunes charts, and inspires millions with his talent and his perseverance.
[Full disclosure:  Because I am very old and not 'hip to the jive,' as the youngsters say, I had not heard this song before and actually thought it was this song, from the 1960s when I first heard of the film:
It of course is not, and the actual song, as performed by the actual Zach Sobiech is instead this:]
Zach, played by Fin Argus, is a generally positive boy who only wants to write his music and date his girlfriend and go to prom and experience all the little milestones that every kid his age should be able to anticipate, and will get to very few of them.  He is supported by his family and friends, notably his mother (Neve Campbell ) and his best friend and songwriting partner Sammy (Sabrina Carpenter.)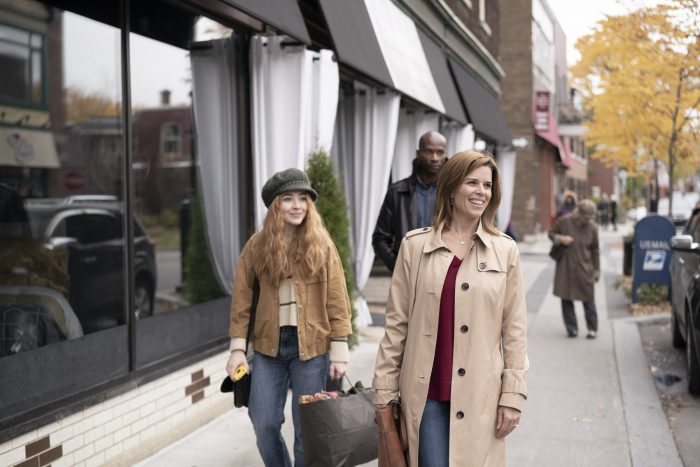 Argus does a charming job as Zach — strong enough to endure the pain and disappointment of a terminal disease with admirable grace, while still showing the occasional bouts of anger and depression that keep him from becoming saccharine.
Campbell is also a standout as Zach's mom who joins him in his health battles with maybe even more fervor than he does, and faces the domestic consequences that inevitably come when one child needs more than their share of attention.
Because this is a Disney movie, and because it's based on Zach's real mother's memoirs of him, Fly a Little Higher, this does tend to be a treatment that focuses on mostly positive aspects of the characters and glosses over some of the less-heroic parts of a terminal illness.
Instead of dealing with difficulties with school or financial insurance issues, we see teachers shaving their heads in support of Zach's chemo-inspired hair loss, and doctors who come to make house calls and dispense warm hugs.
Love triangles are resolved in a matter of minutes and even the conflicts that arise between Zach's weary parents somehow evaporate offstage by the end of the film.  The B-storyline of Zach's relationship with his girlfriend Amy (Madison Iseman) seems similarly smoothed over, as she is never anything but understanding and supportive, despite being stood up, snubbed, and dumped in short order.
Clouds does not come with any surprises.  There are no magical cures or saves for Zach who is stuck in one of the hardest battles a person can face and manages to make the most of what he has left.
The film uses a quote from him multiple times:  "You don't have to find out you're dying to start living," which is a little bit cliché and a good bit true and exactly what some people need, just like Clouds.
Clouds debuts exclusively on Disney+ on October 16th, 2020.
Check out our YouTube Channel for reviews, news, information and more!
Questions?  Comments?  Suggestions?  Let us know below!
Click below to subscribe to the AllEars® newsletter so you don't miss any of the latest Disney news!