The funny thing about talented people: They're usually skilled at a variety of disciplines. Take, for example, the Cast Members of Walt Disney Studios in the late 1940s.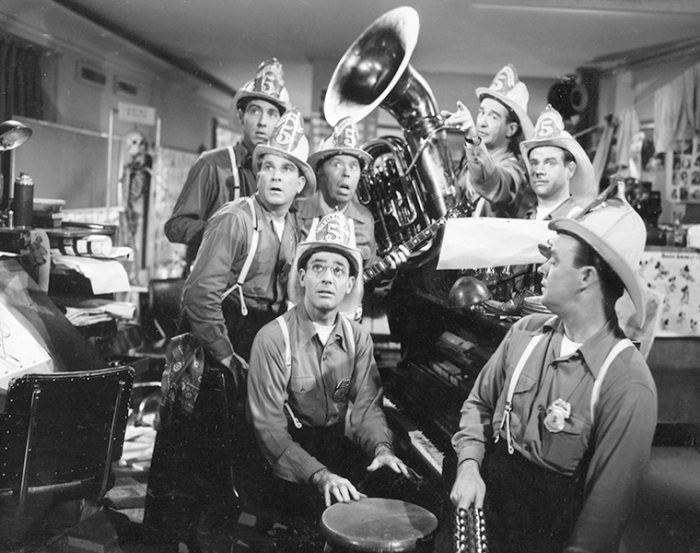 Back in those days, when Disneyland was still a dream percolating in Walt Disney's mind, a group of some of the most talented and revered animators formed their own Dixieland jazz band.
The Firehouse Five Plus Two came together during a time of national crisis – the aftermath of World War II – as a way for the boys to blow off some steam. In fact, the group took its cue from bands who played at military camps during the war.
WARD KIMBALL WAS THE LEADER OF THE BAND
Disney animator and Legend Ward Kimball is credited with putting the Firehouse Five Plus Two together when he found a group of like-minded jazz aficionados during a series of lunchtime discussions about music. Those talks evolved into full-blown jazz jam sessions and, finally, they became a formal jazz band.
In addition to Kimball, a trombonist, the original Firehouse Five Plus Two lineup consisted of Danny Alguire [cornet], Harper Goff [banjo], Clarke Mallery [clarinet], Monte Mountjoy [drums], Ed Penner [saxophone] and Frank Thomas [piano]. Over the years, George Bruns [trombone], Eddie Forest [drums], Don Kinch [tuba], Jimmy Macdonald [drums], George Probert [clarinet] and Dick Roberts [banjo] joined in on the fun.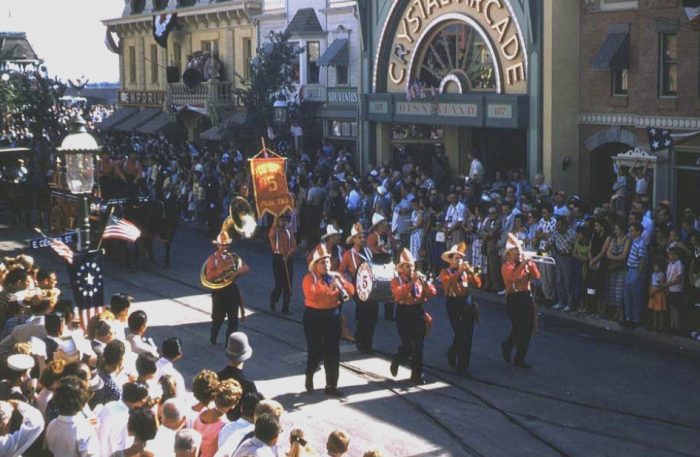 The group had the full backing of Walt Disney, on the condition that they never leave their jobs at Disney. In fact, the Firehouse Five Plus Two became sort of the Disney House Band, performing at company Christmas parties, during parades at Disneyland and at other Disney-related social functions. The group was prolific in the recording studio as well, releasing 14 albums on the Good Time Jazz label.
In addition, they made numerous appearances on Disney television specials, including the classic "One Hour in Wonderland," Disney's very first TV special, in 1950.
FEATURED ON THE ORIGINAL 'MICKEY MOUSE CLUB'
They also were featured on the early "Mickey Mouse Club" TV series, as well appearing in animated form in the 1953 Goofy short "How to Dance." The Firehouse Five Plus Two disbanded in 1971, but not before carving a niche in Disney lore.
This all came to mind after I learned that a group of Walt Disney Imagineers has recorded a feel-good song designed to put a smile on everyone's face during these difficult days. Back in March, these talented Imagineers came together with the idea of creating an uplifting song leveraging the talents within Imagineering.
"Brave Little Spark" features Imagineers – it's really their voices and instruments that you hear – along with their good friends Kermit the Frog and Miss Piggy, singing and playing along to the original song written by Kevin Rafferty, with music composed by Yaron Spiwak and Matt Walker.
Rafferty opens the video with: "What do you do when things get sad and gloomy? You write a happy new song!"
And dozens of Imagineers [along with some of their children and pets] take us on a two-plus-minute jaunt to a toe-tapping, happy place … guaranteed to lift your spirits.
Check it out here:
As it turns out, Rafferty is no novice when it comes to writing songs that have played at Disney theme park attractions.
In fact, you might say the man behind the creation of such Disney classics as Mickey & Minnie's Runaway Railway, Cars Land, It's Tough to be a Bug, Toy Story Midway Mania, Rock 'n Roller Coaster and the Twilight Zone Tower of Terror, is a downright prolific songwriter.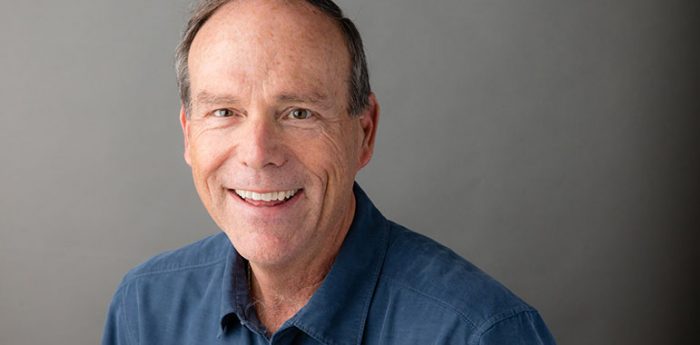 He wrote the lyrics to the exit song in the It's Tough to be a Bug attraction ["We're pollinators … we're pollinators …"] at Disney's Animal Kingdom.
At Disney's California Adventure, he wrote the theme songs for Mater's Junkyard Jamboree and Luigi's Rollickin' Roadsters. And for Toy Story Midway Mania, he wrote all the songs sung by Mr. Potato Head, including "Hot Potato."
HE'S SONNY ECLIPSE'S MAIN TUNESMITH
Ever catch Sonny Eclipse's act in Cosmic Ray's Starlight Café? Well, Rafferty wrote a veritable album's worth of tunes for the out-of-this world lounge singer, including "Take Me to Your Leader," "Out in Space," "Gravity," "Yew Nork," "Space Angels," "Soup 'n' Salad," "Planetary Boogie" and "Bright Little Star."
He also wrote "You're Messin' with Me Baby," as sung by Uh Oa, Tiki Goddess of Disaster, to Iago in The Enchanted Tiki Room Under New Management.
For those with really good memories, Rafferty wrote all the songs guests once heard in Mickey's Toontown Fair in the Magic Kingdom, including "Solo Pilot Blues" (sung by Goofy), "Donald Ducked Out on Me" (sung by Daisy Duck), "Mickey is the Mouse for Me" (sung by Minnie Mouse) and "Cornelius Coot's Scootin' Boogie" (sung by Clarabelle Cow).
Join the AllEars.net Newsletter to stay on top of ALL the breaking Disney News! You'll also get access to AllEars tips, reviews, trivia, and MORE! Click here to Subscribe!