Along with the opening of Mickey and Minnie's Runaway Railway in Disney's Hollywood Studios in early March came the release of a corresponding line of souvenirs tied to the first-ever Disney park attraction starring Mickey Mouse.
In addition to conceiving and overseeing the wildly imaginative attraction, Walt Disney Imagineering creative director Kevin Rafferty also dreamed up a design for a commemorative souvenir linked to MMRR.
"I designed a collectible Mickey ear hat that's themed after the ride," Rafferty said proudly prior to the opening of the attraction. "They sell this exclusive set of Mickey ears in a collectible box that's kind of like the Kevin Rafferty Edition kind of thing."
Indeed, at the grand opening of the attraction in early March, Rafferty could be seen autographing the ears for several eager fans.The Rafferty-designed collectible joins an incredibly long list of Disney-themed souvenirs, all of which play an important role in the overall Disney experience.
The idea of selling merchandise tied to Disney characters goes all the way back to 1929 and, as with many strokes of good fortune, it was a random encounter that triggered the birth of Disney-themed merchandising.
"It all started by chance," explained Disney historian Dave Smith in 1998. "Walt Disney was walking through a hotel lobby in New York. A man came up to him asking if he could put Mickey Mouse on a children's tablet [or writing pad] he was manufacturing. "He offered $300, and as Walt needed the money, he agreed. That tablet began Disney licensing."
Over the next year, a Mickey Mouse book and a comic strip were licensed.
In 1932, an entrepreneur named Kay Kamen convinced Walt Disney that licensing his products could result in enormous financial gain. And, since Walt was always searching for ways to make money, he was on board. Kamen's standard for character licensing was ahead of its time and was copied by many in the field for years to come.
Building on the modest success of the Disney cartoon shorts in the late 1920s and early 1930s, Kamen added lucrative tie-ins to the films – things like Mickey Mouse pins, watches, dolls, shirts and plush toys. He also would lend the Disney character images to product endorsements.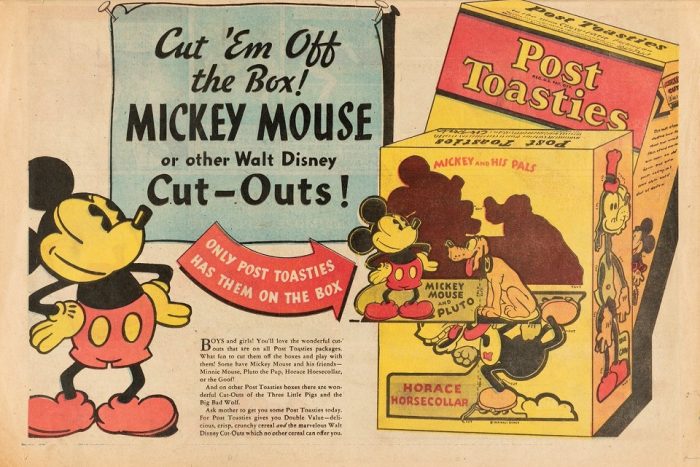 In 1934, for instance, Mickey, Minnie and the Three Little Pigs were featured in newspaper advertisements for Post Toasties cereal. The ads told us that the images of the Disney characters on the cereal boxes could be cut out and collected by youngsters.
"I'm on Post Toasties boxes now!" proclaims Mickey in his ad. The ad goes on to say, "Here's a barrel of fun for boys and girls! Wonderful cut-outs of Mickey and his pals on some Post Toasties packages. The Three Little Pigs on others. Children love them! "Serve Post Toasties often. The whole family will love these golden, toasted corn-heart flakes that stay crisp and crunchy in milk or cream."

Minnie offered a similar message in her ad: "Cut me off the Post Toasties box. You've never seen such wonderful cut-outs as these!" The Disney character cut-outs on cereal boxes were, indeed, a stroke of genius.
With the country in the throes of The Great Depression in the early 1930s and with entertainment options virtually non-existent, particularly for children, the idea of cutting out Disney characters and collecting them caught on.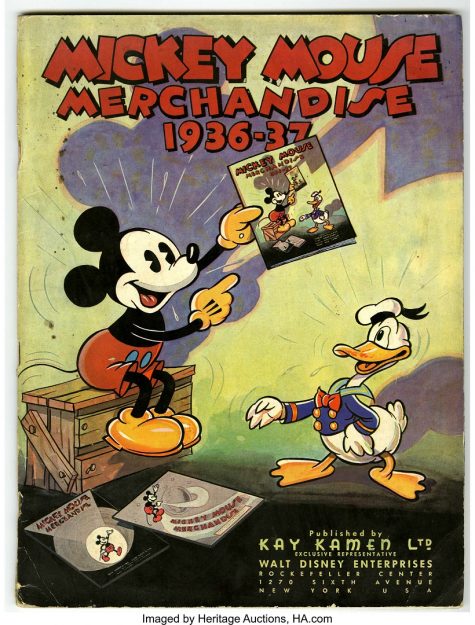 General Foods, which made Post Toasties, paid $1 million for the use of Mickey and Friends on its products. Once Kamen had established the mass appeal of the Disney characters, major companies flocked to Disney with checkbooks in hand.
In 1933, watchmaker Ingersoll Waterbury was on the brink of bankruptcy. After it introduced the first-ever Mickey Mouse watch, it needed to hire more than 2,500 additional factory workers to keep up with the demand.
MACY'S SOLD MORE THAN 11,000 WATCHES IN ONE DAY
The watch was so popular that Macy's in Manhattan sold 11,000 Mickey Mouse watches in one day. And Kamen's imagination seemingly knew no bounds: In the late 1930s, images of Snow White appeared on the bottles of household bleach and ammonia.
Kamen was associated with the Walt Disney Company for 17 years before he died in a plane crash over Spain in 1949. For his contributions to the company, he was named a Disney Legend in 1998. Disney was at the forefront of another innovative merchandising concept in the mid-1950s.
When Disneyland opened in 1955, guests were introduced to what is widely considered to be the first indoor shopping mall. On either side of Main Street USA, guests could stroll from one souvenir shop to another, all under cover and each air conditioned.
In the beginning, those shops were leased by major corporations. Over time, as Disneyland's popularity soared, Disney took over the Main Street shops and began selling its own licensed merchandise.
DISNEY STORE TOOK MERCHANDISING TO A NEW LEVEL
On March 28, 1987, the Walt Disney Company took its retail brand outside the parks when it launched The Disney Store in the Glendale Galleria in California. The store was the first to offer Disney merchandise exclusively and the concept quickly caught on. By the late 1990s, there were more than 700 Disney Stores around the United States and in 10 foreign countries.
The Disney Store also was at the forefront of internet shopping when it launched The Disney Store Online in 1996. In addition, over the years Disney expanded its retail footprint by forging relationships with major companies, including JC Penney and Target, thus carrying on the merchandising philosophies first introduced by Kay Kamen in the 1930s.
What is your favorite piece of Disney memorabilia you own? Let us now in the comments below!
Join the AllEars.net Newsletter to stay on top of ALL the breaking Disney News! You'll also get access to AllEars tips, reviews, trivia, and MORE! Click here to Subscribe!