"Strange days have found us
Strange days have tracked us down
They're going to destroy
Our casual joys."
"Strange Days," The Doors
When Walt Disney died on December 15th, 1966, there was talk among the Walt Disney Company's executives that Disneyland should be closed on December 16th, out of respect for the company's founder.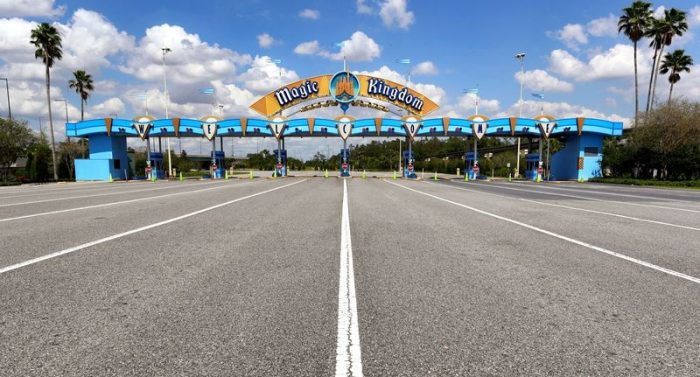 Ultimately, it was decided to keep the park open because, most everyone agreed, "Walt would have wanted it that way." Indeed, it's rare when any of Disney's twelve theme parks around the world have been closed to guests.
Up until this year, weather events, natural disasters, national days of mourning, or terror attacks were reasons for shutting down any of Disney's parks and resorts worldwide.
Nothing has ever come close to the level of closure being experienced throughout the Walt Disney Company as result of the global health crisis. All twelve Disney theme parks worldwide remain closed as of this writing.
Every other Disney amusement enterprise is on hiatus until further notice. That includes all on-property resorts, Adventures by Disney, Disney Cruise Line, Disney Store, Disney's shows on Broadway, and Disney shopping districts, including Disney Springs in Disney World and Downtown Disney at the Disneyland Resort.
A SCATTERED COLLECTION OF GHOST TOWNS
In short, Disney parks and resorts have gone from the Happiest Places on Earth to a scattered collection of ghost towns.
With our access to the parks temporarily denied, it's only natural, I guess, to want to reminisce about past trips to Disney … to remember the magic, if you will, back when social distancing wasn't a thing and when family and friends could gather arm-in-arm for a group photo in front of the Magic Kingdom train station without fear.
Walt Disney World was barely a year old when my wife Janet and I and her younger brother Bob made the trip to central Florida from New Jersey during Thanksgiving weekend in 1972.The place was larger than life, too big to be experienced in a just a day or two.
And mind you, there was the Magic Kingdom and only the Magic Kingdom back then. No Epcot, no Hollywood Studios, no Animal Kingdom, no Blizzard Beach, no Typhoon Lagoon. On-property resort options consisted of the Contemporary, the Polynesian, and Fort Wilderness.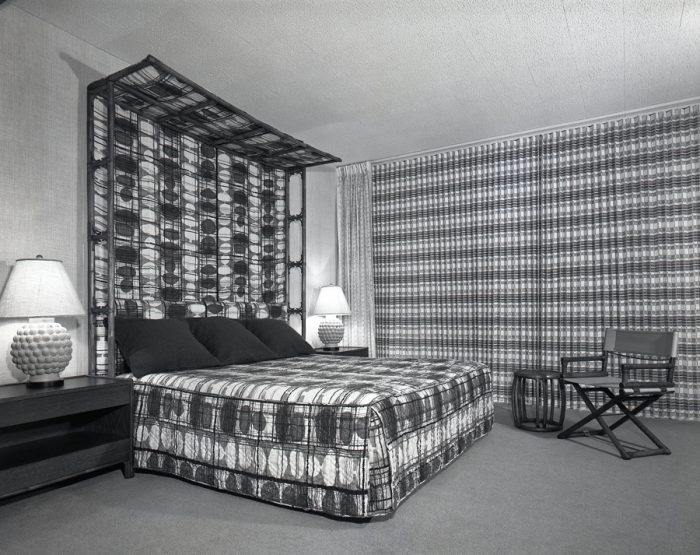 The majority of guests stayed at hotels and motels off-property and drove to the Magic Kingdom. Magical Express? Decades away from service. Most guests either rented a car at the airport or bypassed flying altogether and motored their way to central Florida.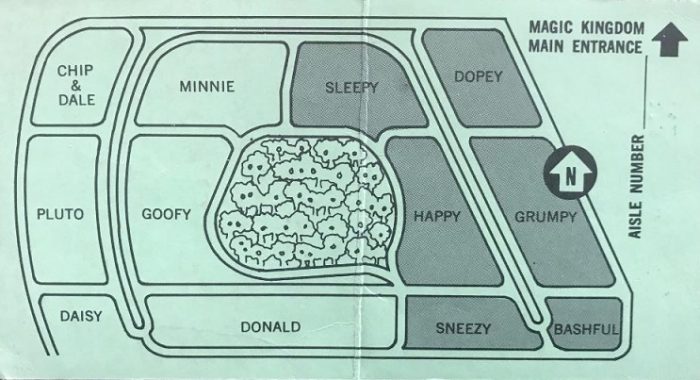 After parking their cars in areas designated with names like Grumpy, Dopey and Goofy, guests boarded a tram to the Transportation and Ticket Center, where you got on a long line to buy tickets: An "adventure ticket book" got you into the park and gave you admission to either seven or eleven attractions.
Attractions were given designations according to the "thrill level" of each ride. The coupons ranged from A to E. The mildest attractions – Main Street's Omnibus, Horse Cars, Horseless Carriage and Fire Engine, as well as Cinderella's Golden Carrousel in Fantasyland – could be accessed by using an A Ticket.
E TICKET ATTRACTIONS IN 1972
The most "exciting" adventures at the time (Jungle Cruise, Country Bear Jamboree, Hall of Presidents, Haunted Mansion, 20,000 Leagues Under the Sea, and "it's a small world") were worthy of E Tickets. A seven-adventure book cost adults $4.95, while an 11-adventure book was $5.95.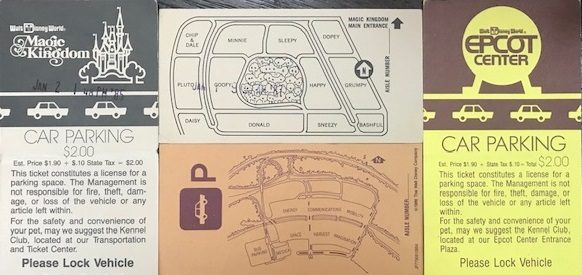 When guests ran out of tickets, they could purchase more at conveniently located Ticket Kiosks throughout the park. Individually, A Tickets cost 10 cents, B Tickets 25 cents, C Tickets 50 cents, D Tickets 75 cents and E Tickets 90 cents.
There were three attractions in the park that were free of charge: The Diamond Horseshoe Revue, If You Had Wings and America The Beautiful. Once you secured your tickets, you had two options to get to the Magic Kingdom: The futuristic monorail or one of the Osceola steamboats, which were much smaller and less reliable than the ferries of today.
In addition to the T&TC, the monorail stopped at the Polynesian and Contemporary resorts, as well as the main gate at the Magic Kingdom.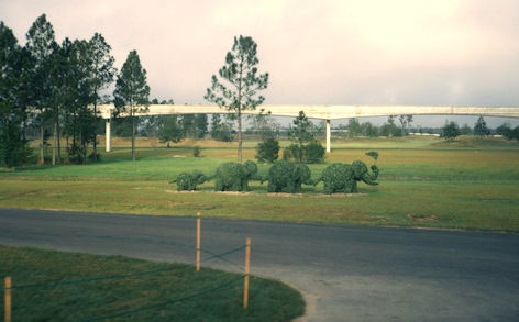 I remember our very first ride on the monorail. As it pulled out of the T&TC station, you couldn't help but notice the collection of Disney-themed topiaries sprinkled on the ground below. Topiaries, of course, have become a much-loved addition to Epcot's various annual festivals.
Then we quietly glided into and through the main lobby of the Contemporary! How is this possible, we thought? Ah, the magic of Disney …
So much has changed in and around the Magic Kingdom since that first visit in 1972. Inside the park, it all seemed so overwhelming … even though Magic Kingdom mainstays Space Mountain, Thunder Mountain, Splash Mountain, Pirates of the Caribbean and Tom Sawyer Island were still years away from completion.
Even the Disney costumed characters roaming the different lands were an odd lot, to say the least. In addition to The Fab Five (Mickey, Minnie, Goofy, Donald and Pluto), there were Jose Carioca, Giuseppi Cat, Br'er Bear and Honest John posing for photos.
And Main Street was a veritable forest, with lush green trees lining the park's main thoroughfare from Town Square to the courtyard in front of the castle. Outside the park, the landscape around Seven Seas Lagoon and Bay Lake was relatively sparse. Boat docks extended from the Polynesian, the Contemporary and the T&TC.
It wasn't until 1988 when the elegant Grand Floridian Resort and Spa opened, giving Seven Seas Lagoon three resorts on its shores. Adjacent to the Grand Floridian, Disney's Wedding Pavilion opened in 1995.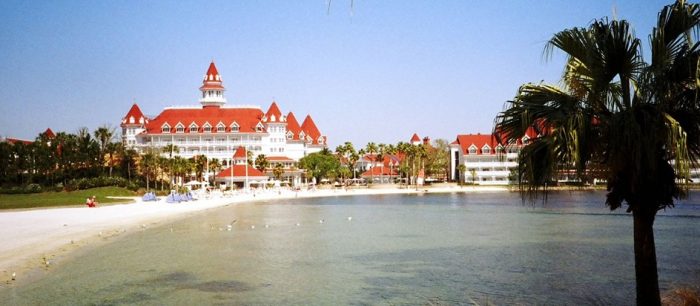 Bay Lake Tower, a Disney Vacation Club property, opened next to the Contemporary in 2009, the Grand Floridian's own DVC wing opened in 2013, while the Polynesian upgraded its property to include DVC rooms in 2015.
There's now a huge bus terminal located outside the MK, which allows guests to travel to and from any Disney resort located on property.
BOLLARDS LINE THE PROPERTY TO PROTECT FROM THREATS
To protect the Magic Kingdom from any outside threats, sturdy bollards have been erected along roadways and entrances. And before you even get to the Main Gate, cast members meticulously check the contents of bags, backpacks and strollers … and then you're required to walk through airport-style X-ray scanners.
At the turnstiles, instead of handing a cast member a ticket to be stamped, you now scan a Magic Band to gain admission to the park. Around Seven Seas Lagoon and Bay Lake, the shorelines are lined with rocks, a rope fence and signs warning of the threat of alligators and snakes in the waters nearby.
At some point – hopefully soon – things will return to normal at Disney properties worldwide. Until then, we cling to memories of past Disney adventures with family and friends.
In the meantime, stay safe.
Have any memories of Walt Disney World visits that you'd like to share? Let us know in the comments below!
Join the AllEars.net Newsletter to stay on top of ALL the breaking Disney News! You'll also get access to AllEars tips, reviews, trivia, and MORE! Click here to Subscribe!