What's Growing On at the 26th Annual Epcot Flower and Garden Festival
by
Debra Martin Koma
AllEars® Editor
Feature Article
This article appeared in the March 12, 2019 Issue #1016 of ALL EARS® (ISSN: 1533-0753)
Editor's Note: This story/information was accurate when it was published. Please be sure to confirm all current rates, information and other details before planning your trip.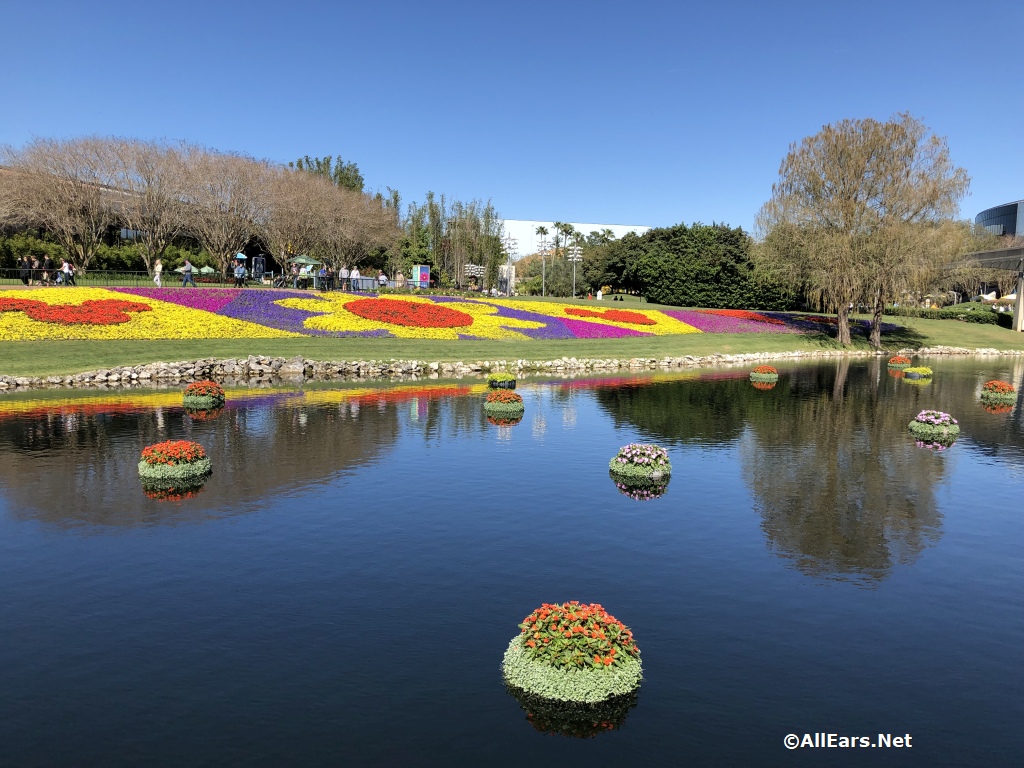 Each spring, the Epcot International Flower and Garden Festival takes center stage at the theme park, with a variety of topiaries, colorful gardens and plantings, and garden-fresh tastes scattered throughout its open spaces. This year, the 26th, the festival started on March 6. It continues for three full months, until June 3. After having visited during its first few days, I thought I'd share with you what's "growing" on this year at the festival, which is included in your regular admission price to Epcot.
The Topiaries
Who doesn't love the topiaries at Epcot during this time of year? The Flower and Garden Festival is well-known for bringing Disney characters to life with its elaborate figures made from wire and greenery. The first thing you'll see when you enter the theme park is the main entrance display, with majestic Spaceship Earth in the background. Usually this display features some combination of Disney characters, but this year has a number of beautiful multi-colored butterfly topiaries.
Perhaps the most-talked about topiaries are the new figures of Bo-Peep and her adorable sheep, stationed in Future World East in a re-themed play area now called Bo-Peep's Playtime Training Grounds, promoting the upcoming film Toy Story 4. Nearby are Bo's co-stars, Buzz Lightyear and Woody. Also creating a buzz is the updated Dopey topiary, which gives the little dwarf a newly detailed, expressive face similar to that of his princess, Snow White, who stands next to him in the Germany pavilion.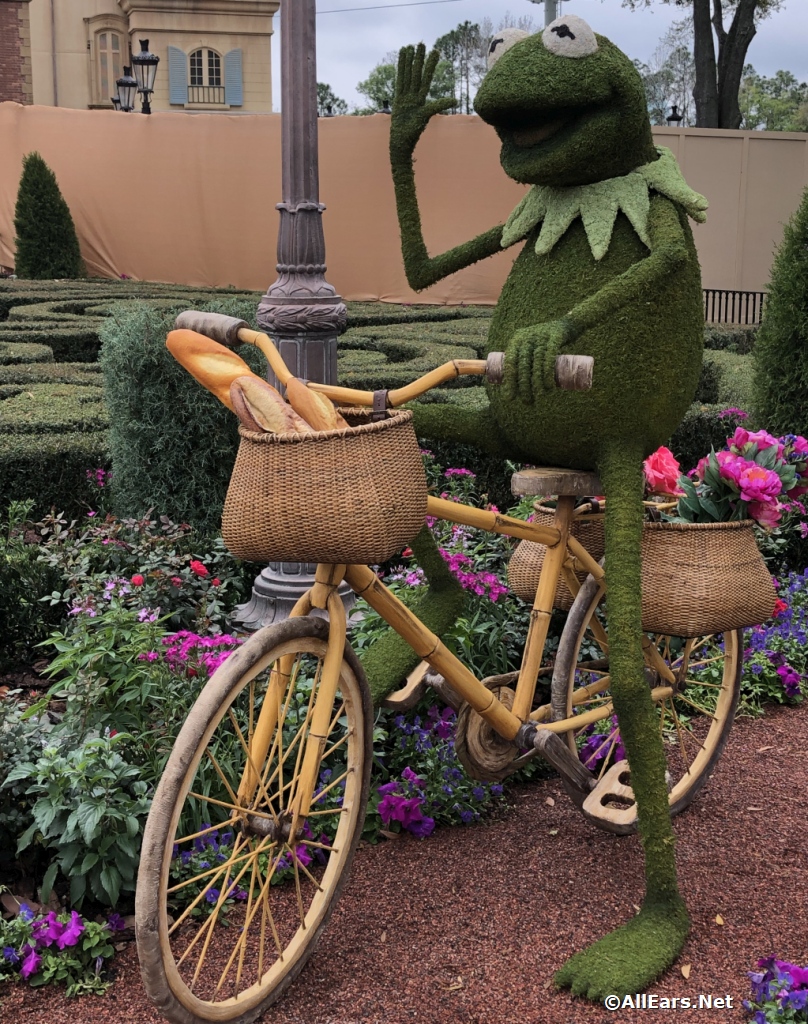 Other returning topiaries include the Frozen sisters, Elsa and Anna in the Norway pavilion, Beauty and the Beast in France, the panda bear family in China, and The Three Caballeros over near Mexico. There's a fun display of Peter Pan duelling with Captain Hook, the 100 Hundred Acre Wood gang with Pooh, Piglet, Tigger and Eeyore in the UK pavilion, and Bambi and friends outside of Canada. Lady and the Tramp are in a different location this year, down by the waterside gondola in Italy. My personal favorite Kermit and Miss Piggy have relocated to the France pavilion, with Kermit astride a bicycle, bearing baguettes for his lady love.
Elsewhere in Future World, you'll find Stitch in front of Mission: Space, and Figment looking grand atop his perch, presiding over Future World West. The lovely Miss Daisy is on the backside of Spaceship Earth. Where, you may be wondering, are the Fab 5? Well, Pluto and Goofy are the main photo ops on the way into World Showcase — Gawrsh, Goofy is tall! And in World Showcase Plaza you'll find sweethearts Minnie and Mickey, as well as actual heart-shaped topiaries, flanked by Donald Duck on one side, and his nephews Huey, Dewey and Louie on the other. (You'll also find another Mickey and Minnie in the American Adventure pavilion.)
There are more than 60 topiaries in all — it's a fun pastime to try to spot them all. I must have walked past The Three Caballeros three times before I noticed them!
The Gardens
One of the features of the festival that I most enjoy is the Goodness Garden Butterfly House. This year, the festival opened on a very cold (for Florida) day, and I was afraid the butterflies might not be as active as usual. That was partially true. They didn't flutter around as much, but they were landing on many of the visitors; I assume they were looking for warmth like we all were! In fact, one hitched a ride on my head and stayed with me as I walked through the house for a full five minutes, perhaps longer! Magical!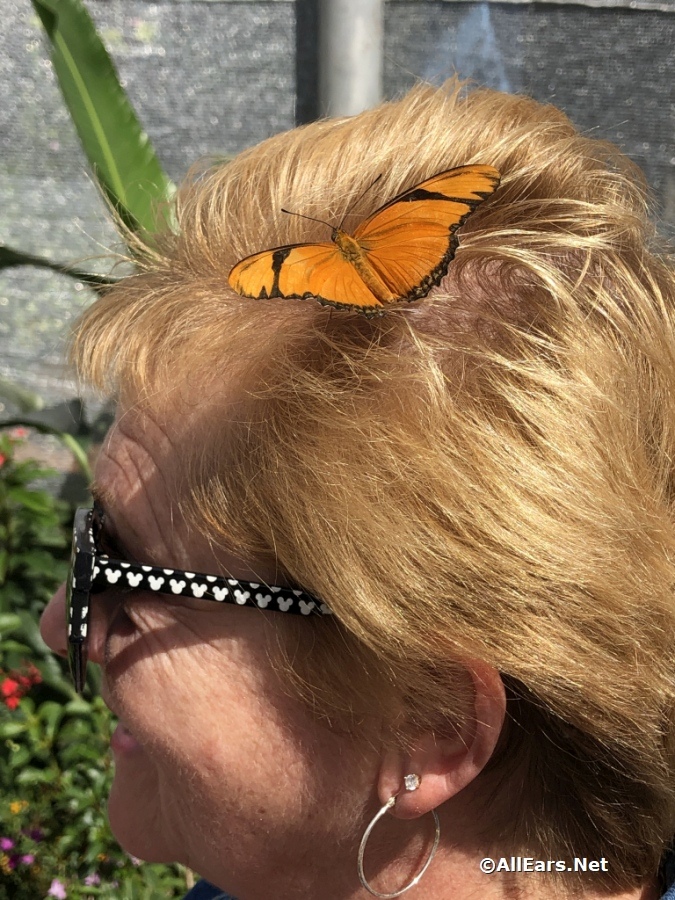 Of the other gardens around Epcot, I think my favorite has to be the Tropical Rainforest in Mexico, which highlights a number of orchids and bromeliads. There didn't seem to be quite as many as in the past, but still they are beautiful to look at. The English Tea Garden in the UK pavilion is also fun, I just wish I'd had time to take one of the tours that are offered.
Over near The Land, there was an unusual sculpture promoting the upcoming Disneynature film, "Penguins." It's a 9-foot-tall artwork of an adult and a baby penguin called "Washed Ashore," made from reclaimed plastic trash.
Outdoor Kitchens
If you love the Epcot International Food and Wine Festival, you will enjoy the Outdoor Kitchens of the Flower and Garden Festival. I think this is the seventh year for the food kiosks to return, and they offer guest favorites and new dishes in appetizer-size portions.
Stroll along Imagination Walkway (to the left of Spaceship Earth, if you are looking back at it from the World Showcase promenade) to find one of my favorite Outdoor Kitchens, the Honey Bee-stro. Hosted by the National Honey Board, this little garden not only features some interesting exhibits on beekeeping and honey-gathering, but its food booth has some of the tastiest treats at the festival. The roasted cauliflower with wild rice pilaf, asparagus and honey-blistered grapes was just delicious!
There are 18 officially designated Outdoor Kitchens this year, along with a few other locations serving up festival specials. (We have complete menus with prices posted on AllEars.Net if you want to plan your strategy — check out the link below.) One of the most popular Outdoor Kitchens each year is the Pineapple Promenade in Showcase Plaza. Visitors love its Dole Whip-like concoctions, as well the Violet Lemonade, which actually now has its own apparel line! Its popularity is rivaled this year by the Citrus Blossom kitchen, whose claim to fame is the adorable Orange Bird sipper that comes with a non-alcoholic Orange Cream Slushy. At $14 it may be a little on the pricey side, but what a collectible the little orange guy is! Lines for this kitchen grew exponentially on opening day, and I don't expect that to slow down unless they sell out of the sipper.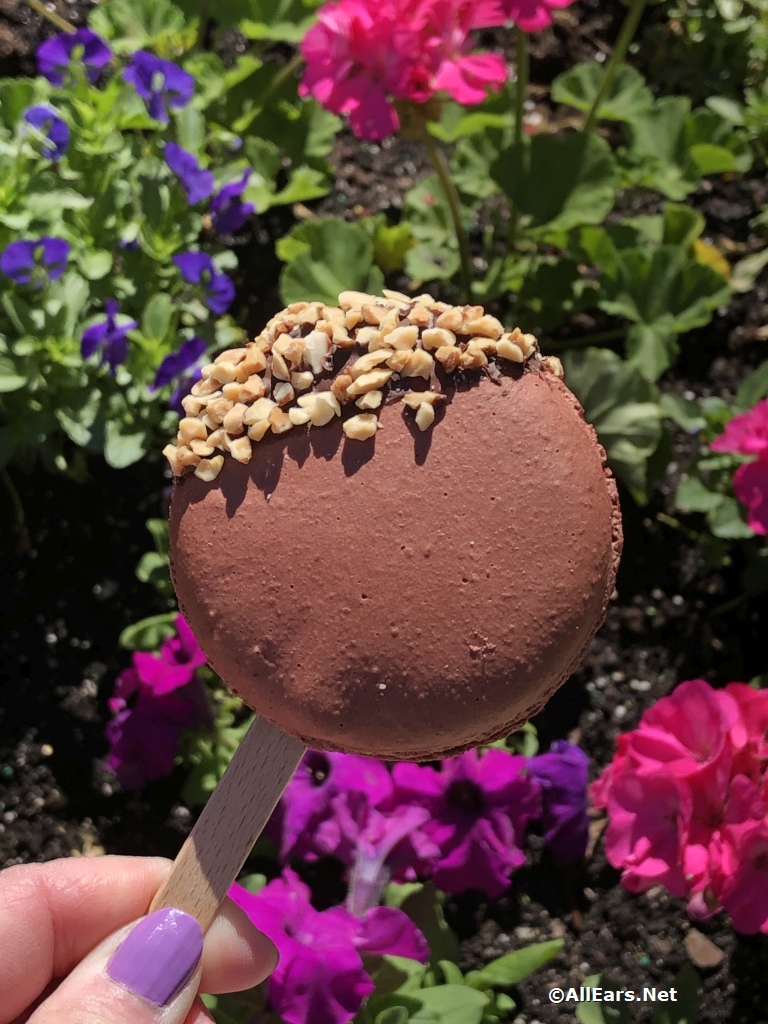 Other winners in the Outdoor Kitchen category? My perennial favorite, the Fleur de Lys kitchen in France. Yes, it's home to the extremely photogenic (and scrumptious) Macaron au Chocolat en Sucette (AKA Large Chocolate Macaron Lollipop, for $5.25), but what I really give five stars to this year was the Goat Cheese Tart with Caramelized Onions on a flaky Pastry Crust ($5.50). It was so good I went back to have it again two days in a row. I also enjoyed Bauernmarkt's Potato Pancakes with House-made Apple Sauce ($4.50) and La Isla Fresca's Sugar Cane Shrimp Skewer with Steamed Rice and Coconut-Lime Sauce ($7). Not high on my list? The Fried Cauliflower with Capers, Garlic Parsley and Chili-ranch Sauce ($6) from a Taste of Marrakesh and the Trowel and Trellis kitchen's Chocolate Pudding Terrarium with Avocado Cream, Matcha Crumb, Pomegranate and Baby Herbs ($5), which, despite its lacking in the flavor department, gets my vote for prettiest food at the festival.
For Children
Located along Imagination Walkway between Future World and World Showcase is the new Play Full Garden. Some of the equipment I'd seen at the festival before — oversized musical instruments to bang on and logs to crawl through — but there was a revolving globe thing that was new to me, and the kids really seemed to be enjoying it.
The previously mentioned Bo-Peep's Playtime Training Grounds was, up until the start of the festival, a Wreck-It Ralph themed play area. During previous festivals it was home to a "Cars 2" play area with Mater and Lightning McQueen topiaries. It's on the walkway near Test Track, and the play equipment is fun for all ages.
Returning this year are the two scavenger hunts that the festival has had in the past — Spike's Pollen-Nation Exploration and the limited time Egg-Stravaganza (it doesn't start until closer to Easter, April 5). I noticed that the maps for Spike's scavenger hunt are more widely available — you can get them at nearly all the festival shops this year.
Garden Rocks Concerts
This year, the Garden Rocks concert series has expanded — there are now performances NIGHTLY during the entire run of the festival. Three times each night at the America Gardens Theatre at 5:30, 6:45 and 8 p.m. you can see acts like Air Supply, Sister Sledge, and Herman's Hermits starring Peter Noone.
The concerts are included in Epcot admission, and there is no assigned seating, so be sure to line up early if you have a favorite artist you want to see. Or, try booking a Garden Rocks Dining Package at one of Epcot's participating restaurants — for a set price you get a tasty meal (breakfast, lunch or dinner options available) and guaranteed seating for a show that evening.
MIA
Unfortunately, this year there is no true Festival Center, as the former center, which was housed in the old Wonders of Life pavilion in Future World East, is being "reimagined" into a new Play pavilion. Instead, the Odyssey, which sits just behind Mexico, is serving as an ad hoc Festival Center. In the Odyssey, you'll find the Arbor at the Gardeners Terrace, as well as multiple stands selling passholder exclusives as well as other specialty festival merchandise. There's also a series of short films on the festival featuring members of Epcot's horticulture team playing in the back of the space.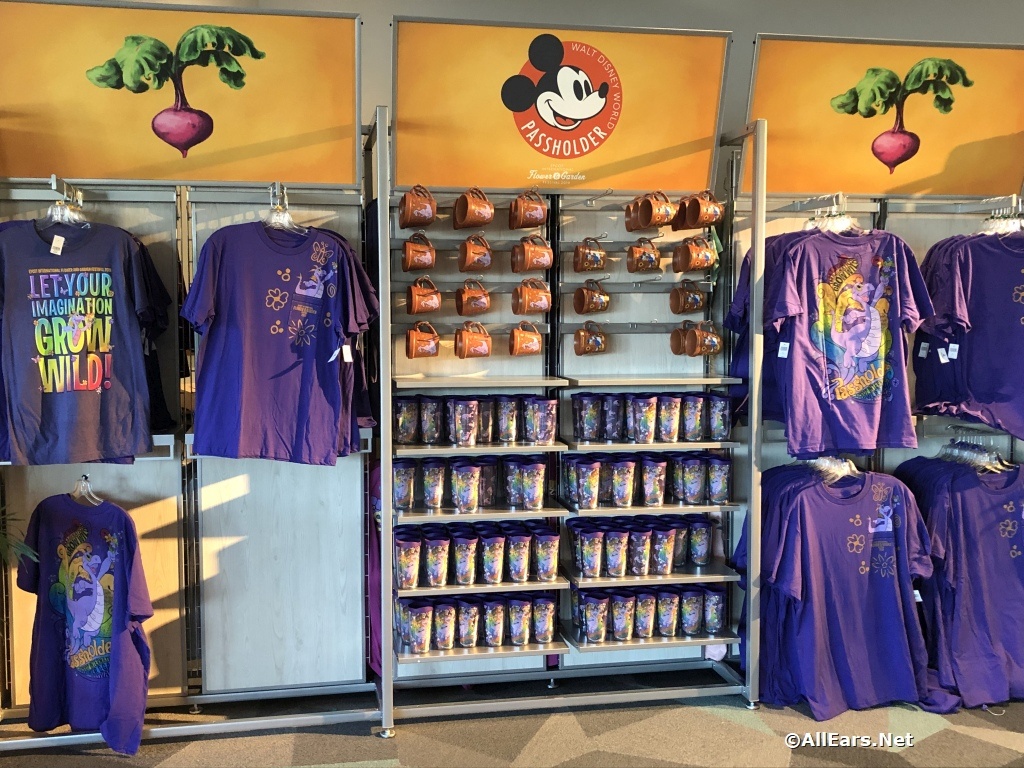 There are also no horticulture classes or demonstrations this year — and their absence was strongly felt, in my opinion. Without these educational opportunities, the Flower and Garden Festival almost felt like a glorified Food and Wine Festival. I love the Food and Wine Festival, don't get me wrong! I just really missed the chance to pick up some gardening tips from professionals, or having the chance to do a little activity in a seminar.
But Epcot's Flower and Garden Festival obviously is not just for gardeners. It will appeal to just about everyone, young or old, and especially to those of us from the north who are craving color after a long, gray winter. This annual festival is one the entire family can enjoy on many different levels. And with its three-month duration, you'll have plenty of time to visit!
= = = = = = = = = = = = =
RELATED LINKS
= = = = = = = = = = = = =