The Kitchen Sink. A classic old jukebox. That relaxed seaside menu of comfort foods. Beaches & Cream Soda Shop is a beloved Walt Disney World dining establishment which, for the past few months, has been closed for a lengthy refurbishment.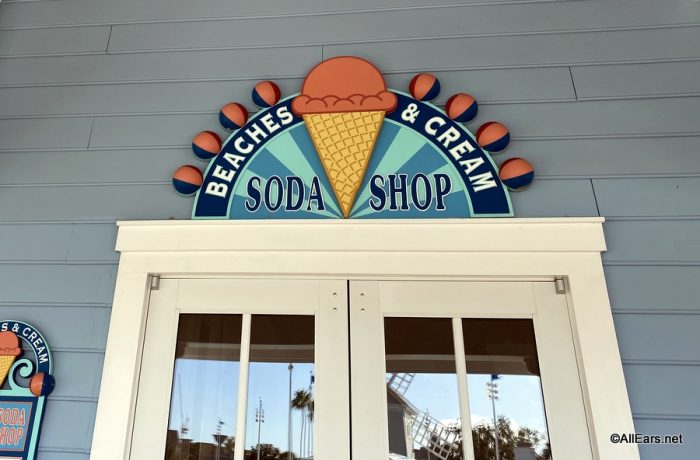 But now, we're happy to report, the restaurant is open — in more ways than one. For starters, it's open open. You can get an ADR or walk in to try to sidle up to the bar. Or, if you're looking for some quick eats, you can even order To-Go items like milkshakes, ice cream by the scoop, and the Mickey Kitchen Sink.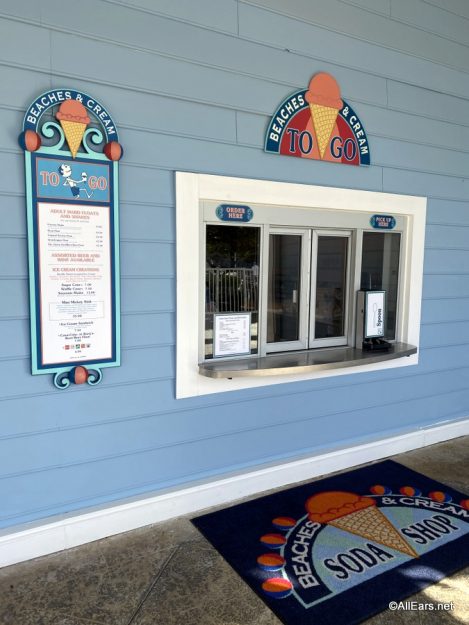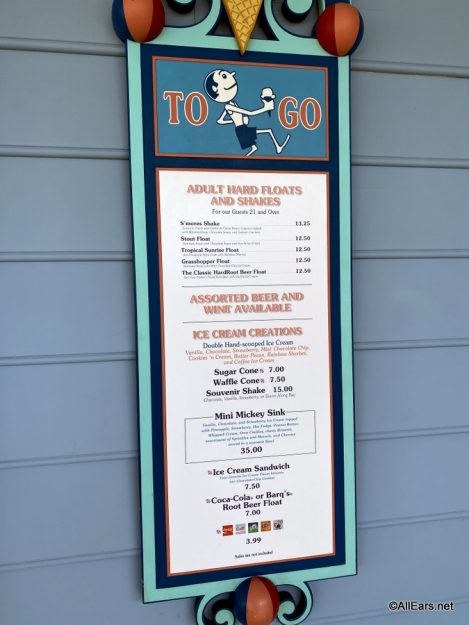 But it's also had a bit of an expansion, so it's more open in terms of space than ever before!
Some of the original charm remains; the dominant colors are still creamy white and pastel teal, yellow, and pink.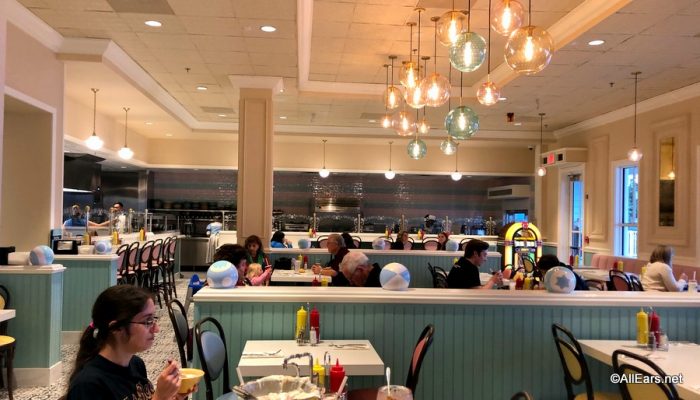 But there are few slightly more chic (and perhaps more out-of-place) details, too. The tile floor, for example, would look a lot more at home in Coronado Springs' Gran Destino Tower or even the newly-open Riviera Resort.
And the globe lights, which embrace the shape of the quintessential beach ball, are beautiful but not as Beaches & Cream as one might expect.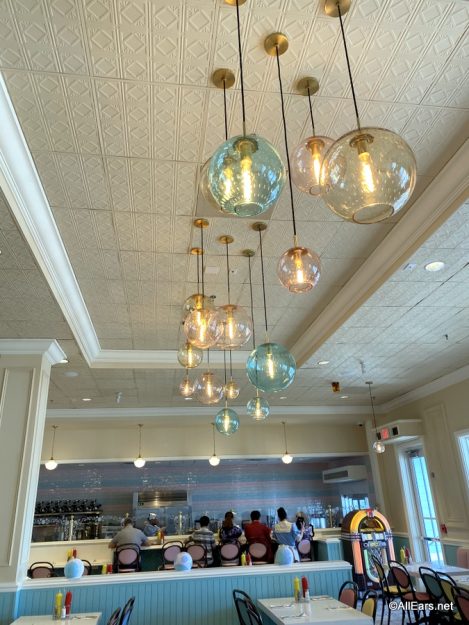 Still, we're not complaining about that dining room having a ton more space! In the past, it was a real challenge to get an Advance Dining Reservation for Beaches & Cream, and while that's still likely to be the case, at least now the seating can accommodate more diners overall.
The menu is still packed with comfort food, but there are a few new items and plant-based items that broaden the offerings a smidge.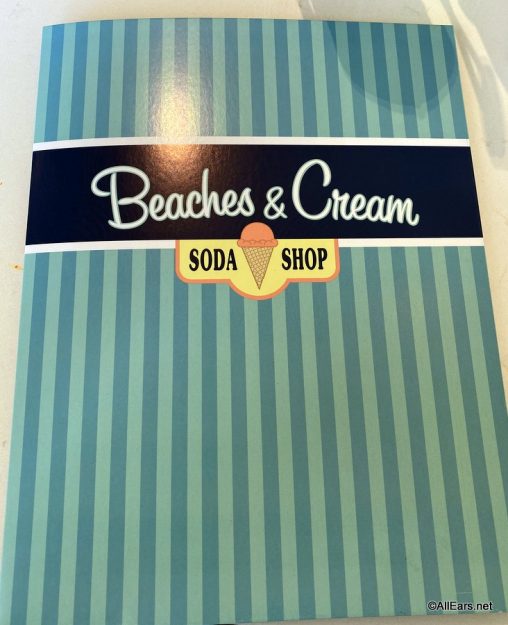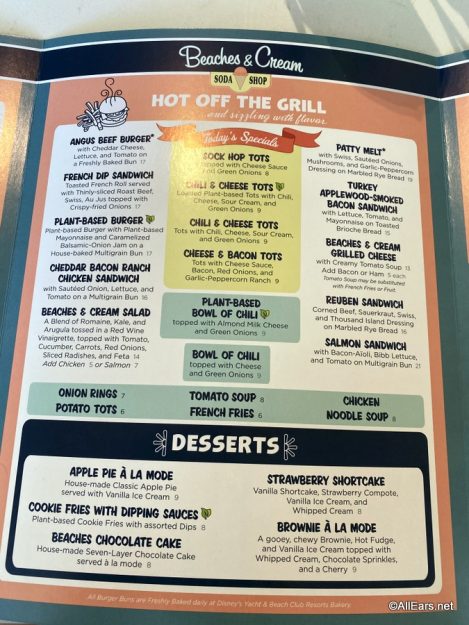 There are plant-based Chili and Cheese Tots which are a good approximation of the Sock Hop Tots.
The Sock Hop Tots are a take on the restaurant's old Sock Hop Fries offering and are covered in gooey cheese sauce.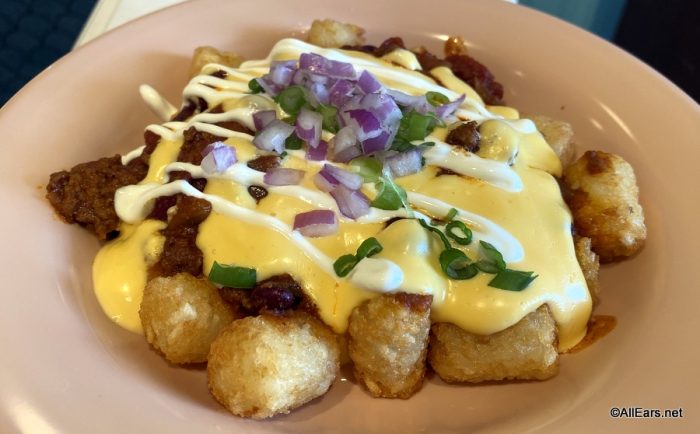 The menu also offers a healthier-for-you Salmon Sandwich, too. This could be a good option for those looking not to indulge in a burger or grilled cheese.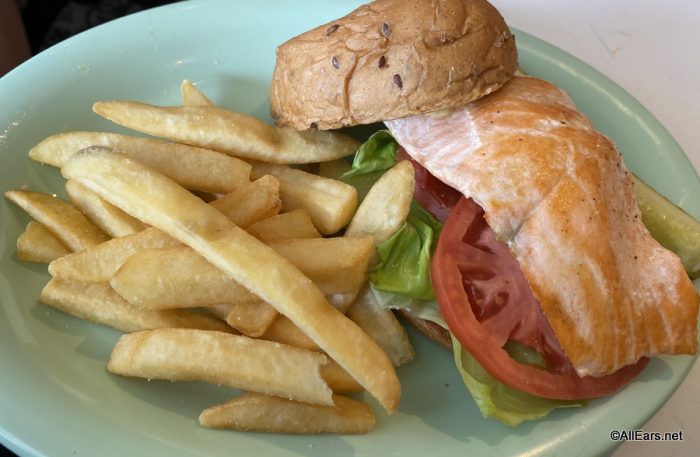 Another change at Beaches & Cream: beer on draft! This is a local offering from the Gainsville area. It's a Wakulla Hefeweizen.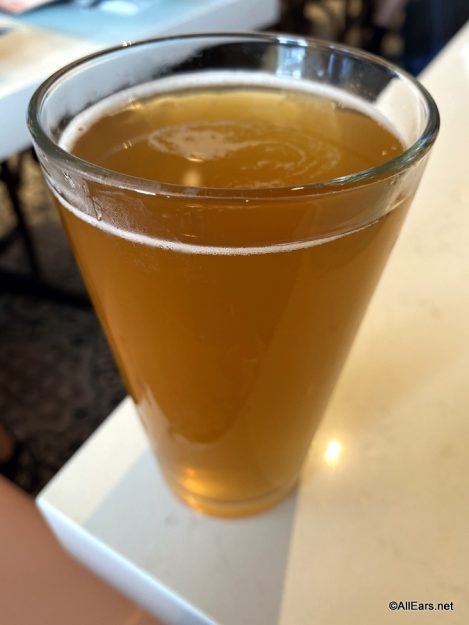 Of course, what's a soda shop without some ice cream? Thankfully the favorites are still here: the Classic Banana Split, the No Way Jose, and plenty of other options.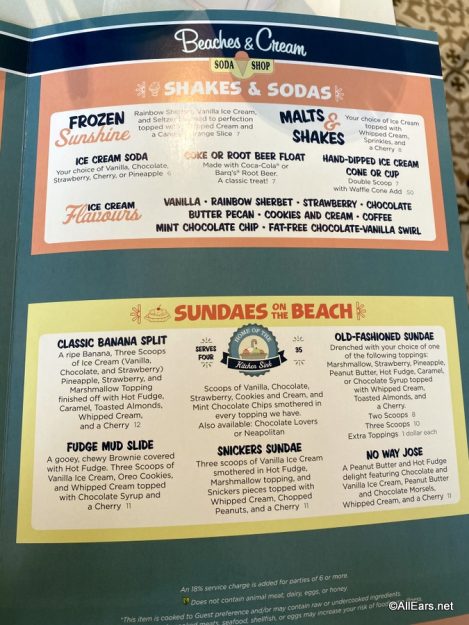 Beaches & Cream has also offered loaded shakes for a while, and now they've added a fourth! The Storm Along Shake is a cotton candy shake topped with a "lifesaver" donut. It comes in a souvenir cup just like the other three Specialty Shakes.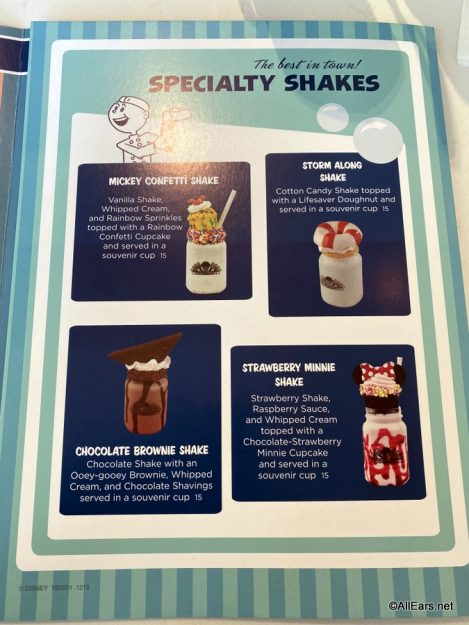 Also note: the Kitchen Sink is still very much on the menu!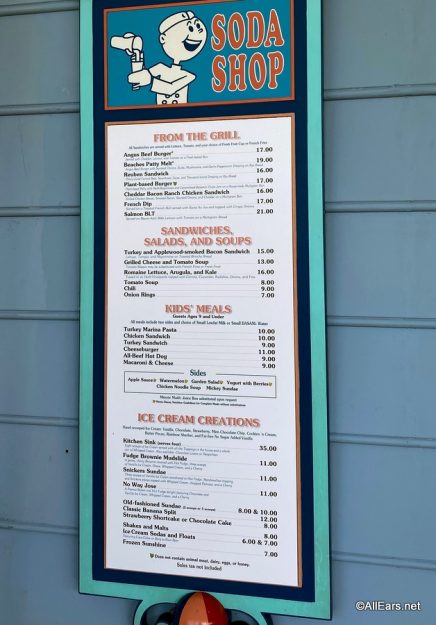 And no matter what you order or how they've altered the atmosphere, we can all rest easy in our poodle skirts and slicked-back hair because the jukebox is still present in its neon glory!
So beat feet and make your way to Beaches & Cream to check out the refurbishment for yourself!
Do you think Beaches is the cream of the crop? Leave an AllEars reader review by clicking the link below!