It's tough to be an Imagineer.
For every show or attraction that the members of the Walt Disney Company's creative wing dream up, there are dozens of their ideas that get rejected. Indeed, the evolution of an attraction can be almost as thrilling as the attraction itself.
Take the It's Tough to be a Bug! attraction in Disney's Animal Kingdom.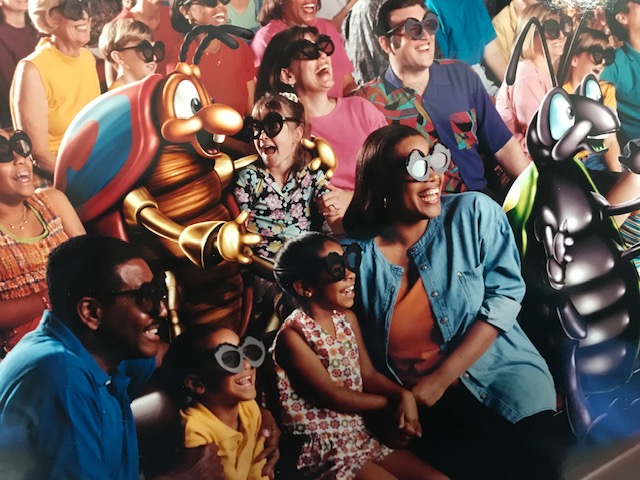 Like most Disney theme park attractions, It's Tough to be a Bug! took a rather circuitous route from early concepts to finished attraction.
"When Animal Kingdom was being developed, the outside structure of the Tree of Life was going to be like the castle and the base of the tree was going to be a walk-through, like the castles are," Imagineering creative director Kevin Rafferty, It's Tough to be a Bug! show producer, said.
Then-Disney chairman Michael Eisner challenged the Imagineers to come up with something bigger and better than a walk-through.
The idea of putting a restaurant in the base of the tree was tossed around, but quickly rejected. The concept of a Tree of Life attraction then evolved into some kind of show.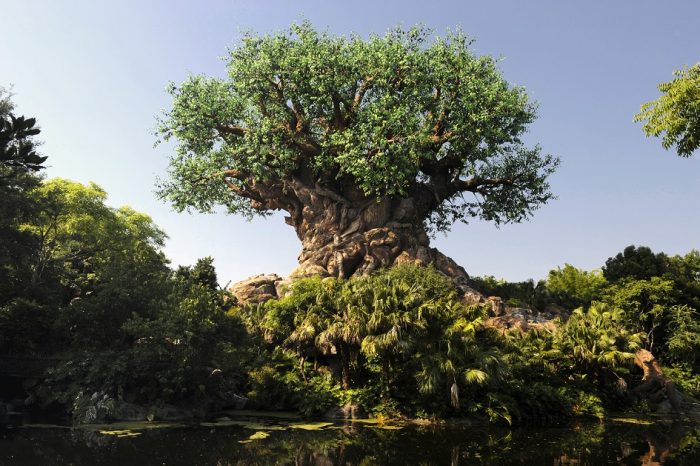 "I was at a meeting one day and Michael asked the question, 'Is the base of the tree big enough to put a show in?' And we said, 'Yeah, we could probably put a couple hundred seats in that thing' and it kind of changed the whole design of that. He tasked me to come up with a show to put inside that."
"The challenge for us was to come up with a show on the inside of The Tree of Life that would capture the spirit and magnificence of the outside," said Joe Rohde, Animal Kingdom's lead designer.
Rafferty's initial concept called for a Lion King-themed attraction.
"At that time, The Lion King was big [the animated classic was released in 1994] and Rafiki was the wise old sage and all that, so I came up with a show that had Rafiki as an Audio-Animatronics character, talking about the animal kingdom.
Show has 'really got to be spectacular'
"I pitched the idea to Michael and he said, 'You know, that's really a good show. If it were at any other place than Animal Kingdom, it would be a 10, but it's really only an 8 on a scale of 1 to 10 and it's really got to be spectacular."
As luck would have it, at the time, Pixar Animation Studios was working on follow-up to its incredibly popular Toy Story, the first full-length feature film to use CGI technology in its entirety.
That movie, A Bug's Life, was scheduled to be released several months after Animal Kingdom's opening in April of 1998.
Eisner suggested to Rafferty that he get in touch with the folks at Pixar. "I thought, 'My gosh, where did that come from?' I thought he was crazy! My thinking was: 'Why would Michael suggest a show about bugs when this is a park about animals?'
"So I started to do research and the first book I found said on the first page, 'The 10 quintillion insects of the world comprise 80 percent of the animal kingdom. I thought, 'Man that is fantastic!' I had to put my fear of bugs aside, because without them, we'd be in a world of hurt."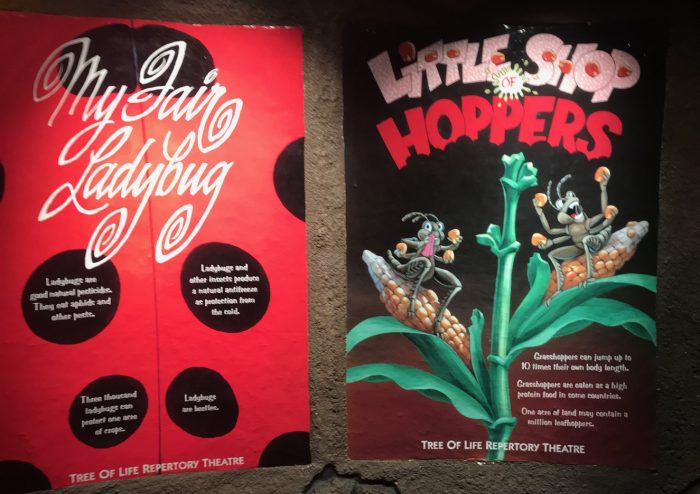 Indeed, Rafferty has "this phobia about bugs." That's right, the show producer of It's Tough to be a Bug! admits "I've been totally fearful of insects my entire life!"
In researching the project, Rafferty came upon a live action/cartoon featurette in the Disney vaults called It's Tough to be a Bird, which was released in 1969 and was directed by Disney Legend Ward Kimball, who was noted as a bit of a lovable oddball.
The main storyline showed the bird's contribution to mankind and its constant struggle for survival.
Inspired by 'It's Tough to be a Bird' film
It turns out It's Tough to be a Bird "was kind of the inspiration of the whole thing," Rafferty said of the It's Tough to be a Bug! attraction.
Rafferty explained that Disney always tries to do something it calls "edu-tainment" … educating guests while entertaining them.
To that end, "I started to meet with some entomologists, even some entomologists from the Smithsonian Institution. Of course, we wanted to make it as entertaining a 3D show as possible.
"I was asking them about what kind of interesting things that real bugs do in nature that we could put in the show to support the theme that it really is tough to be a bug.
"What do those guys need to do to survive? There was a session with some entomologists and they said, 'You know, there are soldier termites that spray acid on their prey' and I thought, 'Man, there's a 3D act!' 'And there are Chilean tarantulas that throw poison quills at their prey,' and I was like, 'Wow! This thing is writing itself!'"
Although Pixar and its creative leader, John Lasseter, were working on A Bug's Life, they were still years away from releasing it in theaters.
Came up with their own characters
"They didn't really have a whole lot of time to work on our show with us," Rafferty said, "so, essentially, I was given permission to make up my own characters, the rule being that they had to be believable, that if they were in the movie, they'd look the same.
"All Pixar had at the time were Flik the ant and Hopper the grasshopper. Those were the first characters they had developed at that time; the other ones were still evolving, so we got to use Flik and Hopper, which was fantastic, and all the other bugs characters we got to make up, all exclusive to It's Tough to be a Bug!
"This is one of the few attractions, I think, that Imagineering's ever done where the characters in an attraction predated the release of the movie. I think the show opened six months before the premiere of A Bug's Life, so we got to introduce [Flik and Hopper] before the movie came out.
"That doesn't happen frequently because it takes so much time to develop an attraction."
Since opening day, It's Tough to be a Bug! has been shown continuously throughout the day in a theater that seats 430 guests wearing "bug-eye" 3D glasses. Guests enter the under-ground queue area and are greeted by rather humorous Broadway-style posters.
Posters added a touch of humor
"The posters were just a fun opportunity to communicate that this was a Bugway production, like Broadway," Rafferty said. "So, to set that story up, we thought it would be great to put these parodies of Broadway posters, like a Cockroach Line, My Fair Lady Bug, Barefoot in the Bark and Beauty and the Bees, that kind of stuff.
"Essentially, that's what that was for, to show that this was a Bugway show and these were the other productions that happened to play in this theater over the years."
In addition to Flik and Hopper and the other characters created specifically for the show, there's a montage of 1950s-era film clips showing how bugs have been mistreated and misunderstood over the years.
Among the highlights of the show that had guests buzzing after viewing it were the appearance of Hopper, the chief protagonist of the movie and an Audio-Animatronics marvel; a stink bug's untimely release of a rather offensive odor; and another bug squirting a presumed "poisonous acid" into the audience.
It's all topped off when a crawly creature appears to have taken up residence … on your seat!
When the attraction opened, the Hopper figure was among the most complex Audio-Animatonics figures ever developed by Walt Disney Imagineering.
"With all the little spindly grasshopper tentacles, it was really hard to do," Rafferty said. "We, as an audience, get to shrink down to the size of a bug, so that being the case, Hopper had to be relatively the same scale as he was in the film.
"Plus, he was designed to come up on a lift that brings him up to the show, in a couple of seconds.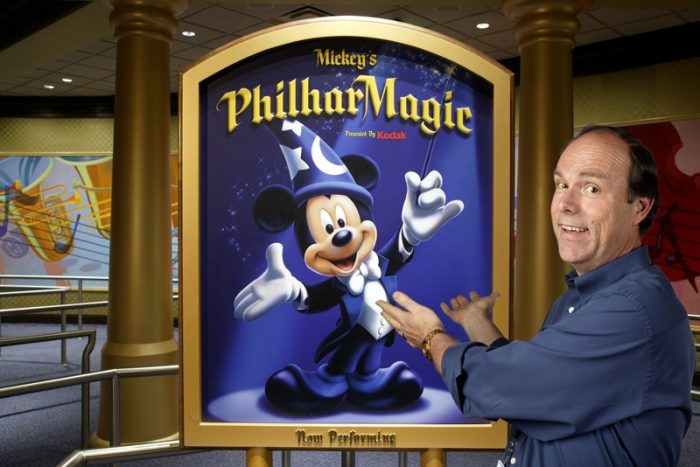 "All of that carriage and all that complexity of the entire figure as it came up on the lift was a real challenge. What's really great about the team here is they really rise to the occasion.
"All the complexities of that Hopper figure … there was a lot of head-scratching going on, but somehow they figured out how it all came together … Going up and down as it does during the show cycles."
And then there was the stink bug effect.
"The special effects guys actually put a stink bug in a sandwich bag and wanted to know if we wanted it to be that smell, and we said, 'No, no. We want it to be something a little less pungent," Rafferty said.
"Tom Fitzgerald was one of the creative leads at the time and his guys would come in and let us smell some of the stink bug effects they came up with.
A real 'earthy' smell was created
After a while, it was like, 'Oh, no. Here they come again!' Finally, we landed on the top three smells and we left it to Joe Rohde to decide. The one that's in the theater now is the one he picked. He said, 'This is great. This is earthy!'"
The "butt-bug" effect "was my idea," Rafferty said with a laugh. "It's always fun to leave our guests happy and laughing and getting a surprise that they totally didn't expect. Just to bring it all home with a smile.
"When I open an attraction, I like to sit or ride through with guests right after it opens to just kind of hear what they say and how they react to it and stuff. I remember when the park opened, I sat down at one of the first shows. There was this elderly couple sitting right in front of me halfway back in the audience.
"They had to be in their late 80s and they screamed and yelled and had a great time when that little butt bug went by. When everyone stood up to leave the theater, the husband turned to the wife and said, 'I don't know what that was, but I want to do that again'!"
When guests leave the theater, they are treated to yet another Rafferty creation: He wrote the lyrics to the song, "We're Pollinators."
A Broadway-quality finale
"We knew we wanted to do kind of a finale song," Rafferty said, "because it was kind of a Broadway-esque type show, so at one of my meetings with the entomologists, I made sure to ask them, 'If you were to tell our guests important things about the importance of bugs, what would it be?' One of them said, 'If it wasn't for the fact that they pollinate, human beings wouldn't be around on this planet very long.'
"And another one said, 'Yeah, and if bugs didn't eliminate waste, the same thing would happen.' So basically, the two most important things from the entomologists' point of view was to communicate to guests that unless bugs pollinate and unless bugs eliminated waste, we wouldn't be around too long, and that's how the finale song came to be.
"I got to write the finale [George Wilkins wrote the music] and that's where the pollinators' song came about and that was kind of fun. A real message to get across."
Or edu-tainment at its highest level.
Click below to subscribe to the AllEars® newsletter so you don't miss any of the latest Disney news!

Do you like It's Tough to be a Bug? Let us know in the comments!