When you think "Disney History" a few places come to mind — namely California and Florida. After all, that's where the domestic Disney Parks are located and where many of us have made countless happy memories.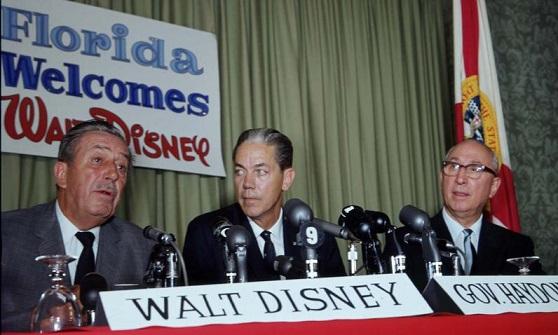 But what if we told you there's a little Disney history in EACH of the 50 United States? We did the research, and we've compiled the facts.
And we present to you, a piece of Disney history from every single state.
Alabama:
Disney owns (the no longer active) Touchstone Pictures which produced all kinds of film hits including Sweet Home Alabama.
As the name would suggest, the rom-com largely takes place in Alabama. It stars Reese Witherspoon, Josh Lucas, and Patrick Dempsey; and while it's predictable, it's also adorable. Bonus Sweet Home Alabama fact: it was the first movie to be allowed to film in Tiffany's since 1961's Breakfast at Tiffany's.
Alaska: 
After the success of The Lion King, CEO Michael Eisner encouraged the company to work on more animal focused movies. He suggested something with a North American backdrop, and thus Brother Bear was born!
Brother Bear takes place in Alaska, and several animators visited the state to research its landscape. They visited iconic places like Denali National Park, Kodiak Island, and the Valley of Ten Thousand Smokes.
Arizona: 
One of the most iconic settings in the U.S. is Route 66, the famous highway runs through the Southwestern United States, including Arizona. Along the way, you'll find many roadside attractions, including the Wigwam Motel.
There were a few locations for these Tee-pee style motels, including this one in Holbrook, Arizona. Does it remind you of anything you've seen in a movie — specifically a Pixar one? If you thought about Cars, you're right! Lots of scenes from the film involve Route 66, and the Cozy Cone Motel was inspired by the Wigwam Motel. You can see recreations in Cars Land and Disney's Art of Animation Resort.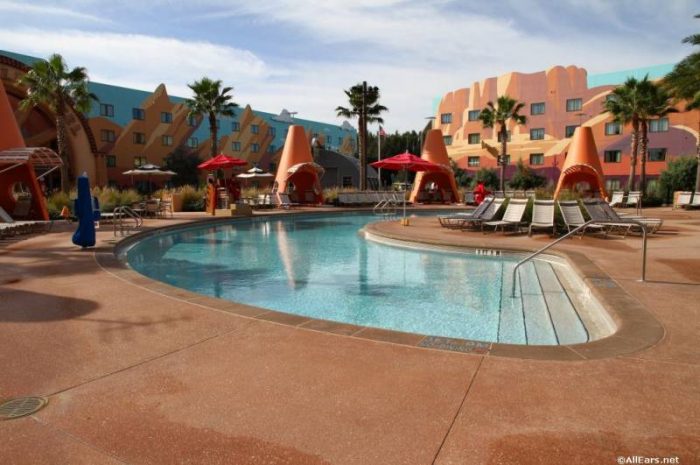 Arkansas:
Have you been to the Country Bear Jamboree? If so, you may be familiar with Teddi Barra!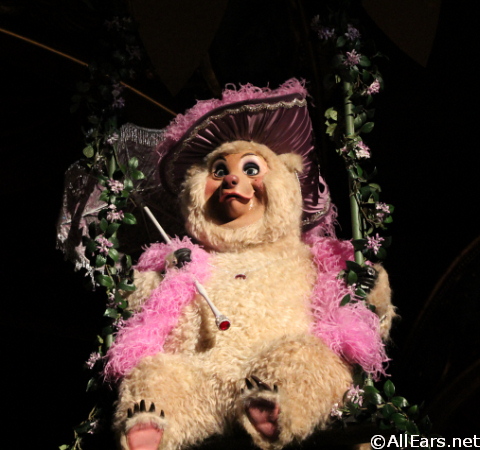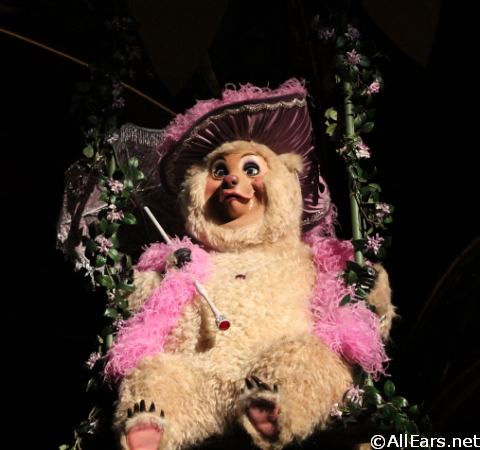 In 1972, Disney released an Original Soundtrack from the attraction, and according to her bio inside, "Teddi Barra was discovered sitting on a soda fountain stool in an ice cream parlor three miles from Gentry, Arkansas."
California: 
Disneyland is in California. Next.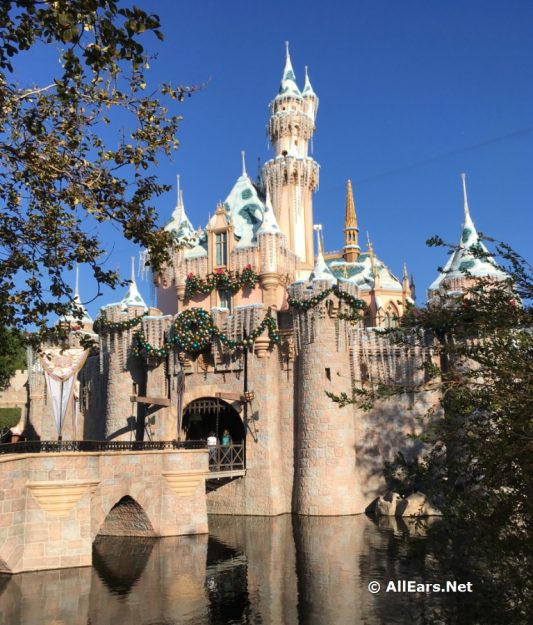 (So are the Walt Disney Animation Studios. And the Pixar Animation Studios. Also, Walt Disney is buried here. And Snow White premiered at the Carthay Circle Theater in Hollywood. Oh, and Grauman's Chinese Theater in LA inspired the Chinese Theater in Hollywood Studios…need we go on?)
Colorado: 
Do you know what the songs "Grim Grinning Ghosts" and "Yo-ho, yo-ho A Pirate's Life for Me" have in common? (Besides the fact that they are both iconic Disney attraction songs.)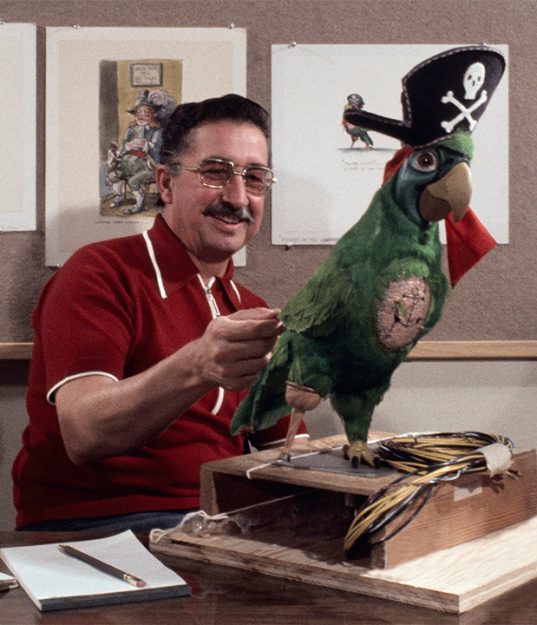 They were both written by X Atencio, who was born in Walsenburg, Colorado! X is a legendary Disney Imagineer who wrote the lyrics for these iconic songs, as well as the ride scripts. You can actually hear him on The Haunted Mansion — he's the voice of the guy who's trying to escape the coffin saying "Lemme out! Lemme out!"
Connecticut: 
A Princess and a Villain were both born in the small state of Connecticut!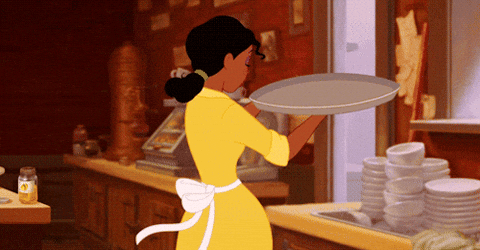 Anika Noni Rose, who voiced Princess Tiana, is from Bloomfield, Connecticut. And Glenn Close, who stars as Cruella de Vil in the live action remake of 101 Dalmatians (and 102 Dalmatians) was born in Greenwich, Connecticut.
Glenn Close also voices Kala the gorilla in Tarzan, but I prefer to think of her as Cruella.
Delaware: 
"Oh, you and your progress! That paint mixer of yours just sloshed paint across my rump—er, rumpus… room."
Recognize that line? It's from Sarah in the Carousel of Progress!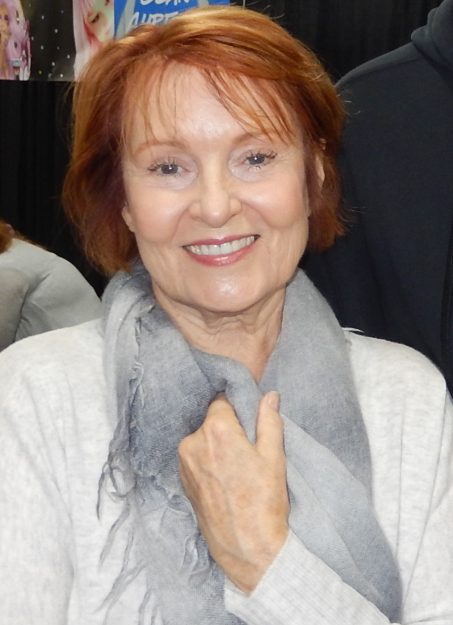 Sarah was voiced by B.J. Ward, who is originally from Delaware. But that's not her only credit with Disney attractions! She's also been part of current or past spiels for The Living Seas, Spaceship Earth, Splash Mountain, it's a small world, and the Tomorrowland Transit Authority Peoplemover. 
Florida:
Ummm…Walt Disney World is in Florida. Moving on. 🙂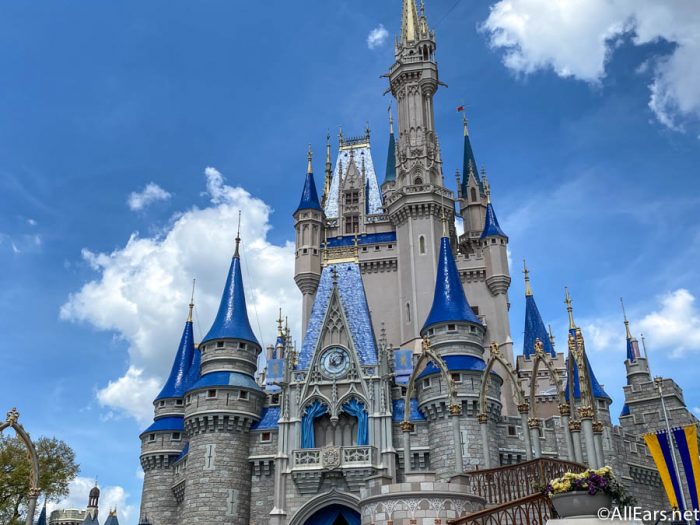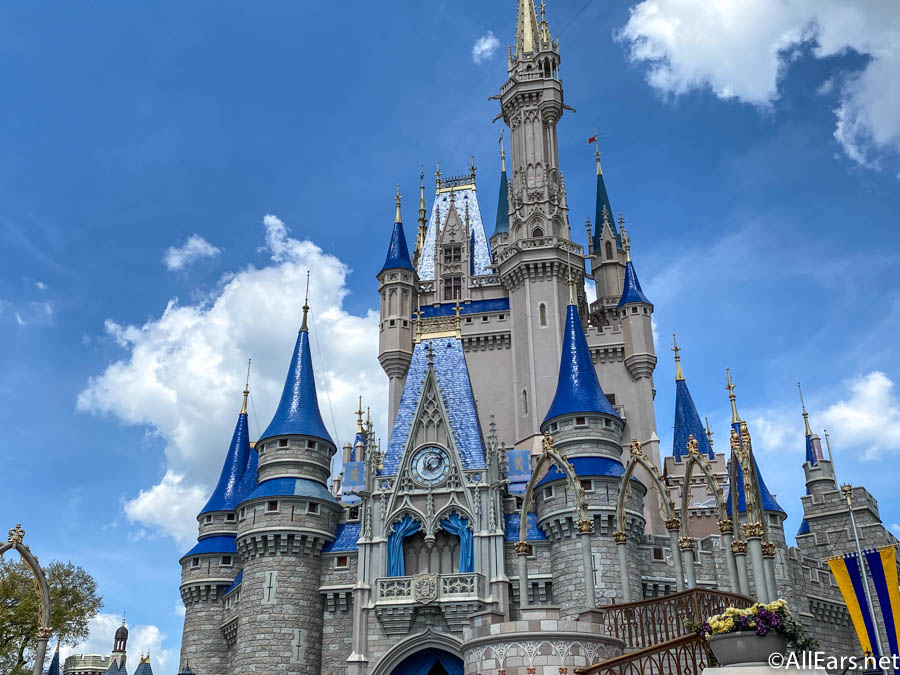 Georgia:
Did you know Winnie the Pooh is from the Peach State?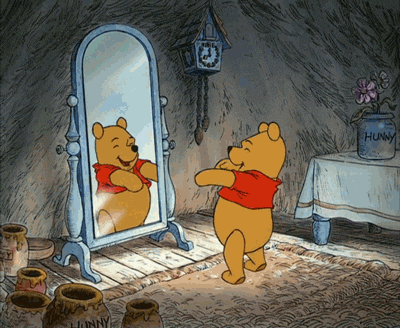 Well, the voice of Pooh, at least! Sterling Holloway, the original voice of that chubby bear all stuffed with fluff, was born in Cedartown, GA. Along with voicing Pooh Bear, his credits include Mr. Stork in Dumbo, the Cheshire Cat in Alice in Wonderland, Kaa in The Jungle Book, and Roquefort in The Aristocats.
Hawaii:
You probably already know that Lilo and Stitch takes place in Hawaii. But did you know it's the FIRST animated feature film ever to take place in Hawaii?
Originally the film was going to be set in Kansas, because they wanted a rural environment. But then, the creative team decided on Hawaii to be a strong contrast from previous animated films, which ultimately influenced the entire course of the film.
Idaho: 
Fellow 90's kids will remember when Goofy brought his son Max on a road trip in A Goofy Movie. But do you remember that the target destination is Lake Destiny, Idaho? Goofy wants to take Max on the same fishing trip he went on with his dad. And of course, he's gotta teach him the perfect cast!
"You gotta stay loose, relaxed. Keep your feet apart. Now, ten o'clock, two o'clock, quarter to three, tour jeté, twist, pas de deux, I'm a little teapot, then the windup… and let 'er fly! The Perfect Cast."
Illinois: 
Han Solo. Indiana Jones. Harrison Ford. No matter what you call him, he was born in Chicago, Illinois.
(Walt Disney was also born in Chicago, but he's got another spot or two on the list already. 😉 )
Indiana:
What do Baloo the Bear, Thomas O' Malley the Cat, and Little John the other Bear have in common?
They were all voiced by Disney Legend Phil Harris! Phil is from Linton, Indiana, and beyond voice work he had a strong career in radio.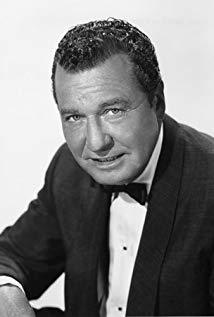 Iowa:
If you're a fan of Basil, Ariel, Hercules, Tiana, or Moana, then you should thank Ron Clements!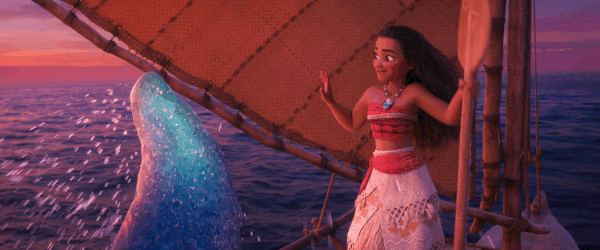 Ron Clements is from Sioux City, Iowa and began his career with Disney studying under Frank Thomas, one of Walt's Nine Old Men. Clements was the Supervising Animator on The Fox and the Hound and went on to co-direct some of Disney's most beloved classics including The Great Mouse Detective, The Little Mermaid, Aladdin, Hercules, The Princess and the Frog, and Moana.
Ron co-directed these films with John Musker — who's from Illinois but we had to give him a nod too!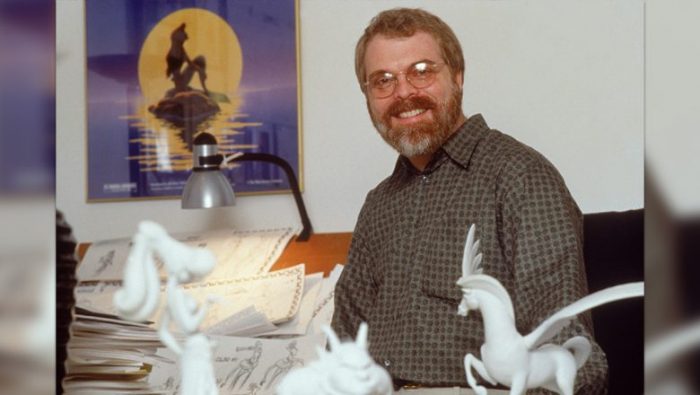 Kansas:
GAWRSH! Did you know Goofy is from Kansas?
Well, at least the VOICE of Goofy is! Bill Farmer was born in Pratt, Kansas, and has been the voice of Goofy since 1987. So yes, that means he starred in A Goofy Movie. Bill is also the current voice of Pluto, Horace Horsecollar, and Sleepy.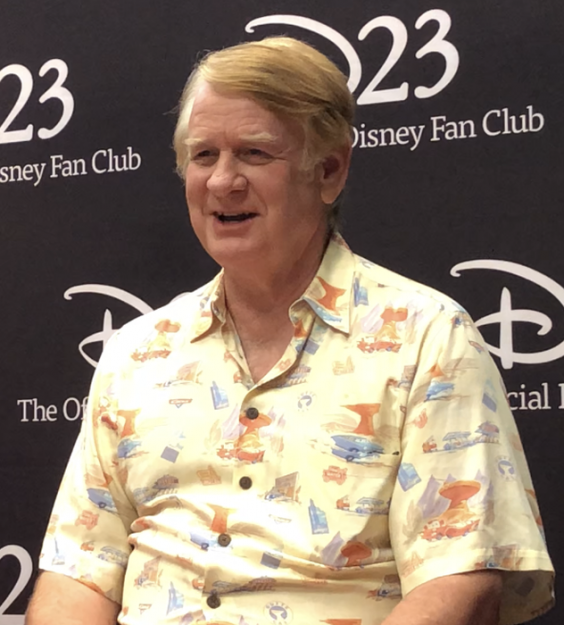 Kentucky:
Captain Jack Sparrow's address may currently be The Black Pearl, but originally it was Kentucky.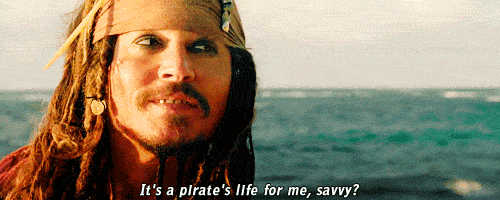 Johnny Depp, who plays our favorite pirate in the Pirates of the Caribbean films, was born in Owensboro, Kentucky. (Which kinda makes me think Jack should've constantly been on the hunt for bourbon instead of rum.)
He also plays The Mad Hatter in the live action adaptions of Alice in Wonderland and Tonto in The Lone Ranger.
Louisiana: 
It is probably pretty obvious to state that The Princess and the Frog is set in Louisiana — specifically New Orleans.

But did you know that the directors (the formerly mentioned Clements and Musker) had never been to New Orleans when they started the film? To John Lasseter (executive producer and New Orleans lover) this was unacceptable, so he sent them down to the bayou. According to Clements: "We spent two days at Jazz Fest, which was amazing. We toured the bayou, the Garden District, the French Quarter. We spent the day with a voodoo priestess." The team even went back a second time, this time during Mardi Gras where they got to ride on a parade float.
The Princess and the Frog is one of those movies where the city is as much a character as Tiana, Naveen, or Dr. Facilier. After all, "Dreams do come true in New Orleans!"
Maine: 
Summer camp is a quintessential adolescent experience, and none looked as awesome as Camp Walden in the 1998 remake of The Parent Trap.
It had everything — fencing, late night poker games, twins separated at birth reunited at long last. And where is Camp Walden? Why, Maine of course!
Side note — Oreos and peanut butter are TRULY a delicious combo that I discovered thanks to this movie.
Maryland:
If you've ever sung along to "Under the Sea," "Prince Ali," or "Be Our Guest," then you should thank Howard Ashman.
Howard Ashman, who was born in Baltimore, is the lyrical genius behind many of your favorites songs from Aladdin, The Little Mermaid, and Beauty and the Beast. He won two Academy Awards, for "Under the Sea" and "Beauty and the Beast" (posthumously). Ashman died from complications of HIV at the young age of 40, three months before Beauty and the Beast was released. He never saw the finished version, but the film is dedicated to him: "To our friend Howard, who gave a mermaid her voice and a beast his soul, we will be forever grateful."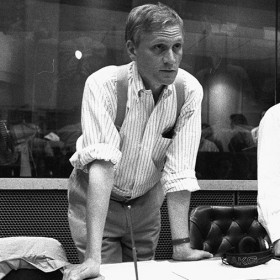 Massachusetts:
You know the cutest dressed mouse on the block? The one who always has a bow to match any outfit? I'm talking about Minnie Mouse of course!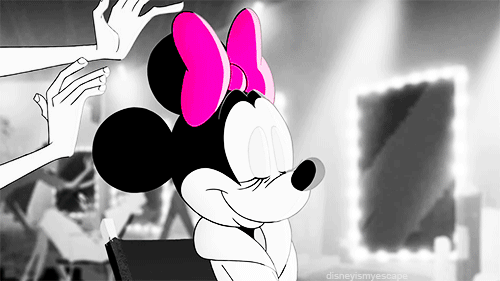 Minnie Mouse was voiced by Russi Taylor from 1986 until this year, when she passed away :(.  Russi, who was born in Cambridge, MA, also voiced Huey, Dewey, and Louie for Ducktales and characters for The Simpsons. She was also married to Wayne Allwine, who voiced Mickey Mouse for 32 years until he passed away. The two were both named Disney Legends in 2008.
Michigan:
Raise your hand if you've seen Remember the Titans, Armageddon, Con Air, National Treasure, or any of the Pirates of the Caribbean films?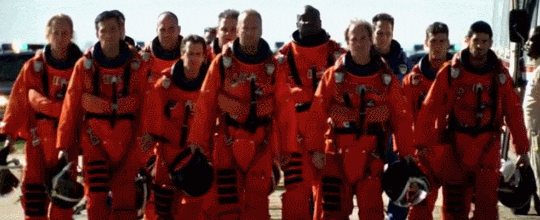 If you raised your hand then you should thank Jerry Bruckheimer! Bruckheimer was born in Detroit, Michigan and is one of the most successful movie producers of all time. His films have grossed a combined total of $13 billion dollars, and that was from a 2005 stat!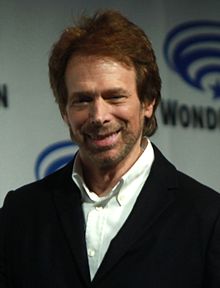 Minnesota: 
Star Lord may hail from the galaxy, but Chris Pratt calls Minnesota home!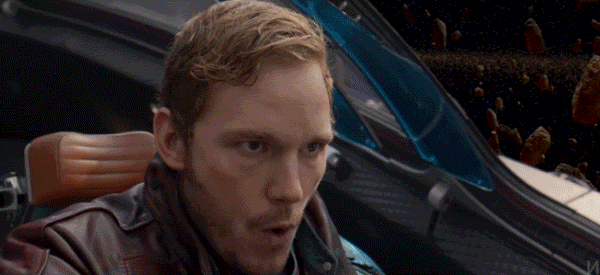 He was born in and spent the first few years of his life in Virginia, Minnesota. (TBH I was shocked it wasn't Pawnee, Indiana.) In the Disney universe, Chris is best known as Peter Quill in the Guardians of the Galaxy and Avengers movies. And next year he will star as the voice of Barley Lightfoot in Pixar's Onward.
Mississippi:
Pop quiz: when you hear the name James Earl Jones, who do you think of first?
…or….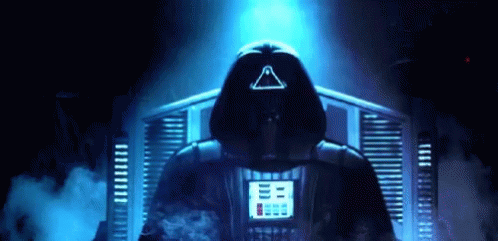 Chances are it was one of these two famous gents — Mufasa or Darth Vader. Either way, they are VERY important characters in the Disney universe and both were voiced by James Earl Jones. Jones was born in Mississippi, and surprisingly, was functionally mute for 8 years. That's pretty shocking considering he grew up to be one of the most iconic voices of all time!
Missouri:
Missouri may not be where Walt Disney was born, but he's stated it's where a lot of his fondest childhood memories are.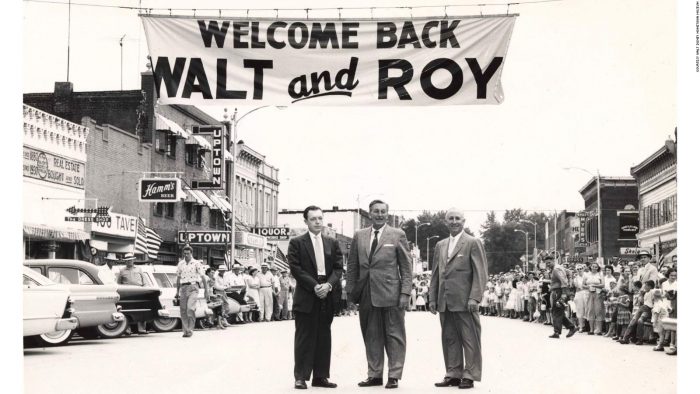 The Disney family spent four years of Walt's childhood in Marceline, MO, and it largely inspired Main Street, USA, when Walt was dreaming up Disneyland. Walt once said, ""I'm glad I'm a small-town boy, and I'm glad Marceline was my town."
Montana: 
I know I'm not the only person that cried my way through Touchstone Pictures' The Horse Whisperer.
The movie is both tragic and beautiful — which is largely in part to the stunning Montana backdrop. Not only does the film take place in Montana, but it was actually filmed there as well.
Nebraska: 
"When you hear the knell of a requiem bell
Weird glows gleam where spirits dwell
Restless bones etherialize
Rise as spooks of every size"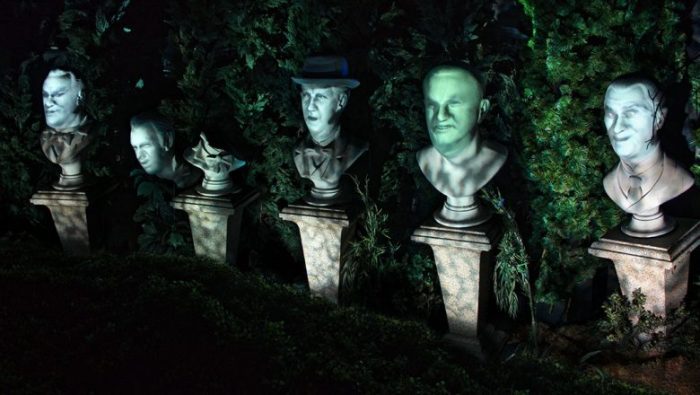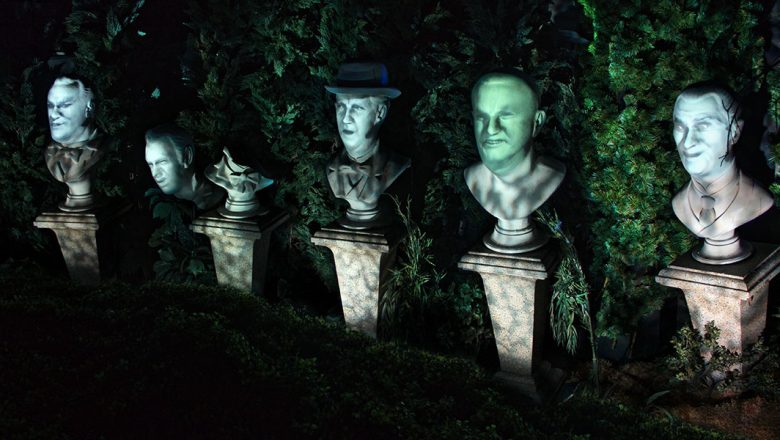 You can hear them singing in your mind can't you? And if you look at the handsome chap with the mustache (the one who's knocked over), that's Thurl Ravenscroft! (Not Walt Disney, as many assume because of the mustache.)
Thurl, of Norfolk, NE, is one of Disney's most recognizable voices. Not only is he the lead voice on "Grim Grinning Ghosts", but he's Buff the Moose in the Country Bear Jamboree and Fritz the German parrot in the Enchanted Tiki Room. Non-Disney fun facts: Thurl is also the voice of Tony the Tiger (Frosted Flakes) and sings "You're a Mean One, Mr. Grinch" in the animated classic, How the Grinch Stole Christmas.
Nevada: 
Sure, lots of movies take place in Nevada (thanks Vegas), but did you know two of Disney's most mediocre sequels take place there!?
That's right, 1992's Honey, I Blew Up the Kid (sequel to 1989's far superior Honey, I Shrunk the Kids) takes place in Nevada! As does 2009's Race to Witch Mountain (sequel/remake of 1974's Escape to Witch Mountain). Both films scored in the 40's on Rotten Tomatoes, where their predecessors scored in the mid 70's. Hey, not every movie can be a hit. (Despite starring The Rock.)
New Hampshire:
It may come as a shock to learn that the most iconic princess of them all hails from New Hampshire.
That's right, Cinderella herself is from Portsmouth, New Hampshire. Ilene Woods (who voiced Cindy in the 1950 animated classic) was originally asked to record "Bibbidi-Bobbidi-Boo," "A Dream is a Wish Your Heart Makes," and "So This is Love." Two days after hearing her recording, Walt asked her if she'd be Cinderella.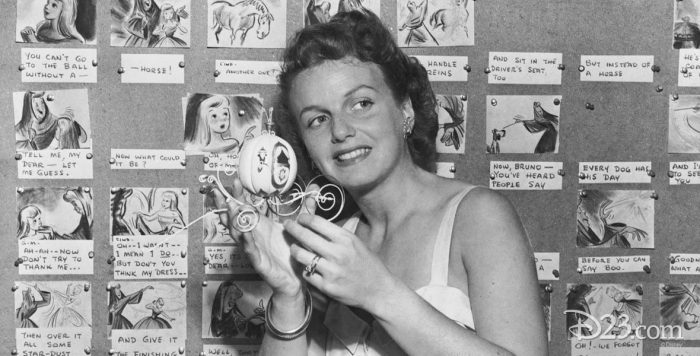 New Jersey: 
Born in New Brunswick, New Jersey, Marty Sklar first started working at Disneyland in 1955, one month before it opened.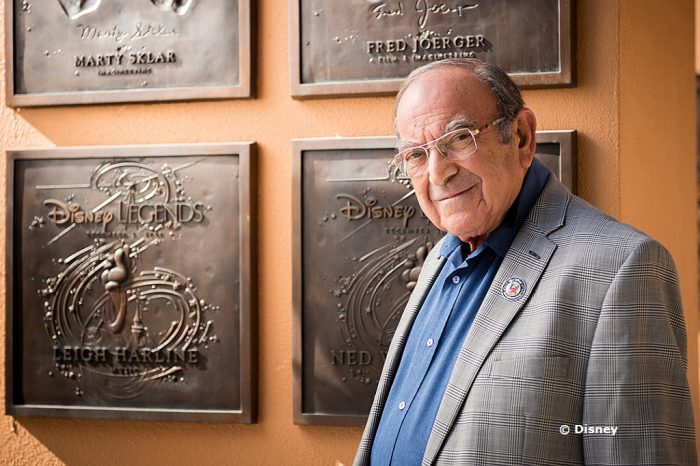 Some of Marty's earliest works were the Disney exhibits for the 1964-65 New York World's Fair, which included the Carousel of Progress and "it's a small world." Marty was also instrumental in the development and building of EPCOT.
Throughout his 53 years with The Walt Disney Company, Marty held many titles including President and Vice Chairman of Imagineering and Imagineering's international ambassador. Marty Sklar is the ONLY person to have attended the grand openings of every Disney park worldwide.
New Mexico: 
WILDCATS ASSEMBLE! That's right, East High from the High School Musical movies is set in Albuquerque, New Mexico.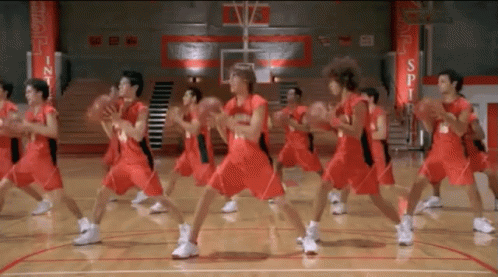 In fact, many of the second and third movies' conflict centers around the University of Albuquerque basketball team. Admit it — no matter who you are or how old you are — these are catchy tunes. We're all in this together. (This being loving High School Musical, of course.)
New York:
In the 60's, Walt Disney and his team developed four ground-breaking attractions for the 1964-65 New York World's Fair. They were some of the most popular pavilions at the Fair, with consistently long lines.
These attractions were the start of many of Disney Imagineering's most popular and groundbreaking technologies — such as human audio-animatronics and omni-mover ride systems. In fact, all four of the Fair's attractions still exist in the Disney Parks, in one way or another.
The World's Fair attractions were "it's a small world," Great Moments with Mr. Lincoln, Carousel of Progress, and the Ford Magic Skyway (which is the predecessor for the PeopleMover.)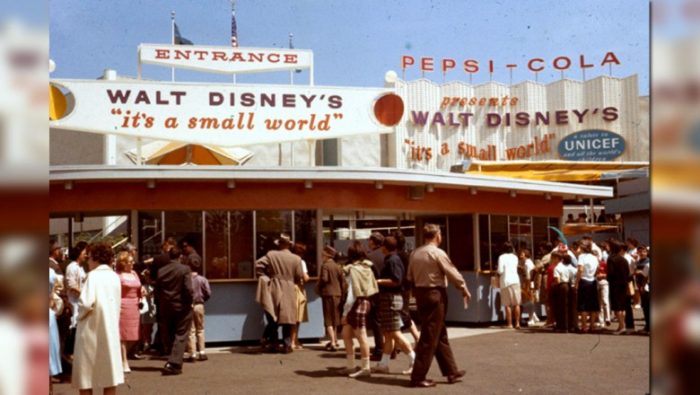 North Carolina: 
You may know that another of Disney's Intellectual Properties is ESPN. And if you're familiar with ESPN, then you definitely know the voice of Stuart Scott.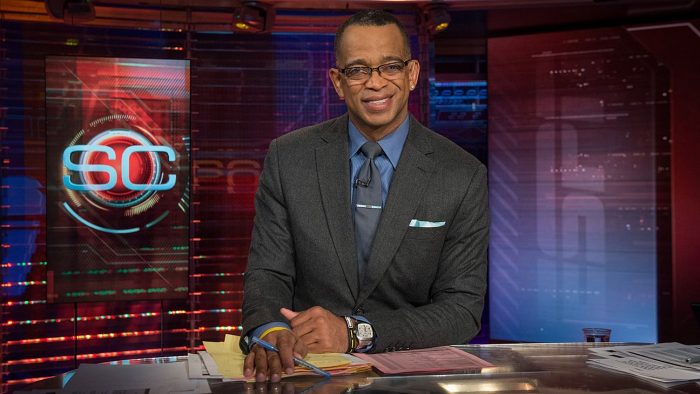 Scott was raised in North Carolina, where he notably attended the University of North Carolina at Chapel Hill. Scott sadly passed away in 2015 from cancer at the young age of 49, but his legacy lives on. He will always be remembered for his catchphrases, such as "Boo-yah!" and "Cool as the other side of the pillow."
North Dakota: 
It's probably not that shocking to learn that Bambi is from North Dakota. After all, it's a state known for its natural beauty and sweeping landscapes!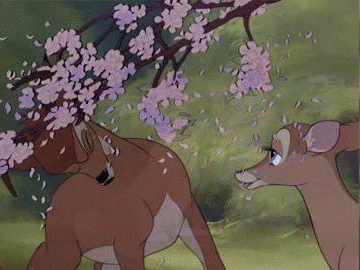 But for real, John Sutherland (who voiced adult Bambi) was born in Williston, North Dakota. Oddly enough, he married his own mother. And by that, we mean he married Paula Winslowe, who voiced Bambi's mother in the film.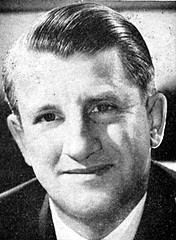 Ohio:
Toy Story 2. Monsters Inc. Finding Nemo. Toy Story 3. Coco. This impressive list is all of the films that Lee Unkrich co-directed or directed. (And this doesn't even include all of the films he worked on as an editor or producer!)
Lee Unkrich was born in Cleveland, OH, and worked for Pixar for almost 30 years before stepping down to spend time with his family. He (solo) directed Toy Story 3 and Coco, both of which won the Academy Award for Best Animated Feature.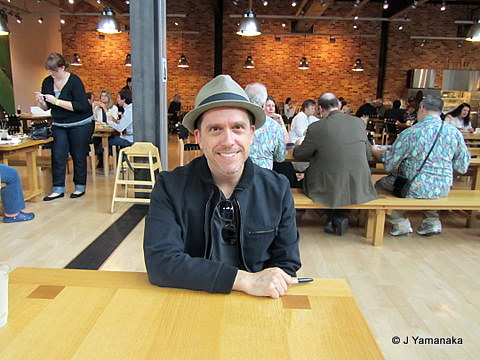 Oklahoma: 
Have you been on "it's a small world" or to visit the Contemporary Resort? If so, you'll recognize the subject of our next fun fact.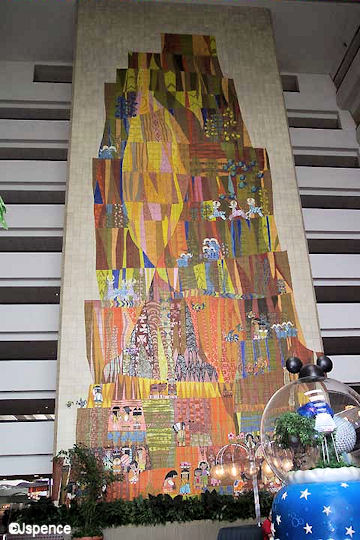 Mary Blair (born in McAlester, OK) is one of the most iconic Disney artists of all time. Her unique style of drawing and painting landed her a job with Walt Disney Studios. She worked on several of Disney's most famous animated films, including Peter Pan, Alice in Wonderland, and Cinderella. Mary Blair is probably most well known for her designs and concept art used for "it's a small world," which has delighted guests for 55 years.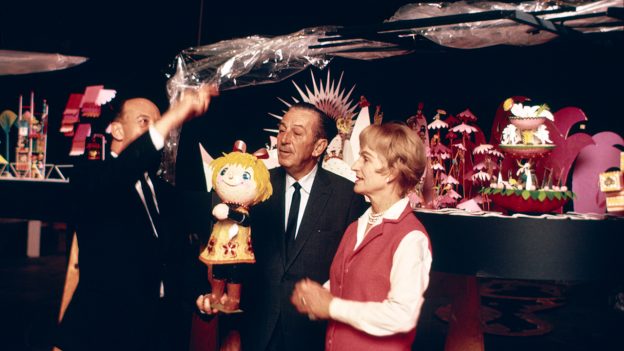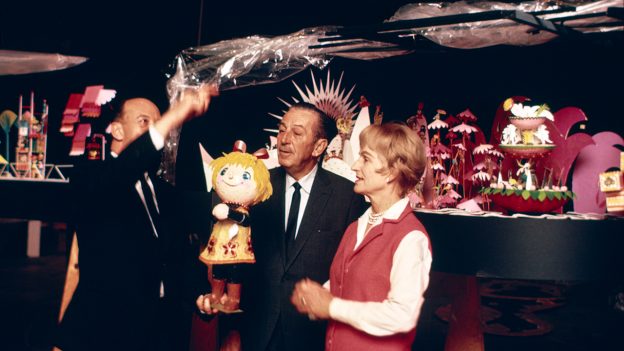 Oregon: 
While set in California, one of Disney's biggest emotional roller coasters was filmed in Oregon. I'm talking about Homeward Bound: The Incredible Journey, of course.
Several National Parks and monuments were used in filming, including Deschutes National Forest, Mount Hood National Forest, and the Columbia River Gorge.
Pennsylvania: 
Fan of the Haunted Mansion? The answer is most likely yes, considering it's one of the most iconic and popular Disney attractions of all time!
Then you may know that the Haunted Mansion was partially designed using the inspiration of Harry Packer Mansion in Jim Thorpe, PA. The Harry Packer Mansion's Victorian Gothic exterior served as inspiration for the home of those 999 Happy Haunts, though we're willing to bet it's a little less spooky inside.
Rhode Island: 
Did you know Rhode Island is home to girl power? And by girl power, we mean Jennifer Lee.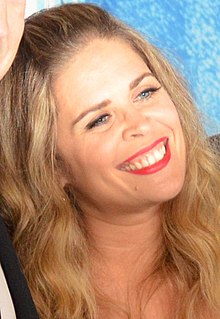 Jennifer Lee co-directed (and co-wrote) a little film called Frozen. She is the first female director of a full length Disney animated feature film, and the first female director of all time to gross over $1 billion at the box office. YOU GO, GIRL. The cold does not bother you anyway.
South Carolina: 
One of the most soulful voices on a Disney soundtrack was born in Greenville, SC. This voice is so melodious, so powerful, and so beautiful, that it won not one, but two Grammys in back to back years for back to back Disney animated hits. Any idea who we're talking about?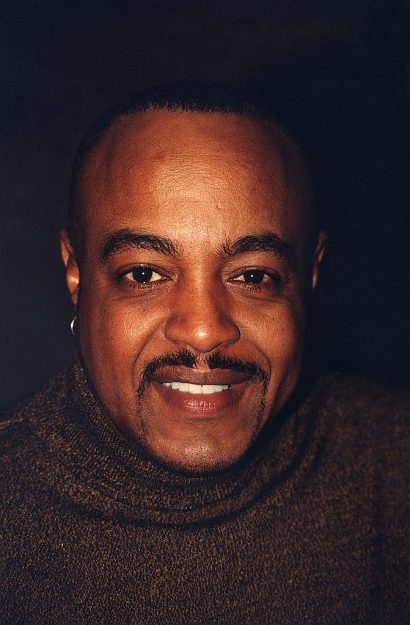 If you guessed Peabo Bryson, you get a prize! (The prize is knowing you're right.) Peabo Bryson performed the credits versions of "Beauty and the Beast" (with Celine Dion) and "A Whole New World" (with Regina Belle), both of which won him a Grammy.
South Dakota: 
Pocahontas may live in Virginia, but her father, Chief Powatan, is from South Dakota.
Russell Means is a Dakota Indian and was born on the Pine Ridge Indian Reservation in South Dakota. He was very active in politics throughout his life, primarily fighting for Native American rights. Means also had a career in acting, starring in Last of the Mohicans and — most applicably for this post — voicing Chief Powatan in Pocahontas and Pocahontas II: Journey to a New World.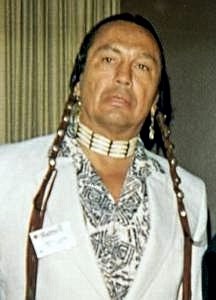 Tennessee: 
As it turns out, evil lives in Tennessee. Not one, not two, but THREE Disney villains are from the Volunteer State.
The first is Lucille La Verne  (The Evil Queen in Snow White) who was born in Nashville in 1872. Next up, Richard White (Gaston in Beauty and the Beast) who hails from Oak Ridge. And finally, Christina Hendricks (Gabby Gabby in Toy Story 4) who is from Knoxville. (To be fair, Gabby Gabby ends up being more complex than a standard villain, but she's still super creepy.)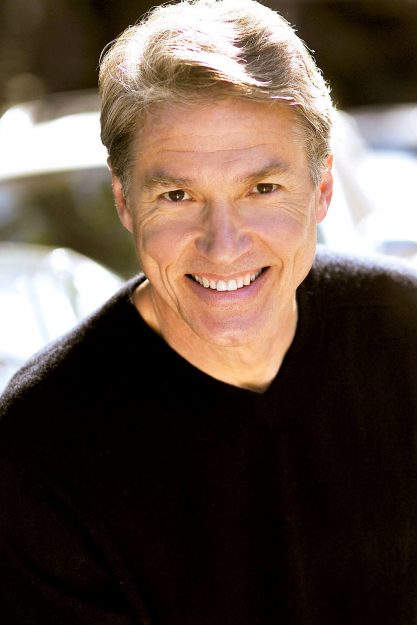 Texas:
There are TONS of famous Disney people from Texas — Owen Wilson, Beyonce, The Jonas Brothers, Debbie Reynolds, Dennis Quaid, and Hilary Duff to name a few. But likely the Texan with the biggest impact on the Disney Company was Harriet Burns.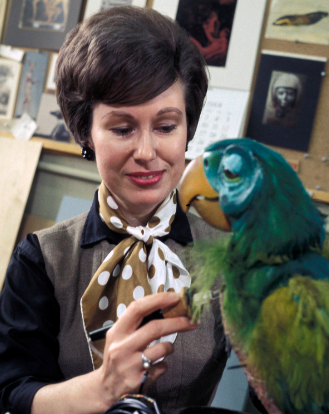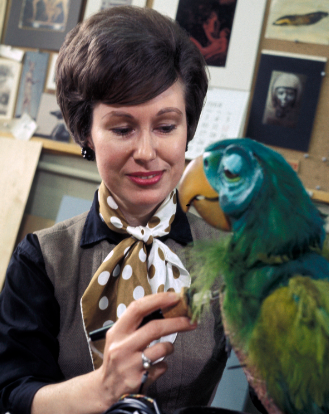 Harriet Burns started her Disney career as a set designer on the Mickey Mouse Club. Harriet joined WED Enterprises (the predecessor to Imagineering) as one of the original three imagineers — and notably the only female.
She spent her days in WED as a model builder, making small models of Sleeping Beauty Castle, the Matterhorn, Pirates of the Caribbean, and more. Harriet also worked on the "details" of animatronics — from sewing human hair on a pirate's leg to adding cashmere to tiki birds chest plates. Harriet was given a window on Main Street in 1992 and was the first woman to receive this high honor.
Utah:
Does this look familiar?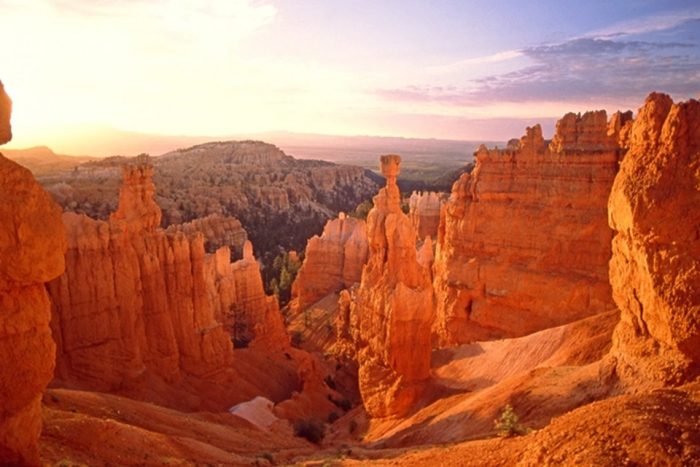 If you thought "Wow, that looks like Big Thunder Mountain Railroad!" you'd be right! These are the hoodoos of Bryce Canyon National Park in Utah! As you can clearly see, they greatly inspired the look, color, and rock style of Big Thunder — specifically the Disneyland version. Magic Kingdom's was largely inspired by Monument Valley, part of which is also in Utah.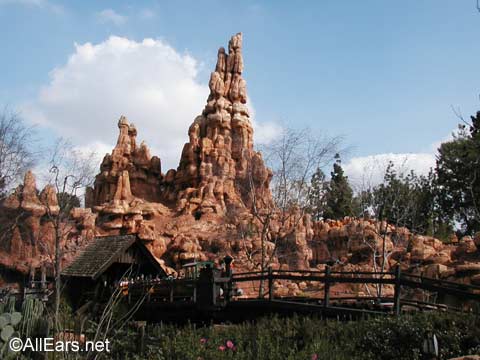 Vermont: 
One of Touchstone Pictures most acclaimed movies takes place in Vermont. Any idea which one? Do the words "Carpe Diem" help you out? How about "O Captain, My Captain"?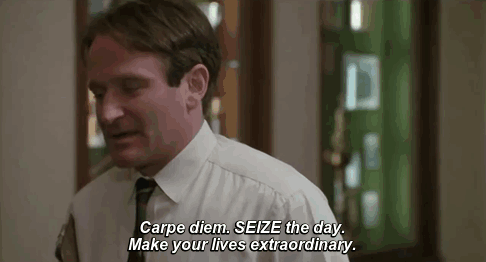 Dead Poet's Society takes place at Welton Academy, located in Vermont. It tells the tale of a brilliant teacher (Robin Williams) who inspires his adolescent students using poetry. It is a total tear jerker and an inspirational ride all in one. Dead Poet's Society was nominated for four Academy Awards and won one, and it's largely considered one of Robin Williams' best roles.
Virginia: 
Left side. Strong side. LEFT SIDE. STRONG SIDE.
Remember the Titans, which is known as one of the best football movies of all time, takes place in Alexandria, VA. The film tells the (based on a) true story of the football team at TC Williams High School integrating their team and the winning season that follows. The movie stars Denzel Washington, Will Patton, and a young Hayden Panettiere (also look out for a young Ryan Gosling) and has a killer soundtrack.
Washington:  
Are you familiar with Mr. Smee? Alice? Anastasia and Drizella? Lady? Pinocchio? Prince John? Piglet? If so, you're familiar with Ollie Johnston!
Ollie Johnston is a legendary Disney Animator that began to work with Walt in 1934. The characters listed above are just a few of Johnston's animations, as he worked on practically every Disney Animated Classic from Snow White to The Fox and the Hound. Ollie was the last living of Walt Disney's Nine Old Men, and he passed away in Sequim, Washington, in 2008.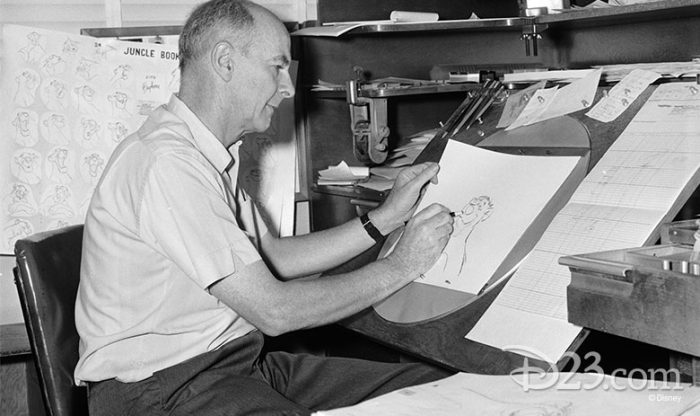 West Virginia: 
Did you know Jack Skellington isn't from Halloweentown after all? He's from West Virginia!
Well, really, Chris Sarandon who voiced Jack Skellington is. Sarandon was born and raised in West Virginia, and even attended West Virginia University. Besides voicing Jack, he's best known for playing Prince Humperdink in The Princess Bride.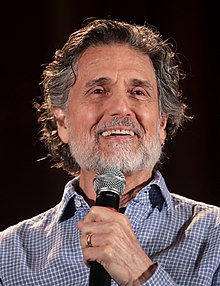 Wisconsin: 
If you've seen a live action Disney movie in the last decade, chances are it was directed by a Wisconsin native!
Rob Marshall, born in Madison, has directed three of Disney's recent live action hits — Mary Poppins Returns, Into the Woods, and Pirates of the Caribbean: On Stranger Tides. He's also set to direct the upcoming live-action remake of The Little Mermaid! In his non-Disney life, Rob was nominated for an Academy Award for Best Direction for Chicago.
Wyoming: 
If you could see through your tears when watching Pixar's The Good Dinosaur, you may have noticed the beautiful setting.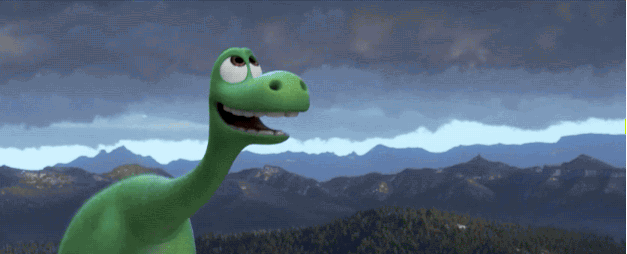 The film is set in Wyoming, which was chosen because of its stunning backdrop and history with dinosaurs. Wyoming ranks among the top fossil producing states in the country — dozens of dinos have been found, including a 75 foot long apatosaurus (which is the same breed as Arlo). The Pixar team traveled to Wyoming to study the landscape, and eventually was able to digitally recreate iconic scenes like Jackson Hole, Grand Teton National Park, and Yellowstone National Park. The landscapes are so detailed that one scene from The Good Dinosaur uses as much data as ALL of Cars 2. 
SO THERE YOU HAVE IT! 50 facts for 50 states. Did you learn something new about your home state? Let us know in the comments!
Interested in Disney history and Imagineering details? Take a look at these recent posts:
Click below to subscribe to the AllEars® newsletter so you don't miss any of the latest Disney news!