Epcot's Japan pavilion welcomed its newest restaurant today with the opening of Takumi-Tei.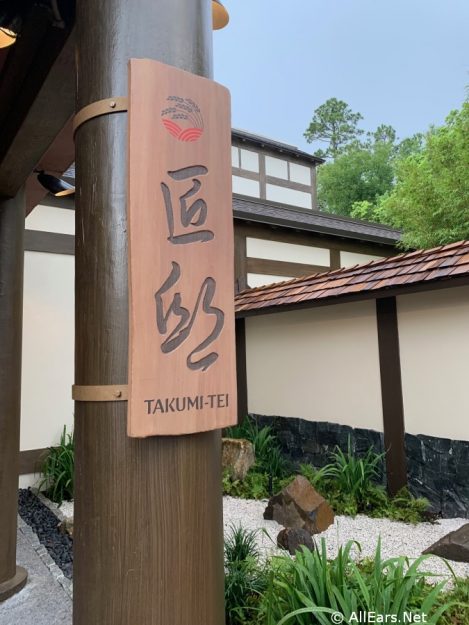 Takumi-Tei joins Teppan Edo and Tokyo Dining as one of the pavilion's table service options. But it's much more than that!
You're greeted at the podium just outside the restaurant by cast members in tradition Japanese garb. And it's quite the warm welcome!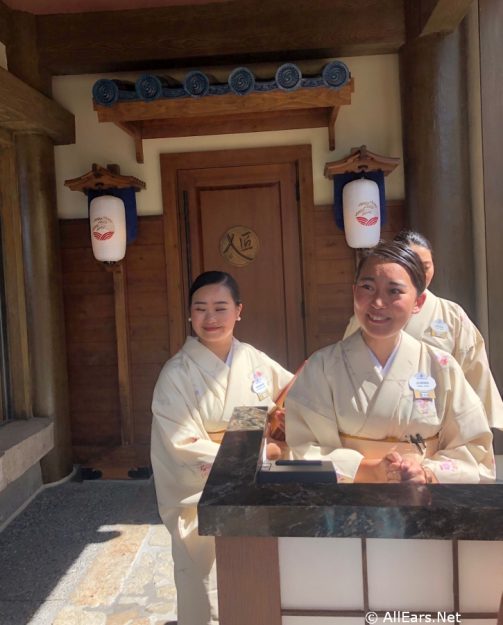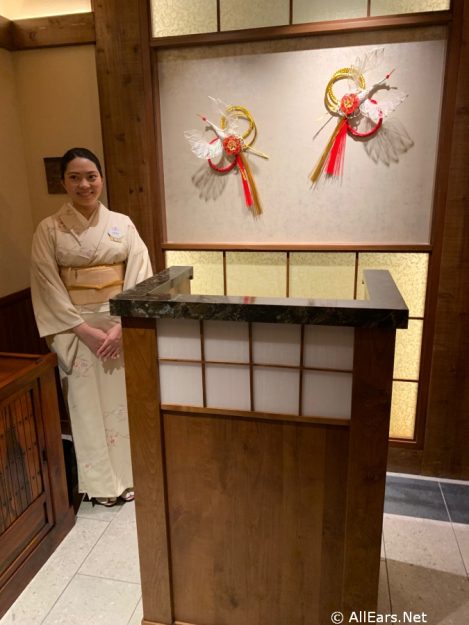 When you're shown inside, you find a whole new world to explore!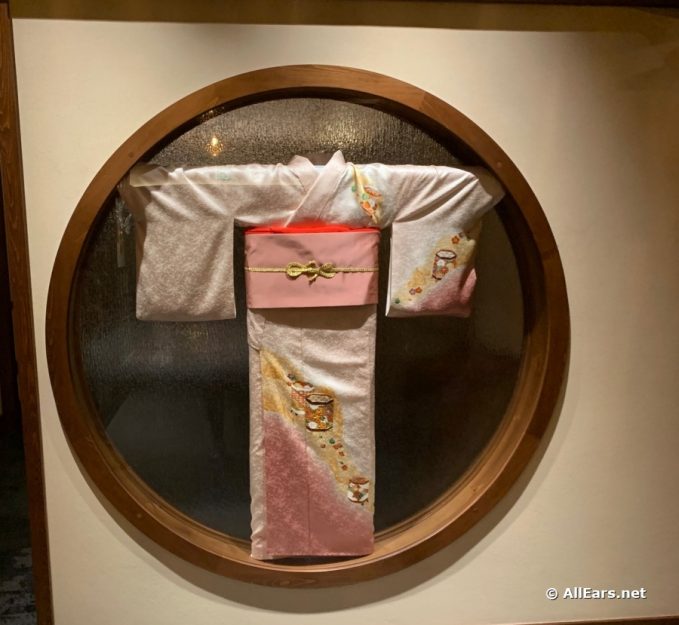 Takumi-Tei is home to five dining rooms, each inspired by a natural element: water, wood, earth, stone, or washi paper. The elements are described in displays near the entrance.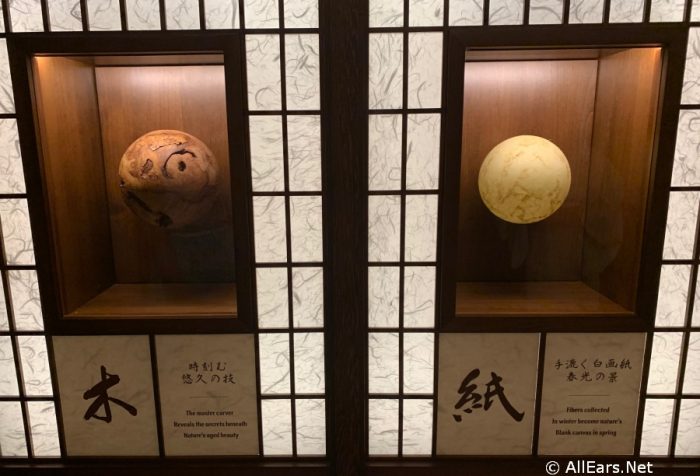 When translated, Takumi-Tei means "house of the artisan" and we could see that reflected in each room. There are handcrafted works of art honoring the element celebrated in each appropriate the room.
Take a moment to appreciate the artwork around the location — the details and precise nature of the art deserves attention.
The Wood Room features carved wood accent pieces, while the Stone Room has an unusual piece of stone wall art.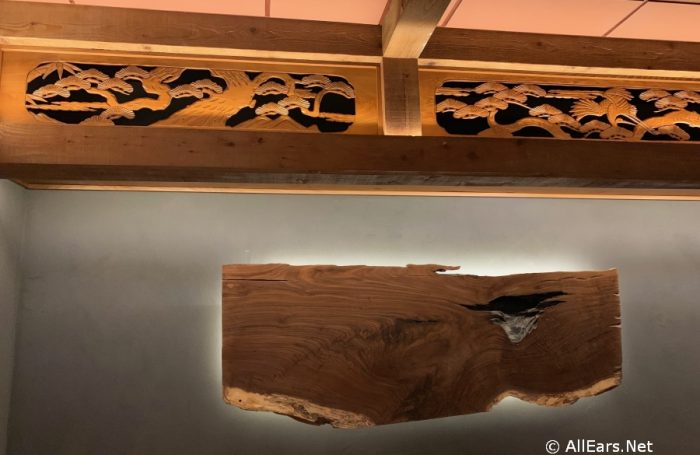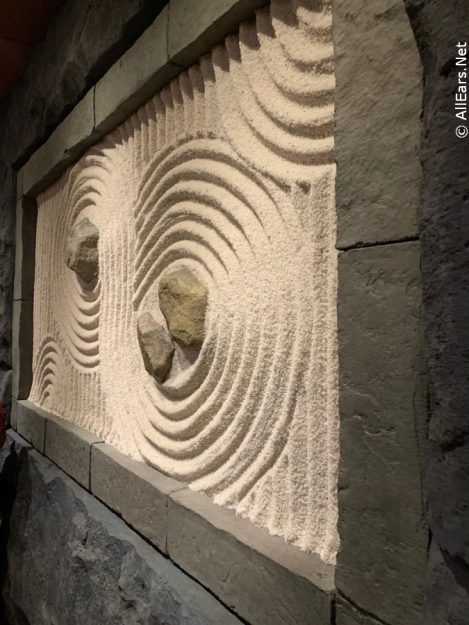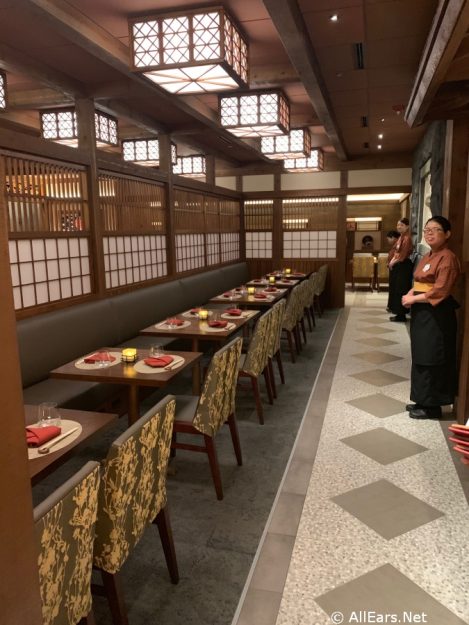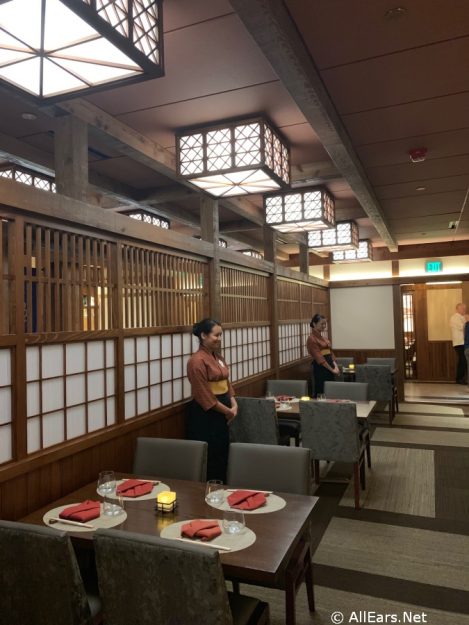 The Earth Room is themed with darker earthtones, and the walls are made to resemble the layers, or strata, of the earth.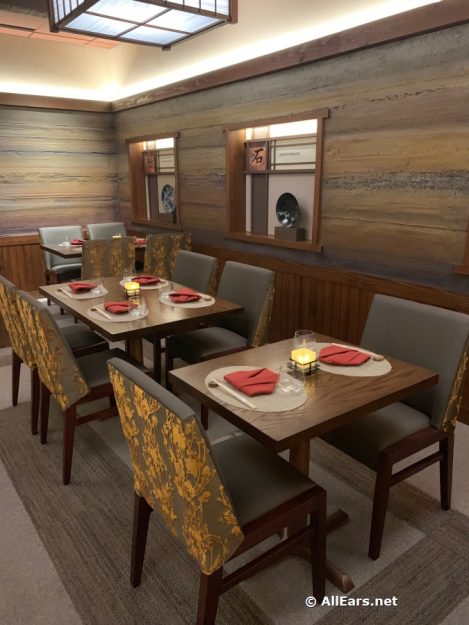 Lighter colors and Japanese cherry blossoms are the highlights of the Washi Paper room.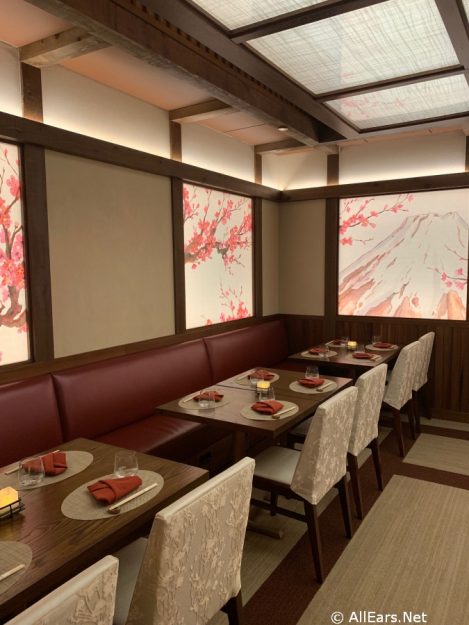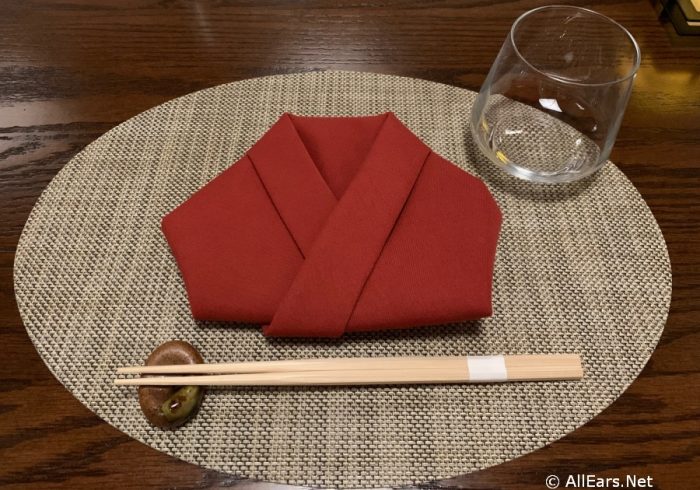 The Water Room is home to an exclusive menu served at the Chef's Table. As you walk in you are immersed in a tranquil setting that reflects the balance between nature and Japanese art. There's even an indoor waterfall.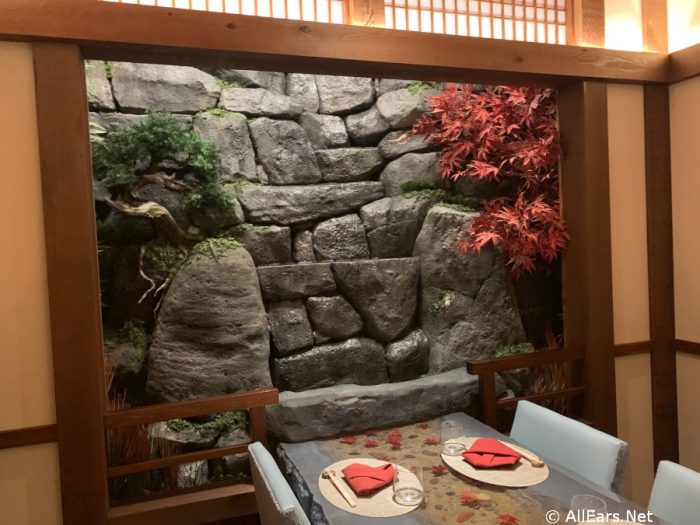 If you are celebrating a special event the Water Room and Chef's Table offering may be an option worth exploring. The room has a table for eight, with a special Omakase tasting menu.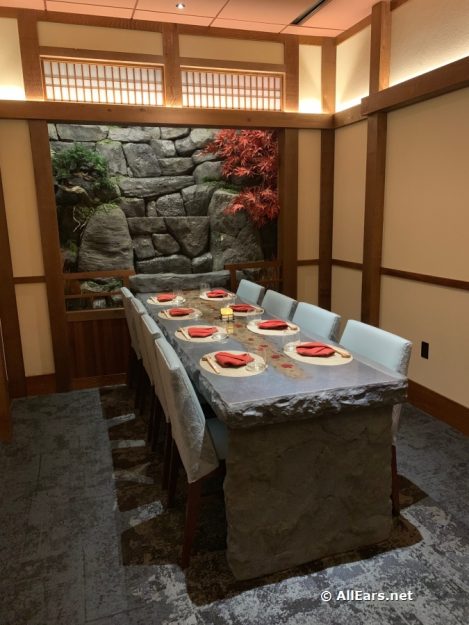 As for the food, we'll have a review later, but here's a quick overview.
The appetizer menu includes miso, dashi, and agedashi tofu. There's also Nikomi Wagyu, a wagyu shortrib with wasabi shiso Bavaroise.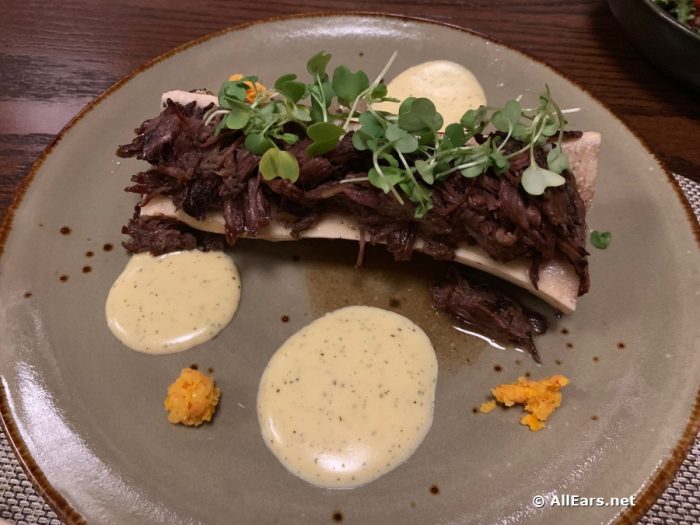 There's a selection of sushi, and a range of entrees from shrimp tempura to a number of dishes featuring wagyu beef.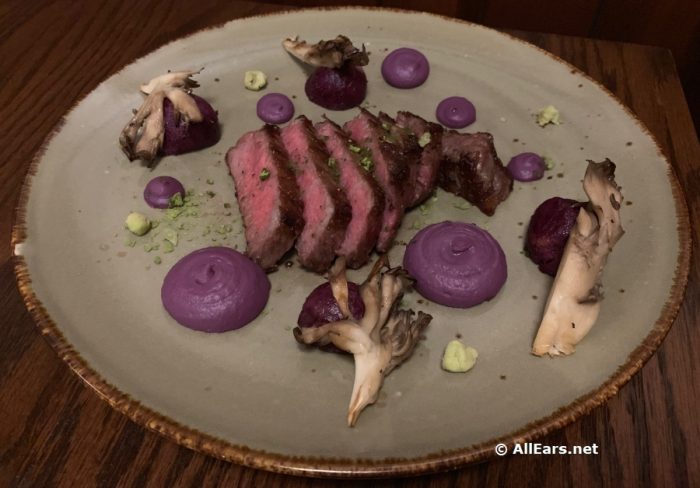 Be sure to save some room for dessert! There's a Japanese water cake on the dessert menu, or this amazing Yuzu cheesecake known as Kumo.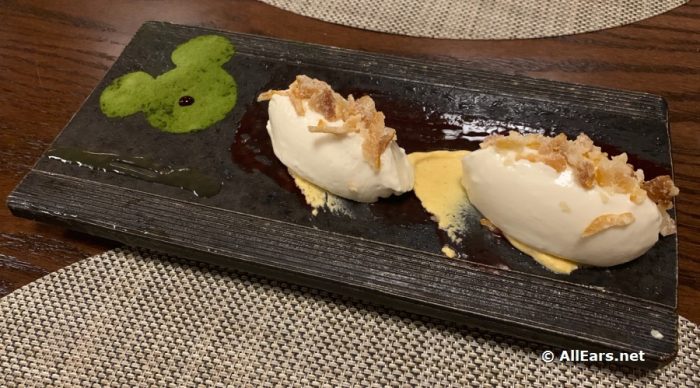 Takumi-Tei also offers a wide range of wines, beers and cocktails. Many are from Japan, and we look forward to trying some new-to-us drinks!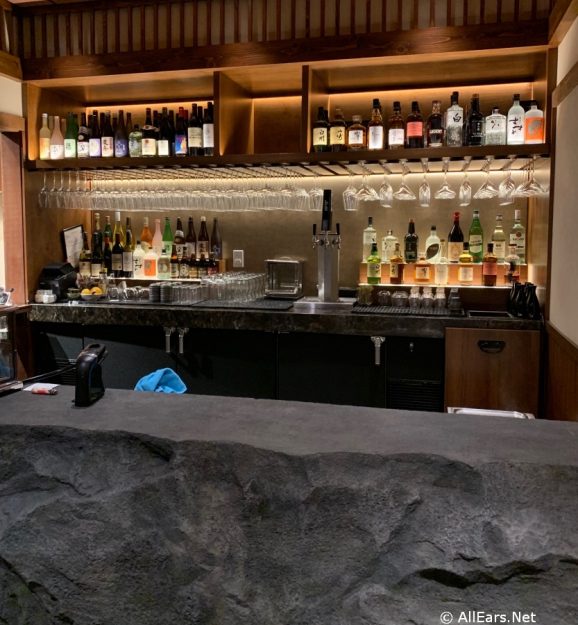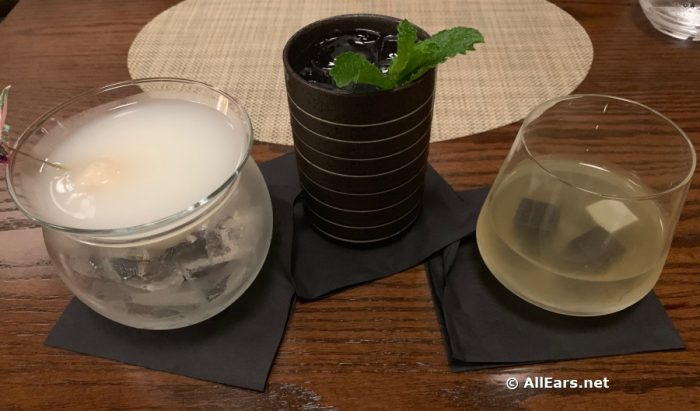 We enjoyed the atmosphere of this new spot and found it immediately relaxing when we walked in. It is easy to forget you are in the middle of a bustling theme park when you enter Takumi-Tei!
Keep in mind, Takumi-Tei falls in Disney's Signature Dining category with a minimum dress code — learn about Takumi-Tei's dress code here.
This new restaurant offers a truly unique experience, and dining here will take several hours… and more than several dollars! The prices are definitely on the high side for theme park dining. But the signature experience is well worth a splurge if you want to celebrate a special occasion.
Currently the restaurant does not accept the Disney Dining Plan. You can however, get a 10 percent Annual Passholder discount, or a 20 percent Tables in Wonderland discount. (The Tables in Wonderland discount may not apply to the tasting menu — be sure to ask when you order.)
What do you think of this in-park, upscale experience?  Do you have an ADR for Takumi-Tei? Let us know your plans in the comments!
Be sure to follow @allearsnet on Instagram and Twitter!
Check out our YouTube Channel for reviews, news, information and more!
Click below to subscribe to the AllEars® newsletter so you don't miss any of the latest Disney news!