Jabari, the giraffe calf born on Kilimanjaro Safari in January, has joined the herd on the savanna after two months bonding with his mother backstage.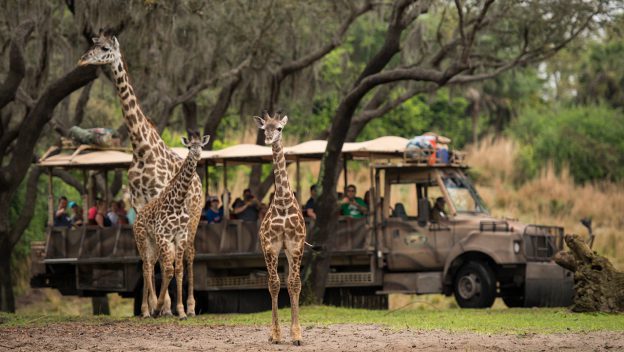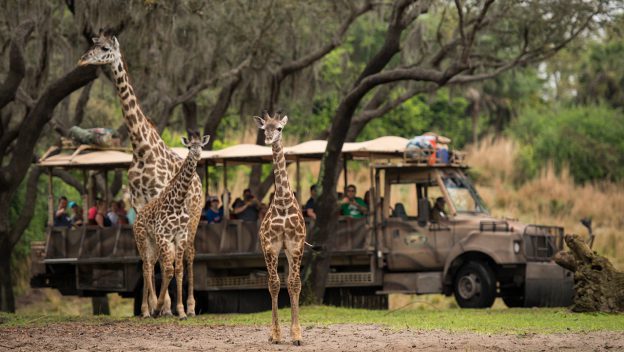 Jabari's name means "brave one" in Swahili, and fits his curious and courageous spirit.
Since his January 14 birth he has been in the backstage habitat bonding with his mother. During this time he reached all his key developmental milestones, so today he returned to the Kilimanjaro Safari savanna to officially join the rest of the giraffe herd.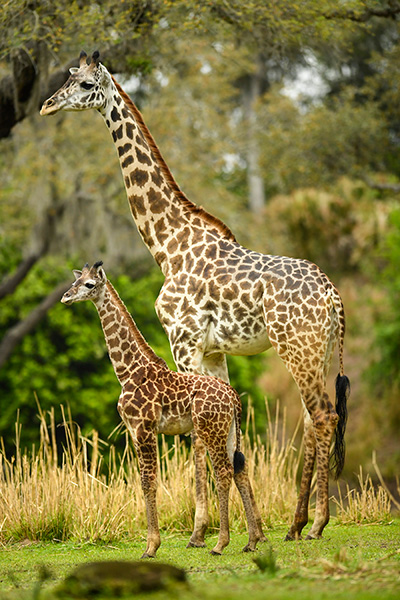 Disney's animal care team usually names baby animals, but this time the Kilimanjaro Safari drivers were allowed to choose the name, because they played such a vital role in keeping guests calm during Jabari's birth.
Jabari's parents, Mara and George, were chosen to breed through the Species Survival Plan (SSP), which is overseen by the Association of Zoos and Aquariums and ensures responsible breeding  of threatened and endangered species, thereby ensuring healthy, future generations. Jabari is following in the hoofsteps of his sisters Amira and Aella, two young female giraffe calves who were born at Disney's Animal Kingdom last year.
The Masai giraffe, found primarily in Kenya and Tanzania, is one of nine types of giraffe and is a vulnerable species. There are believed to be roughly 32,000 Masai giraffes left in the wild, and their population continues to decline due in part to poaching and habitat loss.
See Jabari make his debut on the savanna here:
To celebrate Jabari's arrival on the savanna the
Animal Kingdom
  is selling a  limited-edition cupcake available at
Tamu Tamu
in Africa, featuring a photo of Jabari and Mara. You will also find Disney Photo Imaging photographers with special birth announcement props for you to hold in your photos at the entrance to the Harambe bridge.
Were you in the Animal Kingdom  on the day Jabari was born? Have you been there recently and seen him on the savanna? Let us know in the comments below!
Remember! When you're in Disney tag us @allearsnet in your photos!
Stay on top of all Disney's baby animal news and more by subscribing to the AllEars® newsletter!