Although the official opening is today, March 1, most of the Festival Marketplaces at the Disney California Food and Wine Festival "soft-opened" on Thursday afternoon.  And I gave some new items a try!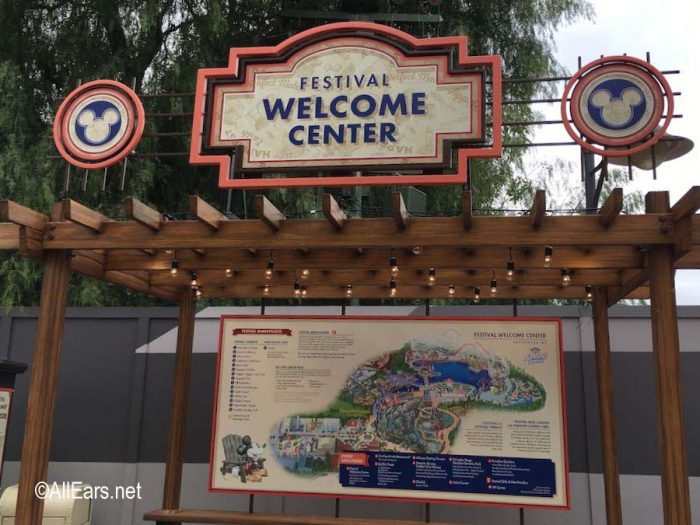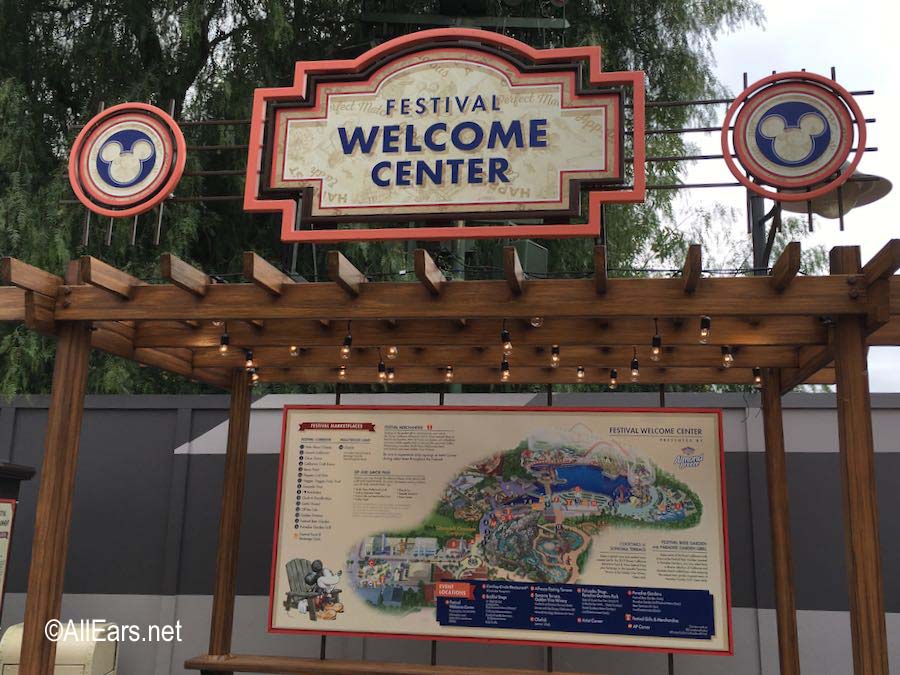 I was here just six days ago, but there have been lots of changes since then.  Of course the rest of the Marketplaces went up, including the new Golden Dreams near Grizzly River Run.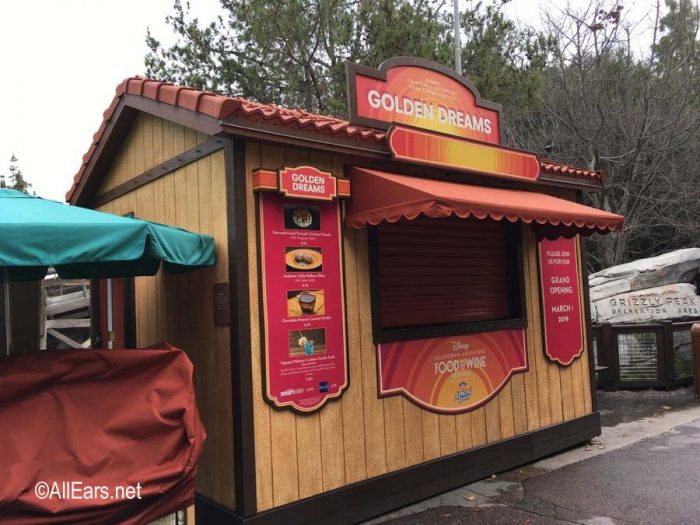 The Festival Beer Garden area was also prepared.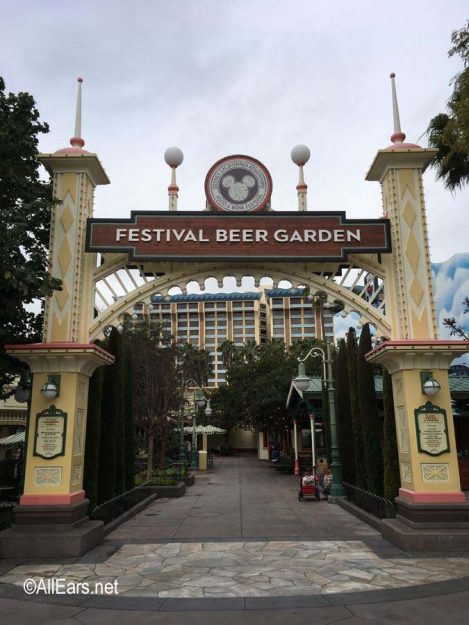 Lots of seating back there, most of it in the shade.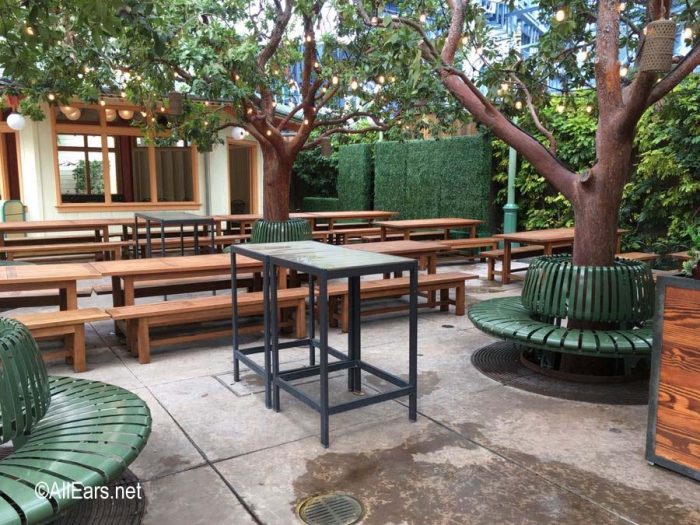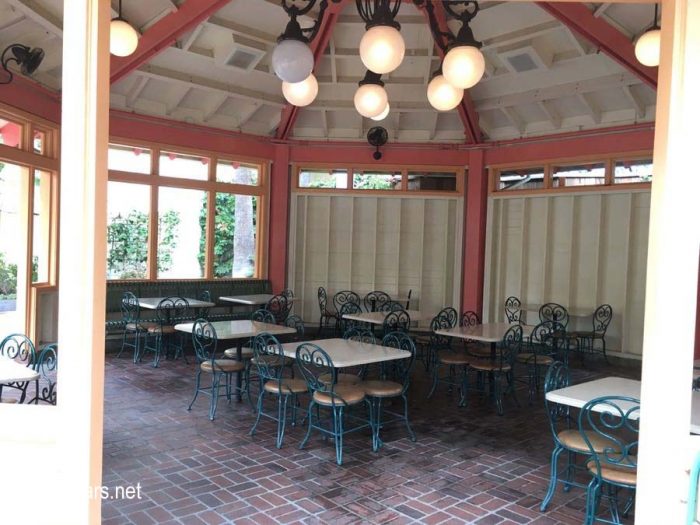 The round metal tables around the Marketplace areas have new washable covers this year – it's a nice backdrop for food photos, too.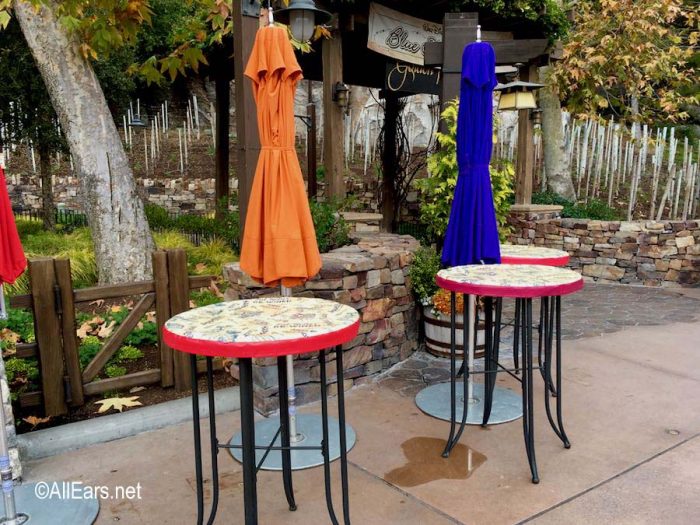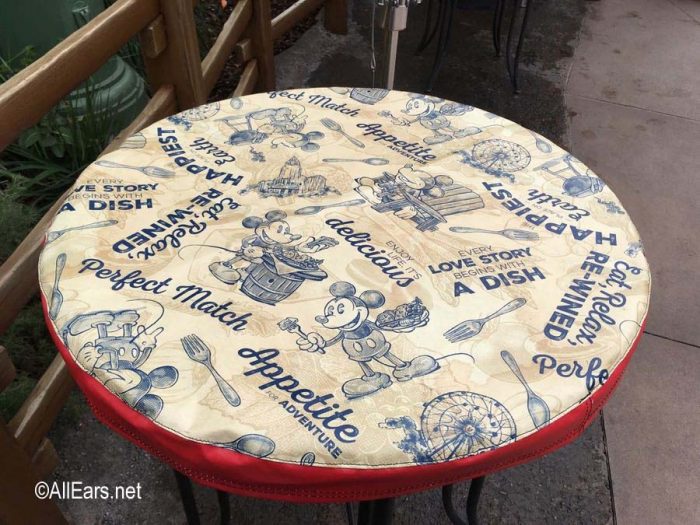 There was lots of cast member presence and comings and goings at the marketplaces by 10 a.m., but the first marketplaces didn't open until 1 p.m., and others within about an hour after that.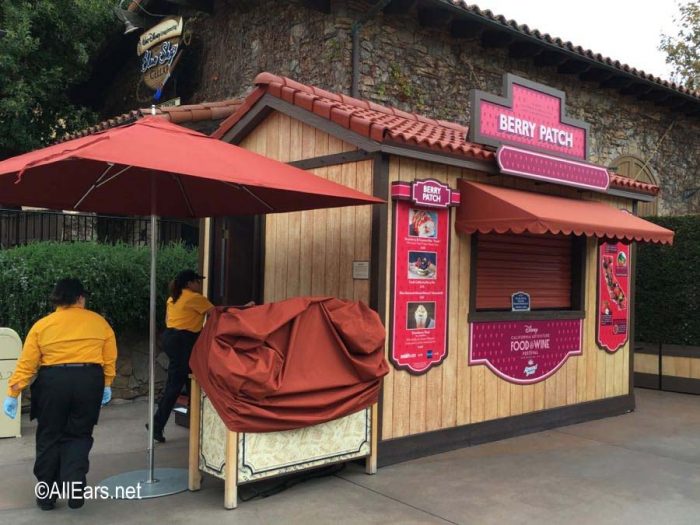 The exception was California Craft Brews, which did not open until about 5 p.m.  Paradise Garden Grill and the Festival Beer Garden did not open at all.  Since the Beer Garden still has tap handles missing, it's obviously not quite ready….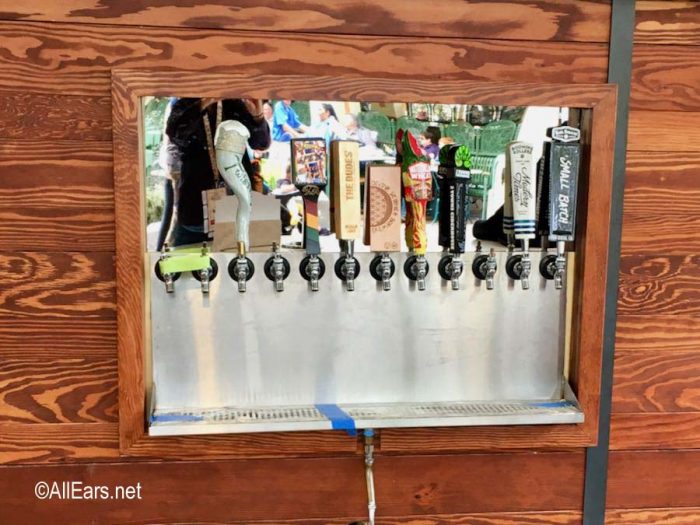 The Sip and Savor Pass was already for sale.  It was readily available at the Marketplaces as well as at Trolley Treats, Elias & Co. and Seaside Souvenirs.  It is $49 for AP holders, and $54 to the general public.  The lanyard has 8 tabs, and each can be redeemed at the Marketplaces for any food or non-alcoholic beverage item.  Items at some of the festival food carts will also be eligible, as well as sample sizes of some menu items at Paradise Garden Grill.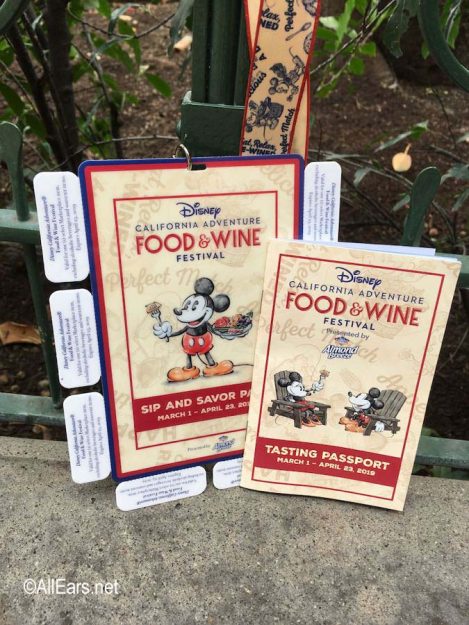 Disney seems to be pushing the Sip and Savor Passes this year – almost every Marketplace register had a sign about them.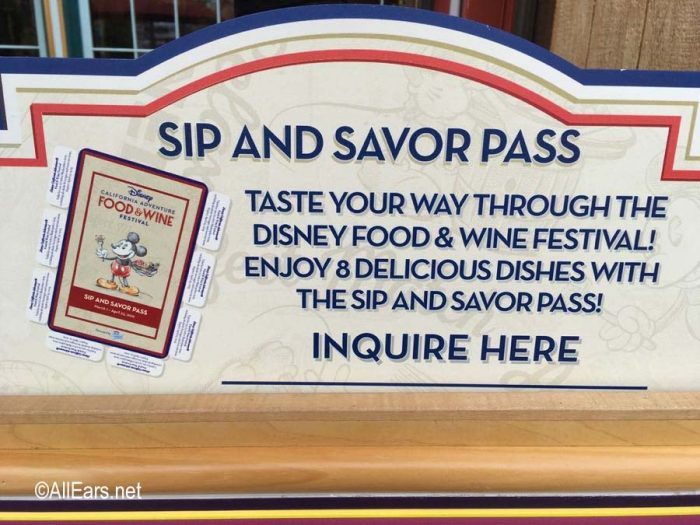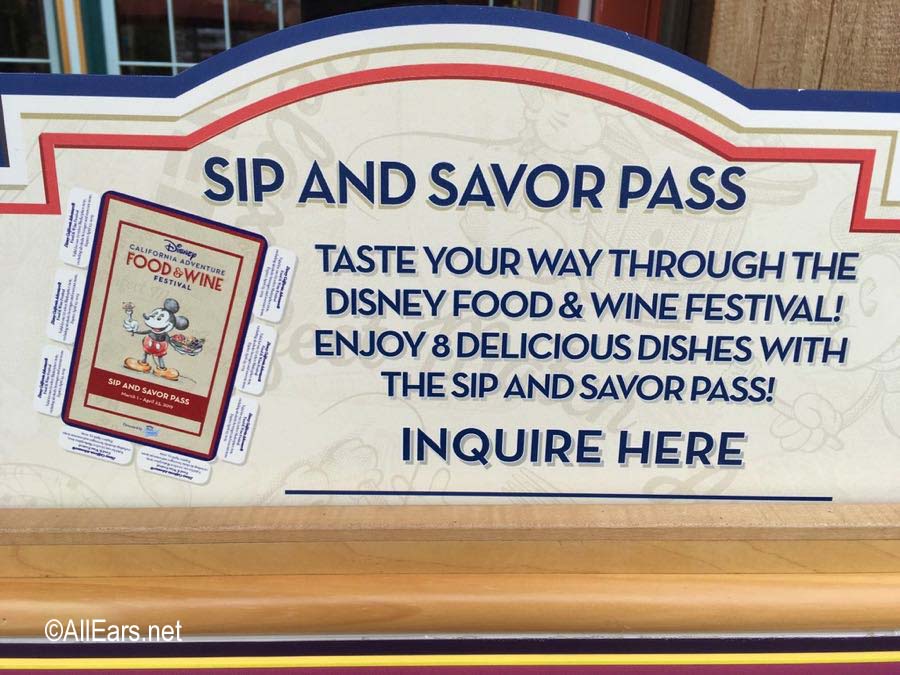 The first food item I sampled was the Citrus-brined Pork Roast with tangy barbecue sauce & lemon pepper slaw from Citrus Grove.  It was a generous serving and surprisingly good. The pork was tender, flavorful, and not at all fatty.  A bit of zing from the citrus, but it was not overdone, nor was the slaw lemony.  It had the acidity from the lemon but not much of the flavor. This one is $8 if you pay for it – I used a tab, so it was $6.13.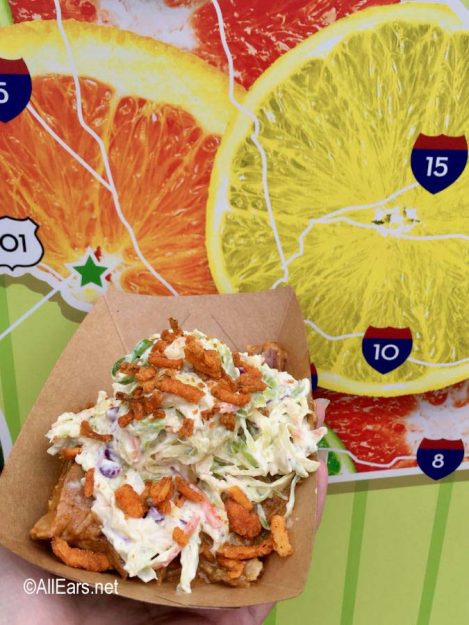 From Uncork California I chose the California Artisan Cheese Selection with Fiscalini White Cheddar.  You can also choose a plate with Point Reyes Blue. At $8.50 I believe this is the highest priced Marketplace food item.  In addition to cheese there was a nice cluster of grapes, dried fruits, candied pecans, and two packets of crackers.
It comes with a plastic cover, so you could take it to go…might be a nice thing to share with others while waiting for  World of Color some evening…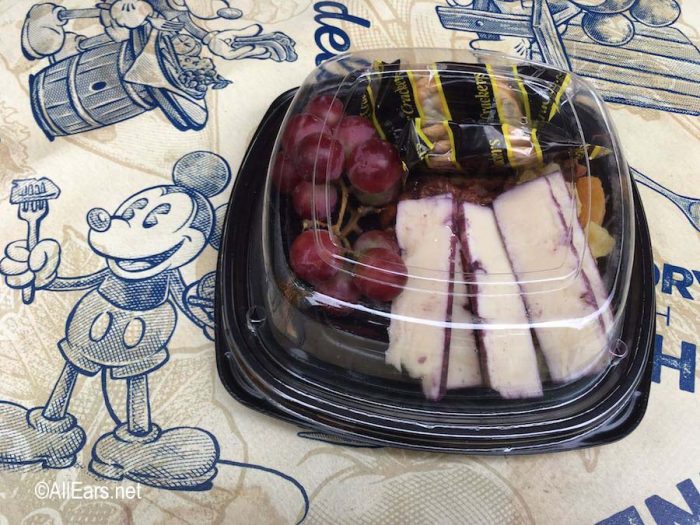 Nuts About Cheese has a Ham & Vella Jack Cheese Pinwheel with cheese sauce and smoked pistachios.  I had a couple people tell me this was really good… but I wasn't impressed. The pastry was tough. Mine seemed overcooked on the bottom and was very difficult to cut, which made it messy to eat.  $7.00.  It is a good-sized serving, and the cheese sauce is tasty.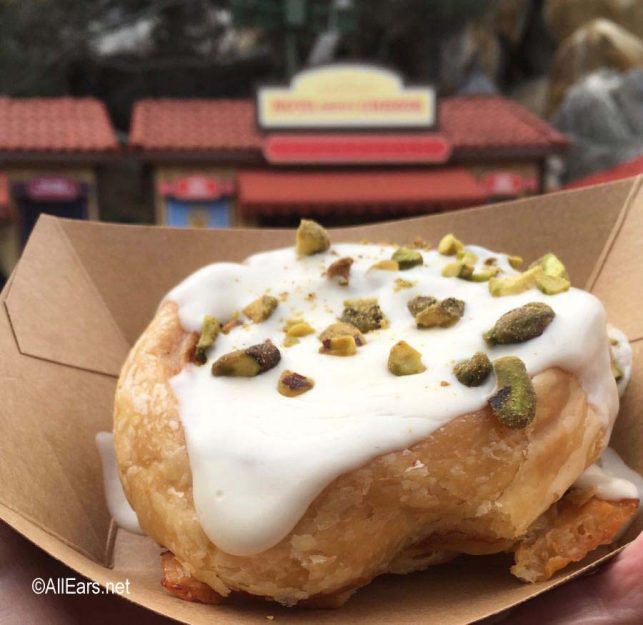 Avocado Time offers a Petite Impossible™ Burger with guac and pepper jack cheese.  $8.00.  I haven't tried this particular plant-protein "burger" before, though I have enjoyed a Beyond Burger.  This one was not as good as the Beyond Burger – but it was a little dry from sitting around too long, I think.  Had it been freshly prepared it might have been much better.  The guacamole was very good, as was the bun, which was toasted on the bottom to keep it from getting soggy.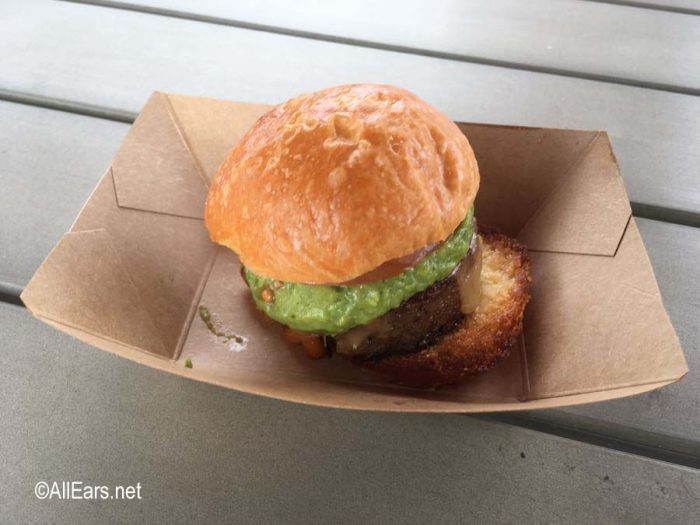 For dessert I went to the Garlic Kissed booth, which seems a very odd place to get dessert. I'm happy to say that there was no garlic in my Chocolate Crunch Cake.  It was excellent, and made this chocolate lover VERY happy.  I think it's the best DCA Food and Wine Festival dessert I've ever had… actually it ranks pretty high with ANY theme park dessert I've ever had.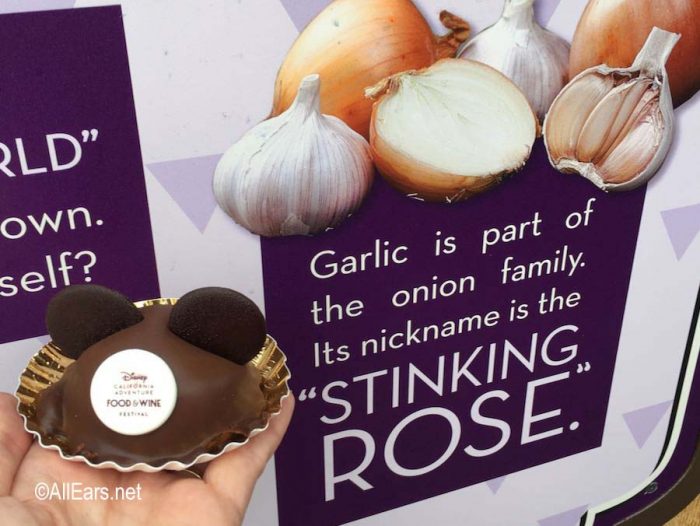 Chocolate mousse, chocolate cake, vanilla custard, and the ears were made of deep, dark chocolate.  Yum.  Though I'm not sure why they call it "Crunch Cake" – it wasn't crunchy.   $5.50 for this one so I paid for it rather than using a tab from my Sip and Savor Pass.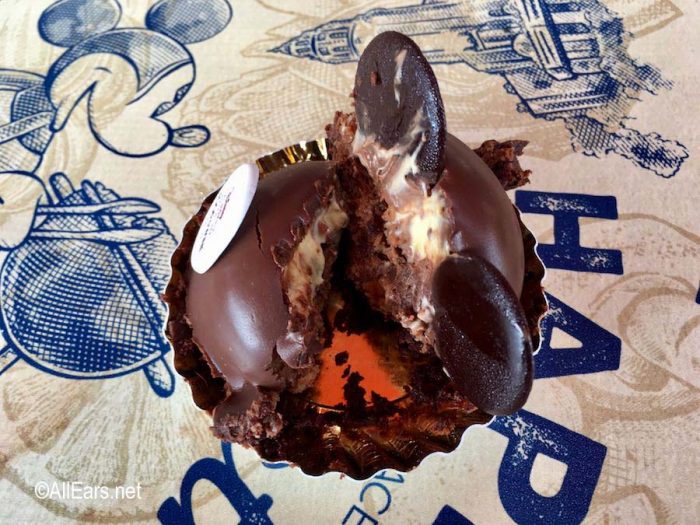 Later I tried the Anaheim Chile Relleno Bites with salsa verde from Golden Dreams.  The sauce was really good – it needed more chile relleno to go with it.  The pieces were good, and nicely crisp on the outside, but it was a small serving for $6.75.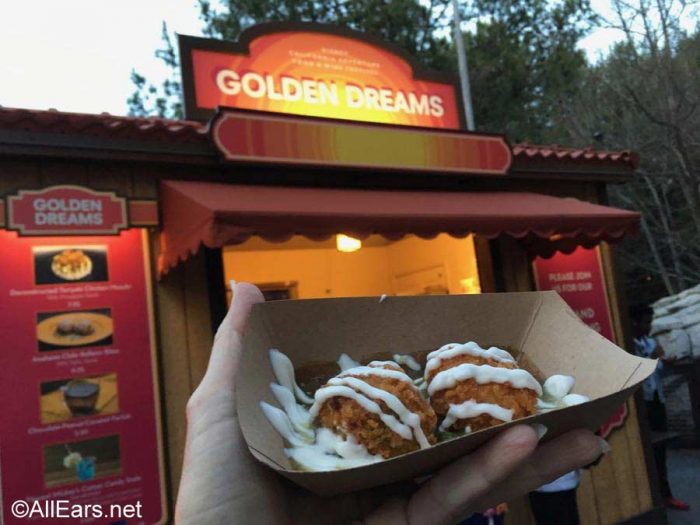 At Garlic Kissed I had the Pork Belly Banh Mi, which is a returning item.  Glazed with black garlic soy sauce, served with pickled vegetables and jalapenos on a very tasty French roll. Though it's a pricey little sandwich at $8.00.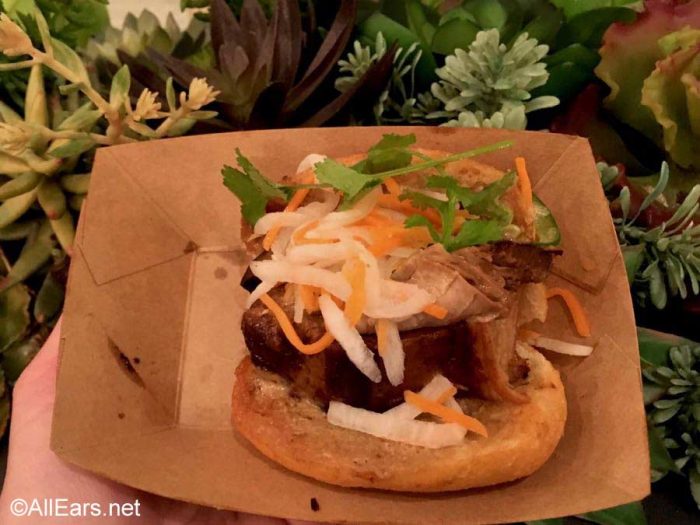 All of the Marketplace menus are HERE.
We'll have more on the rest of the Food and Wine Festival events and entertainment as the Festival officially opens on March 1.
Remember! When you're in Disney tag us @allearsnet in your photos!
Want more AllEars.net content? Be sure to check out our YouTube Channel for reviews, news, information and more! 
Subscribe to the AllEars® newsletter so you don't miss any exciting Disney news!