If you've been around the Disney Parks long enough, you're bound to have seen one of your favorite Disney rides come and go… For me, it's R.I.P. to The Great Movie Ride. Luckily though, these losses typically lead to new, exciting, and innovative rides.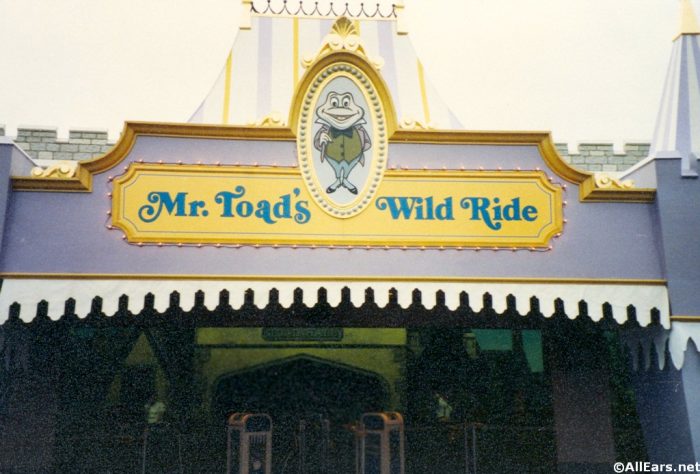 We've talked recently here on AllEars.net as to why Mr. Toad's Wild Ride went by the wayside, but here are a few examples of some other popular Disney rides that have met their demise — as well as the plans and projects that followed them.
1. Skyway to Tomorrowland
As I researched about the Skyway, I kept thinking about the fact that Disney World is currently building the new Disney Skyliner. While not identical, the two gondola systems are at least somewhat similar.
Skyway to Tomorrowland opened in Disneyland on June 23, 1956, then opened in Disney World as an original attraction on its opening day of October 1, 1971.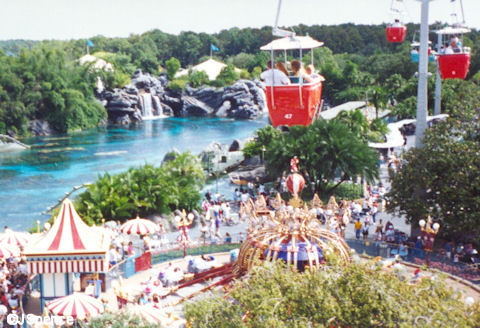 The Skyway connected riders between Tomorrowland and Fantasyland, giving them a bird's-eye view of the park below.
Many guests assumed that the ride closed due to safety concerns, as there were some unfortunate incidents, but a statement made by a Disney official at the time said that the closure was, "based on our guest evaluations and our desire to renew things and keep things fresh." 
The ride was never really replaced by anything; it just vanished from existence. In Walt Disney World, the location of the Fantasyland Skyway station is now the heavily themed Rapunzel restrooms, in fact.
I'm hopeful that the Disney Skyliner gondolas will fare better, since they are being used as a serious mode of transportation rather than an attraction. And I am happy that a bird's-eye view experience like this is returning to at least one of the parks.
2.  ExtraTERRORestrial Alien Encounter
Alien Encounter is one attraction I wish I could have experienced. That's right — I never had the chance, to my regret.
Opening on June 20, 1995, Alien Encounter became known as one of the scariest attractions ever. The experience was somewhat low-key at the beginning, as visitors watched a pre-show that introduced them to a company known as X-S Tech.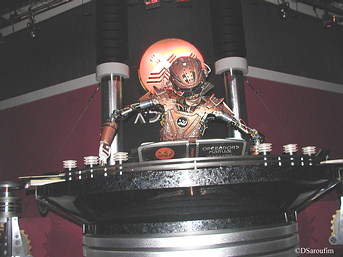 After that introduction, guests were transferred into another room where X-S Tech would demonstrate the power of teleportation. Suddenly things would go a bit awry. Imagine that! Due to these unforeseen complications, guests were moved to the teleportation chamber. Here, one lucky guest was supposed to be selected to be transported across the galaxy.
This is where things became a bit darker, literally. Once inside, Chairman L.C. Clench's signal would be disrupted, causing him to accidentally transport a nightmarish alien into the teleportation tube. After the alien was revealed, the lights would cut out as guests sat trapped in their seats. The terrifying alien would then crawl around the room and menace guests.
Although the attraction was loved by many for years, the overall consensus is that it was too terrifying for what was supposed to be a family-friendly park. This led to the closure of the ride on October 12, 2003. Alien Encounter was replaced by a more kid-friendly attraction known as Stitch's Great Escape on November 16, 2004, which itself is now permanently closed.
3. The Twilight Zone Tower of Terror
Dropping 13 stories at 39 MPH, the Twilight Tower of Terror was a thrill ride at both Disney World and Disneyland that took riders on the chilling thrill of a lifetime. Set in a deserted hotel, passengers would board an out of service elevator. This happened to be the same one that mysteriously led five strangers, including a few of Hollywood's elite, to their untimely demise.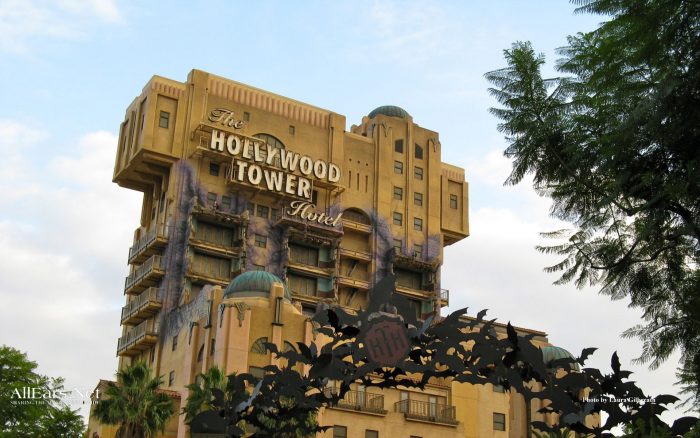 Opening at Disney's Hollywood Studios in 1994, the ride became an instant hit. In 2004, a more streamlined version was created, to save both money and space, at Disney California Adventure. Although the ride was a success on both coasts, the Tower of Terror met its untimely end at California Adventure on January 2, 2017. Some say this was due to the attraction's lower popularity at Disneyland, but others state it was due to the potential profit Disney saw to realize with its new concept — a Marvel tie-in. And thus, Disney California Adventure now has Guardians of the Galaxy: Mission Breakout.
4. 20,000 Leagues Under the Sea
This unique Disney experience opened in Walt Disney World's Fantasyland on October 14, 1971. The ride, which took up about 25 percent of Fantasyland's real estate, featured the Nautilus submarine and an 11.5 million gallon tank.
The ride would take guests underwater as Captain Nemo narrated. Passengers went on an adventure filled with some of Disney's earliest super-sized animatronics, including the amazing giant squid. Many loved the ride, but sadly it was a budget-buster, especially difficult after the financial crisis Disney experienced with the opening of Disneyland Paris. The ride also suffered a great deal of wear and tear — the submarines and animatronics were constantly submerged in water.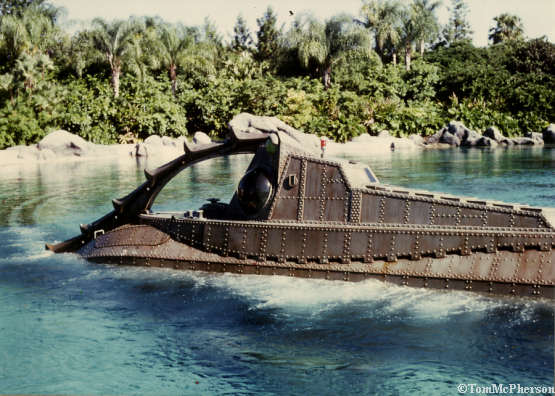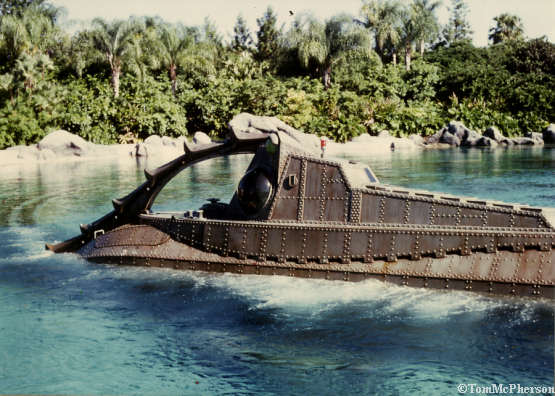 After undergoing three major renovations during its 23-year lifespan, the ride closed for an unexpected, unannounced refurbishment on September 5, 1994. It never reopened. The company announced its official closure in early 1996 —  guests never had the opportunity to say their final farewells.
Once the ride closed, the submarines were removed from the water. Many of them were broken down and sold to guests for metal parts. In 2004, the 11.5 million gallon lagoon that once housed 20,000 Leagues Under the Sea was covered by land. Be Our Guest Restaurant, Ariel's Grotto, and Seven Dwarfs Mine Train eventually were constructed on this location, so we guess it's not all bad!
5. The Great Movie Ride
And now to discuss the love of my life, the beloved Great Movie Ride, which opened on May 1, 1989, and sadly officially closed on August 13, 2017. Sob.
Passengers on the Great Movie Ride would board a tram and enter iconic scenes from classic films — not just Disney films, but ALL sorts of films. Through the use of audio-animatronics, replicated film sets, and lots of film footage, the ride allowed guests to experience legendary scenes from their favorite films first-hand.
To make the ride even more exciting, the cast members acting as ushers would interact with the sets. Depending on which tram you were on, you might be hijacked by gangsters or perhaps by a Western bandit.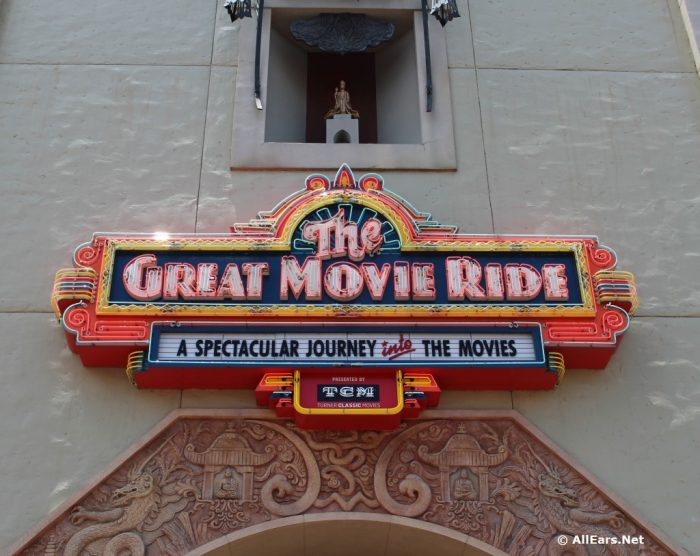 Some people feel that the ride closed because Disney's contract with Turner Classic Movies, the attraction's sponsor, ended and Disney did not believe that the ride was popular enough to extend the contract.
But the ride has now been replaced by Mickey and Minnie's Runaway Railway. This is Mickey Mouse's first official attraction of his own, so the company claims that it is pulling out all of the stops.
Still, I'll miss The Great Movie Ride. A lot.
What about you? What is your favorite lost Disney attraction? What new attractions are you most looking forward to? Leave your answers in the comments below!
Looking to read more on your favorite classic Disney attractions? Read more about them here! 
Subscribe to the AllEars® newsletter so you don't miss any exciting Disney news!
Remember! When you're in Disney tag us @allearsnet in your photos!
Subscribe to the AllEars® newsletter so you don't miss any exciting Disney news!