Billed as a first concert experience for kids, the new Disney Junior Dance Party On Tour will travel across the country in 2018, it was announced this week. Pre-sale tickets are on sale now, and general admission tickets go on sale Nov. 17.
Launching March 14 in Southern California, the high-energy production is inspired by popular Disney Junior series Mickey and the Roadster Racers, Sofia the First, Elena of Avalor, Doc McStuffins, The Lion Guard, Vampirina and Puppy Dog Pals. The live concert also will include a brand-new interactive experience featuring Disney Junior's highly anticipated series, Muppet Babies, which will air in early 2018.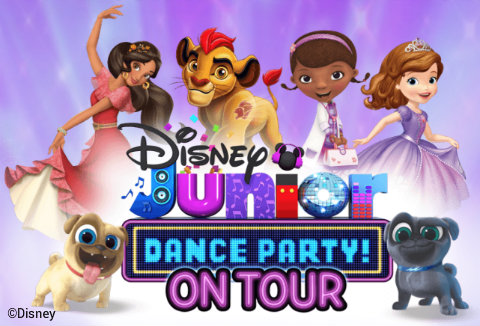 The 50-show tour will make stops at marquis venues including Rosemont Theatre (Chicago), The Fox Theatre (Atlanta) and The Grand Ole Opry (Nashville). A complete list of venues and dates can be found here.
During the show, hosts Dee and Jay and the DJ Dance squad welcome Mickey, Minnie and other Disney Junior characters on stage to perform popular songs including "Hot Dog Dance" from Mickey Mouse Clubhouse, "Time For Your Check Up" from Doc McStuffins, "Zuka Zama" from The Lion Guard and "Happy Helpers" from Mickey and the Roadster Racers.
"The 'Disney Junior Dance Party On Tour' is going to be the premiere family concert event of the year and for many years to come. The production is absolutely stunning and working alongside Disney and Amy Tinkham to create this show has been an incredible experience and an honor," said executive tour producer Jonathan Shank in a statement. "Parents and children are going to truly love this show. There are new songs, greatest hits and some mashups, which are really fun!"
Who doesn't love a good mashup?
"We are delighted to collaborate with Red Light Management to bring some of Disney Junior's biggest hit series to the stage for kids and families nationwide to enjoy in a truly immersive concert experience," said Jennifer Rogers-Doyle, vice president of franchise management at Disney Channels Worldwide, in a statement.
Disney Visa Cardmember pre-sale tickets, as well as VIP meet-and-greet packages, are available now, with Disney Junior Facebook pre-sales starting at 10 a.m. (local time) Nov. 14. General admission tickets go on sale to the public on Nov. 17.
VIP packages include an after-party and meet-and-greets following each performance. Kids and families also will have the opportunity to enjoy breakfast with characters including Mickey, Sofia and Doc on weekend show days. Performances during the week will include a special VIP offering, an afternoon tea featuring appearances by Princess Elena, Princess Sofia and Minnie Mouse.
Parents can go to disney.com/disneyjuniortour to get more information and to purchase tickets.