By Guest Blogger H.A. Rockwood
Disney Vacation Club is celebrating 25 years of magic this year and to thank the almost 200,000 families that like to call Disney "home", they have had a series of special events planned including Moonlight Magic; a members only in-park celebration with characters, rides, treats and more!
I had the pleasure of attending the first event at Magic Kingdom in March and had so much fun that I knew I wanted to try and attend the other events as well. When they announced the date for people to sign up I made my reservations for four people and marked the date on my calendar!
When September 6th was approaching there was some concern about the event being able to take place as scheduled due to Hurricane Irma's impending arrival, but luckily the weather cooperated and, though humid, we didn't feel any rain drops!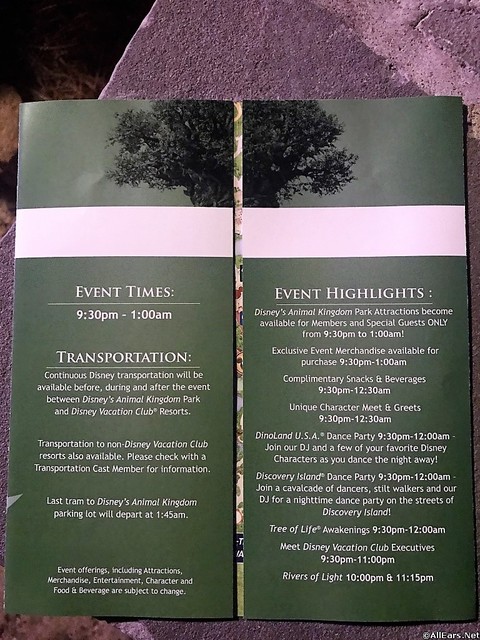 The event began at 9:30pm and ran until 1:00am but allowed guests to get in as early as 7pm to "jumpstart the fun". There were several check-in locations including DVC resorts, Disney's Animal Kingdom park entrance and a few in park locations as well. My party met at the handy light up event balloons at the turnstiles and checked in with my Membership Card and Photo ID and we were given wrist bands, event guides and one Dino-Rama Game Voucher per person.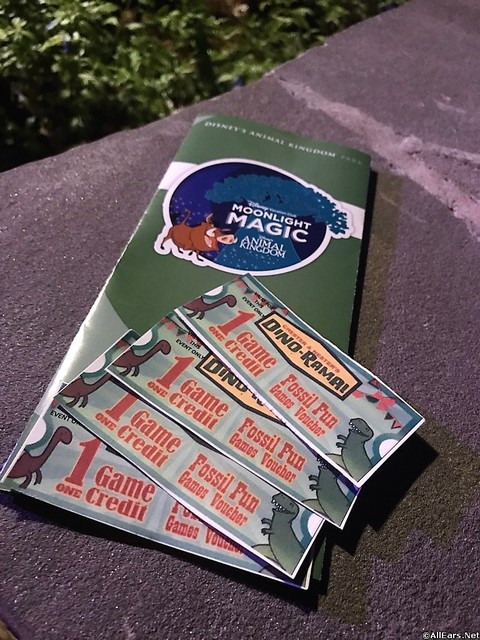 With guides in hand we headed off to Dinosaur for a quick ride and an opportunity to read through and see what our game plan would be to maximize our fun! Wait time for the rides were already low by the time we had entered the park (just after 9pm) and Dinosaur was quoting 15 minutes so we jumped in line. Unfortunately, due to debris in the ride path, our wait ended up being close to 30 minutes.
As we exited the ride area and dumped out into DinoLand U.S.A. we walked right into a Dance Party with Mickey, Minnie, Goofy and Pluto all dressed up in their jungle gear!
To the left there was a fun photo opportunity with Donald and Daisy who were dressed as "Duckosaurs".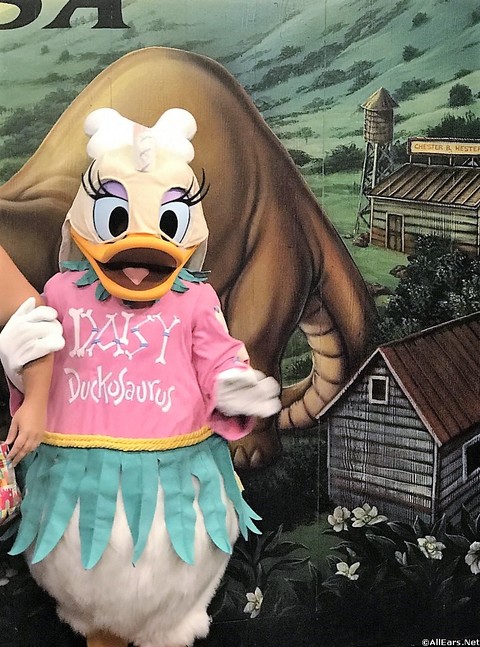 The Duckosaurs had a very long line so instead we headed to Restaurantosaurus, one of the four locations serving the free snacks and beverages (along with a fifth location, Creature Comforts, which had only Mickey Premium Ice Cream Bars).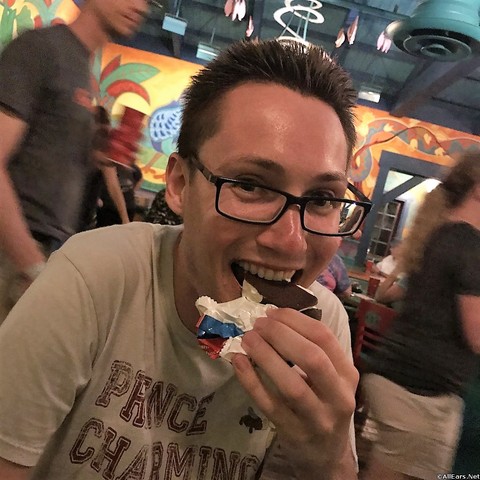 The complimentary snacks offered were hot dogs, potato chips, snack size baby carrots, snack size apple slices, and a chocolate chip cookie, as well as fountain beverages. The lines were not too long but it was a bit hectic when we got there and it took around ten minutes to receive our selections.
After our snacks we made our way over to Fossil Fun Games to use our free vouchers for one game of our choosing. The four of us decided on the Fossil Fueler water squirt game and there was a full house of hopeful winners but by some miracle seat three was the winner: me! I humbly accepted my priceless plush prize and went in search of the complimentary glowing drink lantern at the Rivers of Light. The show had two times that evening but our group was not going to be able to make either of them so we asked if we could have the lanterns without attending and they were happy to oblige. Drink mugs in hand we took off for Expedition Everest because who can resist a five minute wait?
Along with Expedition Everest and Dinosaur they had six other attractions open: It's Tough to be a Bug, Kilimanjaro Safaris (only open until 10:00pm), Primeval Whirl, TriceraTop Spin, Na'vi River Journey, and Avatar Flight of Passage. Wait times were very low except for Avatar Flight of Passage which hovered around an hour for most of the evening. Since all of us were locals and rides weren't a priority we went in search of some other entertainment and ran into another dance party on Discovery Island. Guests were being encouraged to join in on the fun with the many costumed performers while they danced to hits from Whitney Houston and Gloria Estefan.
There were several character opportunities near Discovery Island including Flik, Atta and Slim from A Bug's Life; and Carl, Dug and Russell from Up. Around the other side you could also find Tarzan and Jane, Pocahontas and Meeko, and Rafiki and Timon. The lines were a bit long for us so we made the decision to come back later.
Our next stop was the Discovery Trading Company to check out the exclusive event merchandise. The items for sale were a T-shirt and a pin. The T-shirt retailed for $29.99 and the pin retailed for $14.99 and DVC members were allowed to use their member discount as long as they showed their member card and a photo ID.
We finally decided it was time to see how Pandora was doing and were excited to discover that Na'vi River Journey was a walk on with a wait time of 15 minutes posted. Unfortunately, Flight of Passage was still holding steady at about an hour so we decided we were all ready for our free Mickeys Premium Ice Cream Bar! Creature Comforts (normally the Starbucks location) was not busy at all and we had to practically beg them not to give us each more than one of the fast melting treats!
Once our bellies were satisfied, our bodies cooled down and our feet rested we went in search of the character lines and were thrilled to see the Up characters had only a fifteen minute wait! Carl even rode up on his scooter and walked with his cane! The characters took their time with each family and did sign autographs for those who wanted them. PhotoPass Photographers were also available.
It was after midnight when we finished up our photos and the weather seemed to be getting muggier so we called it a night after stopping at the Tree of Life for a quick viewing of Awakening.
The event was a huge success in this guests opinion. The crowds were obviously much lower than expected with the impending storm and the cast members were all eager to show everyone a good time offering extra food, encouraging people to join in on dance parties and character experiences, and keeping the energy high! The free game voucher and the complimentary glowing lantern mug were an added and unexpected bonus and the chance to enjoy Disney's Animal Kingdom after dark with low crowds can't be beat!
So, readers, how many of you were at the event? How was your experience?
Disney's Official Theme Park products are now available anytime at shopDisney! Shop ear hats, collectibles and toys today.

(Paid partnership with Disney.)