I covered this week's theme on Patience before in a blog post entitled, "Play the Waiting Game at Walt Disney World" back in 2013. In it, I talked about waiting until I got a people free photo opportunity.
This week I talk about another kind of patience. The kind we all face being a photographer with a group of people or traveling with family at Walt Disney World.
The first is time waiting for someone to shop in the many stores, shops and kiosks found in and around the resort. I fill up the time by wandering around and looking for interesting merchandise to photograph. In the photo below I found these colorful hats on display in the Disney Outfitters Shop at Disney's Animal Kingdom.
Hats on display inside Disney Outfitters shop in Disney's Animal Kingdom.
Nikon D750/18-300VR, 1/125s, f/3.8, ISO 5600, EV +0.3, 34mm Focal Length.
A ride queue, especially for the most popular rides, can be very time consuming. Thankfully, Disney Imagineers put in as much work into the queues as they do the rides. As older rides have been refurbished and new rides open, the queues have become more interactive and photographically pleasing. For example, Frozen Ever After's queue is a pleasing wait in a Norwegian village ending in Oaken Token's with a fun sauna inside.
Waiting in the Frozen Ever After queue in Epcot's Norway pavilion.
Nikon D750/Sigma 15mm Fisheye, 1/50s, f/2.8, ISO 12800, EV +1.0.
I like to photograph firework shows with a tripod. This means staking out a location long before show time. I use the time to experiment with different exposures like this very long exposure looking down Main Street USA.
Waiting Main Street USA for Holiday Wishes to start in the Magic Kingdom.
Nikon D750/16-35VR, 30s, f/11, ISO 100, EV 0, 35mm Focal Length, Tripod.
This is the hardest subject to be patient with to photograph. Your food order when it gets set before you and you are hungry. I am not talking about your everyday hunger, I mean Walt Disney World hunger. You know what I mean. Below is a photo of Art's Fabulous Fried Chicken entree at the Homecoming Restaurant in Disney Springs. I had heard all kinds of postive things about his dish, I almost started eating before I took a couple of photos. I mean, look at it. Hungry, yet? Yes, it is as good as people say.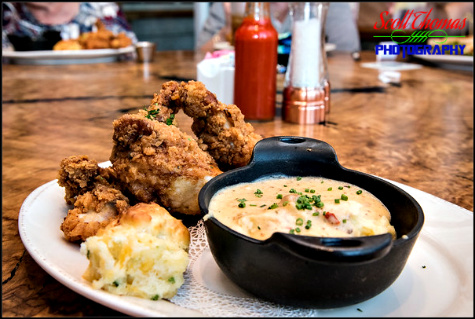 Art's Fabulous Fried Chicken entree at Homecoming restaurant in Disney Springs.
Nikon D750/24-120VR, 1/40s, f/10, ISO 3200, EV +0.3, 48mm Focal Length.
When you are waiting for family or friends, look around for a photo op. At Walt Disney World, they are everywhere.