Last weekend, I was invited to join SeaWorld Orlando pass members at a sold-out preview of foods and beverages that will be served at the upcoming Seven Seas Food Festival.
Beginning Feb. 11 and continuing on Saturdays through May 13, guests can visit the new food festival, which features some of the same components that they have come to love at the theme park's other festivals — special food to purchase and enjoy and concerts that are included in the day's admission.
However, this festival will run concurrently with the Viva La Musica and BBQ festivals. That's possible because the Seven Seas Food Festival will take place around the lake, throughout the entire SeaWorld Orlando park, and it won't be limited to the Bayside walkway (where other festivals are contained).
There will be 11 coastal markets and each will feature food with beer and wine pairings from Asian, Caribbean, Latin, European, Polynesian and North Atlantic locales. Visitors can expect to pay $4 to $6 per dish and about $4 per beverage sample. They also have the option to buy Food & Brew Sampling Lanyards. The 10-item lanyard costs $40 plus tax and the 15-item lanyard is $55. Both are good for the duration of the festival, so they can be used on multiple visits. The lanyards are available for purchase online now.
"[The Seven Seas Food Festival] will show what we can do at SeaWorld that is not only about hamburgers and hot dogs. It's a little bit more," Executive Chef Hector Colon told me at the pass member preview.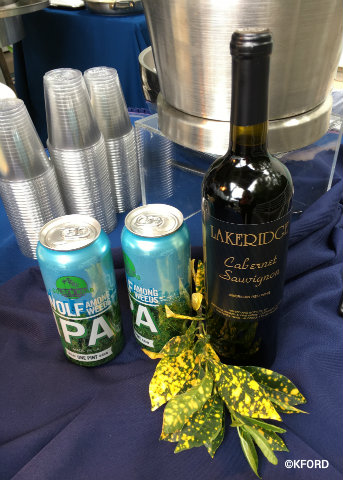 I think SeaWorld visitors will be pleasantly surprised by the offerings, based on what my children and I sampled at the preview. The dishes really are unlike what we've come to expect at SeaWorld, and with so many choices — 60 food items, 55 local and international craft brews and 13 wine pairings — most people will find something to suit their tastes.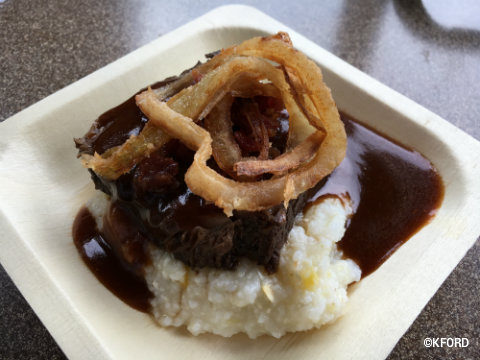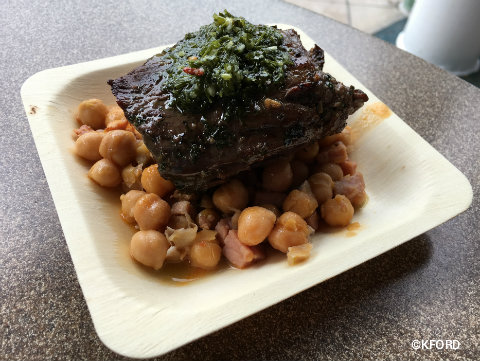 Our favorites were the Braised Short Ribs with the Jalapeno Corn Grits, Candied Smoked Bacon, Aged Balsamic Demi & Crispy Fried Onion Strings; the Churrasco Grilled Shirt Steak with Chimichurri & Garbanzo Frito; and the Grilled Corn on the Cob with Cheese. The short ribs were fall-apart tender and paired perfectly with the candied bacon and crispy onion strings. Although my children and I aren't big fans of grits, I'm told they were tasty, too. The grilled steak was full of flavor — with and without the spicy chimichurri sauce — and the corn-and-cheese combo had us going back for seconds. I'll definitely be looking for these dishes at the festival.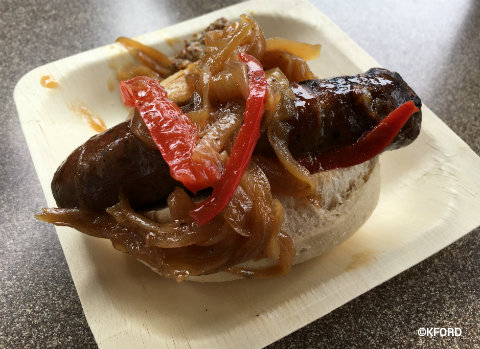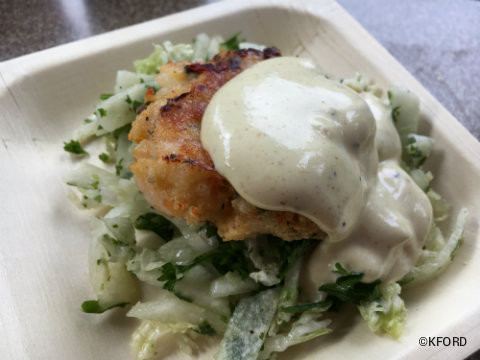 We also tried the Grilled Venison Sausage Slider with Caramelized Red Onions, Sweet Red Peppers & Whole Grain Mustard; and the Shrimp cake with Jicama Slaw & Key Lime Mustard. We didn't dislike these dishes; we just liked the others better!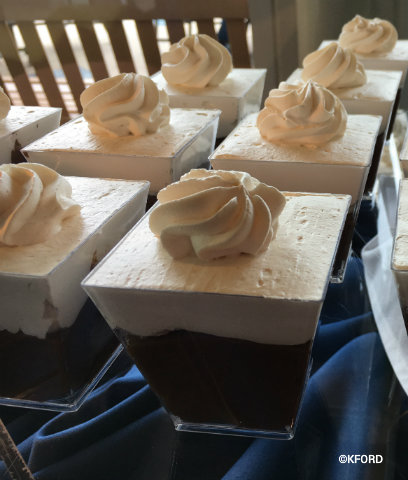 For dessert, we had three choices: Bacon and Hushpuppies Cormeal Fritters with Honey Butter; Grilled Cheese Pound Cake with Cheddar Cheese & Raspberry Sauce; and Dark Chocolate Guinness Mousse Parfait with Baileys Infused Whipped Cream. My children and I definitely liked the pound cake with cheese and raspberry sauce best. My son already is counting the days until he can have it again, and I'm sure I'll be joining him in line. We also really enjoyed the hushpuppy fritters, which were delicious with the honey butter.
Chef Hector admitted to having a sweet tooth, and he agreed with our dessert choices. "I like the pound cake with a lot of raspberries or the hushpuppies are really great. They are sweet and salty at the same time and with the honey butter, it's something you must have."
Pass members at the preview also were able to sample Red Sangria; non-alcoholic Sangria; Watermelon Slushy with Soja (ginger liqueur); and Frozen Lagoon punch with Lychee liqueur.
See the full menu for SeaWorld's Seven Seas Food Festival here.
SeaWorld's Seven Seas Food Festival begins at 11 a.m. every Saturday — Feb. 11 through May 13 — and continues through park close. Like all special events at SeaWorld, the Seven Seas Food Festival is included with park admission.
DISCLAIMER: I was a guest of SeaWorld Orlando for the pass member preview of the Seven Seas Food Festival. This did not affect my story, and my opinions are my own.