To all who come to this photo trivia game, Welcome! Along the way, the photos can make us relive memories and see details Walt's Imagineers put into everything we love in Walt Disney World!
My computer crashed! They say my hard drive is a goner. And I'm away from home so it's more difficult. I'm handling it well.

So I'm on my tablet in my kitchen in our RV wishing I hadn't complained about how old and show my laptop was. I know I cursed it.
Now for Challenge #462: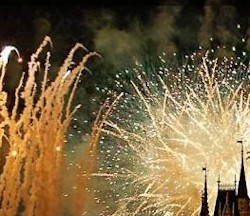 And here's the answer: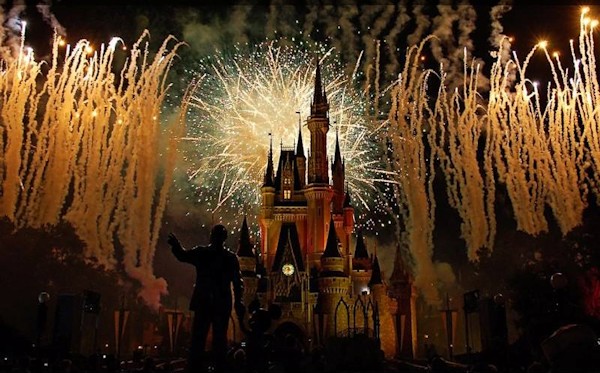 Copyright © Barrie Brewer
Wishes! With Walt and Mickey in silhouette in front of the Castle. I thought we'd catch the fireworks before we leave.
Matt Holley! Singing the song…! Then Jiminy Cricket comes in at the end: I choke up every time.
Al and Kerry Ganter was the first to send in the correct answer! Congratulations to Al and Kerry Ganter, and to all our winners this week! Andreas Beer, Andrew Carrieri, Andy Hickey, Ashley Collins, Barclay Bakkum, Barry Sklenar, Bob & Kathy Mckim, Bonnie Jean, Bruce Jones, Carla C, Carol Baranowsky, Carol Gamill, Caroline Burmester, Carri Marotto, Cathy Connors, Chris Bauman, Chris Kelly, Chris, Gretchen, And Katie Barnes, Dave Carriere, Deb Ragno, Diane Curfman, Don Purney, Ed Adams, Emily Hudson, Eric Berger, Eric Enli, Erin Hammer, Evanna Huda, Gallagher Family, George Mundy Jr, Gloria Martin, Grumpy's Groupies, Hillary Waldroop, Hobbes And Snorky, Hunter Armstrong, Jackie Graebel, Jamie Poynton, Jane Johnson, Janet Spiess, Janet T Thorn, Jason Steinmetz, Jeff Blank, Jeremy Reichelt, Jessica Polizzotto, Jill Hauth, Jim & Lorie Sonnen, Jim Finley, Jim Thompson, Joann Albrecht, Jodie S., John Paul Carnell, John Warner, Joseph M. Zafia, Josh Weiss, Joyce And Steve, Julie Carmack, K Beasley, Karen Bellamy, Karen O'brien, Karin Dion, Karrie Rodriguez, Ken Maikowski, Ken Savage, Kerri Coggins, Kris Nixon, Kyra, Leach Family, Les Stewart, Les Whitten, Linda College, Linda Hoffman, Linda Hoffman, Linda Ranatza, Linda Scrivano, Lizzy & Dave Fullerton, Lori Rienhardt, Loring Family, Luis Rodriguez, Margaret Convery, Margie Larmon, Mark Donahue, Mark Hardy, Maryann Eckenrode, Maryann Romagnano, Matt Holley, Matt Wildey, Matthew Frey, Matthew Grace, Michael & Jackie Mclucas, Michaela Obrien, Michelle Palazzo, Mickey Eckert, Mike Amor, Mike Cerce, Mike Haeberle, Mike Malampy( Malampy Benco Family), Nadine Miltier, Nan Amor, Paul Dickson, Paula Smitj, Phyllis, Rebecca A, Rebecca Keenan, Robert P Flaherty, Roxanne Kliebert, Sandra Albrecht, Sands Family, Sarah And Chris, Scott Greenbaum, Scott Sangston, Shannon Murray, Sharon Pierce, Sharon Powell, Sharon Russo, Sherri Pell, Smitty, Steve Knapp, Tammy Warmouth, Tammy Warmouth, Team Bonnje Sue, Team Hill, The Kertes Family, The Otts Family, The Parker Family, The Reichl Family, Theresa Maradei, Theresa Rucando, Tim Johansen, Tom Higbee, Vera And Izzy Williams, Veronica Alvarado, Wayne Chadourne, and Will Gates!
_______________________________________________________
Challenge #463 Where in the world is this?
Leaving the parks! This features a very large Christmas decoration that I believe they don't put up anymore. But it was in numerous photos and the Christmas day broadcast for years.

Do you know? Do you have a guess? Please send in your answer, before the end of the day on Thursday, December 15th, by clicking on the blue box below.
Please do not post answers using the Feedback Form link at the bottom of this post.
See you soon, Players!


_______________________________________________________________________
Everyone who sends in a correct answer to a Where in the World Challenge this month will be entered in a drawing at the end of the month for some special AllEars® goodies!
–