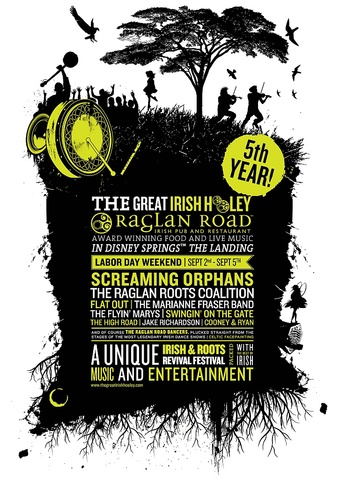 NEW: 'Rhythms of Raglan' show, plus top Irish Bands, Dance, Food and Craft Beers
LAKE BUENA VISTA, Fla. — New live music and dance entertainment, fresh menu creations and plenty of craft beer and cocktail options are on tap Labor Day weekend Sept. 2-5 during the 5th annual Great Irish Hooley at Raglan Road Irish Pub & Restaurant.
To celebrate the Hooley's fifth year, Raglan Road will present a brand-new, 90-minute live show of music and dance — The Rhythms of Raglan — produced in Ireland, exported to Raglan Road and directed by David Hayes (Riverdance, "The Voice" Ireland edition) with guest choreographers including Michael Donellan (Lord of the Dance). The music festival's multi-band lineup will feature headliner Screaming Orphans and other bands popular on the festival circuit.
Celebrating Irish song, dance, food and drink over the long Labor Day weekend, the Great Irish Hooley is Central Florida's only boutique Irish festival with performances beginning at noon Friday and continuing each day and night through late Monday.
With contemporary Irish cuisine by celebrity chef Kevin Dundon, Irish craft beers, hand-crafted cocktails and day-into-night entertainment, the Great Irish Hooley promises a high-voltage music festival for all who drop by or reserve a table. This year's Hooley band and entertainment lineup includes:
Screaming Orphans — Four talented sisters from Bundoran in County Donegal, Ireland, combine original pop/rock music with the Ceili (kay-lee) traditional music of their family roots. Their dynamic show has taken the festival circuit by storm.
Jake Richardson — Jake is a singer-songwriter and musician from Dublin whose passion for music inspires audiences as he entertains with unique vocals and catchy songs.
Flat Out — Flat Out is an award winning four-piece band from the West of Ireland that plays an exciting mix of folk, traditional, pop and New World music. Band members are all multi-instrumentalists combining Irish harp, guitar, fiddle, tin whistle, flute, button accordion, bodhran. They play fresh original music along with funky cover music and have been playing and travelling the world since 2013.
Marianne Fraser Band — Marianne is one of the most sought after guitarists and songwriters on the Irish music scene who is ably supported by Danny Hunter on fiddle and Ali Levack on whistles and pipes. The band performs a high-energy mix of traditional and modern tunes along with Marianne's own compositions.
Swingin' On the Gate — This four-piece band of multi-instrumentalists with roots in legendary Lisdoonvarna in Co. Clare have serious crossover credentials and musical pedigree including traditional and classical training. They are multiple medal winners at Fleadhs music competitions and have toured in Italy, Switzerland and the United States.
The Raglan Roots Coalition — 10 years down the road, Raglan felt it was time to shake its boogie — Roots style, with this new Irish house band. Think soul-rocking Celtic bluegrass with some hip-swingin', knee-shakin' funky roots beats.
The High Road – These young Irish musicians met in University in Ireland. A predominantly Irish traditional group, they also play British folk, blues and soul, and their combined talents provide for a vibrant live show of music and song.
Cooney & Ryan – One of the finest traditional Irish music duos around, these accomplished, energetic musicians often invite the crowd to sing along.
The Flyin' Marys — A young, hip all-girl band that mixes it up with raucous tunes, beautiful ballads and strong vocals.
The Raglan Road Irish Dancers — Plucked from the cast and stages of the world's greatest Irish dance shows, the Raglan Road Dancers perform throughout the long Hooley weekend. You can even learn some traditional Irish dance steps — no experience necessary!
The Rhythms of Raglan cast will debut this new 90-minute production during the Great Irish Hooley at 4 p.m. Sept. 2, and at 1 p.m. and 4 p.m. Sept. 3, 4 and 5.
A traditional Irish social celebration, the "Hooley" combines music ranging from traditional to rock tunes with entertainment and fun for the whole family (no cover charge). The Hooley also will feature Celtic face-painting Saturday through Monday. Throughout the Hooley, guests can step up to one of Raglan Road's 130-year-old imported-from-Ireland bars or grab a table for authentic fare by Irish celebrity chef Kevin Dundon. A Trip Advisor "Certificate of Excellence" 2016 Hall of Fame honoree and 2014 "Best Restaurant" Orlando magazine readers' poll award winner, Raglan Road is known for its beer-battered fish and chips, Shepherd's pie with a contemporary twist, delectable seafood and gluten-free entrees.
The complete entertainment schedule will be posted at www.raglanroad.com and www.greatirishhooley.com closer to the event.
Owned and operated by Irish partners John Cooke, Paul Nolan and celebrity chef Kevin Dundon — famous for his five-star hotel and cookery school in Ireland — Raglan Road features traditional Irish dishes and new creations with a Celtic twist. The restaurant's warm interior of aged walnut and mahogany woods from old Irish bars and churches was built in Ireland and shipped to Orlando. Live entertainment nightly and during weekend brunch includes the new Irish house band Raglan Roots Coalition, plus the Raglan Road Irish Dancers. Lunch is served 11 a.m.-3 p.m.; Dinner 3-11 p.m.; Bar menu 11 p.m.-late; Saturday and Sunday Rollicking Raglan Brunch from 10 a.m.-3 p.m. Raglan Road Irish Pub & Restaurant is located at Disney Springs in the Walt Disney World Resort, 1640 E. Buena Vista Dr., Lake Buena Vista, Fla. Visit www.raglanroad.com or call 407/938-0300.