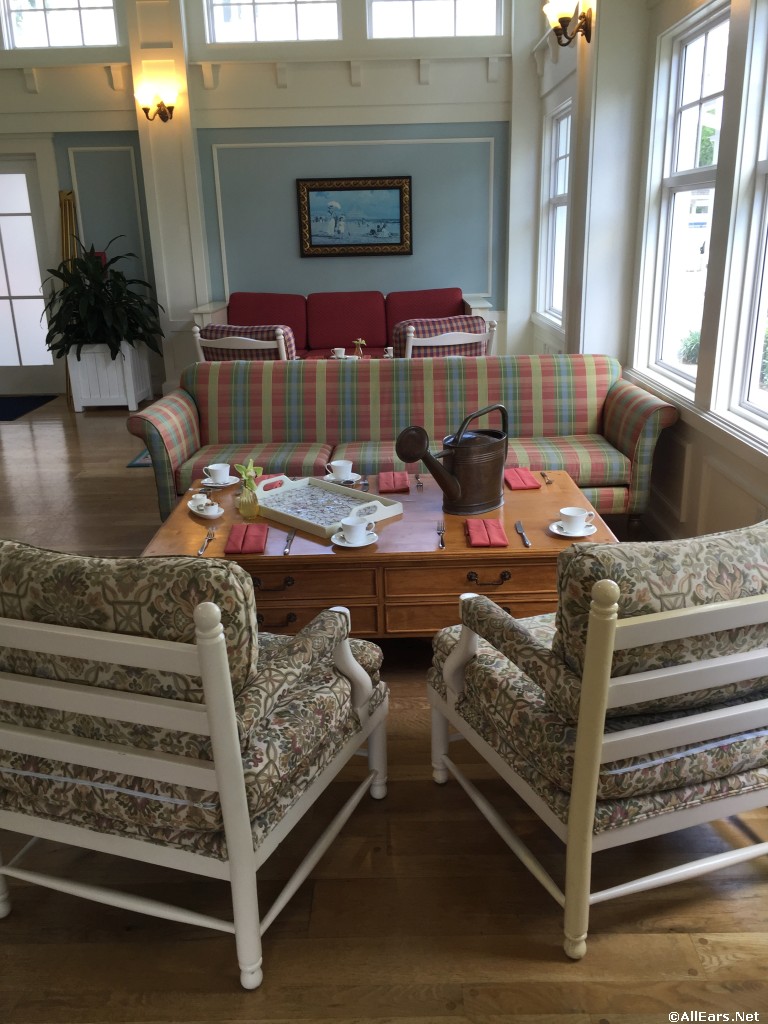 For many years Walt Disney World has offered a popular afternoon tea at the Grand Floridian Resort. Earlier this year the Disney Parks Blog announced a new tea offering: Afternoon Tea at Crescent Solarium, which would be held for a limited time in the Solarium at the Beach Club Resort. It didn't line up with our February dates, but then a new set of dates for April appeared, and Alert Reader Deb Koma was able to book a reservation for five of us for Sunday, April 17. (Future dates offered are May 5-8, June 16-19, August 11-14, and September 1-5.)
Reservations must be booked by calling WDW Dining – they are not available on-line. A credit card guarantee is required.
Since I've had the opportunity to sample the other two Disney afternoon tea offerings this year (Grand Floridian and Steakhouse 55 at the Disneyland Resort) I was looking forward to trying this new one – and of course I can't help comparing the three. They are all different experiences, but all enjoyable.
Lee and I arrived at the Solarium for our 1:00 reservation. We are used to entering the Solarium from the Beach Club lobby side – but that door is now closed, and actually opens into the kitchen! The main entrance to the Solarium is from the walkway between the Beach Club and the Beach Club Villas.
The Solarium is really a lovely space – lots of windows and light. I found it very cozy and welcoming. I think we all found it more informal than the Grand Floridian.
We were escorted to a low table set for 5 people – three on a sofa, and two of us in cushioned chairs. Awkward, because our knees were not under the table and we had to lean forward to reach our plates or cups. The seats, especially for those on the sofa, were too deep, but there were no cushions to put between us and the seat back. That was uncomfortable, and those on the sofa had to sit forward, with no back support, for the whole meal.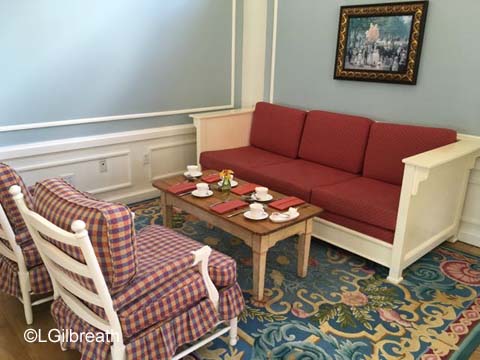 There were some traditional tables, but they were for parties of two or four. Any larger parties were at the low tables.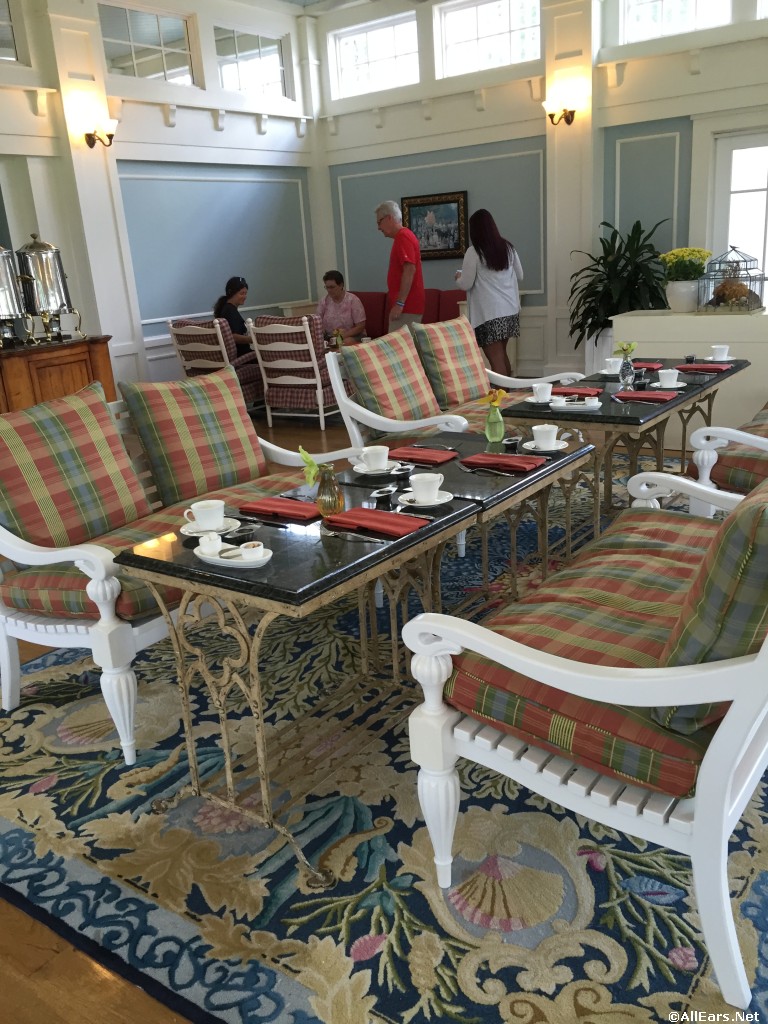 Our server arrived quickly to introduce himself, offer us water, and tell us about the menu.
For adults there are three different tea services offered: Sea Side Park Tea, Sandy Cove Tea, and Prince Cove Tea. All three include your own pot of tea, scones with lemon curd, clotted cream, and jam, and house-made pastries and desserts. The Sea Side and Sandy Cove teas offer a course of tea sandwiches and canapes also, with the Sea Side adding an additional artisan cheese and fruit plate as the first course. The first course of the Prince Cove is a house-made charcuterie and cheese plate. So that we could sample everything we ordered one Prince Cove, two Sea Side, and two Sandy Cove, and then we shared the extra courses.
I should mention that there is also the Short Sands Beach Tea for children ages 3-9. Also, no discounts are available.
Crescent Solarium Afternoon Tea Menu
We all chose to start with a glass of sparkling wine: Blanc de Bleu Brut. It was very pretty. While there is some blueberry added I didn't taste any blueberry flavor – it was just a nice sparkling wine.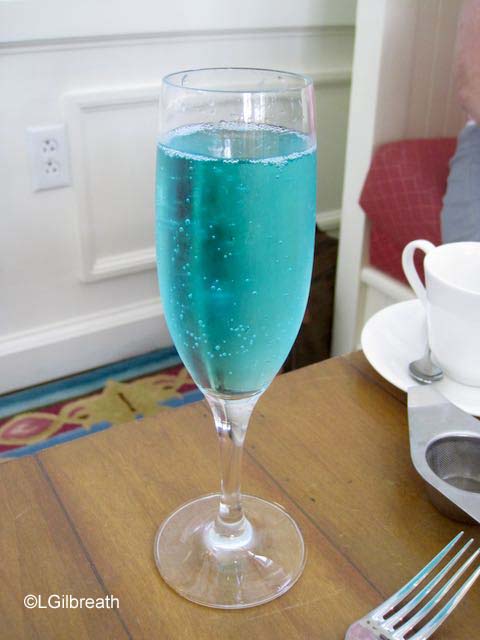 The tea menu offered a variety of black, white, and green teas as well as herbal selections. I chose a black tea named Shanghai Rose: "an exotic blend of hand-picked, fresh black tea leaves, infused with the sweet and sultry flavors of seductive lychee and fragrant red rose petals." It was certainly floral – a little too floral for me. It was fine, but I would order something different next time. Others in our party sampled the Organic Vanilla Rooibos, Imperial English Breakfast, and Thunderbolt Darjeeling.
Each of us received our own tea pot and tea strainer. The essential item that we were missing was a tea cozy to keep the pot warm. We all noticed that the tea in our pots cooled off too fast, and we had to ask for more hot water to warm it up. (Our server told us they had requested those, so I hope that issue will be addressed in the future.)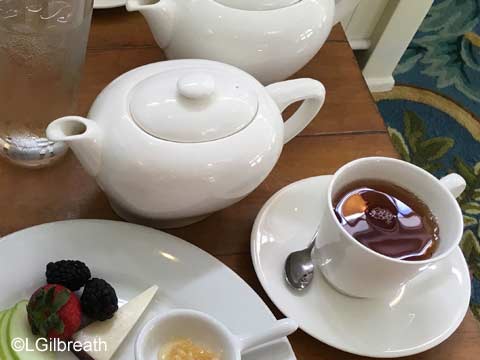 One very nice aspect of this tea is that it was served in courses. (The Grand Floridian Tea used to be served that way, but now almost all the food items are brought at one time.) The first course for us was the Charcuterie Plate for the Prince Cove Tea and the Cheese Plate for the Sea Side Park Tea.
The Charcuterie Plate included rabbit sausage, "piggy pie" and Bonne Bouche goat cheese. Interesting presentation on a substantial wooden board.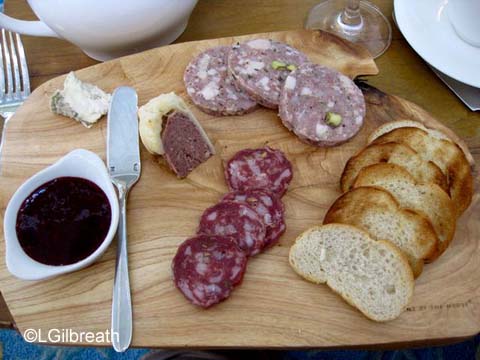 The Sea Side Park Artisan Cheese plate featured Valdeon Blue, Drunken Goat and St. Andre Artisanal cheeses with fruit. Another very nice presentation. This was enough for two people to share.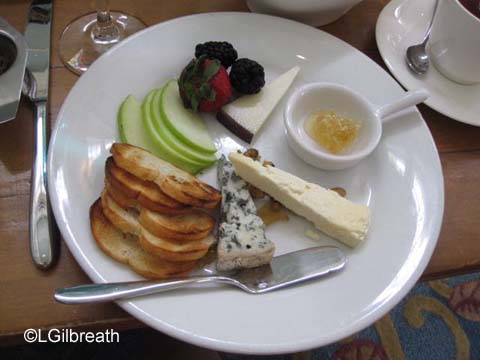 For the second course four of us received individual tea sandwich and canape plates. (The Prince Cove did not include that course, though Ms. Prince Cove was still working on her charcuterie plate.) There were salmon rillettes, cucumber and cream cheese, Old Bay lump crab salad and chicken curry on house-made breads. Very elegant and sophisticated offerings – which was not quite what I was expecting in that setting. We were all surprised that the bread was toasted – that's very non-traditional. While this was another beautiful presentation I was disappointed in it because the servings were all very small – most of the sandwiches were about two bites. Everything tasted very good, there just wasn't enough of it for me.
The third course was blueberry-lemon and cranberry-orange scones served with clotted cream, house-made lemon curd and jam. The orange in the cranberry-orange was a little too intense for my taste, and I preferred the blueberry-lemon. The lemon curd was really not very good. And again, I thought the servings were too small. I like a nice big scone. These were both fairly sweet, also.
The final course was the dessert plate – we all received one. Again, lovely to look at…but VERY small portions. The offerings were chocolate filled cake, raspberry cookie, lemon poppy seed cookie with lemon curd, and a Madeline cookie with a light lemon glaze on top. I thought they looked better than they tasted.
The service was excellent. Everything was paced very well, and we didn't feel rushed at all. There's something very refreshing and soothing about afternoon tea – I find that it really renews my spirit, and I felt that here as well. It was very relaxing – if only our chairs had allowed us to sit back and get comfortable.
My overall impression of Afternoon Tea at Crescent Solarium is that it was a lovely experience and I really enjoyed the setting and the relaxed atmosphere. I thought the food was beautiful and well-presented, but would have been more appropriate in a more formal setting. And I would have liked larger portions. However, I had run a half marathon that morning, so my appetite was probably larger than it would be normally. Many of the foods we had were fairly rich, where smaller portions are appropriate and (usually) satisfying.
I personally prefer tea at the Grand Floridian – it's a more traditional tea, and more my idea of what I expect from a proper afternoon tea, especially the sandwich selections and the scone course. That would be my first choice, but if it weren't available, I would happily choose to enjoy tea at the Crescent Solarium again. That seemed to be the consensus among my tea companions, as well. It was an event that we all enjoyed – just a couple of things that would've made it even better.