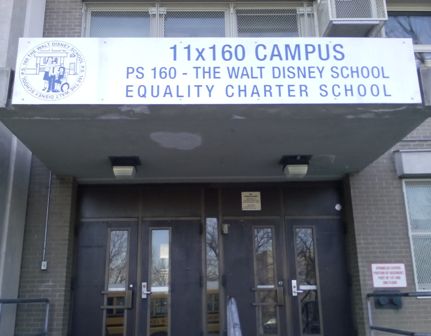 The entrance to PS 160 in the Bronx, aka The Walt Disney School, just across the highway from the site of Freedomland.
CHUCK SCHMIDT / Still Goofy About Disney
AllEars.Net Guest Blogger
Our last blog, dealing with the contentious relationship between Walt Disney, C.V. Wood and the creation of the Freedomland park in New York City in the early 1960s, generated considerable interest among readers.
In many ways, both men profited from their acrimonious relationship: Disney, because Wood played such an important role in Disneyland's development; and Wood, because he was able to take what he had learned as Walt's aide-de-camp and develop theme parks and other projects of his own in the years after he was booted from Disney's employ.
In addition to Freedomland, Wood and his Marco Engineering firm were responsible for the creation of Magic Mountain theme park in Golden, Colo., and Pleasure Island outside Boston in Wakefield, Mass. In addition, Wood and Robert McCullough [of McCullough chainsaw fame] joined forces in one of the most unique projects you could ever imagine in Lake Havasu City, Ariz.
That project involved dismantling, brick by brick, the outdated London Bridge and transporting it from England to the United States, where it was reassembled and became a major tourist attraction. Each brick was meticulously numbered and transported to a container ship, where they then made the journey through the Panama Canal to California. They were then trucked to Arizona, where the bridge was put back together, brick by brick. It was jokingly referred to as the world's largest jigsaw puzzle. The bridge was reassembled and opened in 1971, surrounded by countless English-themed shops and attractions.
Wood also had a hand in the creation of the first Six Flags amusement park in Arlington, Texas. Six Flags Over Texas, as it was originally named, remains a major tourist attraction and helped spawn the Six Flags nationwide brand.
In retrospect, Walt Disney had the last laugh. The success of Disneyland helped solidify the Walt Disney Company as an entertainment juggernaut and the company he founded continues to grow and flourish to this day.
On another level, Walt may be still be laughing at C.V. Wood.

From PS 160's letterhead: The Future Starts Here — Believe, Achieve, Succeed!.
Over the years, many towns across America have honored the world's greatest dreamer by naming schools after him. To give you an idea, here's a list:
Walt Disney Elementary School – Anaheim, Calif.
Walt Disney Elementary School – Burbank, Calif.
Walt Disney Elementary School – San Ramon, Calif.
Walt Disney Elementary School – Mishawaka, Indiana
Walt Disney Elementary School – Clinton Township, Michigan
Walt Disney Elementary School – Marceline, Missouri
Walt Disney Elementary School – Springfield, Missouri
Walt Disney Elementary School – Omaha, Nebraska
Walt Disney Elementary School – Rochester, New York
Walt Disney Elementary School – Tulsa, Oklahoma
Walt Disney Elementary School – Levittown, Pennsylvania
Walt Disney Elementary School – Alvin, Texas
Walt Disney Magnet School, Grades K-8 – Chicago, Illinois
You'll notice there's one school in Walt's hometown of Marceline, Missouri, as well as one in Anaheim, near Disneyland, and another near the Walt Disney Studios in Burbank.
One former student at the Walt Disney Elementary in Anaheim remembers her experience at the school: "I was in the first graduating class of those in kindergarten through sixth grade … representing class years 1959 to 1966. I love those memories and seeing Walt Disney at a school event. What an honor."
In our research, we discovered another school named after Walt, the placement of which is dripping with irony and leaves me wondering if Walt is, in fact, having the last laugh over C.V.?
You see, the school, Public School 160, is located at 4140 Hutchinson River Parkway East in the Bronx, opposite Co-Op City and the Bay Plaza Shopping Center … the same parcel of land where Freedomland once stood!
According to the school's website: "The Walt Disney School is a dynamic, exciting, and educationally stimulating place where students are encouraged to reach their fullest potential. The motto of our school is: 'The future starts here. Believe, Achieve, Succeed!' The culture of the school emphasizes high expectations, creativity, respect and the cooperation of family, community and school" … very much in keeping with the ideals Walt Disney himself believed in.
In a recent message to the school community, the school's principal reminded students that "PS 160 in a uniform school. Students should wear navy bottoms [no jeans] and white collared shirts with a red tie. Shoes should be navy or black."
A dress code sounds so much like Disney, doesn't it? No word on whether these uniforms are known, as in Disney parlance, as costumes.