To all who come to this photo trivia game, Welcome! Along the way, the photos can make us relive memories and see details Walt's Imagineers put into everything we love in Walt Disney World!
Matthew Frey, thanks for the nice note!
Now for Challenge #424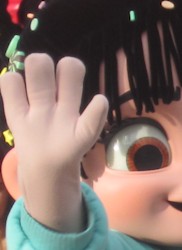 And here's the answer: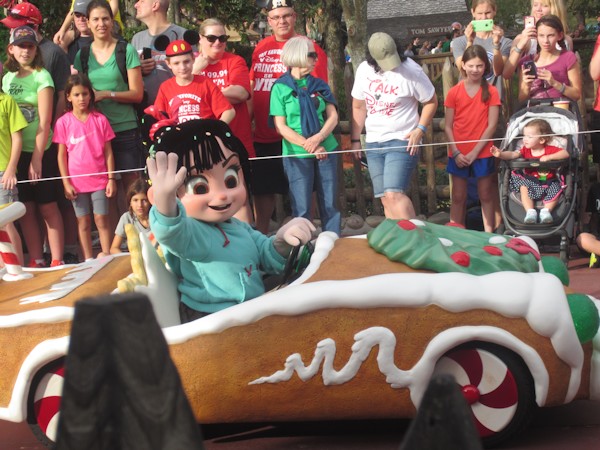 Copyright © Erin Blackwell
Princess/President/Racer Vanellope von Schweetz! She's waving to the crowd as she drives her gingerbread cart in the Christmas parade!
Dave Carriere, sure I'll give you extra credit! Here you go!

Ok, Players! "It's make your mamas proud time!" That's not a Vanellope quote, but it works, because here are the winners!
The Olszak Family were the first to send in the correct answer! Congratulations to The Olszaks and to all our winners this week! Jen Tremley, Linda Ranatza, Kerri Coggins, The Kertes Family, Jennifer Pichert, Josh Weiss, Mike O'brien , Phyllis, Michaela O'brien , Melissa Such , Sandie Albrecht, Mary Beth Tarbet, Evanna Huda, Wendy T Faler, Tricia Petty, Diane Curfman, Linda Scrivano, Christi Ison, Belicia, Andy Hickey, Duskin Henard, Scott C., Ruben O'meara, Linda Ranatza, Sands Family, Carol Ney, Ken Savage, Michael & Jackie Mclucas, Adolph And Kimberly Timm, Grumpy's Groupies, The Gunnels Gang, Jim Finley, Stefanie Vandiver, Emily Hudson, John Bickers, Eric Berger, Team Hill, Kristi Strembicki, Hillary Waldroop, Julia Wickware, Tara Weaver, Arlene Vicek, Kris Nixon, Andrew Carrieri, Donna Frank, Vera And Izzy Williams, Tammy Warmouth, Lori Rienhardt, Laurie W, Ed Suscreba, Deb Ragno, Sarah And Chris, Lyn Johnson, K Beasley , Candice Grimes, Bonnie Tulenko, Erin Loring, Kassandra Clauser, Joseph M Zafia, Mike Rotkiske, Dawn, Jennifer Rowell, Diane, Theresa Rucando, Roger B Porter, Diane Porter, Lorine Landon, Julie Holding, Bruce Hinterleitner, Ana, Elaine Kleinhenz, Morag Lemon, Kathleen Daly, Matt Wildey , Stefanni Malczewski, Luis Rodriguez, Jason Skow, Tj, Sharon Powell, Jean Macindoe, Lynne Simpson, Ken Jobin, Erin Hammer, Christina Trigiani, Carolyn Como, Mike Malampy( Malampy Benco Family), Kara D & Jay R, Nan Amor, Paul Dickson, Linda College, The Rider Family , Margaret Convery, Kathy,brooke And Kennedy, Linda Lundsten, The Parker Family, Claire Gregory, Janet T Thorn, Mark Donahue, France's Donahue, Hobbes And Snorky, The Long Family, Kenny, Brian Mcwithey, Mary Coleman, Mary Coleman, Kyra, Chris Kelly, Sara Parker, Mike Patrick, Kya Coleman, Jennifer K, Lee Anastasi, Jim Thompson, Mike Walter, Candace Dadswell, Joann Albrecht, Leach Family, Mary And Damian Dieuliis, Gina Falzone , Mike Amor, Bonnie Jean , Ashley Collins, Jim Mis, Ann Healy, Bob Henriksen, Ruth Senecal, Jessica Gruhlke, Karen Schlumpf, Tim Johansen, Les Stewart, Larry Sprenklel, Nancy Doty, Karen Costa, Donald Trump , Yvonne Marchione, Colleen Ringer, Jeremy Hardy, Josette Gabel, The Modecki's, The Holmes Family, Smitty, Caitlin Lewis, Alison Rosenberger, Eric Johnson, Matt Holley, Mark Hardy, Karrie Duffey, Chris Bauman, Jason Hocker, Matthew Frey, Jamie Poynton, Kelly Smith, Jeremy Reichelt, Scott Greenbaum, Rob Blundin, Andrew Pettit, Dave Carriere, John Warner, Matthew Jadro, Kathryn Hughes, Rebecca Keenan, Carol Baranowsky, Tricia Noble, Ron Nufranick, Tricia Noble, Wendy Barney, Eric Enli, Kameo Crea, Mark Proper, Shannon Lamott , Jolynn Digiallonardo, Mickey Eckert, Rachel Miller, Kevin Jones, Paul Ignudo, Jillian Lassiter, Annie Snodgrass, Melody Odonnell, Emma Ramsey, George Mundy Jr, Vicki Britt, Jim & Lorie Sonnen, Caroline Burmester, Brenda Atkinson , Gloria Martin, Jodie S., Robert P. Flaherty, Michelle Palazzo, Les Whitten, Jackie Graebel, Todd Johns, Danielle Williamson, Don Purney, Andreas Beer, The Patterson Family, Margie Larmon, Angela Johns, Tiffany Gibb, Eileen Miller, Thomas R Higbee, Sr., Dayna Guay, Stacy Guarracino, Lisa Pinder, Jane Johnson, Jeff Blank, and Jared Orth!
__________________________________ _____________________
Challenge #425 Where in the world is this?
I've been wanting to do this challenge for awhile, I just worried it was too hard. You've proven me wrong before! I know this place because I'm a huge fan of Disney signs, so this one always catches my eye. I did the thumbnail this way because, if nothing else, it can help you in a search.
We are not in a park, but hint: for lots of people, this is how we get to a couple parks (or come out of them). I probably just made it tougher. 😉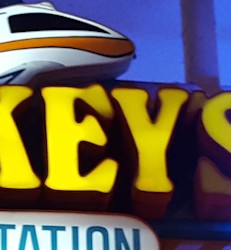 Do you know? Do you have a guess? Please send in your answer, before the end of the day on Thursday, March 24th, by clicking on the blue box below.
Please do not post answers using the Feedback Form link at the bottom of this post.
See you soon, Players!


_______________________________________________________________________
Everyone who sends in a correct answer to a Where in the World Challenge this month will be entered in a drawing at the end of the month for some special AllEars® goodies!