Have you ever picked up a snack at one of the Disney parks, taken a bite and immediately thought, "Wow! This is good! I wish I had discovered this years ago!" That has happened to Carol and I quite a few times over the years and we've "discovered" a few favorites!
There is a vast, and ever-changing selection of food choices at Walt Disney World and we often discover new choices. Here are a few of our current "faves".
Pork Egg Rolls
Animal Kingdom is our favorite spot for egg rolls. We usually arrive at Animal Kingdom early in the morning, enjoy a safari ride and a few other attractions and then head back to Fort Wilderness for the afternoon. The quick service counter at Yak & Yeti is often our last stop before we leave.
In our opinion, the pork egg rolls they serve are the best at Walt Disney World. An order of 2 egg rolls costs $4.49 and is just enough for a light lunch.
Carrot Cake Cookie
This dessert delicacy can be found at the Writer's Stop in Hollywood Studios. Many people walk right past the Writer's Stop and don't even notice it as they rush from one attraction to the next. It is just past the Sci-Fi Dine-In Theater, on your right as you make the turn from Commissary Lane onto the Streets of America.
Once you are inside you might not even notice the cookies in the display case. Don't pass them by though! Wow, are they good!
On our trip to The World in October 2014 we also saw the Carrot Cake Cookie at Sweet Spells, between Starring Rolls and Villains in Vogue.
It's a tasty cookie sandwich! Two moist cookies with a wonderful carrot cake texture and flavor are held together by a sweet cream cheese icing.
Oh boy! A taste of heaven for $3.99 – or one snack credit on the Disney Dining Plan.
Citrus Swirl
Looking for a tasty alternative to Dole Whips? Tired of those long lines at the Magic Kingdom's Aloha Isle? Head on through Adventureland to the Sunshine Tree Terrace.
Turn between the Tiki-Tiki-Tiki Room and Aladdin's Flying Carpets and find a tasty frozen treat – have a Citrus Swirl! There is seldom a line and Carol just loves them! The Disney Food Blog describes the Citrus Swirl as: "A bit like a creamsicle, this chilly snack twists vanilla soft-serve with a sweet-tart frozen orange juice." Carol describes it as: "Yummy, my favourite treat!"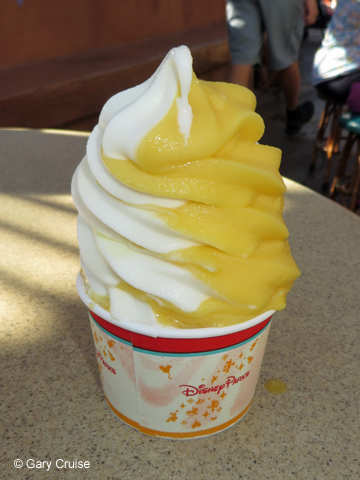 (Sometimes I wonder if it might be the Orange Bird merchandise that attracts Carol to the Sunshine Tree Terrace – she has an impressive collection of Orange Bird trinkets and treasures!)
I like the pineapple float from Aloha Isle, pineapple soft-serve ice cream with real pineapple juice ($4.99).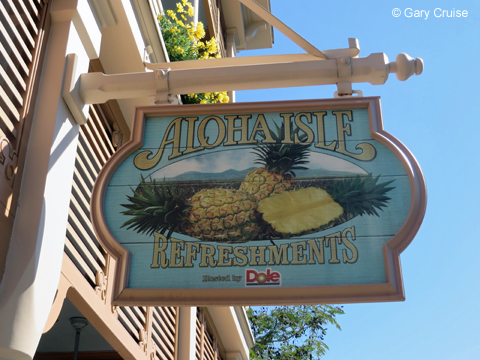 I pick up a float while Carol buys her swirl ($3.79). I stir, and stir, and stir as I make my way back to the Sunshine Tree Terrace to meet Carol. By the time I get there it's like a very thick milk shake . . . I sip it through a straw. Nice!
Caution – brain freeze zone!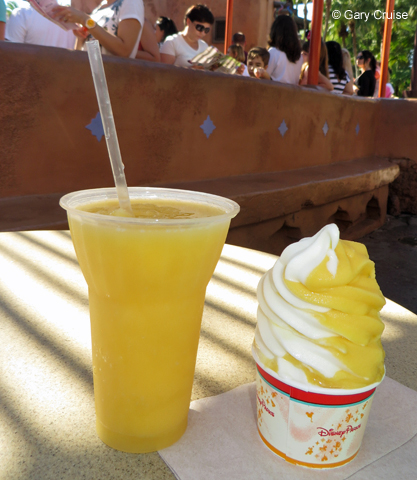 Croissant Doughnut (Cronut)
Try this next time you visit EPCOT. The Refreshment Port, on the right as you head toward the Canada Pavilion, sells them.
Look for the "Croissant Doughnut" on the overhead menu.
Imagine a moist croissant texture inside, a slightly crispy doughnut exterior, all dipped in cinnamon-sugar . . . a taste of heaven for $4.69!
The first time Carol and I tried a cronut we bought one and split it. That's not likely to happen again . . . they are too good to share!
Churros
Have you tried the Churros in Frontierland? A churro is a long thin doughnut or cruller, light and bubbly on the inside, slightly crispy on the outside. They are dipped in cinnamon-sugar and served warm.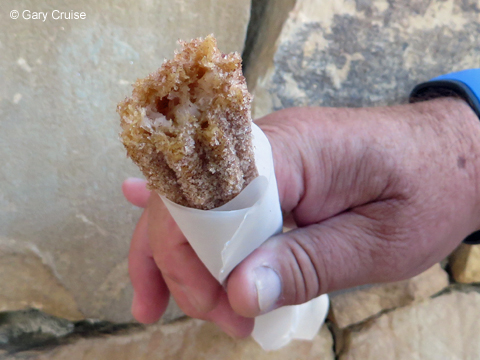 What's not to like? Look for the wheeled cart along the Rivers of America in Frontierland. This tasty treat will cost you $4.00 or one Disney Dining Plan snack credit.
Be careful around the churro cart! Last February Carol's parents, John and Sybil, were sharing one of these deep-fried treats. They broke it in half and Sybil had taken one small bite when a sea gull swooped down and snatched it out of her hand. The brazen bird landed about thirty feet away and defiantly gulped it down while we watched!
Werther's Caramel Corn
The Werther's Shop in the Karamell-Küche at EPCOT's Germany Pavilion is a dangerous spot!
When it opened in 2010 it was the only free-standing retail location for Werther's in the world and, to the best of my knowledge, it remains the only spot in the world where you can buy fresh, warm Werther's Caramel Corn.
The second you walk in the door the aroma grabs your attention! Every day cast members are busy making fresh caramel confections, including caramel apples and popcorn, caramel-drizzled cupcakes, rice krispie treats, cookies, strawberries, and much more. Wow!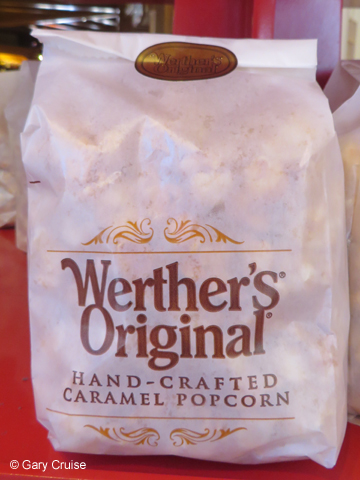 I'm not sure who it was that first said, "You can't eat just one!" But I'd be willing to bet that they were eating warm Werther's Caramel Corn at the time. Only $3.99 or $5.99 for a bag full of bliss! Buy the large one – you'll be glad you did!
Mickey Sandwich Bar
Everyone loves the classic Mickey Bar, officially named "Mickey's Premium Ice Cream Bar" – a Mickey shaped piece of ice cream dipped in milk chocolate. But have you ever tried a Mickey Sandwich Bar? You will see it on the vendor carts in all the parks, they call it "Mickey's Ice Cream Sandwich".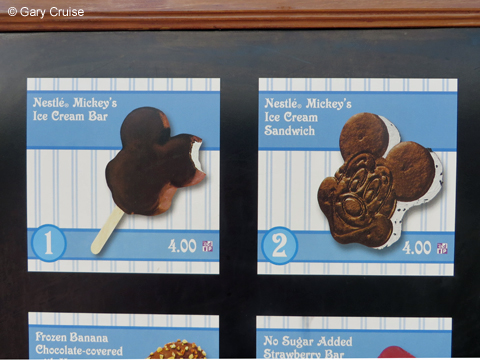 It is very similar to the classic Mickey Bar, but the Mickey shaped ice cream is clad in two soft-textured chocolate wafers.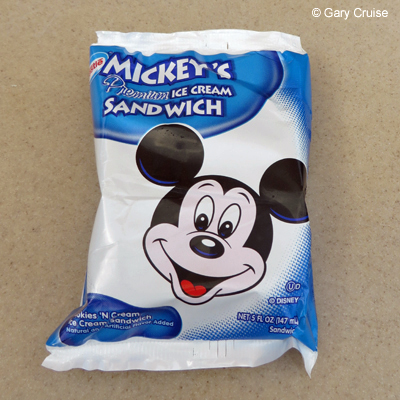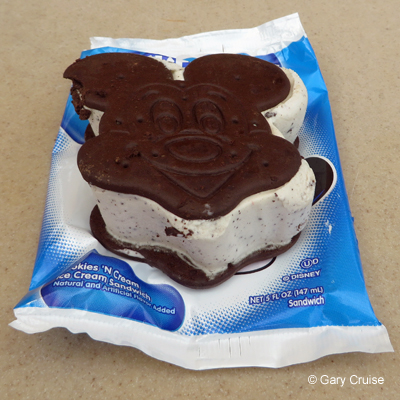 It has a much stronger chocolate flavor; just the thing for a choc-o-holic like Carol! (I'm not a chocolate fan, so I prefer the milder flavor of the dipped version!) Either bar will cost you $4.00 and is sure to refresh you while you wait in the blazing sun for that three o'clock parade!
Italian Sausage
My final item, sausage-in-a-bun, is not really a snack, it's more of a light lunch . . . if you haven't tried it, you really should! It's worth stopping for!
Min & Bill's Dockside Diner is the place for this simple delicacy! Along the shore of Echo Lake, in Hollywood Studios, is a quick service restaurant disguised as a boat. That's Min & Bills!
They prepare your snack as you wait. You can watch as they trim a bit off the end of a fresh, tasty French bread stick then use a special little machine to remove a tube of bread from the center of the baguette.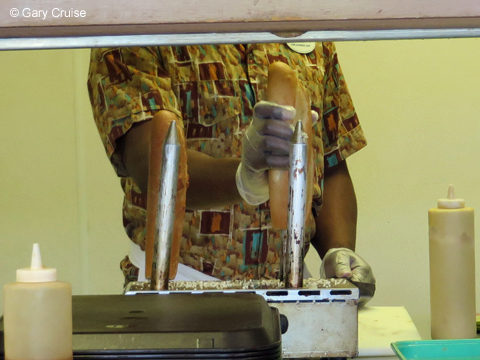 This hole is stuffed full of sauteed onion and green pepper along with a mild Italian sausage. Dee-lish! The sandwich is served with a teensy-weensy bag of potato chips and costs $9.19. Here's a money saving tip – ask them to "Hold the chips." and they will knock $2.00 off the price. The sandwich with no side is $7.19. It's a nice option when you're looking for a light lunch.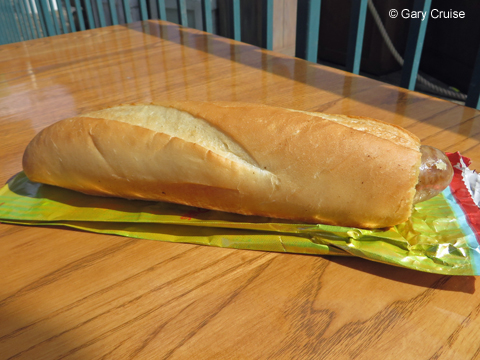 They also serve a similar sandwich in a Pretzel bun, the center of the bun is removed and stuffed with a frankfurter and Dijon mustard. Sometimes they are a bit generous with the mustard; I recommend that you ask for the mustard "on the side." The frankfurter is $8.29 (or $6.29 without that ittsy-bittsy bag of chips).
So that's it folks . . . our short list of "favorite snacks". There are plenty of other choices too, turkey legs, caramel apples, pretzels, popcorn, etc., etc.
What is your favorite Disney snack?