Welcome back to Part Seven of my Tomorrowland series.
In case you missed the previous parts:
Part 1 – Tomorrowland An Overview – Flight to the Moon – Mission to Mars
Part 2 – Circle-Vision movies – If You Had Wings – Dream Flight
Part 3 – Skyway – Star Jets – WEDWay PeopleMover
Part 4 – Carousel of Progress.
Part 5 – Space Mountain and the Grand Prix Raceway
Part 6 – Tomorrowland History Around the World
Last week I discussed how Tomorrowland had been transformed from a dated 1970's look into a retro Space Port that might have been imagined by the visionaries of the 1920's and 30's. I also discussed Alien Encounter and Stitch's Great Escape. Today I'll be taking a look at The Timekeeper, Monsters, Inc. Laugh Floor, and Buzz Lightyear's Space Ranger Spin.
On the right side of Tomorrowland's entrance corridor we found the Tomorrowland Metropolis Science Center. Here we could travel to the past and future with "The Timekeeper."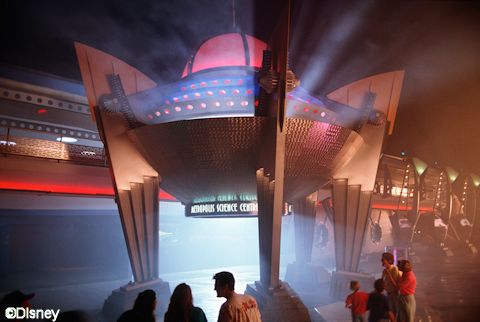 This attraction originally debuted at Euro Disneyland on April 12, 1992, then at Tokyo Disneyland on April 15, 1993, and finally in Florida on November 21, 1994. When the attraction first opened in the Magic Kingdom, it was called "From Time to Time" and was presented in the Transportarium. Six months later, the attraction was renamed "The Timekeeper" and the theater renamed the "Tomorrowland Metropolis Science Center."
The lobby for The Timekeeper continued the mechanical-age theme found outside. Carved stone created bases on which iron girders rested. The walls were accented with acrylic cylinders filled with some sort of bubbling liquid. And glowing orbs radiated light. It was reminiscent of what a museum or science center might have looked like if designed by visionaries of the past.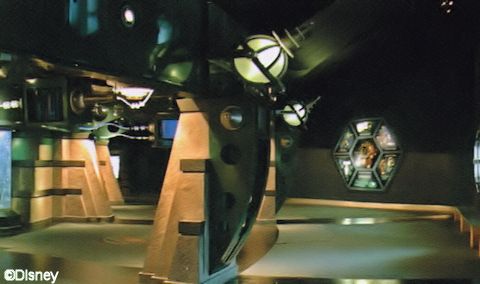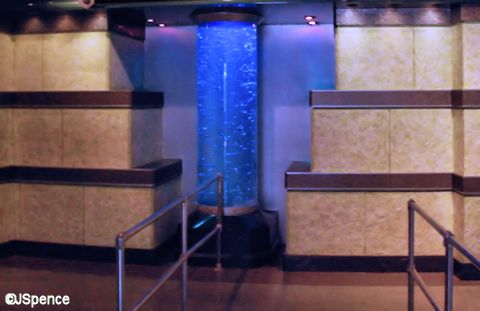 The preshow introduced guests to 9-Eye. This name referred to the nine cameras this Circumvisual Photo Droid used to transmit pictures back to the Timekeeper. While waiting for the time-travel presentation to begin, we witnessed a film of 9-Eye at work filming: plunging over Niagara Falls, riding the Space Shuttle, and entering a barn full of explosives. 9-Eye was voiced by Rhea Pearlman.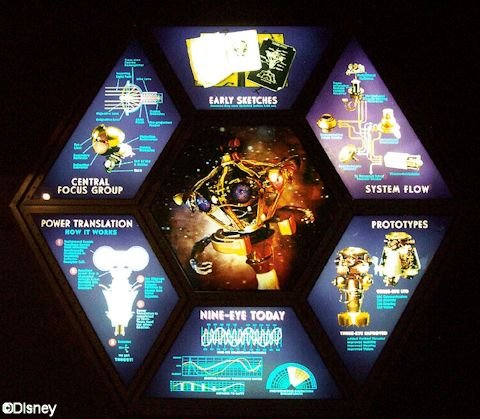 The Timekeeper attraction would reuse the CircleVision movie concept, but for the first time, add a linear story to the show. To help tell this story, an AudioAnimatronics character was used. His name was Timekeeper and voiced by Robin Williams. Timekeeper would also be a state-of-the-art AA figure as audiences would be watching him for a significant amount of time and it was necessary that he portray believability.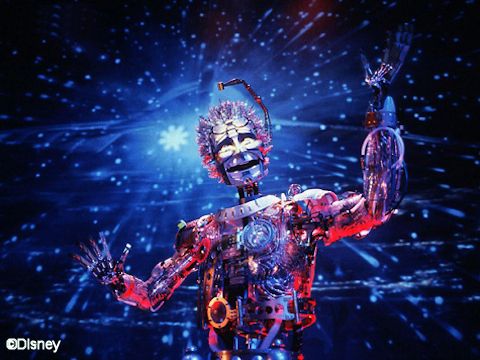 When entering the presentation area, guests saw Timekeeper behind a panel of controls, busily checking his instrumentation. As he tinkered, he made occasional comments to the incoming audience, hurrying them along. Once everyone was in place and his instruments calibrated, the show began. A readout on Timekeeper's panel displayed the current year and would change as we jumped from era to era.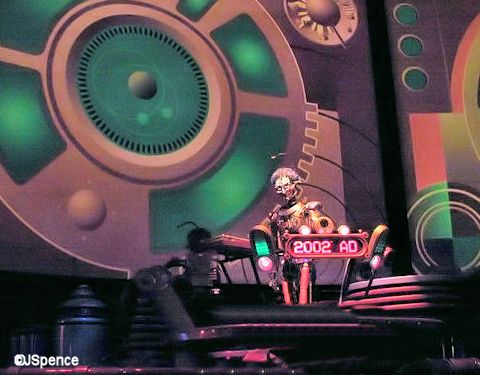 Our adventure began with a quick trip to the Jurassic period where 9-Eye was attacked by an angry allosaurus. From there we visited the Ice Age and then a medieval battle scene. We briefly met Leonardo da Vinci (played by Franco Nero) before dropping in on a recital being given by a young Mozart. Eventually we ended up at the 1900 Exposition Universelle in Paris where we met Jules Verne (Michel Piccoli) and HG Wells (Jeremy Irons). The two authors had a brief squabble about time travel before Verne discovered 9-Eye. While examining 9-Eye, Vern got enveloped in Timekeeper's time vortex and was accidentally transported to present day. After some discussion, it was decided to show Verne around and we were treated to some beautiful and zany CircleVision scenery. Ultimately, Verne was brought back to the Paris Exposition where he once again ran into HG Wells.
Leaving the authors in the past, Timekeeper decided to send 9-Eye into the future, along with a family from the audience. He chose the date 2189, 300 years after the Exposition Universelle. We were then treated to an aerial view of future Paris. While hovering over the City of Lights, another flying vehicle pulled up beside us with Verne and Wells sitting side by side. 9-Eye asked them, "How did you get here?" and Verne responded, "In the future, anything is possible."
As this show was originally created for Euro Disneyland, it featured all European locales. In an effort to cater to American audiences, a scene of Red Square in Moscow and another in Roissy Airport in Paris were omitted and a flyover a New York City was added.
Due to reduced attendance, the show was only open seasonally beginning in January, 2001. However, during the construction of Stitch's Great Escape, The Timekeeper was open most days to help boost ride capacity in Tomorrowland.
A dwindling guest count wouldn't be this attraction's only problem. When each presentation began and ended, Timekeeper's clock displayed the current year. After 9/11, this became problematic as the World Trade Center was prominently seen in the flyover of New York City. After some discussion, it was decided to begin and end each show with the year 2000 being displayed, a year before the attacks. However, this created some confusion with audiences that didn't understand why this date was being displayed when it was actually 2003, 2004, etc.
The terrorist attacks also slowed tourism significantly and some attractions suffered more than others. The Timekeeper was one of these. Eventually, it was decided that The Timekeeper had seen its day and it closed for good on February 26, 2006.
The American Adventure also encountered a similar problem after the 9/11 attacks as the World Trade Center could be seen in the final scene of the film montage. This was rectified by a fireworks display superimposed over the buildings.
Monsters, Inc. Laugh Floor replaced The Timekeeper and opened on April 2, 2007.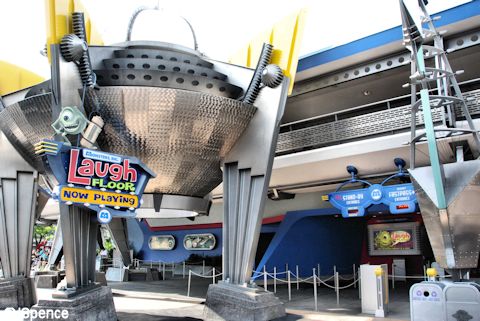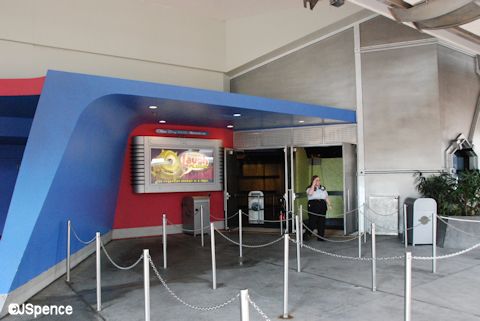 If you remember the plotline of the movie "Monster's Inc.," you know that the city of Monstropolis was powered by the screams of frightened children. It is later discovered that laughter provides ten times more power than screams and their scare factory has been converted from one source of power to another.
This story is continued in Tomorrowland. Here we learn that instead of the monsters coming to the human world to gather laughter, humans have been invited to enter the monster world and visit their power factory.
The first waiting area for Monsters, Inc. Laugh Floor is essentially unchanged from The Timekeeper attraction. The only difference is the addition of overhead banners that contain jokes and give instructions on how to submit your own anecdotes to be performed by the monsters once everyone is seated in the comedy club.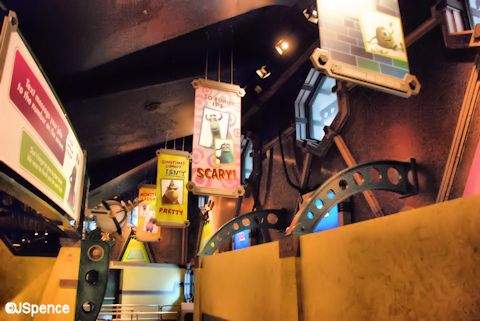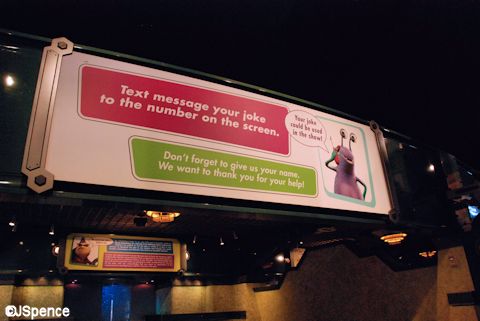 At the far end of this room is a set of doors. These doors act as a portal in which humans can leave Tomorrowland and enter the monster world. Once they open, approximately 450 are admitted.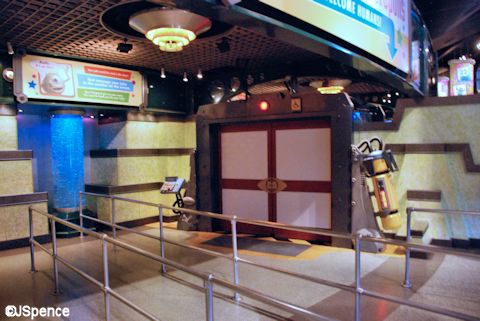 In this next room we find another set of doors. Above them it says "Scare Factory 17." However the word "SCARE" has been partially overlaid with a banner that says "LAUGH." Beyond these doors is the laugh factory, but it will be a few more minutes before we are allowed to enter. Take this time to look around.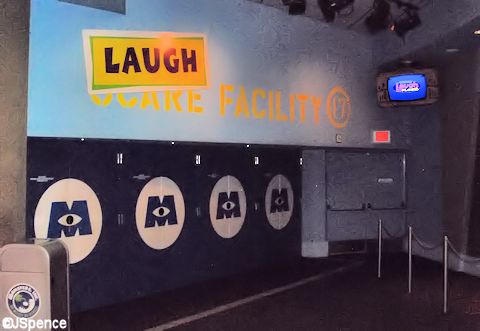 This area was once the break room for monsters before they began their shift in the next room scaring children. It has since been converted into a lobby for humans waiting for the upcoming comedy show.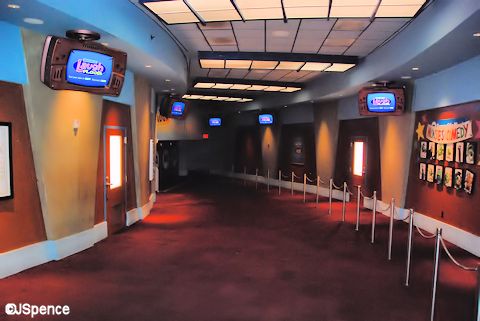 You can see evidence that this was once a break room by checking out the various items found in this area. The first of these is a snack machine. I especially like the option, "Salt, Sugar, and Fat."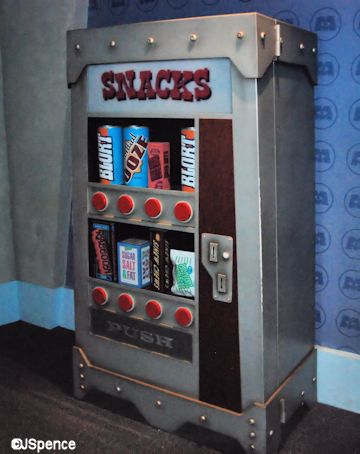 Another tell-tale clue is a bulletin board on the wall. Besides displaying the mandatory work safety rules, monsters have posted a number of personal ads for their co-workers. These postings are funny and definitely worth your time.
More evidence that this once was a break area can be found on another wall. At one time, this bulletin board proudly displayed the photographs of the "Scarer of the Month." Now it displays "Monsters of Comedy."
The monsters realized that they had to keep the humans entertained before the next show so a number of TV monitors were installed in this old break room. Here we see Roz showing outtakes of Mike Wazowski from past shows. These outtakes are heavy into slapstick and help warm up the audience before the real show begins. We are also given instructions on how to text jokes to the monsters. It's just possible that your joke will be included in one of the upcoming routines.
This preshow video was recently updated to include information about Monster's University. We learn that the comedians we will be seeing are still in school and not the cream of the crop.
Eventually it's time for the antics to begin and we enter the showroom. If you pay attention, you can see that the room is round, a reminder of the CircleVision movies that were once shown here. But the Imagineers have done a good job of converting this space and it doesn't reek of a remodel. Rows of seats face the stage and the occasional cocktail lamp accents the small tables. As with any Disney theater presentation, you will be asked to move to the end of your row. Please do so. All of the seats are good.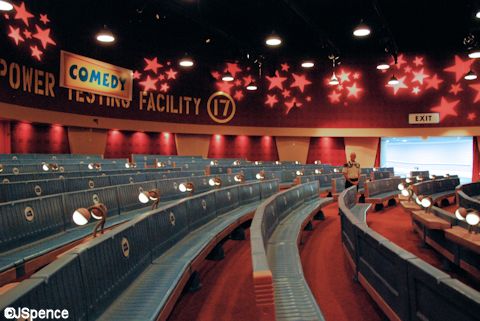 Mike Wazowski is the Monsters of Ceremony while Roz keeps the show moving along. During the presentation, a number of animated monsters entertain us with silly and very wholesome jokes. As they do, a large canister located near the stage is seen filling with energy as the laughs continue.
The main presentation of Monsters, Inc. Laugh Floor is not a movie in which the same film is shown at each performance. This is a live show that uses computerized animated puppetry to create characters that can move and speak on cue. The monsters can also see into the audience and with the help of microphone-carrying ushers, communicate with several of the humans. And one "lucky" person will be selected to be "That Guy."
The show runs about 10 minutes and is a lot of fun. Most jokes are corny and understandable by children, but a few take a little more adult sophistication to get. Generally people leave the monster world with a smile on their face.
There is a faction out there that feels that Tomorrowland's backstory has been lost with the addition of Monsters Inc. Laugh Floor. They feel this land has been "over animated" in an effort to cater to young children and their parents. They also question what monsters have to do with Tomorrowland and believe this attraction is poorly themed for its current location. Many long for Tomorrowland to return to more science fiction/fact based rides.
The first Tomorrowland attraction to be based on animated characters was "Buzz Lightyear's Space Ranger Spin." Replacing "Take Flight," this ride officially opened on November 3, 1998 and was based on the Pixar "Toy Story" movie series.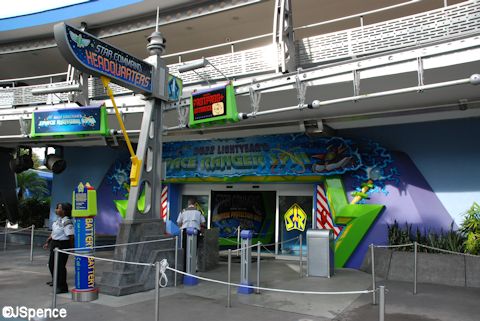 As with all attractions, our adventure begins in the queue. Since Buzz Lightyear is a toy, all of the props in this waiting area are oversized to make us believe we share the dimensions of the Toy Story gang.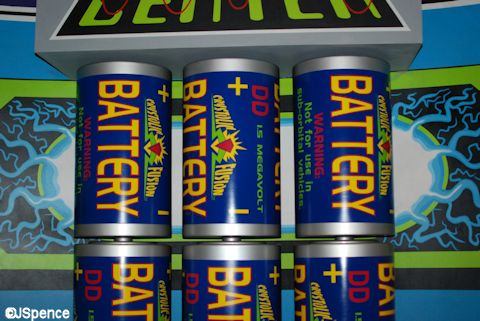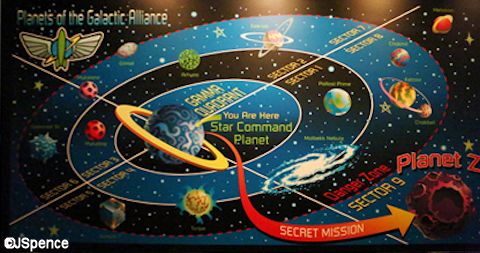 As we approach the loading area we find Buzz Lightyear talking to his new recruits, the Junior Space Rangers. He is motivating them with powerful words as he outlines the mission objectives. It seems the Evil Emperor Zurg is attempting to steal crystallic fusion cells (batteries) used by the Little Green Men to power their spacecraft. It is the job of the Junior Space Rangers to stop Zurg.
Buzz Lightyear's Space Ranger Spin is a combination dark ride and video arcade game. Using the latest in Omnimover design, the ride vehicles are under the control of the passengers and can be rotated 360 degrees with the use of a joystick. The track layout is the same as the one used when "If You Had Wings" opened in this building on June 5, 1972.
Two passengers can fit comfortably into one of the colorfully painted XP-37 Space Cruisers. Each rider has a pivoting laser gun which is attached to the console. Beside each gun is an electronic scoreboard. The joystick is positioned between the guns.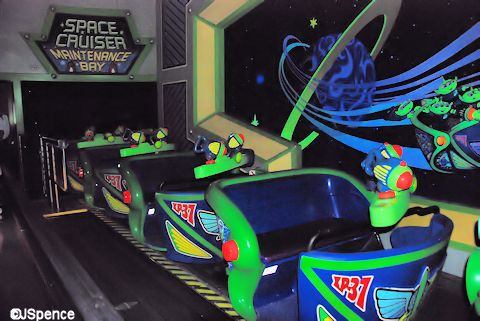 When this ride opened at the other four Disney resorts around the world, the laser guns were not attached to the console, but rather tethered to the ride vehicles via cables. This allows guest to pick guns up giving them more maneuverability and better aim.
The ride begins in a dark room. This is a good time to check the gun's accuracy. Aim at the black wall and fire. Note if the laser beam is pointing slightly up, down, left, or right of center. This is valuable information that you can use to rack up more points once the space battle begins.
The adventure takes Junior Space Rangers through the galactic world of Evil Emperor Zurg and Buzz Lightyear. Florescent monsters, robots, and other creatures line each side of the track. On these otherworldly objects are Emperor Zurg insignias. It's your job to hit as many of these emblems as possible while traveling through the Gamma Quadrant.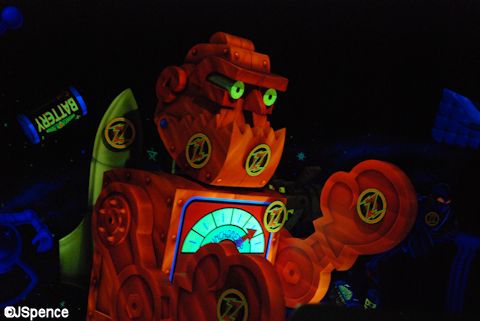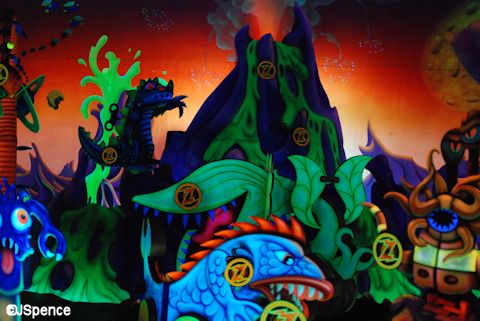 The targets have different point values, but there is no way of knowing this in advance. When you hit a target, the amount is tabulated on your personal scoreboard. Usually the more difficult or hidden the target, the higher its value. However, the location of these high-scoring targets is changed periodically as hardcore lovers of this attraction learn quickly were the best insignias are located. The top score is 999,999. I achieved this once while riding with one of these hardcore aficionados. I also learned on my ride with this guy that there are hidden targets on the dark walls of the Speed Tunnel. If you look closely, you can make them out.
At the end of the ride, a large sign informs you of your new rank depending on how well you succeeded at combating Evil Emperor Zurg.
Level 1 Star Cadet: 0 – 1,000
Level 2 Space Ace: 1,001 – 10,000
Level 3 Planetary Pilot: 10,001 – 100,000
Level 4 Space Scout: 100,001 – 300,000
Level 5 Ranger 1st Class: 300,001 – 600,000
Level 6 Cosmic Commando: 600,001 – 999,998
Level 7 Galactic Hero: 999,999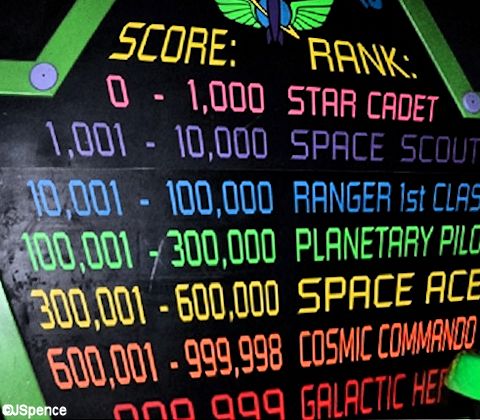 Buzz Lightyear's Space Ranger Spin is an extremely popular ride. FastPasses are highly recommended.
Across from Buzz Lightyear's Space Ranger Spin is an outdoor gift stand. It is designed to look like the claw machine/spacecraft of the Little Green Men.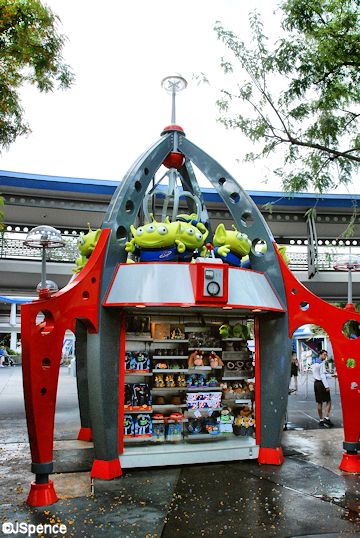 Near the exit of Space Ranger Spin is a Buzz Lightyear meet-and-greet area. Like all character meeting areas, this one forms a line early in the day.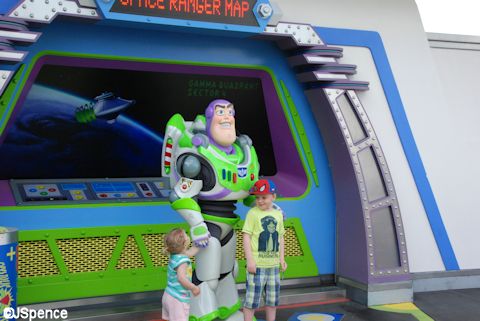 Buzz is standing in front of what once was the entrance to the Galaxy Palace Theater at Rockettower Plaza. This theater offered a proscenium arch type stage where full theatrical productions could be presented. In addition, the large bench-style seating area was protected from the hot sun with overhead canopies. The Galaxy Palace Theater was used for special events like Disney Magic Music Days and full-blown productions like "Mickey's 'Twas the Night Before Christmas" show. However, for no reason ever given to the public, this stage was closed and demolished in January 2009. Rumors circulated that the area was needed for a new show building that would house an upcoming attraction, but nothing has ever been announced. Today this area is used as a cast member parking lot for those working in the offices located above Main Street.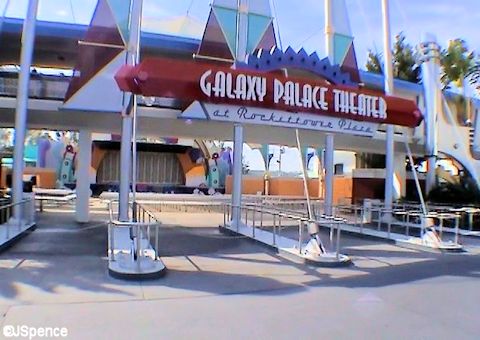 To fill the void left by Galaxy Palace Theater, a replacement of sorts was built in the middle of Tomorrowland. This new venue is called Rockettower Plaza Stage.
A new show debuted here on May 8, 2009 called "Stitch's SuperSonic Celebration." I was there on opening day and gave the presentation a favorable review. However, the show was not well received and closed seven weeks later on June 27th. I've always felt that a lack of seating and no protection from the sun has hindered this theater from being a true replacement for the Galaxy Palace Theater.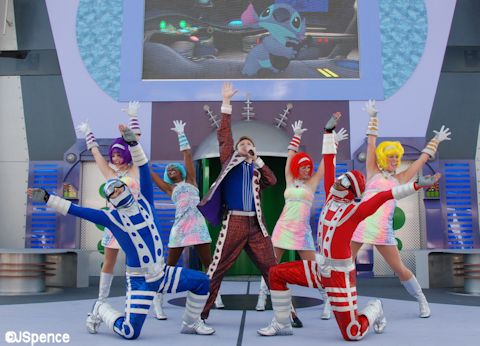 Today, the Rockettower Plaza Stage is used for special events, holiday shows, and dance parties where guests can boogie with the Incredibles, Stitch, and other galactic-clad characters.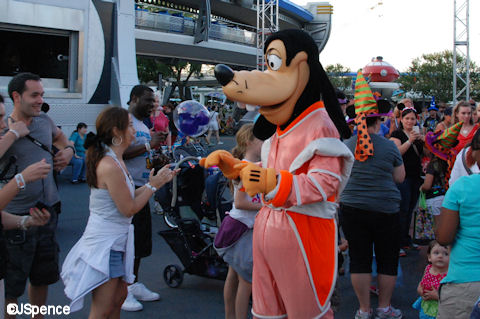 Stitch also can be found in this area posing for pictures.
Now let's take a look at some of the smaller fun stuff that was added to Tomorrowland as part of the 1995 makeover.
Near the PeopleMover entrance we find Robo-Newz. This servant-of-the-future advertises that he will print the news while you wait. An old-style typewriter keyboard can be seen embedded in his chest. The newspaper for sale is the Galactic Gazette and today's headline proclaims that Stitch has escaped.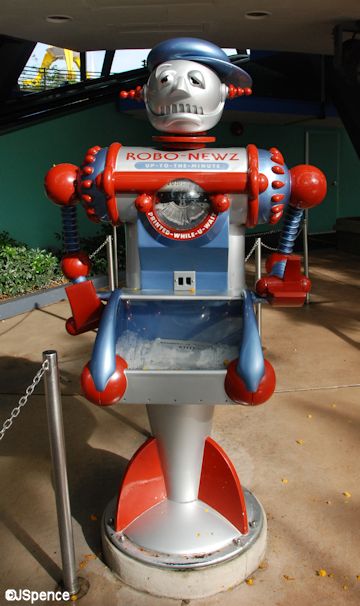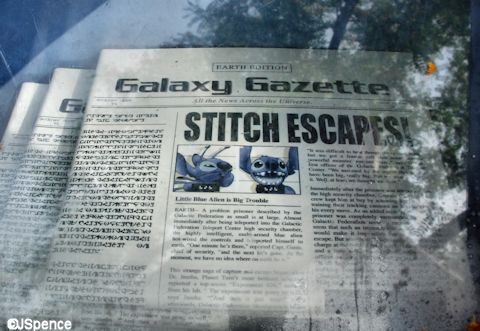 Nearby we find a phone booth of the future. Here, GCN (Galactic Communications Network) allows guests to call Toll Free from anywhere in the galaxy.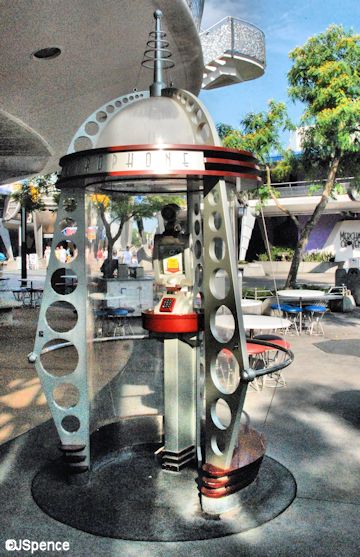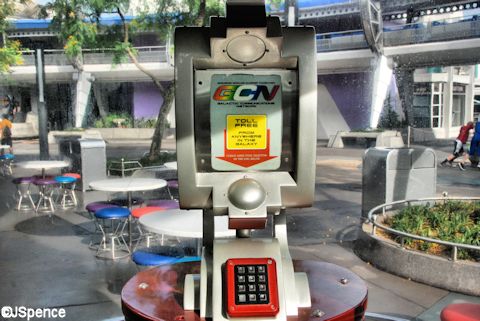 I just love the space-aged palm trees that mechanically grew in Tomorrowland.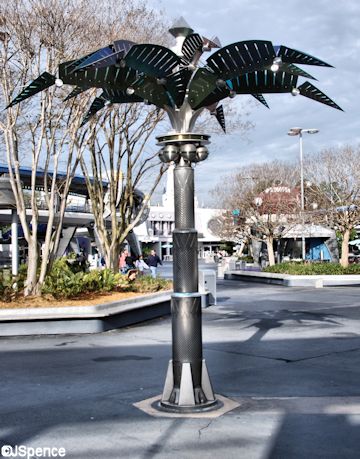 There is one item in Tomorrowland that intrigues both adults and children, the hovering granite ball. This polished stone floats on a thin layer of water and can be freely rotated with a slight push of the hand.
Contrary to what many believe, it is not high water pressure being pumped beneath this massive sphere holding it up. Actually, it is just the opposite. All it takes is a socket and sphere cut so precisely that not even a playing card could be inserted between them and a small pump that delivers low water pressure near the base of the sphere. The high density of water does the rest and the granite ball floats.
Thirsty? Head over to Cool Ship. This beverage station is designed to look like a futuristic shipping and receiving station. Nearby you can find several packages with galactic shipping labels attached.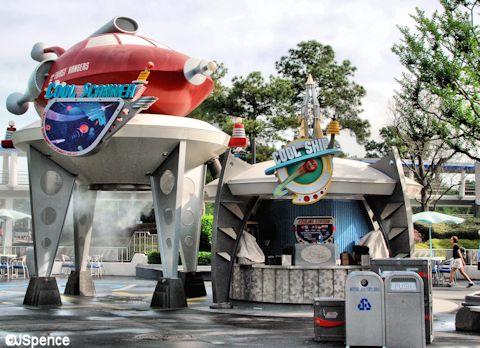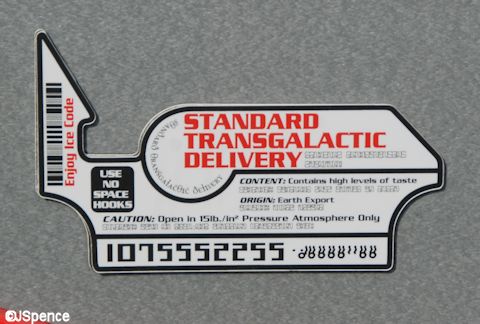 The rocket ship docked next to Cool Ship is actually one of two prop spacecraft used in the film "Flight of the Navigator." In the movie, the vehicle was sleek and silver. When it was brought to Tomorrowland, it was painted red, turned around backwards, and adorned with extra space aged paraphernalia.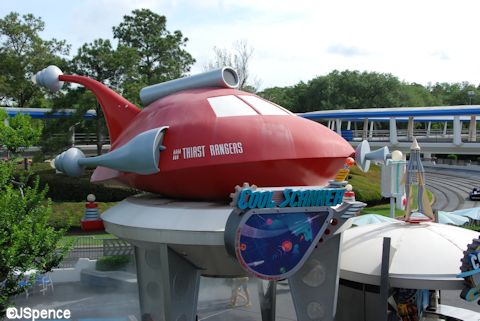 Nearby, the Disney Vacation Club Information Booth acts as a landing port for visiting flying saucers.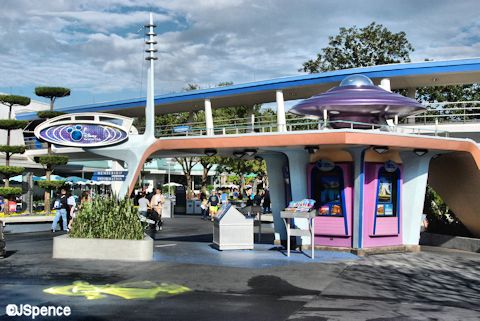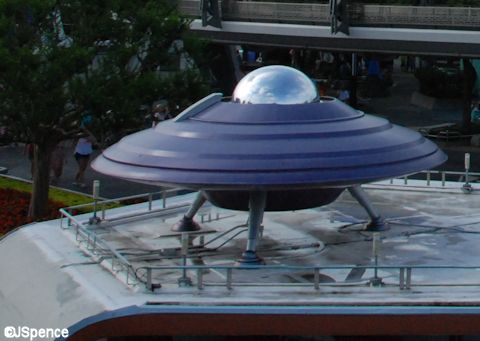 Even the Tomorrowland drinking fountains and outdoor food carts were given a makeover in 1995 to match the new theming.
That's it for Part Seven of my Tomorrowland series. Check back next week when I'll finish things up with a look at the remaining attractions.