For many adults, one of the pleasures of going on a cruise vacation is the food. Not only are the portions abundant, but so are the choices. In addition, passengers have the opportunity to dress up and be served multiple-course dinners in beautifully decorated restaurants. Many guests enjoy this change of pace from their everyday lives, and they look forward to the experience each night.
This is true of parents, too, but those of us with young children probably need to take a little time at home to help our kids prepare for these "fancy dinners." And we need to adjust our own expectations, as well.
When my children were 6 and 8 years old, we sailed on the Disney Wonder, our first Disney cruise, and my kids were exposed to their first three-course, two-hour meals. It was a family vacation, just the four of us, so my husband and I opted to stick together. However, parents can drop their youngsters off at the Oceaneer Club or Oceaneer Lab — where they will be fed and will have a fabulous time — so the adults can eat in peace.
My daughter loved having the opportunity to dress up. From sundresses to party dresses to her pirate costume for Pirates IN the Caribbean, she was ready for it all. Shorts are frowned upon in the dining rooms, even for kids, but that was more an issue for my son, who did not want to stop what he was doing to change and get ready for dinner each night.
Once we arrived at our table, we encouraged our son and daughter to try new foods. If they were skeptical, we let them order a "backup" dish. This tactic cut down on any significant complaining. Despite practice at home, neither mastered the art of balancing their napkins on their laps, and we had to resort to the kids sitting on the napkins. No one was the wiser.
Perhaps the most taxing part of such a long meal is keeping children entertained so the whining doesn't ruin the dinner for the adults. We began each meal by talking about our favorite memories we made that day and we discussed what we would be doing the next day. In between, the kids colored or played the word games on their menus, and they did pretty well. Two hours is a long time, but each dining room also has built-in entertainment. For example, at Animator's Palate on the Wonder, the restaurant and the servers' uniforms transform from black-and-white to color as the meal progresses.
The one thing we did not do is allow our children to use electronics. I am not opposed to 3DS systems, iPods or mobile phones among kids in more casual, counter-service settings, but we didn't think this was the place for them. Truthfully, I think that battle gets more difficult as kids get older.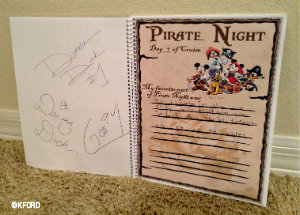 We were fortunate to sail on the Disney Fantasy in December with our extended family, and we still managed to banish the electronics from the dining rooms. My children, who are now 8 and 10 years old, were sailing with their cousins of the same age, which was entertainment enough for them. Still, I was surprised by how much the kids used the cruise journals I put together beforehand. I printed sheets designed for our cruise ship and ports of call that allowed the kids to easily record their thoughts about the trip. Then, I added a cover and had each set of pages bound. The four kids often pulled these out in between courses at dinner to complete that day's pages, allowing the six adults some time to talk and relax. My nephew even decided to use the back sides of the pages to collect autographs.
That said, we still made sure to get reservations at Palo for an adults-only brunch and dinner during the seven-day cruise.