Our next stop is along the walk to Asia and just past the Yeti Shrine in Disney's Animal Kingdom rests (rested) a very colorful ceremonial canoe. On a calm day, the water creates reflections of the canoe. To capture the beautiful colors of the canoe, I underexposed using exposure compensation by -0.3 of a stop.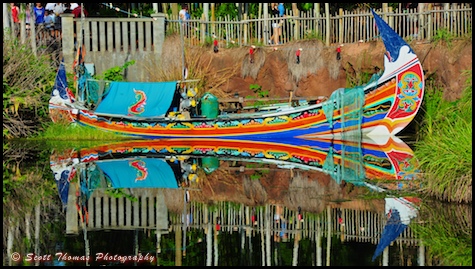 Ceremonial canoe on the walk to Asia.
Nikon D700/28-300VR, 1/160s, f/16, ISO 200, EV -0.3, 200mm focal length.
I used a stopped down aperture of f/16 to make sure to get everything in focus from the water reflection to the wooden fencing behind the canoe. Have not seen this canoe on my last couple of trips. It may have been moved or otherwise taken off stage.
I will be taking a summer break the next two weeks. See you back here then!