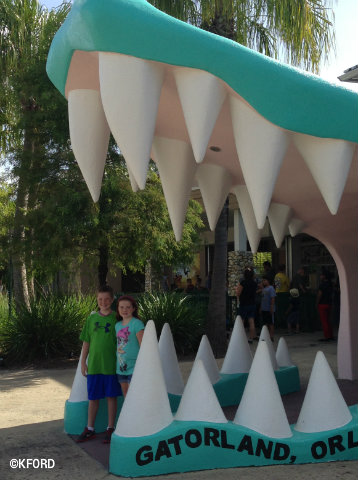 When I was invited to spend the day at Gatorland — "The Alligator Capital of the World" on Orange Blossom Trail in Orlando — with a group of Central Florida bloggers, I was sure it would be a VERY different theme-park experience than my usual visits to Walt Disney World and SeaWorld. I have to admit to being a bit squeamish about the killer reptiles, and I wondered how quickly my children would get bored in a gator-centric environment. After all, my young kids are more accustomed to huggable Mickey and friends and smiling sea mammals at the theme parks. But as we found out on our first visit, Gatorland offers quite a few fun activities for families — and not all directly involve the park's star reptiles.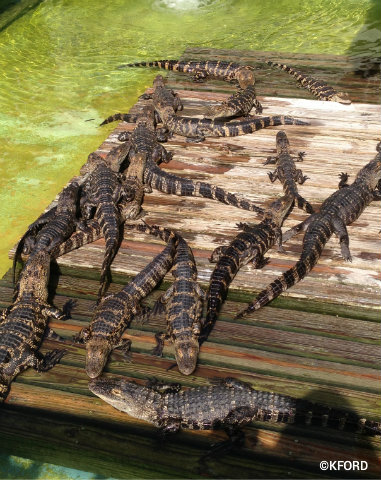 We did begin our tour of the park with activities that centered on the gators, though. First was an up-close encounter that allows guests to stand on a shore in the Breeding Marsh, just feet from the gators, while feeding them. During our Adventure Hour experience, a trainer led small groups into the fenced area.
The gators in this area clearly know that they will be fed and did not display aggressive behavior while we were there. In fact, they bobbed offshore in the water until the trainer encouraged them to approach the shore, where they slid up and stopped. This behavior actually reminded me of the dolphin feedings at SeaWorld. Obviously, gators are much more dangerous, but they acted in the same fashion as other animals that have learned what is expected to receive a reward.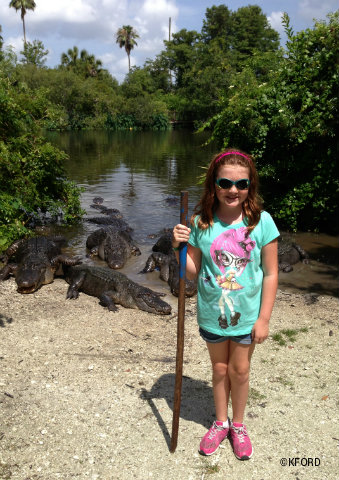 The trainer stayed close to the gators while members of our group were encouraged to don gloves and throw raw meat to the gators. Surprisingly, at least to me, the reptiles waited patiently for the food and didn't really fight over it. My kids felt comfortable enough with the situation to participate in the feeding and pose for a couple photos.
The Adventure Hour experience must be reserved in advance and costs an additional $10 per person.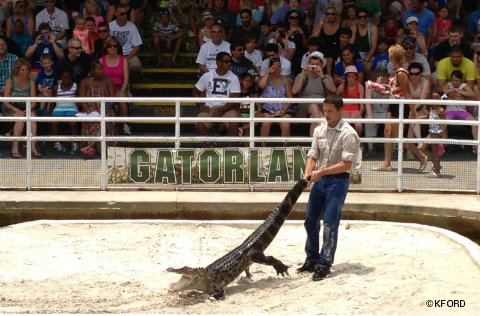 Afterward, we headed to the Gator Wrestling Show, which takes place several times each day and is open to everyone. During the show, a trainer wrestles a medium-size gator out of the shallow water and onto the sand, all the while making jokes and explaining typical gator behavior. Then, he displays some feats I certainly wouldn't want to attempt.
Before and after each show, guests are invited to try Rookie Wrestlin' — sitting on a gator that has its mouth tightly taped shut while a photo is taken. We saw kids and adults alike participate in the iconic photo shoot, and my kids, both proving they are true Florida natives, were eager to join them. It costs $10 per person for the experience, and if you choose to purchase the professional photos, it's at an additional cost. Guests are welcome to take pictures from outside the gator enclosure, though.
Then, my kids and I took a break for lunch at Pearl's Patio Smokehouse, where there is a variety of typical theme-park food. Our friends offered my children a sample of their fried gator bites, which they said tasted like chewy chicken nuggets. (The gator bites came from farm-fed alligators in Georgia, not retired Gatorland stars.) The Smokehouse is the main eatery, but there also is a snack bar, coffee shop and a fudge kitchen, all within a short distance of one another.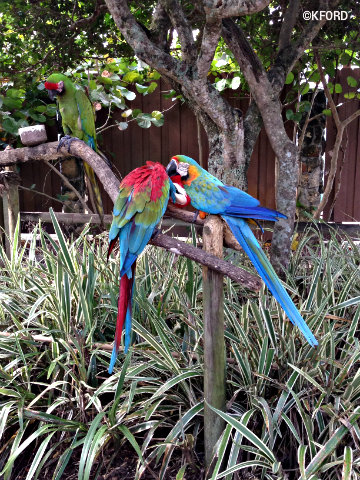 While we waited for the next show, we took in some of the many exhibits and animal areas that line the main walkway. There you'll find Parrot Playground, Very Merry Aviary, White Gator Swamp, Snakes of Florida, Allie's Barnyard, Turkey and Fallow Deer, Flamingo Island and Emu Enclosure.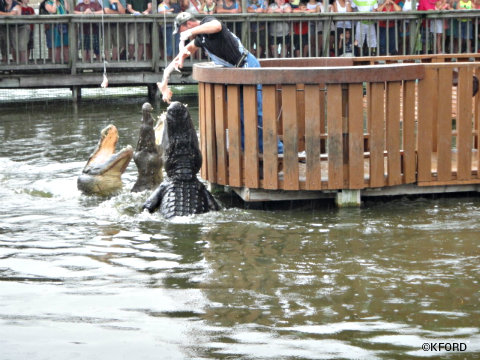 Finally, it was time for the show that made Gatorland famous — the Gator Jumparoo Show — where the reptiles are coaxed to jump vertically out of the water by the possibility of a tasty snack of raw chicken. It's set up as a friendly competition between would-be trainers Bubba and Cooter, and guests stand around the enclosed lagoon to watch the show. In this area are some of the biggest — and scariest — alligators at the park.
After the Jumparoo, my kids were begging to do the activities that didn't involve gators — they wanted to cool off with ice cream, take a train ride and visit the new Gator Gully Splash Park. Wristbands that cost $2 apiece give you all-day access to the train, which circles about half the park. It's difficult to see many animals, though, from the slow-moving train.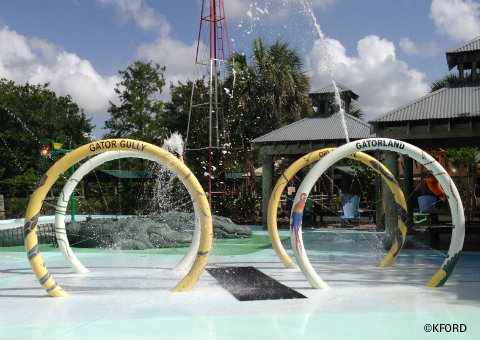 The real draw for young kids is the splash area that opened in 2007. Two gator statues house squirt guns and anchor the water play zone, and there are many other ways for kids to get soaked, including dunk buckets and jets of water. This area has enough variety to entertain my 8- and 10-year-old kids as well as younger children. There are changing rooms nearby, though they are small and do not include bathrooms.
Despite a full day at Gatorland, we still did not get to try everything the park has to offer. Cuban and Nile crocodiles are housed at the back, and the Breeding March is also a wildlife refuge, where guests can see endangered wading birds. Plus, there also is a third show, Up-Close Encounters, which surprises audience members with exotic animals.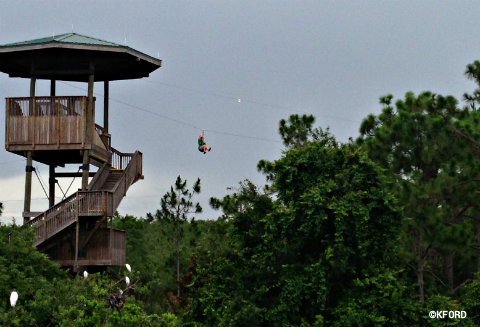 Perhaps the biggest enticement for older kids is the Screamin' Gator Zip Line, which takes adventurers along 1,200 feet of rope between five towers that are each 7 stories tall. The zip line travels over Cuban and Nile crocodiles and the Alligator Breeding Marsh. It's a two-hour experience that costs $69.99, which includes park admission. Participants must be at least 37 inches tall and weigh no more than 275 pounds.
Tickets for Gatorland are $21.99 for adults and $13.99 for kids ages 3 to 12. Through Sept. 2, Florida residents pay $9.99. Gatorland is open daily from 10 a.m. to 6 p.m.
DISCLAIMER: I was a guest of Gatorland during its Central Florida Bloggers event. My opinions are my own, and this did not influence my review.