To all who come to this photo trivia game, Welcome! Along the way, the photos can make us relive memories and see details Walt's Imagineers put into everything we love in Walt Disney World!
We'll be celebrating Independence Day here in America this week!

Congratulations to Jeremy Mccaffrey and his football team for their PERFECT season record!

Karen Ramashyrez, thank you for your lovely note!
Rob And April Vanderpool, where have you been?! Missed you, you ol' so and so's!
A note about last 2 weeks: when I do those double challenges, the Tough challenge is meant to be INSANELY difficult. Hence it be a leaf or a seagull or a patch of grass. So always enter if you know the second challenge because that's the real one. The first one is to laugh over. 🙂
Here's Challenge #285: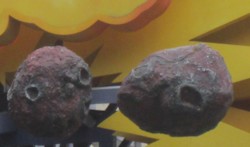 And here's the answer:


Copyright © Erin Blackwell
The sign for Dinosaur in Disney's Animal Kingdom; a lot of you remembered this was originally "Countdown to Extinction" and was changed when the movie "Dinosaur" came out featuring the Iguanodon.
You know what this means, Christina Rotella: you reward yourself with another Disney trip!

Claire Gregory, you said your daughter likes dinosaurs, so here's some for her:

Kristi Strembicki was the first to send in the correct answer! Congratulations to Kristi and all our winners this week! Mary Beth Tarbet, Phyllis , Tricia Petty, Herb Miller, Chris Kelly, Daniel Record, Bill Mckim, Sharon Pierce, Lee Anastasi, Colette Stanton, Bruce Hinterleitner, Darlene Haven, Jessica Iglesias, Tinkerbell Wells, Dawn Bach, Carolyn Como, Mike Haven, Steve And Ruby Jordan, Theresa Lennon, Gabriella, Terry And Matthieu, Team Hill, Mike Rotkiske, Lynette Michalos, Beth Mcmeekin, Jennifer Rowell, Scott Precise, Chris Nichols, Ken Motta, Ainsley Poe, Kerry B Finnamore, The Emich Family, Jeff Bush, Patti Gumiela, Joe Calomeni, Julie Wickware, Claire Gregory, Cheryl Chambers, Danielle Ciotti Harsley, Joanne Dechiaro, Eric Enli, Ellie Argaluza, Kerry Mccaffrey, Kirsten Miller, Paul Moore, Barbara Remele, Sheena W., Antoinette Leblanc, Lee Deroia, Melissa Such, Kerri Coggins, Sandie Albrecht, Curtis Bille, Maureen Handy, Rob Blundin, Stuart Savage, Kathy Morris, Judy Simonsen, Danielle Suscreba, Rob And April of Team Vanderpool, Clay Anthony, Vinnie Gilberti, Karen Ramãshyrez, Betsy Silvestri, Kerry A., Hayley Valk, Belicia Cullen, Ashley P., Scott Cullen, Jason Skow, Laura Vaughn, Annie Snodgrass, Tammy Rice, Emily Hudson, Denise Cayz, Olivia, Jared Orth, Paul Dickson, Double Family, James Dezern, Linda Ranatza, Carol Ney, Hoekzema Family, Jeff Blank, Robert Hildebrandt, Cynthia Hitchcock, Robert Wescovich, Nicole Lassiter, Jennifer Shaw, Jeremy Reichelt, Tricia Noble, Christina Rotella, Brian Gallant, Sara Alaimo, Patrick Broaddus, Bob Henriksen, Terry Fleming, Team Meeker, Mike Cerce, Shelly Borella, Brian Yesutis, Kristen Mccoy, Jeff Finger, Chuck Sands, Patti Mccaffrey, Mitchell Holmes, Jenny Brennan, The Foley Family, Heidi Goodhue, Team Bonnie Sue, Jeremy Hardy, John Arena Jr, Vicki Britt, Karen Smith, Randi Balch, John Pasqueralli, Les Stewart, Evald Olson, Theresa Maradei, Melissa Rappley, Ashley Deitchler, Julia C, Jim Finley, Robert Flaherty, Agnes Ciotti, Jane Johnson, Maggie Klotz, Josh Weiss, and Jen Tremley. Each of you are entered in this month's winners' drawing.
_____________________________________________________ _____________________
Challenge #286 Where in the world is this?
We're in a park, Players, and wait until you see the reveal. It's fun. 🙂

Do you know? Do you have a guess? Please send in your answer, before the end of the day on Thursday, July 4th, by clicking on the blue box below. Please do not post answers using the Feedback Form link at the bottom of this post.
See you next week, Players!


_______________________________________________________________________
Everyone who sends in a correct answer to a Where in the World Challenge this month will be entered in a drawing at the end of the month for some special AllEars® goodies!