Disney Historian Jim Korkis goes up into his imaginary attic to rummage around his archives and often stumbles across an unusual story about Walt Disney World. Those who have met me know that I take real joy in talking about Walt Disney.
My nieces have grown too old for the Disney Princess merchandise and my nephew is still too young to appreciate the charms of a Disney Princess.
Their Uncle Jim, however, spends way too much time thinking about Disney Princesses, especially with the recent induction of Merida from Pixar's animated feature "Brave".
While there has been some controversy surrounding her joining the ranks of this prestigious and profitable group, what concerns me is "Who will dance with Merida?"
Unlike every other Disney Princess that takes to the stage at the Magic Kingdom or rides on a parade float, Merida has no romantic companion. In fact, one of the points of the film is that a princess (or any woman) doesn't need to be married to a prince (or a hero like Mulan's general) to live happily ever after. All of the suitors for the hand of Merida are shown to be ineptly unsuitable in the extreme despite the rules of tradition.
So while all the other princesses are paired up to dance on stage, who will dance with Merida? Her horse? Some nameless hunk in a kilt?
The Disney Princess brand was created in 2000 by then Chairman of Disney Consumer Products Andy Mooney. That first year the brand brought in three hundred million dollars in global retail sales but three years later, it was generating close to two billion dollars in yearly sales and that was ten years ago.
Interestingly, Disney Consumer Products has stated "The characters were not chosen specifically for their royal titles, but rather for how well they fit into what Disney executives deemed 'the Princess mythology'."
That may explain why Tinker Bell once had Disney Princess merchandise before becoming the cornerstone of the Disney Fairies brand meant to appeal to little girls who outgrew the princesses.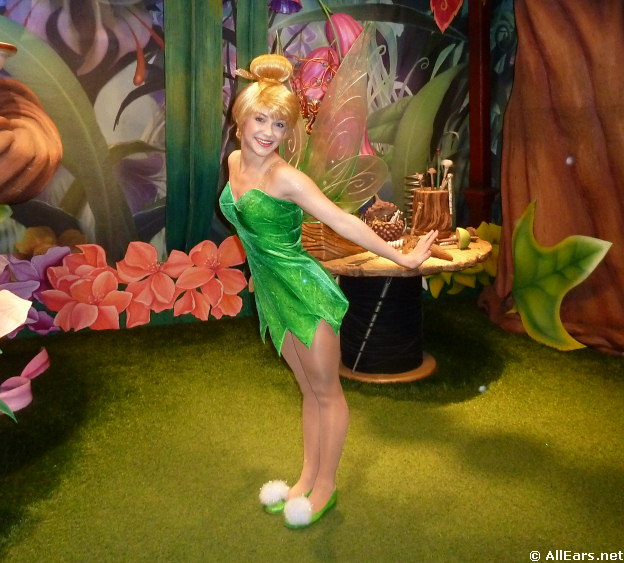 Pocahontas is not a princess, because her tribe never had that designation like some of the Western Plains tribes. At best, her status might be comparable to being the daughter of the President of the United States. (However, Princess Tiger Lily from "Peter Pan" is a true Indian princess but was never included with the other princesses ever.)
Pocahontas doesn't marry a prince, either, but an Englishman named John Rolfe, both in real life and in the Disney animated sequel. However, on stage, she is paired romantically with John Smith (perhaps because not even the most devoted Disney fan would recognize John Rolfe or remember that in both real and animated life Smith abandoned Pocahontas).
When I asked why Giselle from the film "Enchanted" was not made a Disney Princess, a Disney marketing executive patiently explained that "since she didn't marry the prince in the end of the film, she did not become a princess". I guess it was because she was not considered of royal birth.
Belle is actually not officially a princess either but a "princess consort", a term that refers to when a commoner or someone of a lower status marries into royalty. (Remember it is Queen Elizabeth and Prince Phillip not King Phillip. He is a prince consort.)
I guess I just don't understand Disney Princesses but I better figure it out soon since the character of Anna in the new Disney animated feature "Frozen" due to be released in November is a royal princess.
RELATED LINKS
====================
Check out Jim's other "From the Attic" Blogs
Full features from the Walt Disney World Chronicles series by Jim Korkis can be found in the AllEars® Archives: /ae/archives.htm
ABOUT THE AUTHOR:
Jim Korkis is an internationally respected Disney Historian who has written hundreds of articles about all things Disney for more than three decades. As a former Walt Disney World cast member, his skills and historical knowledge were utilized by Disney Entertainment, Imagineering, Disney Design Group, Yellow Shoes Marketing, Disney Cruise Line, Disney Feature Animation Florida, Disney Institute, WDW Travel Company, Disney Vacation Club and many other departments.
He is the author of three new books, available in both paperback and Kindle versions on Amazon.com:
The Book of Mouse: A Celebration of Walt Disney's Mickey Mouse
Who's Afraid of the Song of the South
"The REVISED Vault of Walt":