Contributing photographer Jason of disneygeek.com sends us these photos from his trip to the parks on Friday, April 5, 2013.
The spring break season is wrapping up this weekend and the parks were fairly crowded but not insane. Upon entering the park spotted a new popcorn bucket offering, you can now purchase Dumbo buckets for $12. The two carts on Main Street and the one in the Small World Mall had them.
The Big Thunder project continues to roll along. You can see some holes cut into the mountain now.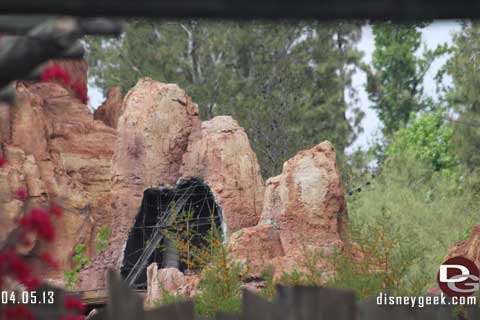 Rainbow Ridge has really taken shape. The plywood is up.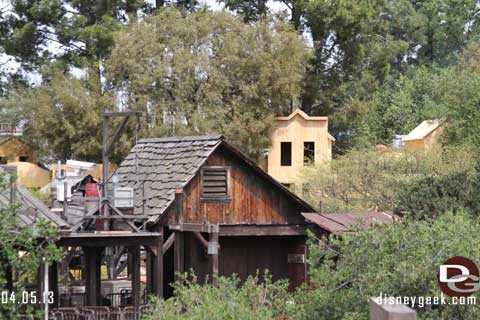 Spring has arrived at the Big Thunder Ranch and Jamboree.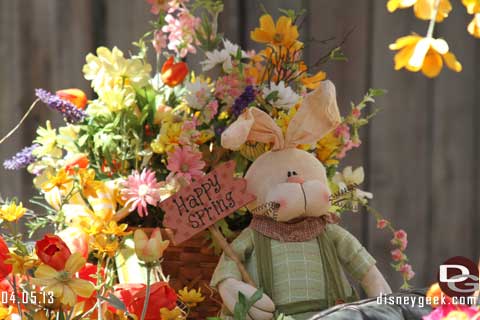 The Jamboree was quiet since it was between performances.
Some Rodeo Games are now out. Next week it will not be so peaceful out here since Long Lost Friends week will be using the Jamboree for character Meet and Greets as part of the Limited Time Magic Promotion.
The photo backdrop has been decked out for Spring too.
Cowboy Mickey was roaming around (as was Minnie). If you are looking for quiet character photos try stopping by the Ranch. More times than not it is not crowded and characters are roaming around looking for guest interaction.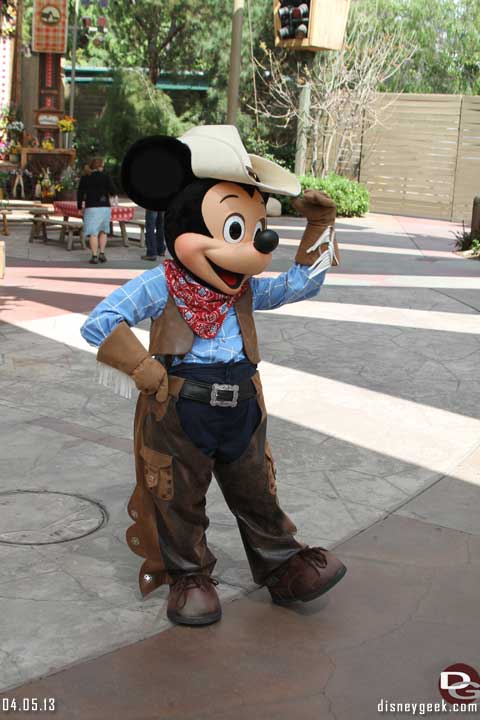 Vending carts have encircled the old Kodak Information kiosk near Small World.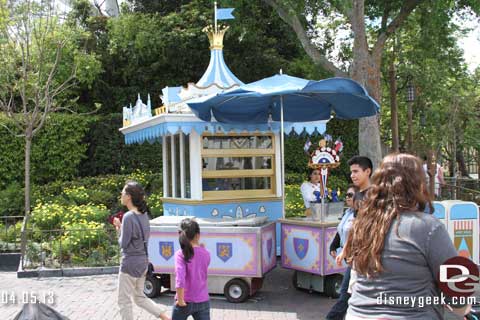 Walked back toward the hub by way of Tomorrowland, not much happening there, just guests everywhere. Here is a peaceful garden shot near the entrance.
Noticed there was no stroller parking set up along the hub. So guess Fantasy Faire is holding its own ok now. The wait at the Royal Hall was posted at 60 minutes.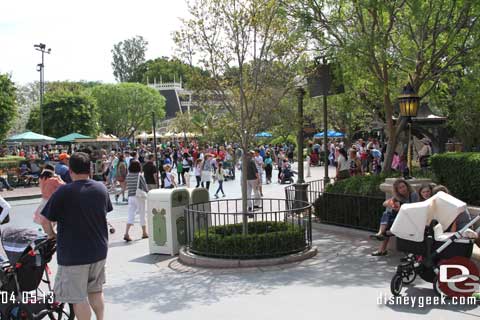 Coke Corner/Refreshment Corner now has a new arch and sign (it says Corner Cafe on it).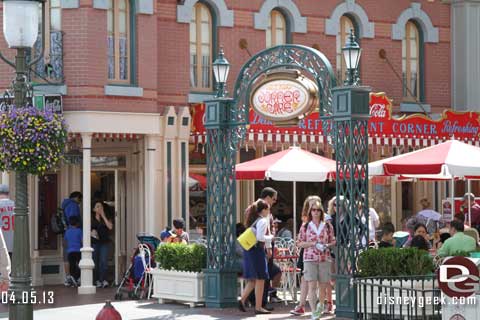 One last look at Town Square and Main Street before heading over to DCA.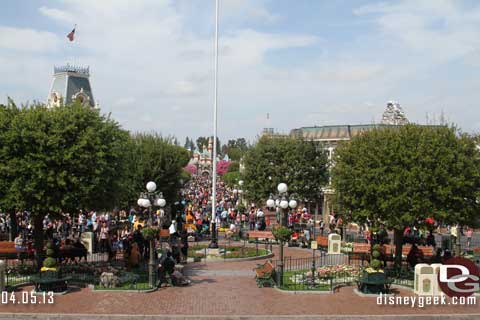 At DCA the Spring Issue of the Buena Vista Bugle is on news stands. Be sure to pick up a copy if you are in the park, its a fun read!
The Oz preview is gone from the Hollywood Backlot and the Muppets have returned to their theater.
Fastpasses gone for the day and 65 minute wait. The Spring Break crowds do enjoy Tower.
Out in Cars Land there is a Limited Time Magic offering, Cozy Cone Hats ($24.95) available at Sarge's Surplus.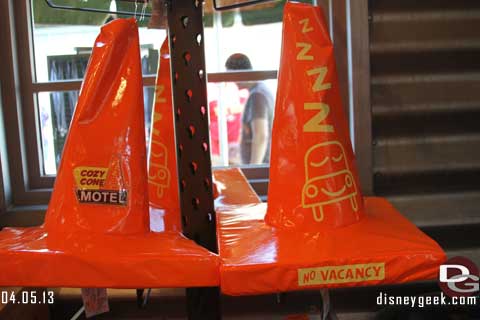 If you really want to go crazy buy both hats and make a "Flying Tires" game out of it.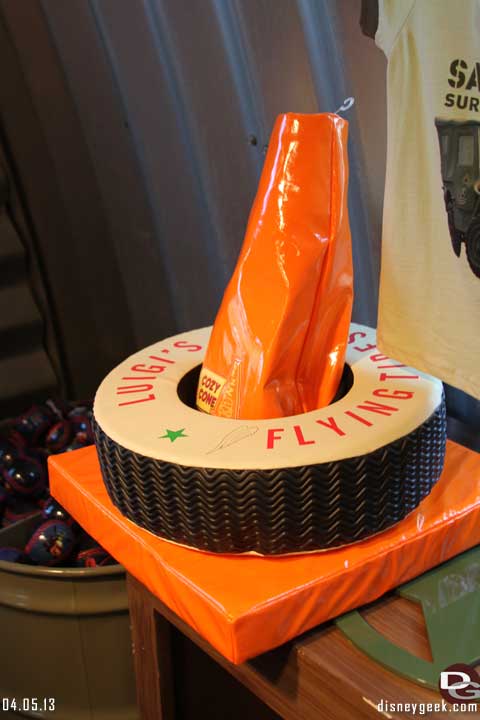 Had to share at least one picture of Ornament Valley this afternoon
DJ rolling out for a Dance Party.
Goofy walking out for an Instant Concert.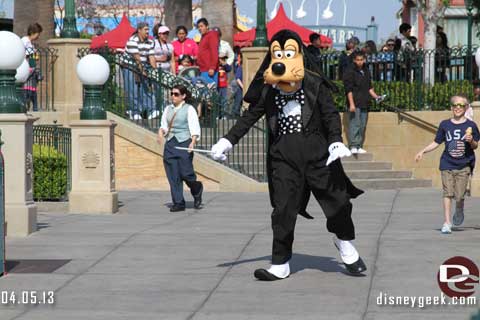 The swings have returned and the line was using the extended queue underneath.
Walked through the Grand Californian, noticed they still have the plain carpet. Wonder if the other carpet is ever coming back.
Spring break! Life guards in warm clothes… the temps topped out about 70 today with a breeze. It was cooler by this point of the afternoon. The pools themselves had a fair number of guests in them.
Out in Downtown Disney the work has wrapped up and a new, more permanent stage is set up near ESPN.
Downtown Disney had a lot of guests roaming around.
The window ads at the Grand Californian on the way to Downtown Disney have been updated recently. One is DVC, another D23, and then this one Carthay Circle/Napa Rose.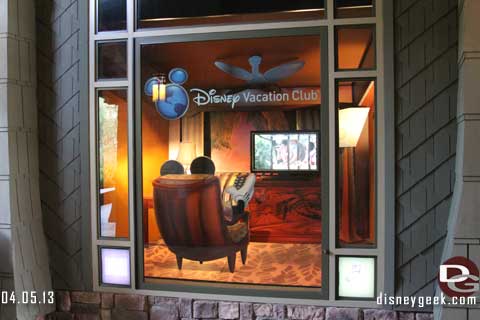 Walked through the World of Disney on my way back to the parks. Some Spring Break shirts.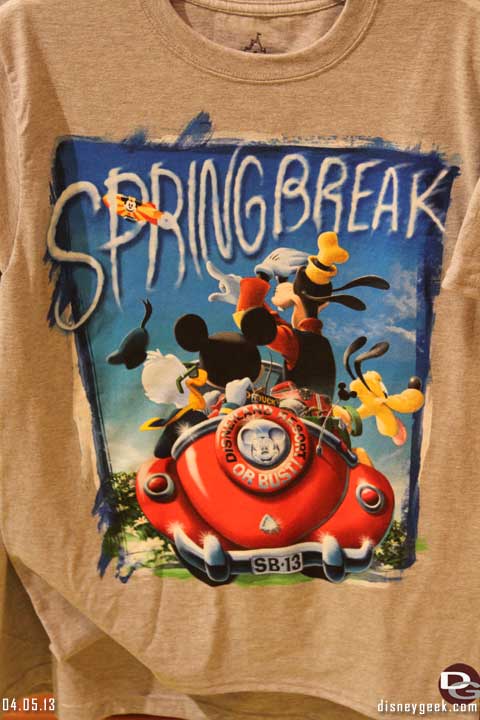 Due to the later sunsets the Mad T Party kicks off in the daylight now.
Returned to Disneyland for Mickey's Soundsational Parade
Elvis, Scot Bruce, was performing at Tomorrowland Terrace.
Some scaffolding up on the exterior of the Alice in Wonderland building. Looked like facade work.
Buena Vista Street. The Carthay with Mickey in front.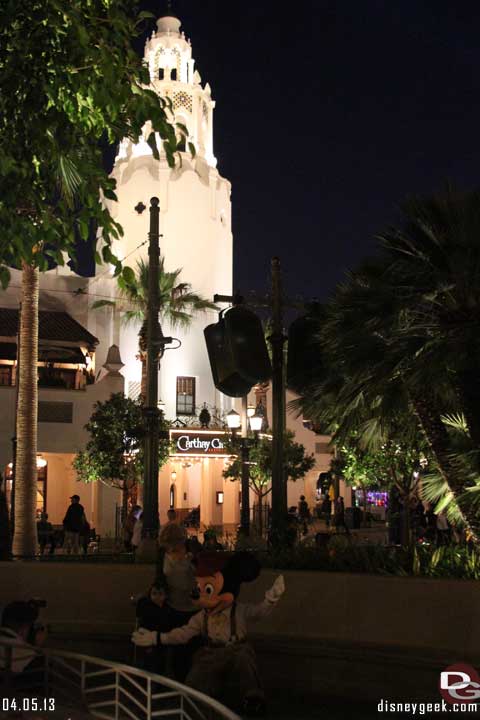 The Mad T Party is more impressive at night. The lights make a big difference.
Tower of Terror was up to an 80-minute wait now.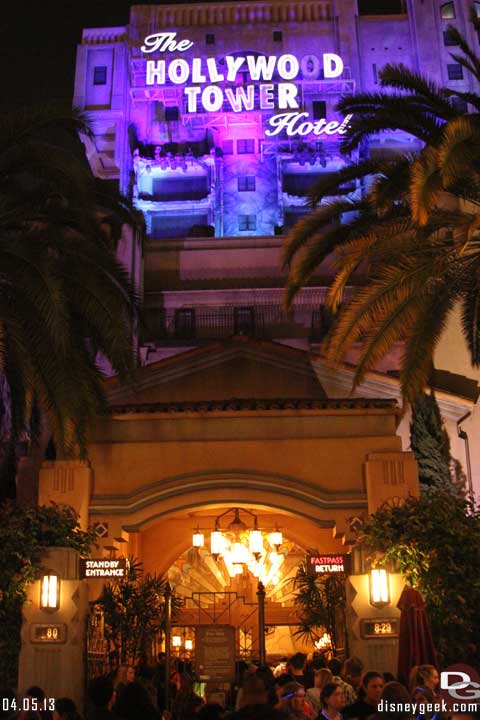 Finally seeing Remember…Dreams Come True (been trying to see it since it returned in January but between cancellations, fog, and other distractions I have missed it till tonight). I made it to Main Street with only about a minute to spare, thanks to only four turnstiles being open to enter Disneyland.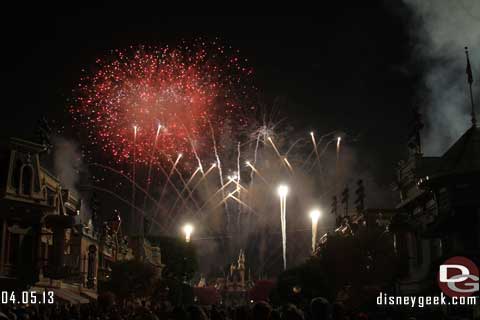 Hope you enjoyed this highlight tour of the Disneyland Resort. For additional photos and details from this trip you can check out the full Disneyland Update I posted on my site, http://disneygeek.com Also be sure to follow me on twitter @disneygeekcom for pictures from the parks.