by Guest Blogger Morgan Carlin
In December my boyfriend, Andy, surprised me with the most wonderful surprise a girl can get… to be whisked away on a magical vacation! To where you ask? The Most Magical Place on Earth, Walt Disney World!
Two weeks before Christmas he gave me an early present, a Minnie Mouse suitcase filled with all kinds of Disney-themed goodies to make sure I was ready for our upcoming adventure, including a complete itinerary (with special surprises I was not allowed to know about). Some of the goodies included Disney t-shirts, bags, Disney pins (my favorite Disney pastime), Vinylmations, Very Merry Christmas Party Tickets, etc. He gave me the suitcase while I was in the middle of studying for finals and incredibly stressed out. This surprise turned my whole attitude around because in just four short days, I knew we would be hopping on a plane and flying down to sunny Florida and spending a week in our favorite place!
The morning finally arrived — it was December 18th! The big day! We made our way to the airport and started our Disney adventure. We got off the plane, hopped on the Disney Magical Express, and made our way to Port Orleans Riverside, where the next surprise took place.
Once check-in was all taken care of we walked to our new home for the next week. When I opened the door I couldn't believe my eyes as I stared in amazement at the new Royal Room we would be staying in. As I started to grow a liking to the Princess Pedestal I was being placed on, we got on a much awaited Disney bus and headed to none other than THE MAGIC KINGDOM!
Andy was acting very weird on the bus and was not very talkative. It was a bit odd, given that he should have been at maximum excitement level. But I ignored it because I was still overcome with that initial dose of Disney Magic.
I don't know about anyone else, but the moment I see Cinderella Castle is when I have that "I am finally here and I would rather be no place else in the world" moment! Before my Prince and I made our way down Main Street there were a few stops to make. This is where another one of those secrets from the itinerary came into play. It was time to pick up our Disney PhotoPass+! But would you know? That boyfriend of mine would not let me come up to the counter with him! Hmph! Luckily for him it only took a few minutes and I found some pins to look at and keep me occupied.
We then made the next stop — at the bathrooms, which was understandable after a long day of travel. Andy took a while in there and I started to worry a bit (little did I know he was having a mini heart attack because of what was about to happen).
The time then came that I had been waiting for — time to stroll down MAIN STREET U.S.A.! Boy, was I excited! I just couldn't believe that we were finally in Walt Disney World. We began making our way toward the castle, taking in the sights, which seemed unusual for my boyfriend. Anyone who knows him understands that he is the first one to RUN as FAST as he can to the rides and begin the itinerary!
Panic was starting to set in. I was thinking that Andy was sick and that he didn't want to ruin all the excitement for me after all the planning. It was terrible. He was just not himself at all! But I just kept my mouth closed because I didn't want to make him feel worse (and if you know me, you know that is a tough task!).
We kept strolling along and made it all the way down to the front of the castle. For some reason, Andy decided he wanted to start walking back to the front of the park. My mind was going in a million directions. I felt awful because I thought he was getting sick or going to pass out. We made it to a PhotoPass photographer in the middle of Main Street and he decided we should stop to get our photos taken with our new PhotoPass+.
We put our stuff down and stood with the castle directly behind us. The photographer started snapping and we got some pictures taken. He handed us our PhotoPass and my boyfriend said, "Actually, can you take a few more?"
As I looked at him, I saw that he was getting down on one knee! OH MY GOSH! My heart started to race, my hands shook, and the tears started to roll down my face. I couldn't believe what was happening before me. I was getting my dream proposal right there on Main Street, U.S.A. in front of Cinderella Castle. The moment couldn't have been any more perfect. A crowd gathered around us as he spoke to me, words that neither of us can remember to this day from nervousness and shock. At the moment I said yes there was an eruption of cheers and applause, as we kissed in front of the castle.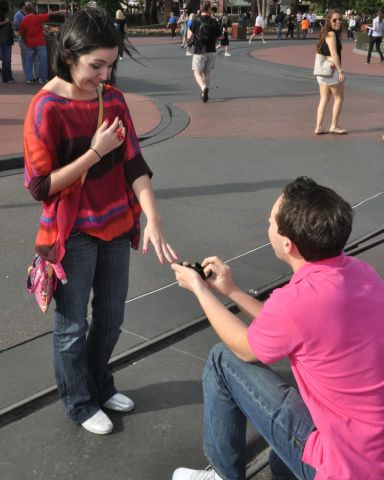 The rest of the week was absolutely amazing! We wore our Just Engaged buttons every day of the trip and were greeted by hundreds of amazing cast members with "Congratulations!" and well wishes! We had so many magical moments and got to do so many wonderful things.
One of the amazing surprises that my now-fiance had in store for me was a surprise engagement photo shoot! We had a two-hour photo shoot at Disney's BoardWalk and our photographer took the most AMAZING pictures. All in all, this seven-day span was the best week of my life. It was the perfect milestone in the perfect place spent with the perfect person as we connected our past seven years together with our promising and exciting future as husband and wife.
About the Author: Morgan Carlin is a student in South Jersey currently going to school to become a teacher. She graduates in December. Her fiance, the romantic Andy Flexon, is an accountant. The couple has just set their wedding date: August 2, 2014!