Le Cellier, nestled inconspicuously in Epcot's Canada pavilion, is probably one of the most acclaimed and highly recommended restaurants in Disney World. Getting reservations here for both lunch and dinner can be quite a challenge no matter what time of year you are visiting. There is good reason for the restaurant's popularity and why many people consider Le Cellier their favorite dining location in all of Disney World. Everything about the restaurant is of the highest quality, from the service to the menu to the ingredients used in preparing the dishes, and it delivers all of these things on a consistent basis.
For this reason, it was not too surprising when Le Cellier was made one of Disney's Signature dining locations. With it new status came major changes to the menu and I was very intrigued to see if the dining experience as a whole would be taken to a new level. Of course, with becoming a Signature restaurant, the prices on Le Cellier's menu (which were not too economical to begin with) reflect this as well. While these higher prices may dissuade some guests from dining here, I went to Le Cellier recently to see if it was possible to dine here on a budget.
Overview:
One of the great things about World Showcase at Epcot is that it allows you to be completely immersed in cultures that are completely different from our own, experiencing the sights, sounds, and tastes of eleven different nations. Each pavilion has their own unique offerings of attractions, shops, and restaurants that help give us insight into what life is like in these different nations. The Canada pavilion may be the most beautiful and visually stunning in all of World Showcase. The first things that catches the eye is the Victorian-style Hotel du Canada, inspired by the Chateau Laurier in Ottawa.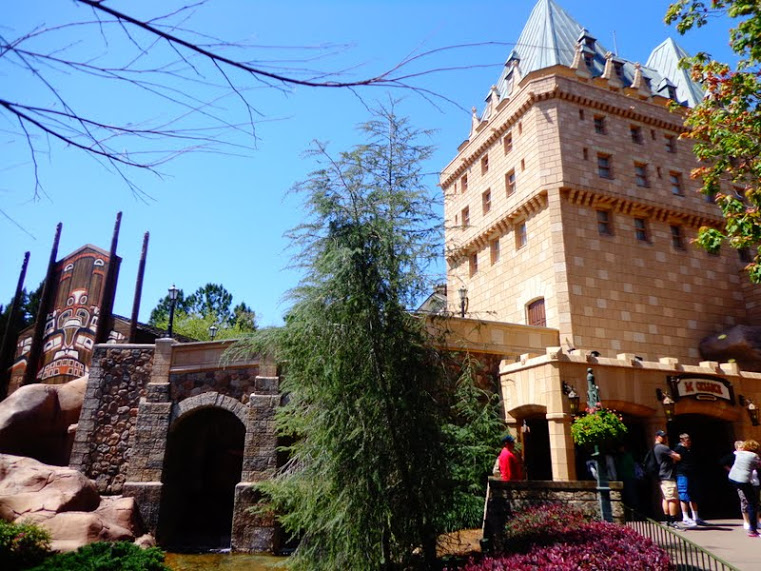 The landscaping is likewise absolutely breathtaking with beautifully colorful grounds reminiscent of Victoria's Butchart Gardens.
The pavilion also pays homage to the Canadian Rockies with a boulder-strewn stream and thirty-foot waterfall.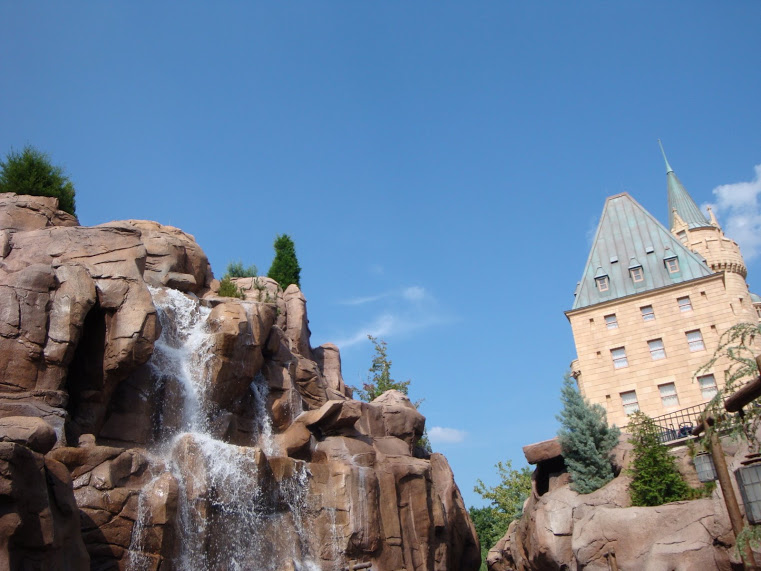 Just as the pavilion's exterior captures the beauty of the Canadian landscape, Le Cellier offers an equally immersive experience into Canadian cuisine. It is a restaurant which offers an elegant and intimate escape and, during the course of a meal, makes one forget that you are actually dining in the middle of the theme park.
Atmosphere:
The great difficulty in getting reservations at Le Cellier is not only due to its incredible popularity, but also because of its size. Le Cellier is probably the smallest of all the sit-down restaurants at Epcot with exception of Monsieur Paul, but this adds to its allure with the small size creating a very intimate atmosphere.
If you are expecting any drastic changes to the atmosphere now that the restaurant is a Signature dining location, there aren't any. The décor of the restaurant is the same as it has always been: simple and subtle, but elegant. True to its name, the restaurant is meant to feel as though you are dining in a wine cellar.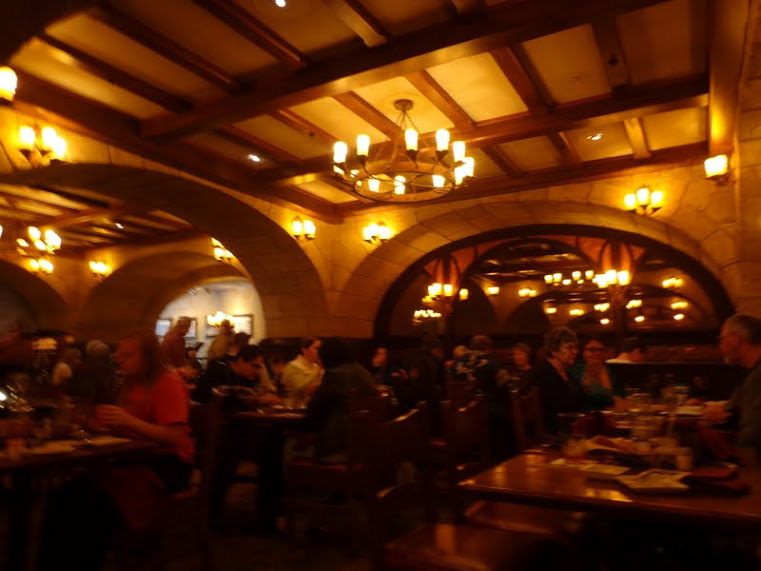 Although the theming may not be extreme, it still has many little details that contribute to your sense of immersion, not the least of which are numerous beer and wine bottles scattered around the dining room.
The stone and dark-wood paneled walls, the faux candle light fixtures, and faux fireplace all lend to the authentic wine cellar atmosphere.
The restaurant does not have any windows and so the dining area is somewhat dark and enclosed, but large mirrors on all of the walls give the sense that the restaurant is much bigger than it actually is. Due to its small space, the tables in the dining area are somewhat close together, but the restaurant is not loud at all even if all the tables are filled.
With its refined and intimate feel, Le Cellier is a great dining location for a romantic night out, but at the same time it is not so upscale that you should hesitate going if you have children.
The Menu:
Here is where there has been the biggest transformation in Le Cellier becoming a Signature dining location. Gone are the separate menus for lunch and dinner. Gone also are the prix fixe options that were offered for lunch and dinner enabling you to get an appetizer, entrée, and dessert for $29.99 for lunch and $36.99 for dinner. While there are several favorites that are still present on the menu, there are others that have been removed completely. You will also notice an increase in some of the prices as well. As was the case before, the menu highlights the varied cuisine of Canada's different provinces. However, with the restaurant's new Signature status it can be expected that the menu offerings will change a little more frequently depending on the season and what ingredients are most fresh. The following reflects the menu when I most recently dined there in the beginning of March.
For appetizers the offerings include Wagyu Beef Carpaccio ($14.00) with capers, radish, frisee, Flagship Reserve cheddar, and lemon oil, Cedar Creek Clams ($16.00) with Blanche de Chambly, chorizo, and lemons, a Fall Fig Salad ($12.00) with duck prosciutto, blue cheese, and soft boiled eggs, Seared Scallops ($14.00) with butternut squash, red pepper jam, and pickled mushrooms, an Heirloom Tomato Salad ($12.00) with mozzarella and watermelon, a Lobster Chopped Salad ($16.00) featuring mixed field greens, avocado, tomatoes, and eggs, the Steakhouse Caesar Salad ($10.00) featuring pretzel croutons, an Assortment of Artisanal Cheese ($14.00), and Le Cellier's signature Canadian Cheddar Cheese Soup ($9.00).
Being a steakhouse, steaks are the prominently featured entrees on the menu. Among these are the Le Cellier Mushroom Filet Mignon ($43.00) with wild mushroom risotto and white truffle butter sauce, the Grilled Bone-in Ribeye ($46.00) with herb-parmesan potato wedges and roasted garlic butter, the Grilled Waygu Short Rib ($34.00) with stone ground grits, charred corn, baby fennel, roasted tomatoes, and chipotle sauce, and the Canadian Prime New York Strip ($44.00) with potato pavé, wilted spinach, and vin rouge reduction.
Other entrées include the Yellow Tail Snapper ($35.00) with roasted eggplant, royal trumpets, baby spinach, ponzu, and lotus root chips, a Lamb Rack ($42.00) with roasted eggplant, pattypan squash, tomatoes, romano beans, and smoked tomato reduction, Kurobuta Pork ($38.00) with baby spinach, wild mushrooms, fried cheddar cheese pasta, and smoked tomato reduction, and a Roasted Free-Range Chicken ($34.00) with marble potatoes, spring onion, spicy chicken sausage, and roasted shallot butter.
If you are looking for something additional to go along with you meal there are also an assortment of side dishes available. Among these are Poutine Fries ($8.00) topped with Canadian cheddar, truffle salt, and red wine reduction, Creamed Spinach ($7.00), Roasted Marble Potatoes ($8.00) with garlic, thyme, and rosemary, Lobster Macaroni and Cheese ($10.00), Cauliflower Gratineé ($8.00) with parmesan and herbs, and Sautéed Mushrooms ($8.00) with herb butter.
Finally, you can finish off your meal with one of Le Cellier's delectable desserts such as the Neopolitan Cappuccino Cake ($10.00) with cappuccino mousse and a caramel pretzel on top of chocolate cake, Pistachio Cake ($10.00) with pistachio cream cheese and pickled watermelon rind, Maple Crème Brûlée ($7.00), White Chocolate Cheesecake ($10.00) with citrus shortbread cookies and seasonal berries, Strawberry Panna Cotta ($9.00), and a Strawberry and Rhubarb Sorbet ($8.00).
There was little hesitation about how I was going to start my meal. No meal at Le Cellier is complete without having the Canadian Cheddar Cheese Soup. Ever since the first time I dined here it has been my favorite item on the entire menu. What makes the soup so special is its incredible flavor. It is extremely rich and creamy, very thick, and very filling. The predominant flavor of the soup is the cheddar cheese, but there is also a slight hint of beer that adds an extra little kick. There is also the taste of smoked bacon, but this is just enough to enhance the overall flavor of the soup rather than being overpowering. The flavors of the cheddar cheese, Moosehead beer, and smoked bacon blend together in a way that creates a soup unmatched by any other.
Served alongside the soup was an assortment of bread highlighting the various provinces of Canada. There is a sourdough roll representing the Yukon territory, a multi-grain roll for the various grain producing provinces, and pretzel bread for Ontario, which holds the second largest Oktoberfest in the world each year. Each bread offers a different taste and texture and pairs perfectly with the hearty soup. The pretzel bread is my personal favorite.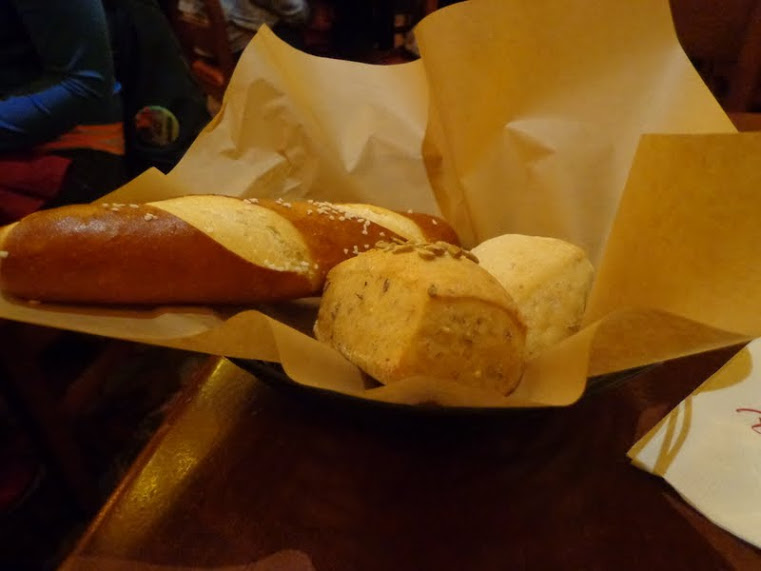 After starting my meal with such a filling appetizer, from past experience I have found that I am not usually able to eat much of my entrée. Therefore, I decided to order the Lobster Macaroni and Cheese. Although just a side item, my server ensured me that it would probably be enough when combined with the soup and the bread. The portion size turned out to be more than large enough because this was another heavy, filling dish. While mac and cheese might not seem like a fit at a fancy steakhouse, this is unlike any other you have ever had. The dish's flavor is what really sets it apart. Rich and creamy, it uses a lighter flavored mascarpone cheese rather than a sharp cheddar and this pairs extremely well with the lobster. I was impressed with the large chunks of lobster present throughout the dish and it seemed as though you got a bit of lobster in almost every bite. Overall, this was a very high quality dish and was more than enough to be an entrée unto itself.
Service:
The service at Le Cellier has always been of very high quality. Because of the restaurant's smaller size, it means that the servers are able to pay an even greater amount of attention to each table. It seemed as though my server was always coming by the table to make sure everything was okay and to see if anything was needed. I found my server to be very friendly and helpful. He pointed out some of the more popular items on the menu, his own personal favorites, and also offered suggestions as to which wines might be the best for certain dishes. One thing I enjoy about the service at Le Cellier is that, although they are very efficient and attentive, the meal still progresses at a relaxed pace. Even though the restaurant is extremely popular, I did not feel as though they were trying to rush me through my meal in order to get the tables turned-over quickly. This pace of service allows you to enjoy the meal much more and really appreciate the high quality of the restaurant. However, these are all things that the servers at Le Cellier have always done. Now that the restaurant is Signature I did not find that the service had really changed nor was it taken to a new level.
Dining on a Budget:
I set out to see if it would be possible to dine on a budget at Le Cellier and I am pleased to say that it can be done. My total bill, including tax and gratuity, came to $23.41. Not only that, but I left the restaurant feeling completely satisfied. The combination of the Cheddar Cheese Soup, bread, and Lobster Macaroni and Cheese was more than enough food. The moral of the story is that, even when at a Signature restaurant, you can dine on a budget if you are willing to think a little out of the box. My best suggestion would be a combination of a couple of appetizers, an appetizer and a side item like the Lobster Macaroni and Cheese or the Poutine Fries, or an appetizer and a dessert. Another way to save money is to not order any alcohol, which can really run up your bill. Instead, consider a soft drink or a glass of water as a way of saving money. I had worried that becoming a Signature restaurant would put Le Cellier out of many people's price range. However, it is still possible to dine there and have a fantastic, high quality meal at an affordable price. Of course, if you are willing to splurge on one restaurant during your vacation this would definitely be one to do it at.
Le Cellier is on the Disney Dining Plan. However, as a Signature restaurant, it is now two table service credits for both lunch and dinner. The restaurant also participates in Tables in Wonderland, which allows members to recieve their 20% discount. There are no additional discounts for Annual Passholders or Disney Vacation Club members, however.
The Overall Experience:
One of the main ways that restaurants become successful is to deliver a high quality product and to do so consistently. This is especially true at Le Cellier. It comes as no surprise that the restaurant is one of the most popular in all of Disney World. In all the times of have dined there I have never been disappointed. Guests go to Le Cellier with very high expectations and yet the restaurant delivers time after time; not only does it meet these expectations, but it continues to find ways to exceed them. This is why it is really not surprising that Le Cellier is now a Signature restaurant.
Even with its new Signature status and higher prices, I highly recommend Le Cellier as one of my "must do" Disney restaurants. If you have not experienced this restaurant yet, it is definitely worth trying and you do not necessarily need to spend a ton of money to do so. As soon as you have dined there once, you will want to keep going back again and again. However, be advised that reservations are a must and should be booked as far in advance as possible. If you cannot get a reservation, be persistent because you never know when there will be changes or cancellations. All this effort will be worth it because the experience of Le Cellier can best be summed up as Disney dining at its very best.
See past restaurant reviews by guest blogger Andrew Rossi.
Check out Reader Reviews of Le Cellier and post your own too!