Before I start today's article, I would like to fill you in on some things that are happening in my personal life.
Don't worry. I'm not leaving AllEars.
However"¦
I have decided to downsize from a rather large home to something much more manageable. I have had my house on the market for a short while and it will close escrow next week. I am currently in the process of packing for a move into an apartment while I have a new home built five minutes from Disney World's back door.
After today's blog, I will be running repeats for several weeks until I get settled into my temporary quarters. Once that first move is complete, I will have plenty of time to devote to AllEars and new articles. When my new house is finished in August, I plan on taking two months off from AllEars so I can move in and get settled. Once again, I will post reruns during my absence.
I am extremely excited about this move – and I'm extremely stressed out. LOL. But I'm certain that once the dust settles, life will be even better than before. And I'm going to love living so close to Disney.
By the way, you can clearly see the Magic Kingdom fireworks from my new neighborhood.
I'd also like to share an interesting story with you"¦
I started working at Disneyland in 1971. Over the next several years, I worked my way up to "lead" of the Blue Bayou Restaurant. During this time, I got to know a lot of cast members in New Orleans Square. One of these was a guy named Bob who worked at the nearby Café Orleans.
In 1977, I was asked to transfer to the Club 33 as lead/ maître d'hôtel.
At the same time, Bob was promoted from busboy at Café Orleans to lead at the Blue Bayou. In other words, he was backfilling behind me.
After I left Disneyland in 1980, I lost track of Bob.
Fast-forward to 2013. Bob is buying my house.
It's a small world after all.
Now, on to today's article
I know it is hard to believe for some of you, but I haven't experience EVERYTHING at Walt Disney World. I've done a lot, but not everything. One of the activities that has been on my bucket list for a long time, but I keep putting off, has been a carriage ride through Fort Wilderness. Every time I visit the Settlement for dinner at Trails End or the Hoop-Dee-Doo Musical Review, I see the horse and buggy parked nearby, beckoning me. Well, I finally decided to stop putting it off and go for it.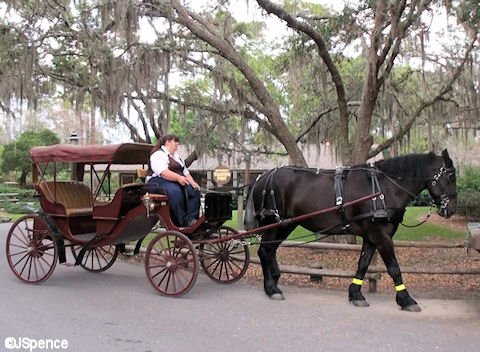 A carriage ride is offered at a flat fee of $45 no matter how many people ride. The capacity is four adults or two adults and three small children. The first ride leaves the Settlement at 5:30pm. The ride's duration is approximately 25 minutes.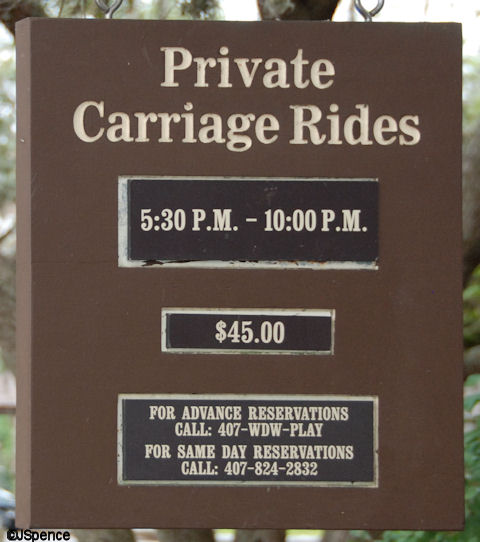 Advance reservations can be made by calling 407-WDW-PLAY. Same day reservations can be made by calling 407- 824-2832. When making a reservation, $45 will be placed on your credit card. However, it will not be charged to your card unless you are a no-show.
Walk-ups are also available if no one has booked the carriage in advance. Note, the only form of payment accepted is cash or a Disney room charge. Even if you've secured the reservation with a credit card, you still will be required to pay cash or use a room charge at the end of your ride.
I was surprised when I crawled into the carriage to find a sign that not only discourages tipping the driver, but actually forbids it completely.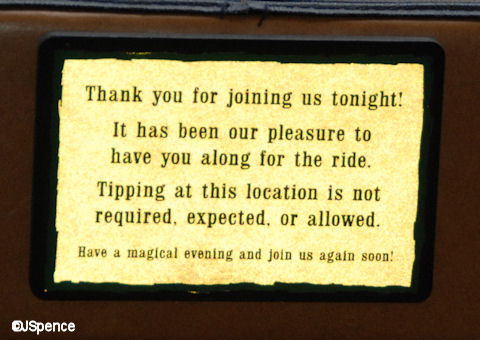 My hostess for the evening was Laurie Lynn. She is the primary driver of the carriages and transports guests around the campground five nights a week. So chances are good if you book a tour, this congenial cast member will be your guide. Laurie Lynn has been tending the reins here for 13 years.
Before beginning our journey, Laurie Lynn made sure our horse Tom got a good drink of water.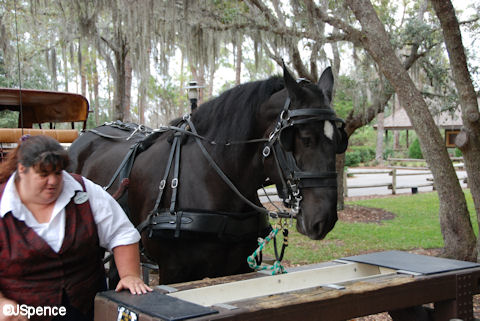 The carriage is quite handsome. Painted maroon, this vehicle features two tan leather seats for guests. One seat faces forward, the other backward. Brass carriage lamps adorn the sides of the carriage. A leather canopy shades the riders.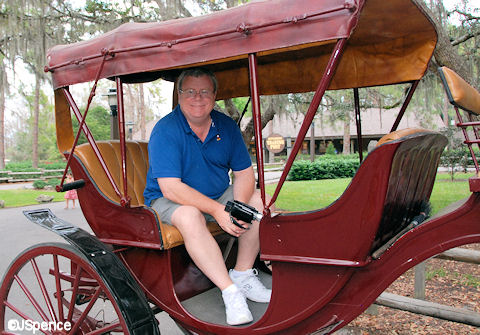 My journey began across from Crockett's Tavern. As I passed beside this wilderness watering hole, the folks sitting on the porch all took notice.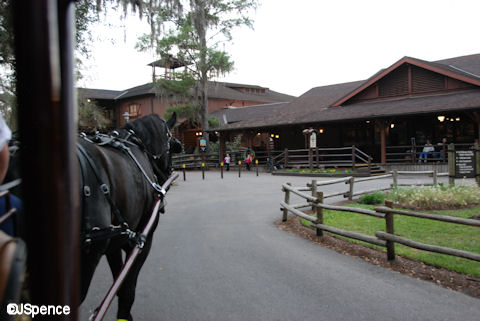 As we continued riding through the Settlement, guests continued to gawk and stare as we drove by.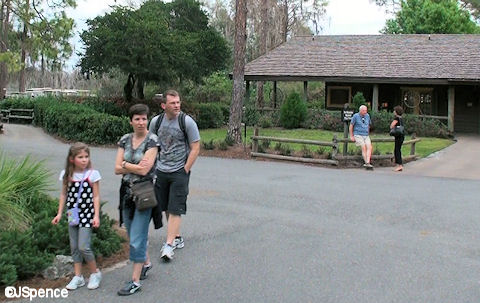 After leaving the Trading Post, we turned left and headed into the woods. Nature was all around us. The only sounds we could hear was the clip clop of the horse's hooves and the occasional bird chip. I felt miles away from everything.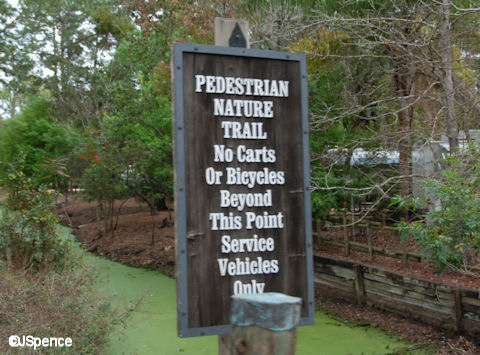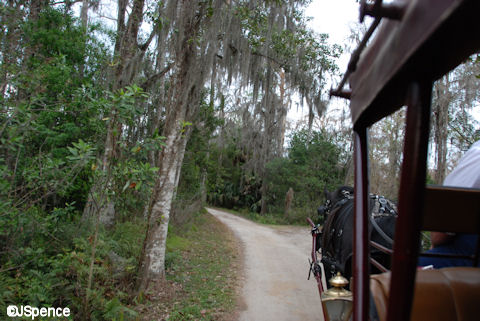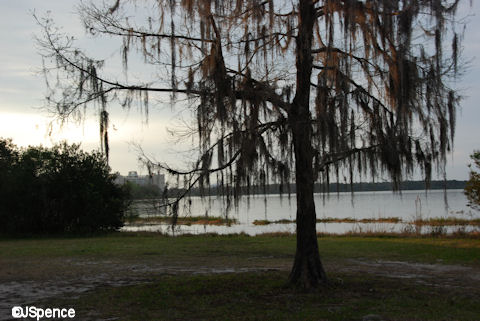 Laurie Lynn warned me that we might encounter some wildlife. And sure enough, we spotted deer grazing across a canal.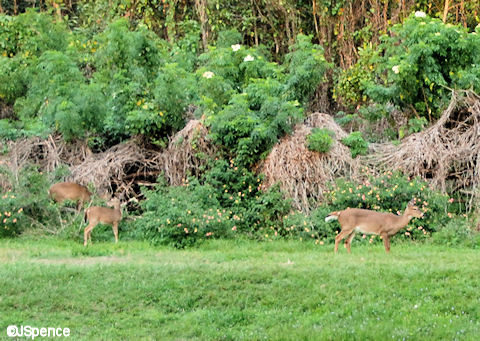 After about 15 minutes of riding through nature, we turned into one of the camping loops. Once again, heads turned as we drove by. In addition, ol' Tom piqued the curiosity of more than one campsite dog.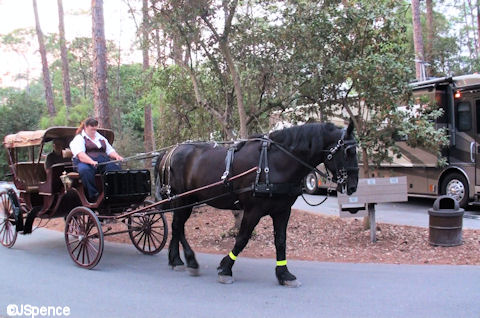 Eventually, we turned onto the main road running through the campground for our return to the Settlement. As we plodded along, it felt a little intimidating when a bus passed us going the other way.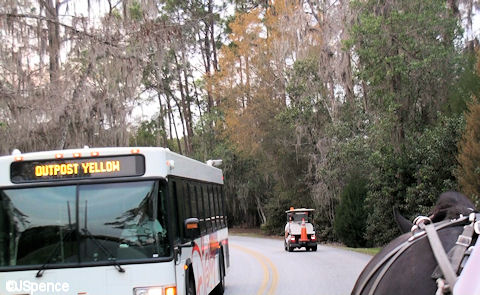 Laurie Lynn told me that the route she takes changes from ride to ride. Much of it depends on her mood, the weather, and the guests.
I enjoyed the carriage ride – and I'd do it again. For most folk, this isn't something they can do back home so it's nice to take advantage of the opportunity when you can.
I purposely booked my ride for 5:30 as I wanted it to be light out while touring. But the carriage ride takes place after nightfall for a more romantic experience.
Disney also offers a 45 minute wagon ride through the campground. The price is $8 for adults and $5 for children. The price is cheaper because you ride with a group of people rather than enjoying your own, private carriage. I have yet to experience a wagon ride, but after my positive experience with the carriage, I might be tempted to do so.
I have created a three and a half minute video of my experience. I hope you enjoy the ride.