As I mentioned in my last article, I am taking a few weeks off to get moved into an apartment while my new home is being built. During this time, I will be posting some of my older blogs. The following article first ran on November 29, 2009.
Usually when I write a blog or newsletter article, I try to stay clear of my personal experiences. I like to focus on the facts and leave my encounters out of the mix. But today I'm going to depart from my usual formula and present you with a brief look at my life and how it was intertwined with Disney. Along the way I will try to sprinkle in some "facts" so you can still come away from this article with a few bits of Disney trivia. So here goes.
In order to plan and build Disneyland, Walt desperately needed capital. The two major television networks of the time, NBC and CBS, were interested in producing a Disney created TV show, but wanted nothing to do with his harebrained amusement park. However, fledgling network ABC saw potential and agreed to give Walt $500,000 and a number of guaranteed loans. In return, Walt would give ABC a weekly television show and one-third ownership in Disneyland.
The "Disneyland" TV show debuted on October 27, 1954. Walt hosted the show and each week he presented a story that highlighted a different "land" within the theme park he was building in Anaheim.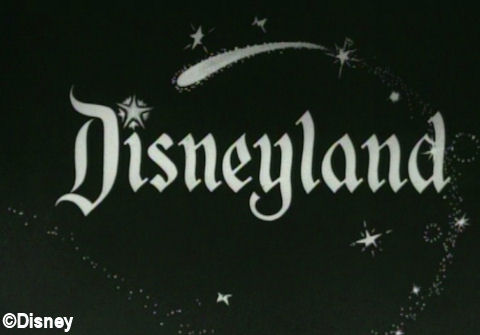 The early years of my life were spent in West Los Angeles. This is about an hour's drive north of Anaheim. I was only two when the "Disneyland" TV show debuted. I do have memories of watching this show, but they must be from reruns as I was much too young to remember the original series.
On July 17, 1955, Disneyland opened to the public. Alas, I wasn't there.
On October 3, 1955, the Mickey Mouse Club debuted on ABC and I was one of the millions of kids that watched this show in the years that followed. For those of you not familiar with the program, it was a daily (M-F) variety show for children. Each day featured a different theme like "Fun with Music" or "Talent Roundup Day." The capable Mouseketeers sang, danced, and performed a number of skits. And of course, Disney cartoons were always available.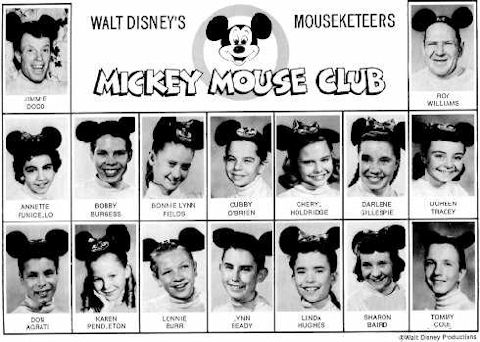 The black mouse-ears (with your name embroidered on the back) debuted on this show and have been selling at Disney theme parks ever since.
My first trip to Disneyland occurred in 1957 when I was five years old. I have memories of this event, but unfortunately, they aren't particularly good. I was accompanied by my mother, older sister, and aunt and her rebellious teenage son.
One of my memories involves the Storybook Land Canal Boats. I remember being terrified as we approached the attraction and I saw boats sailing into Monstro's open mouth. I didn't want to be eaten! After my mother calmed me down, we got in line. When it came time for us to load, my rather large aunt boarded first. She was so bulky that the boat tipped precariously to one side, almost spilling the cast member into the water. After regaining her balance, the cast member politely seated the rest of us opposite my aunt to balance the load.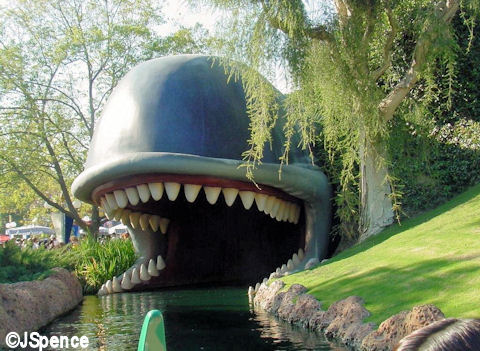 Here's an interesting side note, for many years, only women could be ride operators on the Storybook Land Canal Boats and only men could be skippers on the Jungle Cruise. The reason, theming. Everybody knew in the 1950's through the 1970's that only a big husky man could navigate a boat safely through the jungle and only a sweet young miss could play tour guide to the homes of Pinocchio, Cinderella, and Snow White.
My, how things have changed"¦
Later that day, my rebellious cousin ran off without permission. Since we didn't know where he had gone, it was decided we'd just wait for him at the spot where we had lost track of him, which was near Dumbo. (Remember, there were no cell phones in 1955 to keep track of one another.) So for the next hour we waited, and waited, and waited for him to return. This seemed like an eternity to me as I watched the nearby flying elephants but could not ride.
My final memory of my first visit to Disneyland involves the Rainbow Caverns Mine Train. For some reason, I got it into my head that this was a roller coaster and refused to board. Back home that evening, I was looking through the post cards we had purchased earlier in the day and I saw this beautiful picture of multicolored waterfalls cascading into luminous streams. I asked my mother why she hadn't taken me on this ride. She then informed me that I had had the opportunity but refused to go.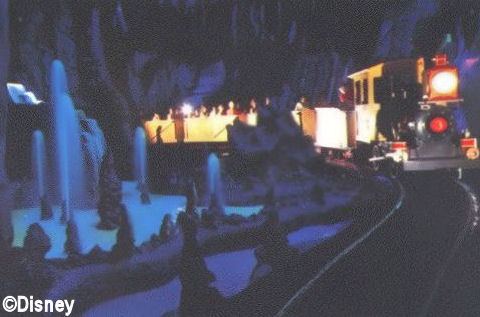 In the years that followed, I made numerous trips to Disneyland – with much better results.
For my tenth birthday, I asked my father for a share of Disney stock and he complied. I'm sure he was more interested in teaching me the value of investing than he was about Disney. But I didn't care what his reasons were, I got what I wanted. Each year after that, I received the Annual Stock Report sometime in January. I would pour over it like it was gold, reading about all the new and upcoming attractions and movies Disney was planning. You have to remember, this was long before the internet and long before we knew every move the company was making. By the way, I still have these stock reports. They must be worth something on EBay.
Something that many people don't know is that Disneyland was closed on Mondays and Tuesdays until sometime in the 1980's. It was only open seven days a week during the summer, Easter and Christmas weeks, and a few other holidays. Attendance simply did not demand everyday operation and this allowed maintenance to do a lot of refurbishing out of sight of the guests on these days. However, the Disneyland Hotel, which was owned and operated by the Jack Wrather Corporation, advertised that the monorail was open everyday. So on Mondays and Tuesdays, guests could still board the monorail at the hotel station and take a round-trip ride through a deserted Disneyland. This would cost the equivalent price of an "E" ticket.
During the winter months, attendance dropped off dramatically at Disneyland. In order to boost revenue, Disney created "Party" nights. This involved renting the park to a private group or company for the evening. Disneyland would close to regular guests at 6pm or 7pm then reopen to the private organization from 8pm to 1am. My stepfather was in the military and each year we attended "Navy Night." When you combine the fact that the crowds were relatively light and ticket books weren't required for these events, it allowed a boy of 11 and 12 to ride the Autopia over and over again.
Here's a killer for you. In the '50's and '60's, Disney considered the cels used to create their animated movies as useless rubbish. They sold them at the Art Corner in Tomorrowland for two to three dollars each. Today, these same cels sell for hundreds to thousands of dollars. But did I buy one? Nope. My parents told me they were worthless junk.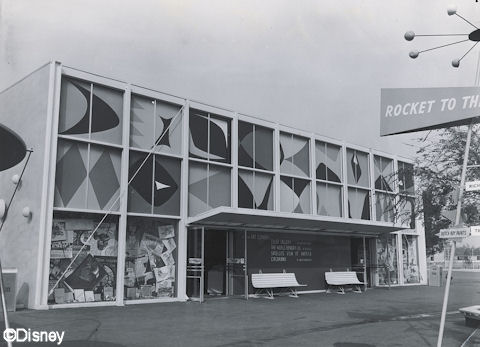 Construction began on the Haunted Mansion in 1962 and the exterior was completed in 1963. For years, every time I visited Disneyland I would walk by this building with grand expectations that it might be open, only to be disappointed. It seems that Walt had become involved with the New York World's Fair and the Mansion was put on a back burner. Bummer. However, I did return on August 9, 1969, the day the Mansion opened to the public, and waited two hours in line to ride.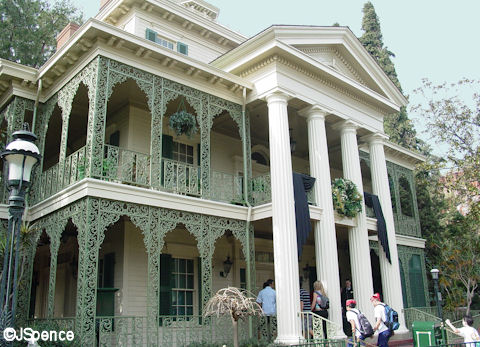 I lived in Japan for two years (1966 to 1967). This was long before Tokyo Disneyland. During this time I was desperate for a Disney fix but had limited options. All I had were my stock reports, some unused tickets, and a large map of Disneyland. I would scour this map frequently and relive memories.
When I returned to the states, I was 15 and we moved to Anaheim. High on my agenda was a return trip to Disneyland. A few weeks after getting home, my cousin (a different cousin) and I were allowed to go – alone – no parents – no chaperones. How cool was this?
During my time in Japan, the new Tomorrowland had been completed and New Orleans Square and Pirates of the Caribbean had opened. There was so much new since my last visit that it seemed like a completely different park. My cousin and I were in heaven. And to top it off, we found an unused ticket book on the Mission to Mars attraction. Obviously, someone had dropped it. This new found treasure meant we could go on even more rides. It was a grand day.
When we got home that evening, our mothers told us that we should have returned the ticket book to City Hall so Disney could find the rightful owner. My cousin and I just looked at each other. Yeah, right. Like 14 and 15 year old boys are going to do something so noble.
At this time, I lived in an apartment building on Katella Avenue about three miles from Disneyland. Also living in the same building was Roy Williams, the big guy from the original Mickey Mouse Club. One day his wife invited me in to meet him. I was thrilled. The aging Roy was very kind to me and even drew me one of his famous caricatures. But do I have that drawing today? Nope. I have no idea what happened to it.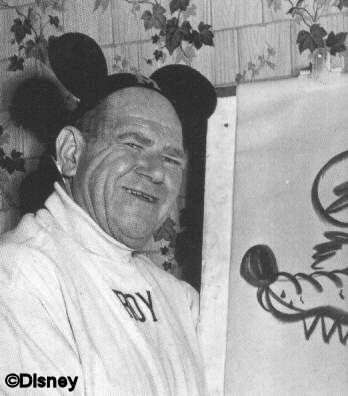 Shortly after I turned 18 I applied for a job at Disneyland. Like everyone who interviews for a position at a Disney theme park, I had dreams of driving the monorail or working on the Matterhorn.
When I arrived at the Casting building, I was handed some sort of a test and told to sit in a school-type chair/desk and complete it. I guess I got enough of the questions right because I was then told to sit someplace else until called to meet with an interviewer.
I was horribly shy when I was 18. My personality certainly did not exude the makings of an outgoing monorail driver. After a few questions and answers, the gentleman conducting the interview offered me a job as a Miscellaneous Kitchen Helper at the Blue Bayou Restaurant. I thought to myself, "What's a restaurant got to do with a monorail?" But I soon came to my senses and although disappointed, accepted the job. I was told to report back a week later to attend a two-day orientation class.
New Orleans Square at Disneyland was actually a testing ground for bigger plans Walt had for a project in Florida. You see, under New Orleans Square is a large basement. In this basement is a huge industrial kitchen. Here, food is prepared for five restaurants, the Creole Café (now Café Orleans), the French Market, the Blue Bayou, Club 33, and an employee cafeteria. The Imagineers wanted to see if a large "central" kitchen could support multiple restaurants. This idea was later expanded to become Central Foods behind the Magic Kingdom in Florida and used the Utilidors to transport the food around the park.
The above picture of Central Foods was taken at Walt Disney World in January, 1972. This building is located behind the Magic Kingdom and is now used to house holiday decorations.
After completing Orientation, I reported to the Blue Bayou Restaurant. It was then that I learned the true nature of my job. A Miscellaneous Kitchen Helper was to transport food from the basement kitchen up to a secondary kitchen in the Blue Bayou where final preparation could take place. So instead of driving a monorail, I would be pushing a cart full of pots and pans. Great. Just great. I was also expected to do a lot of nasty clean-up work.
I remember my first weekend on the job, standing in the rain out back of New Orleans Square at 1am, steam cleaning a trash can. This was definitely not driving a monorail. I hated my job! I wanted to quit! But I stuck it out. And as I got to know my fellow cast members, the job became tolerable, then better, and eventually fun – okay, maybe not fun, but certainly okay.
This next picture was taken the following year when I had been promoted to "Fry Cook."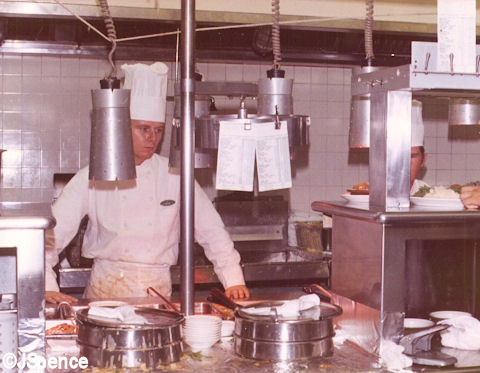 So the next time you're visiting a Disney park, remember, for every on-stage cast member you encounter, there is someone backstage doing less pleasant tasks to make your stay enjoyable.
Walt Disney World opened on October 1, 1971. Soon afterwards, Disney offered a special trip to the cast members of Disneyland and the employees of the Studio in Burbank. For $200 they would fly you to Orlando where you would stay for five nights at the Contemporary Resort tower. Also included were side trips to Kennedy Space Center, Cypress Gardens, and backstage tours of the Utilidors and other facilities behind the Magic Kingdom.
Mind you, I was only making $1.71 an hour, but I still lived at home and I had saved enough money that I could afford the trip. I signed up immediately and in January 1972, I made my first trip to Walt Disney World.
I have to admit, I was underwhelmed. Yes, the Contemporary and Polynesian were cool hotels, and Cinderella Castle was impressive, but the Magic Kingdom only had a fraction of the attractions that Disneyland had. Remember, in the beginning, there were no Space, Thunder, or Splash Mountains. There was no PeopleMover. There was no Pirates of the Caribbean. It only took a half-day to see everything. And nighttime was even worse. There was absolutely nothing to do after the Magic Kingdom closed. But I guess it captivated my imagination enough as I kept returning every two to three years.
On summer nights in the 1970's, cast members at Disneyland were allowed to use their cast ID's for entrance into the park. However, you were required to bring a member of the opposite sex. You see, Disney didn't want a bunch of hormone-charged males cruising for chicks in their family oriented park. By creating a "Date Night" they avoided this problem.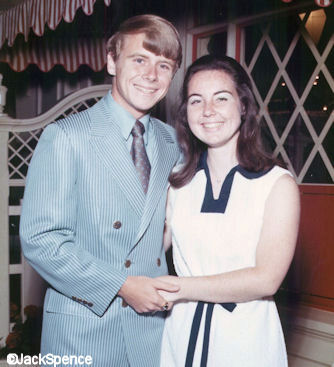 Other efforts to keep Disneyland clean-cut were also in place at this time. Plain-clothed security guards would stand at the entrance of the park and watch for clothing violations. If your attire showed too much skin or displayed any picture or writing that was even slightly offensive, you were denied entrance. Believe me, a significant number of Disney guests today would have never been allowed access to Disneyland in my days of employment there.
Also in the early 70's, only women could be servers in the restaurants. It took a cast member from the Club 33 to challenge this policy in court to bring equality to the wait staff.
I was employed at the Blue Bayou for six years and worked myself up to the position of Lead. This was the highest non-management position and I was in charge of the day-to-day operation of the restaurant. I also served a six-month term as a University Leader and conducted the 2-day Orientation classes given to new hires. (Today, this class is called Traditions.) And finally, I was asked to transfer to the Club 33 as Lead/Maître d' where I worked for another three years.
Here is a picture of me greeting guests as they step off of the lift into the upper lobby of the Club 33.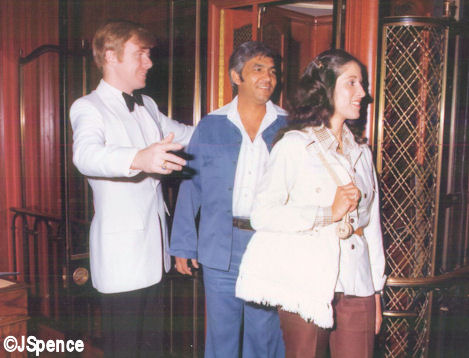 For various reasons, I decided it was time to leave Disneyland in 1980. I hired on with Pacific Bell/ATT where I worked for another 19 years before I was offered an early retirement.
Working for the phone company was the best thing that could have happened to me, but it was just a job. I really don't have any memories of significance of my time there. But my memories of working at Disneyland are abundant and overall, most pleasant. I wouldn't trade my time there for anything.
After quitting Disneyland, I still continued to visit regularly until 1985 when I was transferred to the San Francisco Bay area. It was only then that I realized that I had taken my close proximity to Disneyland for granted. When it was no longer "just down the street," I missed it terribly. I would make yearly trips to Anaheim, but it just wasn't enough.
Then, a Disney Store (the third) opened in late '87 at the end of Pier 39 on San Francisco Bay. I was saved. I could get my Disney fix without driving eight hours to Anaheim. I made regular trips to this store and developed a rapport with a number of the cast members. It was also at this time that I started to collect Disney art and decorate my house with my purchases – tastefully, of course.
My first real collectable was an animation cel of Donald Duck. I spent $250 for something I could have bought for $3 in my youth. At first I restricted my Disney memorabilia to the family room. But as my collection continued to grow, items started to creep into adjoining rooms – first a bathroom and then a bedroom. But I steadfastly refused to let my living and dining rooms become Disneyfied.
It was during my time at the phone company that I gained the means to travel, and other Disney parks were high on my list of destinations. Thus far I have been to the Tokyo Disney Resort four times and the Disneyland Paris Resort and the Hong Kong Disneyland Resort twice each. And I'm currently saving my Frequent Flyer Miles for a trip to Shanghai.
When I took my early retirement from the phone company in 1999, I briefly thought about moving back to Southern California and Disneyland, but decided against this. A better choice would be Orlando and the flagship property, Walt Disney World. With this in mind, my next priority was to find a house no further than 30 minutes from the parks. Eventually I ended up in West Orlando next to the town of Windermere. I can now be in the parking lot of any of the parks within a half-hour. Cool.
When I was getting settled into my new house, it became obvious that I would need to relax my rule about no Disney artwork in the living and dining rooms. My collection had grown so great that I needed additional space. Now, every room in my house is designed with a Disney theme – tastefully, of course.
This next picture shows an upper wall in my family room. To the left are a number of animation cels. The main wall is covered with Haunted Mansion and Phantom Manor lithographs.
During my first years in Orlando, I visited Disney World five times a week. That didn't necessarily mean I went into a park everyday, but I was somewhere on property. Many times I'd drive to a resort just to have lunch or dinner. And of course, when you move to Orlando, all of your friends and relatives think this is cool because now they have a free place to stay while visiting Disney World – with a built-in expert tour guide.
In anticipation of my houseguests, I created the Mickey Mouse Suite. The bedroom and bath are all decorated in Mickey colors, black, red, yellow, and white.
One day, while surfing the internet, I came across this wonderful site called Allears. I was most impressed with what I saw and decided to attend a Meet-&-Greet that Deb Wills was holding with Bob Sehlinger, author of "The Unofficial Guide to Walt Disney World." After listening to them speak, I sought out Deb and introduced myself. She was most gracious and made me feel like a long lost friend.
A few months later, construction began on Saratoga Springs and I snapped a picture of the resort's signage. I sent it to Allears and to my amazement, Deb published it and thanked me for my efforts. As more time passed, I ran into Deb again and she suggested that I write a restaurant review. I was reluctant. I thought to myself, "Who would be interested in anything I had to say?" But after mulling it over, I sent her a review of the All Star Café located at Disney's Wide World of Sports – and to my amazement, she printed it in the weekly newsletter. Wow!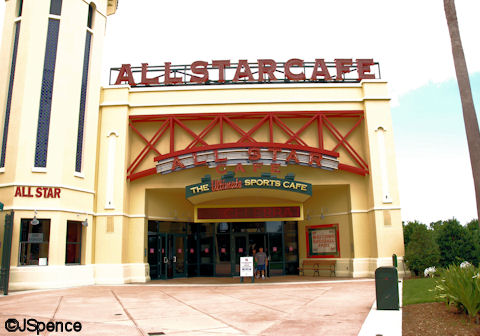 With one review under my belt, I decided to write another, then another. And Deb kept publishing them. Eventually, I became a full member of the team and joined the inner circle of Allears.
In an effort to keep the website as current as possible, Deb started the blog section. At first I was doubtful. I had read other blogs on other sites and was not impressed. Too many of them were negative and contained more myth than fact. But Deb assured me that this could work and persuaded me to give it a try. In the beginning, I was just a Guest blogger, but in no time at all I had my own column. Now I write a weekly column – and when Deb sends me on assignment, even more.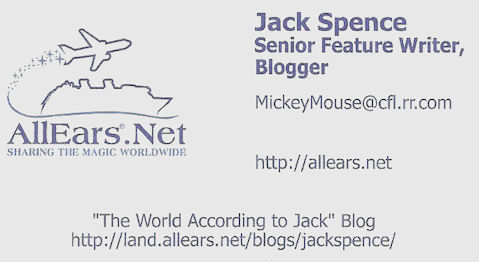 I realize that I have a dream job. What could be better than visiting Disney World any day I like and writing about my experiences? Yes, my blogs require real work, they don't just happen. But I'll never complain. There's no other job I'd rather be doing.
I'm still not driving a monorail, but I doubt that piloting one of these trains could be nearly as fulfilling as the career I had with Disney and writing for Allears.