To all who come to this photo trivia game, Welcome! Along the way, the photos can make us relive memories and see details Walt's Imagineers put into everything we love in Walt Disney World!
Patty Carty, enjoy your first trip with just you and your husband in over 26 years! Yeah, you'll miss your family, but you'll love experiencing a 'new' type of trip. Go to the beach and watch the fireworks. Enjoy alone time in the Rose Garden. Be kids yourselves again. Snuggle in dark rides. That does not include, repeat, does NOT include Space Mountain even though I tease my husband that we can . You cannot snuggle on Space Mountain; it creates safety issues.
Big day for Chris Kelly! His wife surprised him with a Disney World vacation! They leave in two weeks!
More news on Chris later on!
I've had people ask where I get my little smileys; thankfully someone asked again because I forgot to answer before. Most of them come from Millan net while others are from Deviantart. You wouldn't believe how many I have!
Players, it's time to help one of our own. Annie Snodgrass is trying to convince her boyfriend to go to Disney. Anyone want to shout out suggestions?
Reagan is not only having post-vacation blues, so are Patti and Kerry McCaffrey (although Patti is bragging about her tan). Maybe a little song will pick you up.


(Now that's stuck in my head.)
Here was the challenge last week: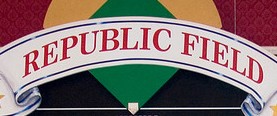 And here's the answer: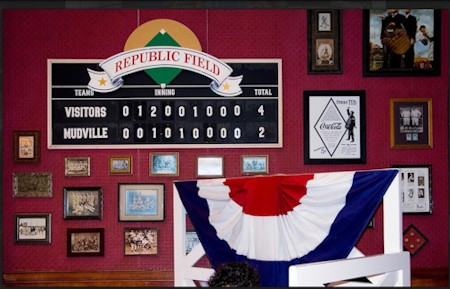 Copyright © Barrie Brewer
This was one I thought would be tougher, I'm wrong again! That will show me for just cutting through here to bypass the traffic on Main Street! Actually, my friend Kim Russell is a big fan of this place, but we always ate outside.
We're inside Casey's Corner in the Magic Kingdom! Answering this question made 75% of you hungry, so hot dog sales must be up everywhere! 🙂
Sean F, that was one thorough answer!
Deb Ragno, that sounds like my husband! I'm in MouseGears, he's watching the fountain show. I'm in World of Disney, he tells me "I'll be outside." LOL!
Agnes Ciotti, are they really good for watching the parade? Didn't think of that.
Karen Smith, the notorious Main Street bird gang asked me to send you this message (besides sorry we stole your french fries):

Chris Kelly was the first to send in the correct answer! Congratulations to Chris and all our winners this week! Emily Hudson, Chris Masse, Steve Jordan, Cynthia Hitchcock, Mike Walter, Jessica Iglesias, Michael Rotkiske, Scott Greenbaum, Vera Williams, Sharon Pierce, James Schmidt, Kris Nixon, Michelle Youngerman, Ruth Senecal, Jenny Brennan, Danielle Ciotti Harsley, Reynic Copton, Dave Wang, Brian Gallant, Dawn Bach, Mary Beth Tarbet, Patti Gumiela, Larissa Huda, Jaime Freemyer, Theresa Rucando, David Freemyer, Andrew Carrieri, Diane Curfman, Mary Ellen Hurley, James Steele, Candice Grimes, Scott Cullen, Belicia Cullen, Scott Mitchell, Brian Miller, Kerry A., Kim Howe, Christin Langtry, Amgela Jones, Chris Rowlands, Nancy Johansen, Laura V., Jonathan Ward, Hayley Valk, Tommy Montgomery, Misty Mehelic, Dee Dee Kenney, Nathan York, Pasquale Crea, Pam Vanaustin, Palmer Family , Gabriella, Terry And Matthieu, Amy Schweizer, Paul Dickson, Claire Gregory, Team Hill, Lisa Bohannon , Addison Welp, Angie Young, John Nottell, Hunter Armstrong, Maureen but REALLY Warren Handy ;), Evanna Huda, Kathy Jones, Christina Rotella, John Menjes, Dawn Hartson, Larry Martinez, Erin Hammer, Sean F, Jared Orth, Lee Anastasi, Leach Family, Cathy Connors, Olszak Family, Janet Thorn, Kenny, Paul Moore, Curtis Bille, Scott Precise, Jodi Cook, Rob & April Team Vanderpool, Jason And Melinda Lenz, Deb Ragno, Hoekzema Family, Jody Church, Andy Hickey, Betsy Silvestri, Linda Scimeca, Carla C, Melissa Roberts, Jim Thompson, Mike Mondoux, Wendy T Faler, Derek Carty, Cindy Pink, Dawn Simpson, Liz Moreau, Andrea Kruszewski, Tina Santacroce , Meredith Rule, Ashley P., Mackenzie D., Les Stewart, Annie Snodgrass, Madison Hovan, Tricia Petty, Vanessa Gordon, Kelsi, Tanya Hinnes, Jeff Blank, Dallas Hamilton, Tara Weaver, Jim Finley, Wayne Chadourne, Hillary Waldroop, Tricia Noble, Al Sandal, Jeremy Reichelt, Erin Loring, Dennis Loring, Schuyler Stewart, Maryann Romagnano, Patrick Broaddus, Ed Mazzilli, Candy Sandal, Bob Henriksen, Johnpasqueralli, Kristi Strembicki, Steve Knapp, Jenn Steele, Karen Smith, Jim Riley, Pecosace, Patty Carty, Reagan, Chris, Gretchen, And Katie Barnes, Heidi Goodhue, Jason Skow, Julie Wickware, Chris & Maranda Nichols, Bryan Fencl, Agnes Ciotti, Randi Balch, The Patterson Family, Jackie Damon, Monica Owens, Dave Kanigowski, Sandy Kanigowski, Josh Carney, Stephanie Linares, The Kertes Family, Dave Crow, Carla Leger, Cheri Palmisano, Larry Sprenkle, Nathalie Periard, Molly Carstenbrock, Patti Deluca, Luis Rodriguez, Jackie Graebel, Jane Johnson, Walter Clark, Joseph M. Zafia, Ron Harper, Teri Michalski, Matt Holley, Emily Harper, George Mundy Jr, Brian Nale, Fred Shakeshaft, Eileen Miller, Stefan Owens, Stefan Owens, Katie Owens, Lauren Pinder, Kerry Mccaffrey, Patti Mccaffrey, Kristen Mccoy, and Emily Watson. Each of you are entered in this month's winners' drawing.
_____________________________________________________ _____________________
Challenge #264: Where in the world is this?
Do you know? Do you have a guess? Please send in your answer, before the end of the day on Thursday, January 24th, by clicking on the blue box below. Please do not post answers using the Feedback Form link at the bottom of this post.
See you next week, Players!


_______________________________________________________________________
Everyone who sends in a correct answer to a Where in the World Challenge this month will be entered in a drawing at the end of the month for some special AllEars® goodies!