I have eaten at every Disney restaurant at Walt Disney World multiple times. And I will continue to rotate where I dine when visiting the parks and hotels. I do this not only because I like variety, but it also helps me keep current on changes and updates that are constantly occurring around property. However, I still have my favorite eateries that I return to again and again. At the Animal Kingdom, Flame Tree Barbecue is one of the spots that I visit often.
Flame Tree Barbecue is an outdoor restaurant that is located on the east side of Discovery Island, near the entrance to Dinoland U.S.A. The front of the building is bathed in shades of orange and turquoise with other festive colors thrown in for good measure. A number of whimsical animals adorn the exterior.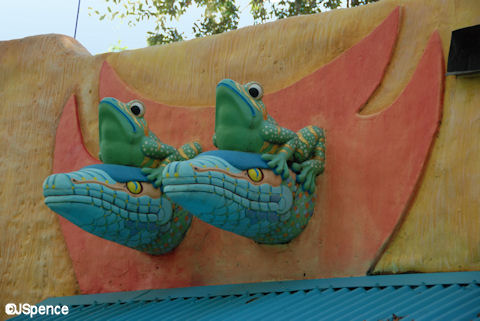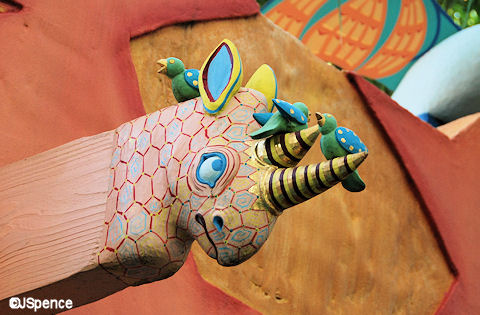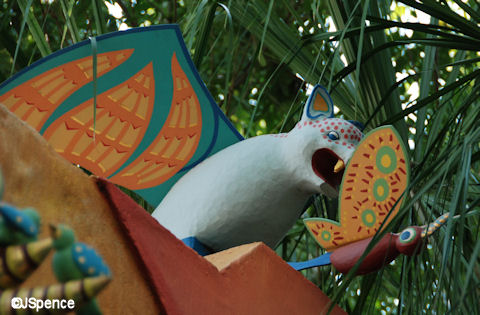 On slow days, guests can simply walk up to any of the several registers and order their meals. On busier days, a single-line arrangement will be implemented to help speed up the queue and alleviate that inevitable "picking the wrong line" situation.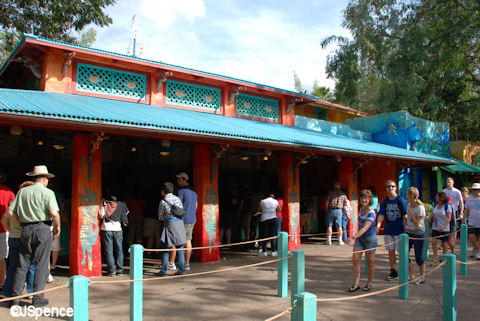 The register to the far left is designated for use by those traveling in wheelchairs (but anyone can use it). There is even a special window on the side of the building to facilitate easier food pick-up.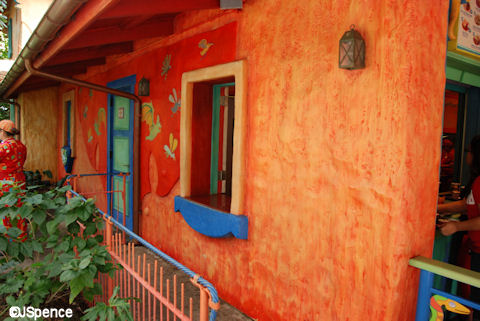 Like all Disney counter service restaurants, Flame Tree Barbecue features large, overhead menus and each register handles two lines.
Don't arrive at Flame Tree Barbecue expecting the traditional flavors you might encounter at chain BBQ restaurants. The meat smoking process and the seasonings are unique and offer a different experience than can be had at many other establishments. In fact, at one time, Disney posted a sign informing guests that their meat smoking process caused the meat to have a pinkish color, but not to worry, it was thoroughly cooked.
The big draw here is the BBQed ribs and chicken. These can be ordered separately or as a combo meal. These selections are accompanied with sides of baked beans and coleslaw.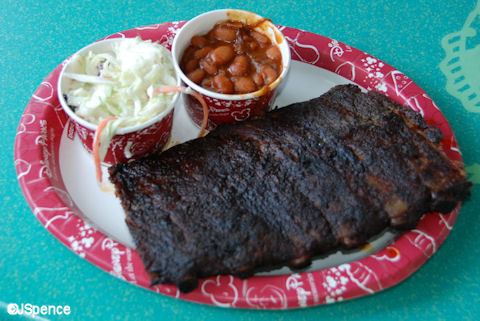 The side dishes have changed various times over the years. When I first started eating here, Disney offered a half cob of corn. I really liked this selection, but alas, it was discontinued. Disney claimed that they were not able to maintain quality and the corn was often served soggy. I never experienced this problem, but I guess others did.
Although I don't have a picture of it, the pulled-pork sandwich served here is also quite tasty.
For an additional charge you can order a side of French fries or onion rings. I highly recommend the onion rings. They are wonderful – unhealthy for you – but wonderful.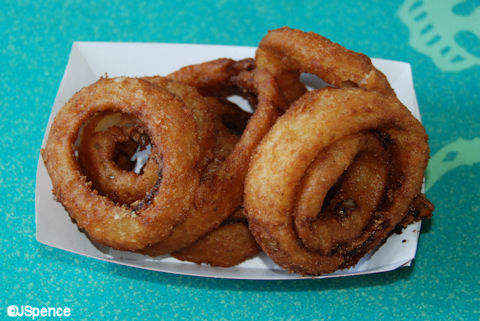 But for those of you who wish to eat healthy, Flame Tree Barbecue offers several options. The Smoked Turkey Breast sandwich is a good bet. Its generous portion of meat is topped with a cranberry mayonnaise and served with a fresh fruit side.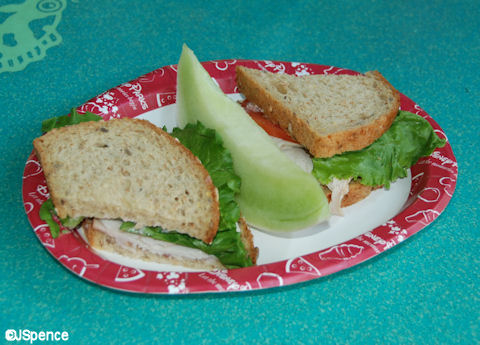 The Barbecued Chicken Salad is also a nice choice. This bowl of mixed greens is full of slivers of barbecued chicken – a bite of meat on every fork. The dressing is light and the BBQ flavor doesn't overpower. This is a refreshing choice on a hot day.
But for me, the best healthy option is the Fruit Plate. This selection features slices and chunks of seasonal fruit served with honey yogurt. It's natural and it's good. To my knowledge, no other counter-service restaurant at WDW serves anything comparable to this attractive and tasty plate.
Flame Tree Barbecue is open for lunch and dinner. To see the complete menu, click here.
Once you have your food, it's time to find a table. At Flame Tree Barbecue, the seating area has been divided into a number of small sections. Many of these are beneath colorful pavilions, each surrounded by lush foliage.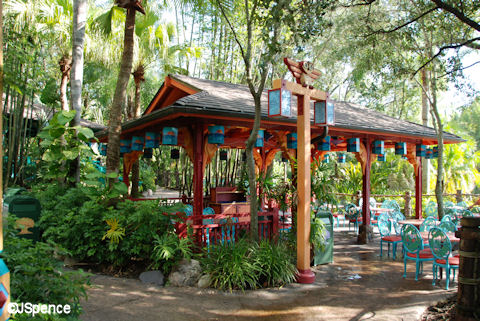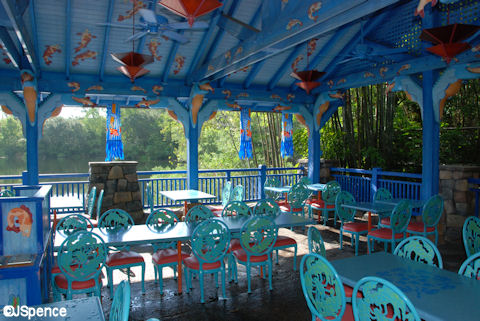 Each pavilion has a condiment stand where you can pick up napkins, tableware, BBQ sauce and other necessities. This arrangement is nice as it allows you to first find a table, then return for those extras needed for your meal.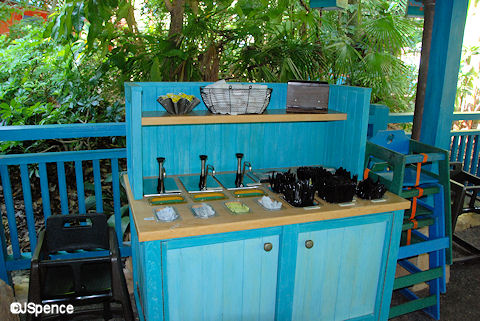 One of the most popular pavilions sits waterside and offers a spectacular view of Expedition: Everest. With every bite, you can hear the screams of delight as intrepid explorers careen down the mountain.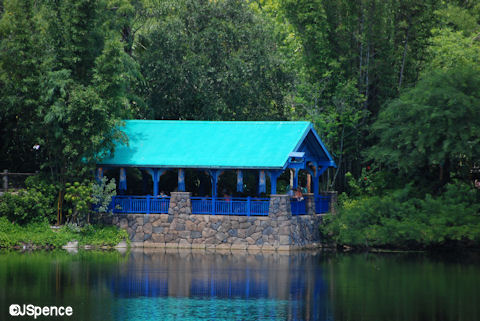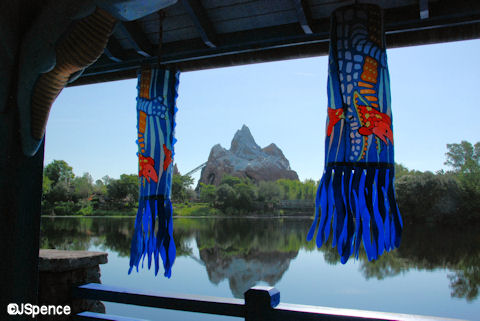 Flame Tree Barbecue also offers one of the most serene and tranquil seating options in all of WDW. Here, tables surround a reflection pool that is filled with animal sculptures and a few real creatures as well. I can't begin to describe how wonderful this spot is. When dining here, you feel miles away from the hubbub and the masses.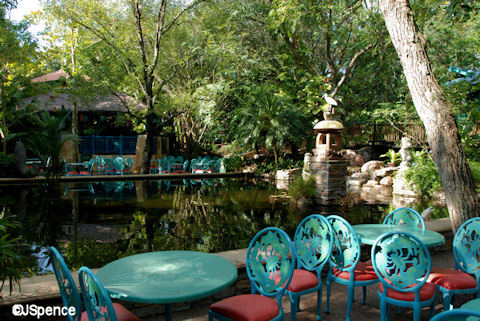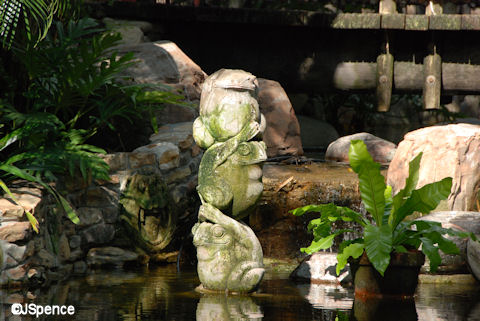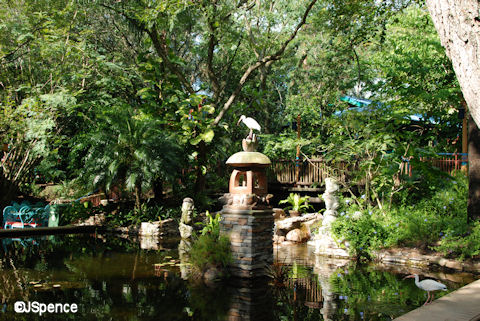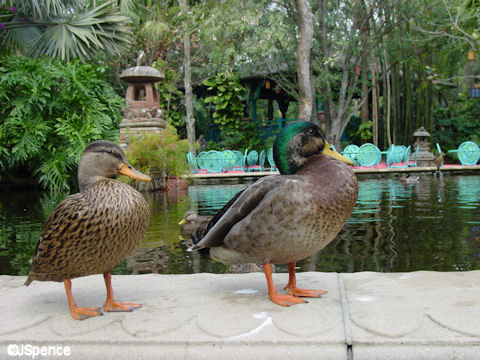 Oh. I forgot to mention. When you receive your meal, you will find a small card on your tray asking you to refrain from feeding the animals.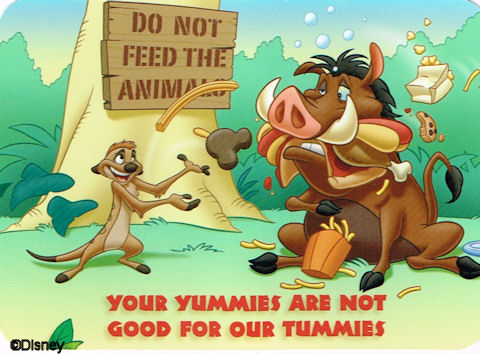 As any of my regular readers know, I become annoyed when I hear people say that the Animal Kingdom is a half-day park. Anyone eating near the reflecting pond at Flame Tree Barbecue should be inclined to spend at least a half hour here consuming their meal, maybe more. This area is extremely beautiful and peaceful and should be savored, not quickly scanned as you devour your food.
Now it's time to discuss the overall theming of Flame Tree Barbecue. The sign out front should give you a clue. Can you figure it out by examining the next picture?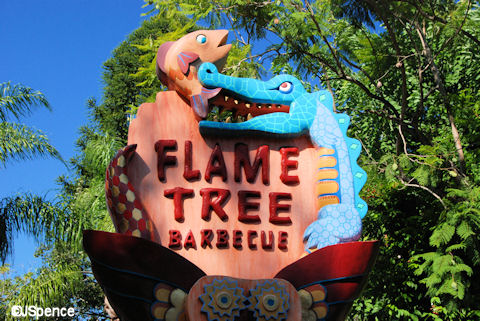 Above you see a gator catching his lunch. Well, that's the theme of Flame Tree Barbecue – Predator and Prey.
Each of the pavilions reveals this theme in a lighthearted fashion. Although done in a way that won't put off young children or those who are skittish about nature, the message is obvious once you notice it. Let's take a look at the pavilions, one by one, to see what I'm talking about.
In this first pavilion we find owls hungrily surveying a colony of rabbits on the building's support posts. On the nearby windsocks we see a rabbit scurrying into its hole as the owl swoops in for the kill. Even the lampposts that illuminate the entire dining area feature owls and bunnies.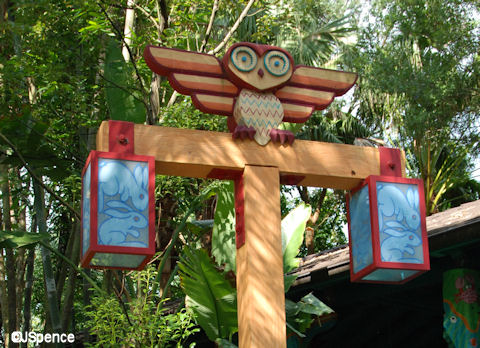 Next we have spiders searching for butterflies.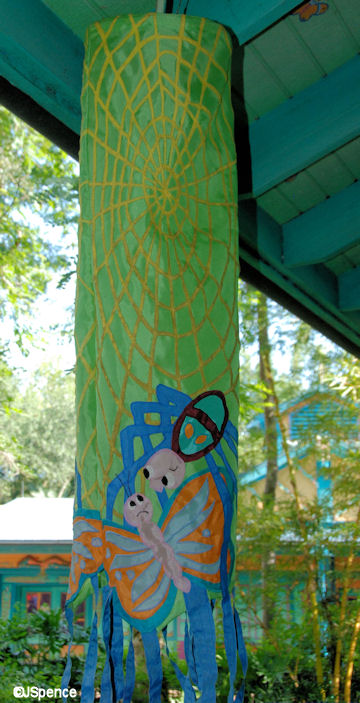 At another pavilion we have eagles looking for everyone's favorite creature, the snake.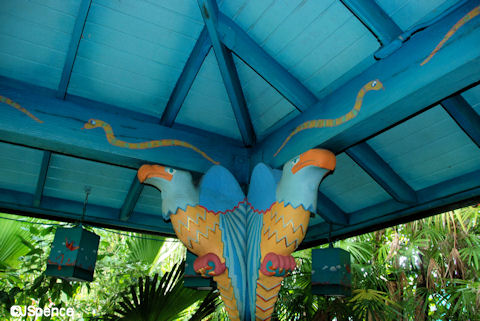 This next pavilion demonstrates that with the exception of those at the top of the food chain, all creatures can be both predator and prey. Here we find snakes in control as they pursue mice.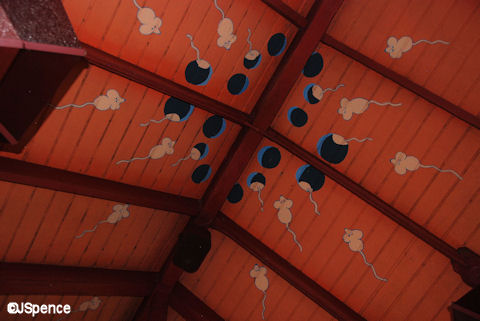 At our waterside pavilion we have crocks munching on fish.
Next we find an anteater using his sticky tongue to gobble up a nest of ants.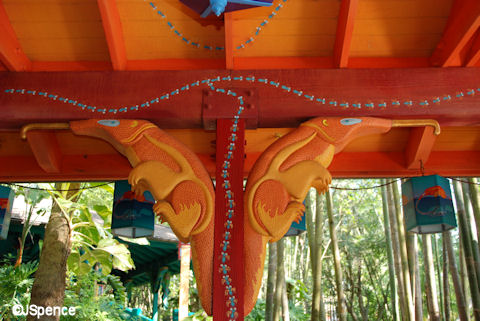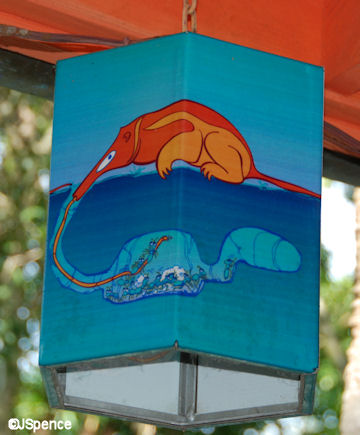 I'm not sure what this next creature is – maybe an eel. At any rate, she seems to have a penchant for crab. Don't worry; Sebastian is nowhere to be seen. On second thought, maybe we should worry – Sebastian is nowhere to be seen.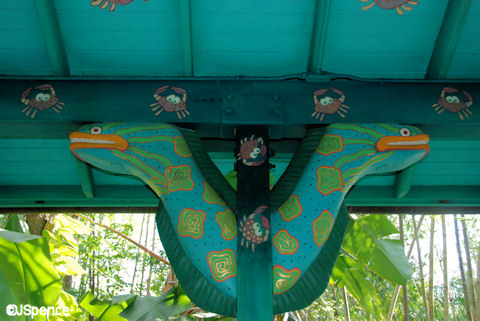 Even the tables and chairs continue this Predator and Prey theme.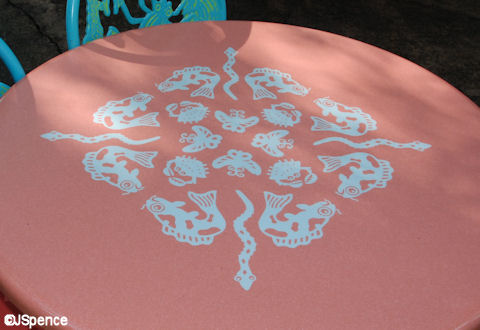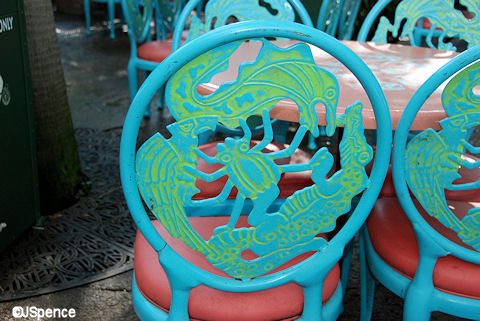 I find it interesting that at a restaurant that specializes in pork products features a statue of a cat-like creature capturing a pig. I enjoy the irony.
Personally, I think the Predator and Prey theming of Flame Tree Barbecue offers parents a wonderful opportunity to teach young children about nature. The depictions here are cartoonish so should not be threatening to little ones. After all, unless you've ordered the Fruit Plate, by eating here, you are demonstrating that humans are at the top of the food chain.
I like Flame Tree Barbecue a lot. I enjoy the food and I appreciate the atmosphere. However, this restaurant offers no indoor seating. If it's really cold or really hot outside, you might want to try another of my favorite Animal Kingdom restaurants, Pizzafari. But if the weather is nice, this is a wonderful spot for good food and a pleasant atmosphere.