IBM opened an exhibit in Innoventions West on January 9, 2013. This new interactive display celebrates IBM's 100th anniversary by discussing and promoting the necessary tools needed for invention and progress. The display also examines how science has changed our lives for the better. When you think of it, that was Walt's original idea for Tomorrowland at Disneyland when it opened in 1955.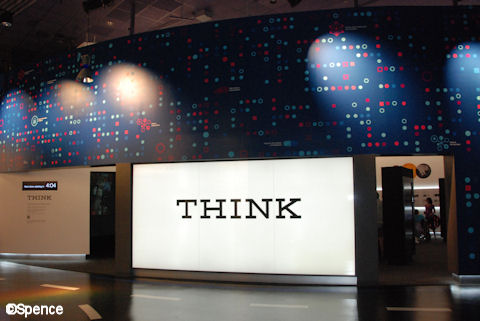 As you can see in the pictures above, THINK is the catchphrase for this exhibit. For without thought, there would be no innovation. I felt there was a similarity between IBM's "computer" graphics and those found in the new Test Track.
When first entering the display area, you will see a small theater and a countdown clock. Here, a nine minute movie is shown that beautifully displays the essence of the exhibit. The editing of this film is wonderful.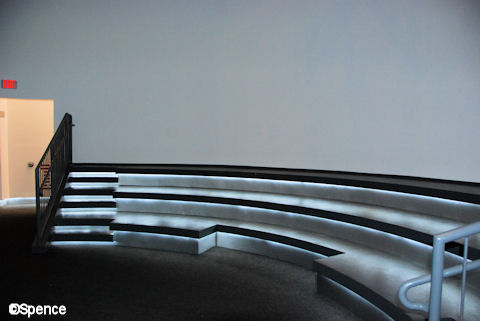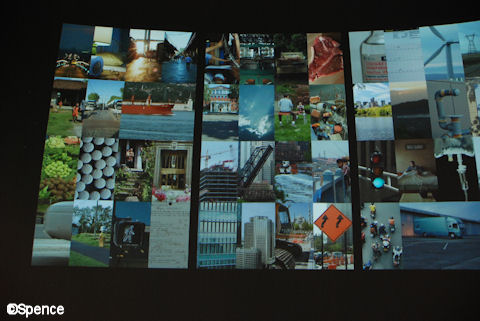 In my opinion, you should skip the film until AFTER you've looked around the exhibit and tried some of the hands on displays. If you see the movie without the proper background you will be totally lost. That's what happened to me. When I arrived, the next showing was in 23 seconds so I thought, "I better see this NOW." Although I enjoyed the presentation, the message was a little cloudy without the proper set up. After touring the exhibits, I saw the film again and everything made a lot more sense.
The THINK exhibit promotes the concept that all progress comes from five basic components, Seeing, Mapping, Understanding, Believing, and Acting.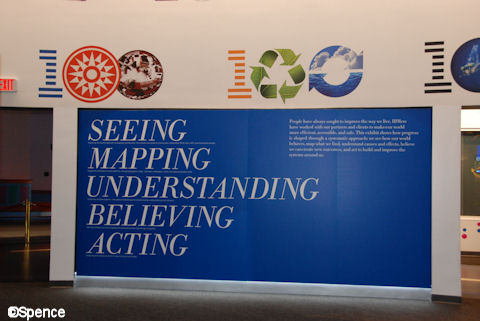 SEEING: Capturing the world's data with increasingly precise tools – from clocks and scales to microscopes, telescopes, and FRID chips.
MAPPING: Organizing this data to show patterns – through geographic maps, calendars, charts, and data-visualization tools.
UNDERSTANDING: Explaining complex systems – like weather forecasting and airplane testing – and predicting their behavior.
BELIEVING: Gaining confidence to drive progress and persuading others that change is possible.
ACTING: Designing and building systems to make the world work better.
To help guests better understand these components of progress, a number of large monitor-monoliths have been placed around the room. Each of these giant screens tackles a different component and helps the guests understand the part it plays in developing positive change.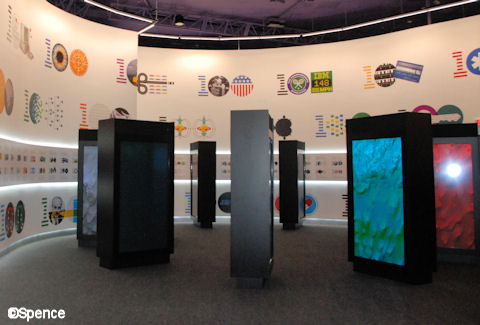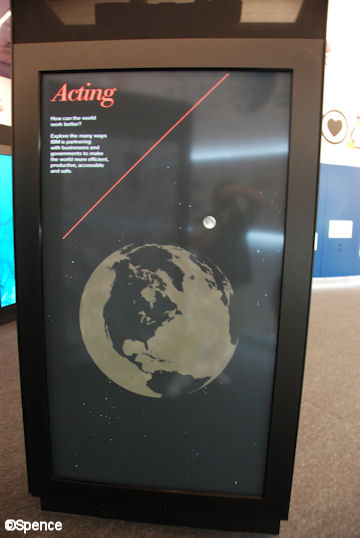 By swiping the screens in the same manner as you operate your smart phone, guests can access an array of information. I played with one interactive monitor that showcased many of the great inventions that took place over the centuries and helped us live better lives.
In the next pictures, you can see how I selected the topic of Earthquakes. I then discovered that the first seismograph was invented in China in 132AD.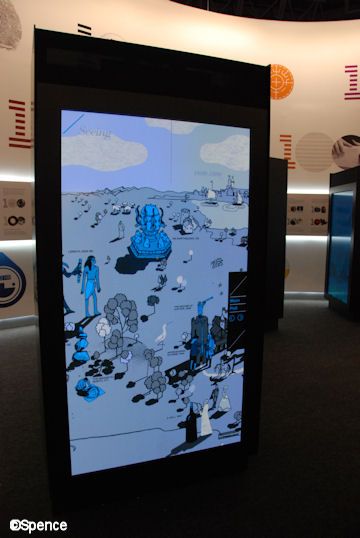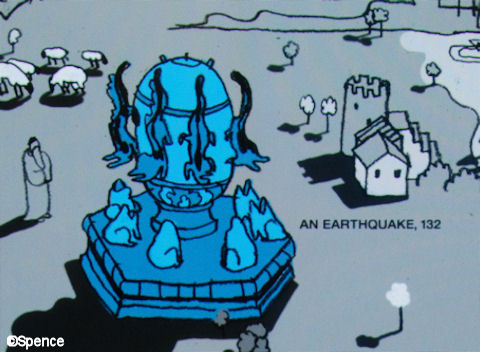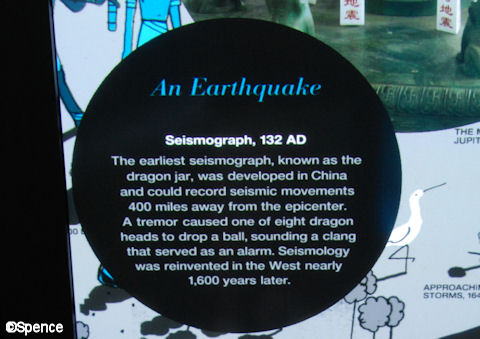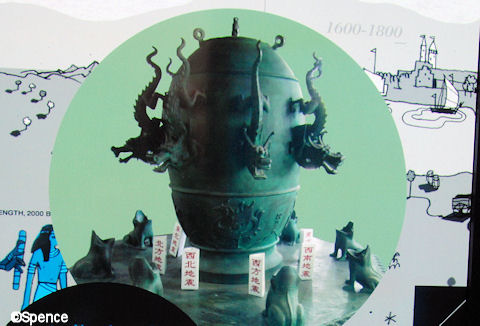 To honor IBM's 100th anniversary, a "ribbon" circles the room and presents "Icons of Progress." These represent milestones and breakthroughs that have changed the way we work and live. For more information on this topic, guests are encouraged to go to ibm.com/think.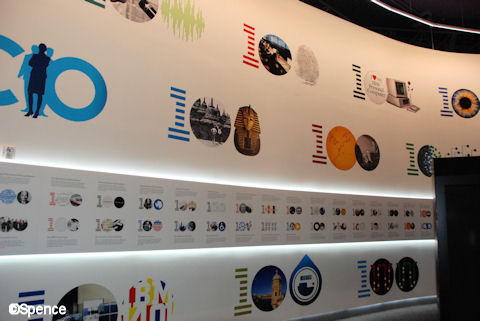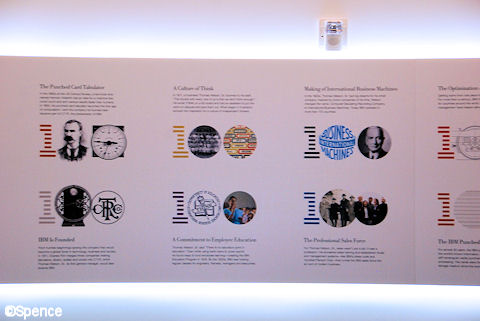 Another wall features a bank of monitors. This is the area of the exhibit best suited for children as these screens offer an entertaining game. I won't go into detail as to how the game is played, but at the conclusion of each session, the winner is given one of ten possible buttons as determined by the outcome. Of course, it's IBM's hope that true Disney fans will want the entire collection of pins, enticing them to play the game multiple times – and thus, learn more about IBM.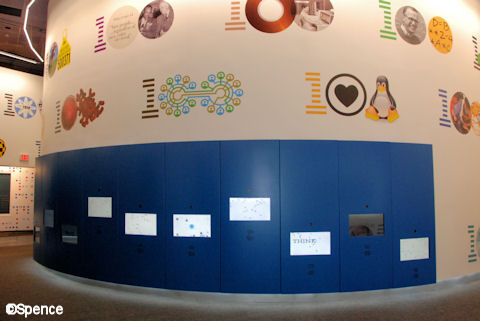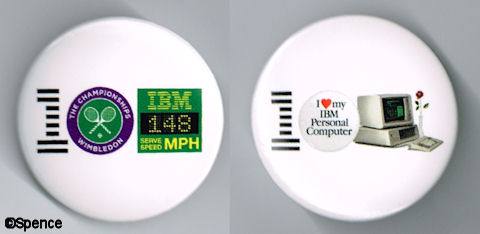 At the end of the game, guests have the option of having their picture taken and sending an electronic postcard to two of their friends. Note, you will not be put on any mailing list and you will not receive any ads from IBM if you opt to send a postcard. Also, this database is purged of all email addresses every six months.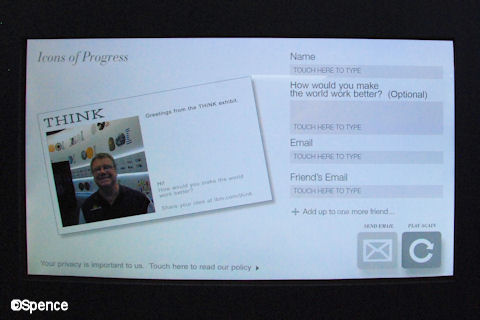 For those guests and educators who want to learn more about the THINK project, they can download an app for their iPad and Android tablets. A QR code is displayed on one of the walls to help with this process.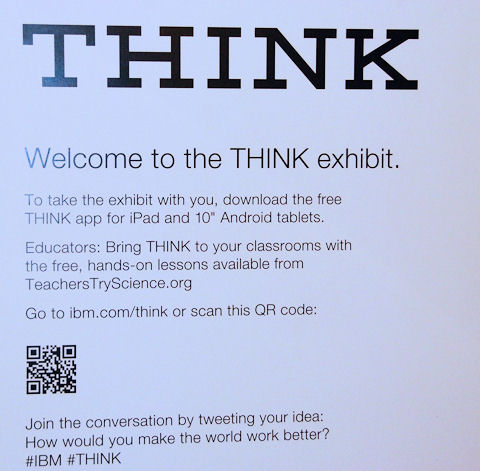 Across the walkway from the main exhibit is a super computer. Unfortunately, it is behind smoked glass so a good picture of it is difficult to obtain.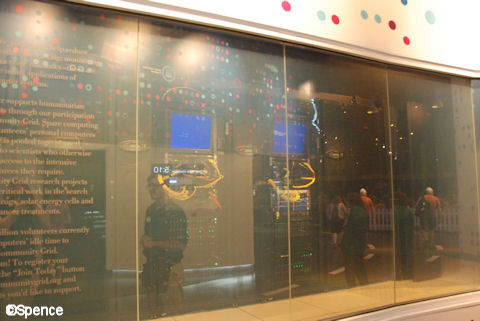 IBM maintains the World Community Grid. This grid is made up of super computers like this one and a half million personal home computers whose idle time is being donated by their owners. This computer power is "loaned" free-of-charge to organizations conducting humanitarian-type research, but who may not have the means necessary to utilize such a powerful computing machine. Some of the work being conducted on this network includes finding better AIDS drugs, analyzing complex traffic patterns, solar energy cell research, and more effective cancer treatments.
The THINK exhibit is manned by both IBM employees and Disney cast members. I would like to thank Andrew (who works for IBM) for taking the time to help me understand this newest addition to Innoventions.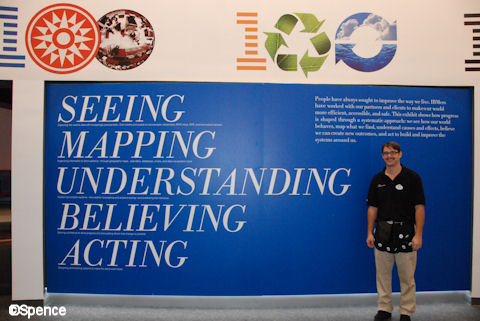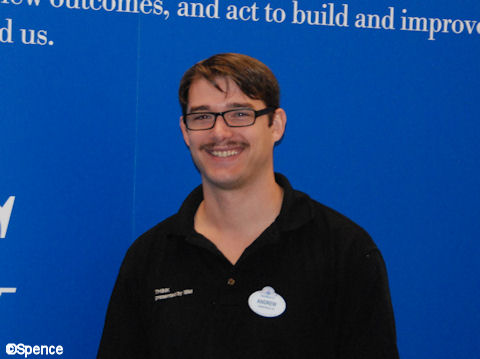 So what did I think of this new exhibit.
Like most of Innoventions, I believe these exhibits are best put off until your second day of touring Epcot. There is no way THINK can compare to Soarin', Test Track, or Mission: Space. But once the urgency of these super-attractions is out of the way, Innoventions has a lot to offer.
I believe that THINK is heavy on information and light on entertainment. Although the monolith monitors are fun to maneuver, there is nothing groundbreaking in their function. As I mentioned earlier, anyone with a smart phone already is familiar with this information delivery system.
Kids will be totally bored at THINK. Yes, there is a game for them to play, but that's about it. All of the displays are very adult in nature and not alluring to anyone under 16.
For trivia buffs, there is a lot of great information to be garnered here. This would be a wonderful place to practice before auditioning for Jeopardy.
Like everything in life, the more you put into it, the more you'll get out of it. THINK definitely falls into this category. In order to get anything out of it, you will need to invest some time.