Today was the first 13.1 miles of our 39.3 mile "Goofy" experience – the Walt Disney World Half Marathon. We tried not go to out too hard or fast, since we have 26.2 more to do tomorrow, and finished in 2:32:58.
Our day started very early – we'd planned to get up at 2:30, but neither of us slept very well (combination of the three-hour time change and nerves), and we got up at 2:15. I had to laugh, because my phone is still on west coast time, and said that it was still Friday night! We'd gotten everything ready to go the night before so it was mostly a matter of having some breakfast and preparing our water bottles/nutrition.
We made it out to the bus stop a little after 3:00 a.m., which is when the buses started running. One bus had just left, but another one quickly arrived and we were on our way to Epcot. For a change there was no traffic getting into Epcot (like there is when we've left closer to 3:30 or 4:00), and we were quickly dropped off and walked over to the staging area. It was about the same as always, though it seemed like they had a lot more porta-potties this year, so the lines weren't so long.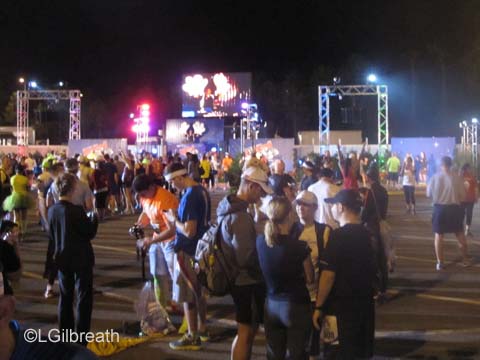 Team AllEars had established a meeting point, and we found several of our teammates already there, and others soon followed.
At about 4:15 Deb Wills gave us a pep talk and we posed for a team photo.
They had started sending runners to the corrals (at least a .5 mile walk) about 4:15, so we headed that direction about 4:25. And met a wall of people. Who weren't moving. After 20 minutes we had gone maybe 50 feet. Finally we broke free a little bit, to where we could at least shuffle along.
Lee and I didn't get to our start corral until AFTER the national anthem and AFTER they had sent the wheelchair runners off at 5:30. It took an hour to get to our corral – and there were a lot of people who were still behind us.
Fortunately we were in time for the start of the race, and got to see the fireworks. We were in Corral D, so couldn't really see the start line fireworks, but there was a very nice display right behind us!
We were really far away from the start line, but there were large screens up so we could see a little bit of what was going on – like the characters in their running suits you were at the start line.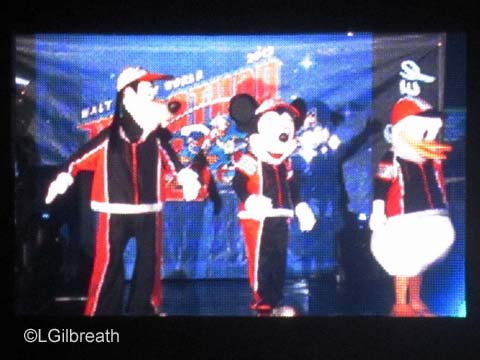 This year they sent the waves off about 6 minutes apart. There were some fireworks over the start line for each wave.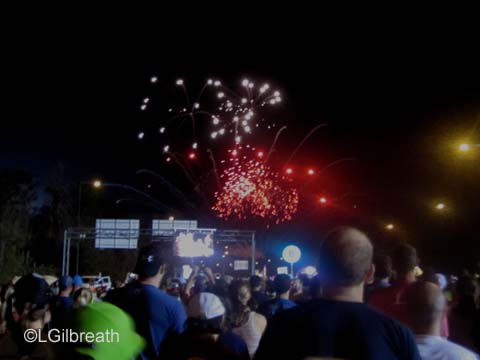 Finally it was our turn – we crossed the start line 24 minutes after the race had started.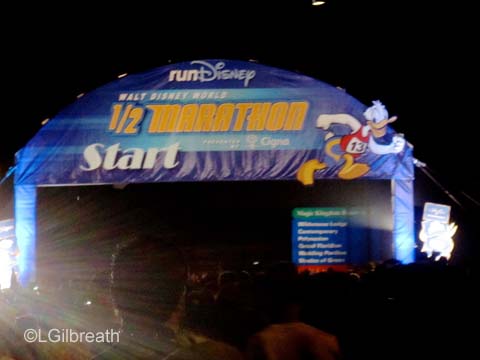 The Mile 1 sign is the only one I took a photo of this time.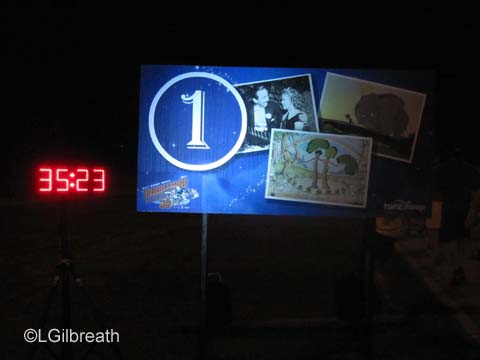 Not long after that were some of our team members cheering us on.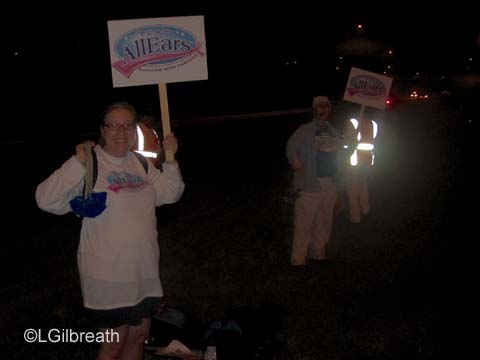 They had this great pirate ship on the course, but the line for photos was very long. That was the case the entire race – most lines we saw were 20-30 deep – it wasn't until after mile 12 that we saw two short lines.
There were about 27,000 runners entered, with 23,126 finishers. That made for very crowded conditions on the course, and it was really almost dangerously congested in the areas where the course throttled us down to only one lane. There were far too many of those, in my opinion. The course seemed narrower than it was when we ran the half two years ago. We didn't really get to where we could run "in the clear" until about mile 8.
Because of the conditions I took very few photos – it was just too narrow to stop or the lines were way too long.
We were into the Magic Kingdom just past mile 5. Cinderella Castle was still covered with ice lights, and very pretty.
More of our Team AllEars cheering section was at the hub. Our cheer people are the BEST – they cheer for everyone!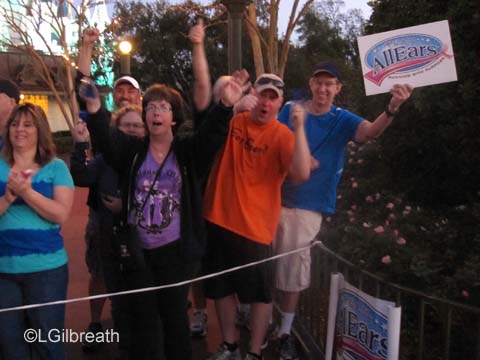 When we ran through the castle – we came to a stop. There were just too many people, and we ended up WALKING down to Main Street. That was very disappointing – that's one of the highlights of the run!
I didn't take any more pictures until we ran into our last AllEars cheering section at about mile 11.5. It was great to see them there – and also great that we only had about 1.5 miles left! We were still feeling pretty good – we'd planned to hold back a bit today anyway, but the crowds forced us to do that even more than we had planned.
Finally, inside Epcot, we found a character with NO line – and it was actually Stitch! We had to wait a couple of minutes "while Stitch went to get a snack", but he came back and we got our photo.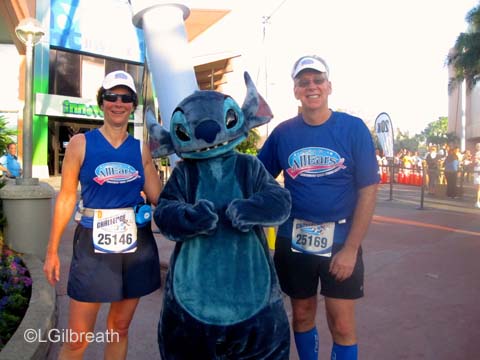 We finished strong, with a time of 2:32:58, which was about what we'd planned today – except we had thought that would include a lot of stops for photos.
We made our way through the finish area and got our Donald medals. (I think Donald looks a little lonely and needs someone to keep him company – Mickey and Goofy, perhaps?)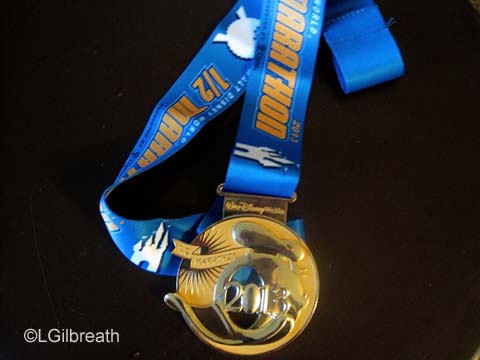 For refreshments runDisney is still giving out those silly boxes. But hey, they also had bananas and small packets of gummy candies! (Really??? They can't do better than that???) At least they had plenty of bottles of water and PowerAde.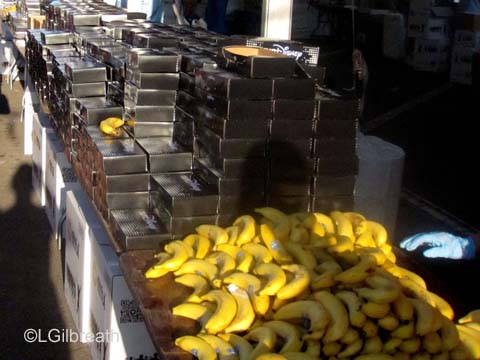 I'd been concerned about the "heat advisory" but it ended up being ok for us. It was about 62 when we started and still under 70 when we finished, though it was quite humid. We'll be out there a lot longer for the marathon, though, and if the sun is out it will get very warm very quickly. I'm hoping for clouds during the marathon!
This afternoon was our big Team AllEars Meet where Deb revealed our fundraising total for this year. $78,651!!! Thank you to all of you out there who donated – and if you didn't donate and would still like to, please visit Deb's Avon Walk page. What we all do really does make a difference.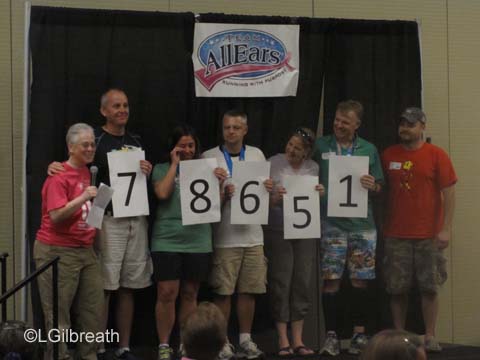 So tonight is very much like last night – get the running gear all ready, set the wake-up call, and try to sleep. Though at least tonight we're pretty tired so we think we should be able to sleep!
It'll be a much longer day for us tomorrow, but we're looking forward to getting out there and seeing the new marathon course. We're hoping that it won't be quite as congested, but since the first 8 miles are identical to what we did today, and there are about 25,000 signed up for the marathon, we expect it to be about the same. Oh well…it should clear out a bit at that 8 mile point again.
Wish us luck!