One of the great things about dining at Disney World is that there are no shortage of options, even if you are just looking for a quick bit to eat. While many of Disney's full service restaurants garner great popularity and acclaim, there are also numerous compelling counter service options to be found as well. Just because you may not have the time to devote to a sit-down meal, or even if you are dining on a more stringent budget, does not mean that you have to suffer in terms of the quality food that you are receiving. While some of these locations feature the staple burgers, hot dogs, and pizza, there is such a great variety of food to be found at counter service restaurants across the parks, resorts, and Downtown Disney.
One of my favorite counter service restaurants at Disney World is actually found at Downtown Disney. The irony of this restaurant is that it is not actually Disney-owned, but part of a chain that has locations all across the United States. Nevertheless, when it comes to counter service dining, there are not too many locations at Disney World that can match Earl of Sandwich.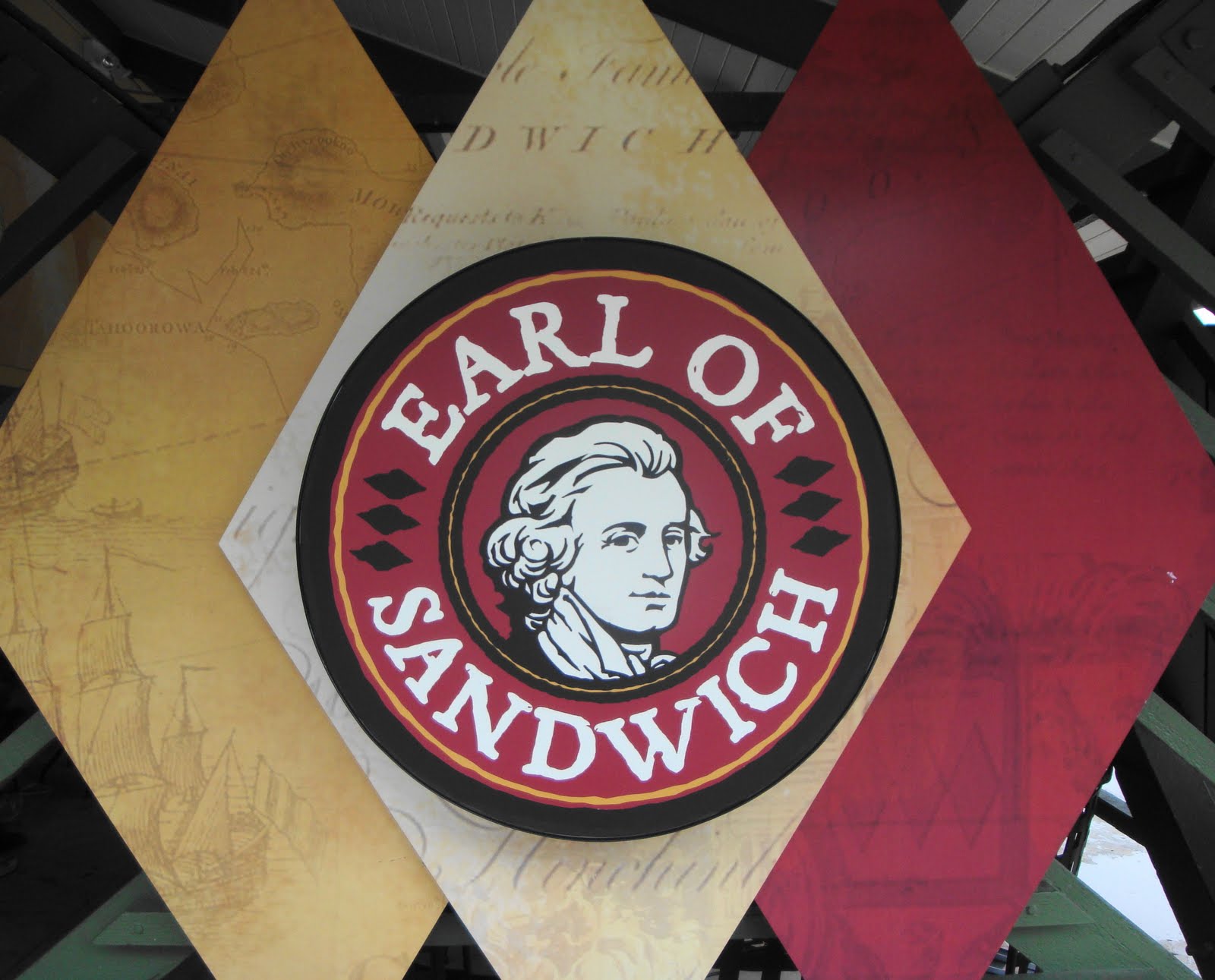 Located at the Downtown Disney Marketplace, Earl of Sandwich offers great variety of sandwiches, wraps, and salads at a very reasonable price; it comes as no surprise that the restaurant is always packed with people. The Earl of Sandwich alone is a worth a visit to Downtown Disney and, if you do not feel like waiting maybe an hour or more for a table at one of the full service restaurants, offers a great alternative for both lunch and dinner.
Overview:
The story of the invention of the sandwich helps provide the back-story for the Earl of Sandwich restaurant. John Montagu, the fourth Earl of Sandwich, was commander of the British navy, a noted explorer, as well as someone who greatly enjoyed gambling and card games.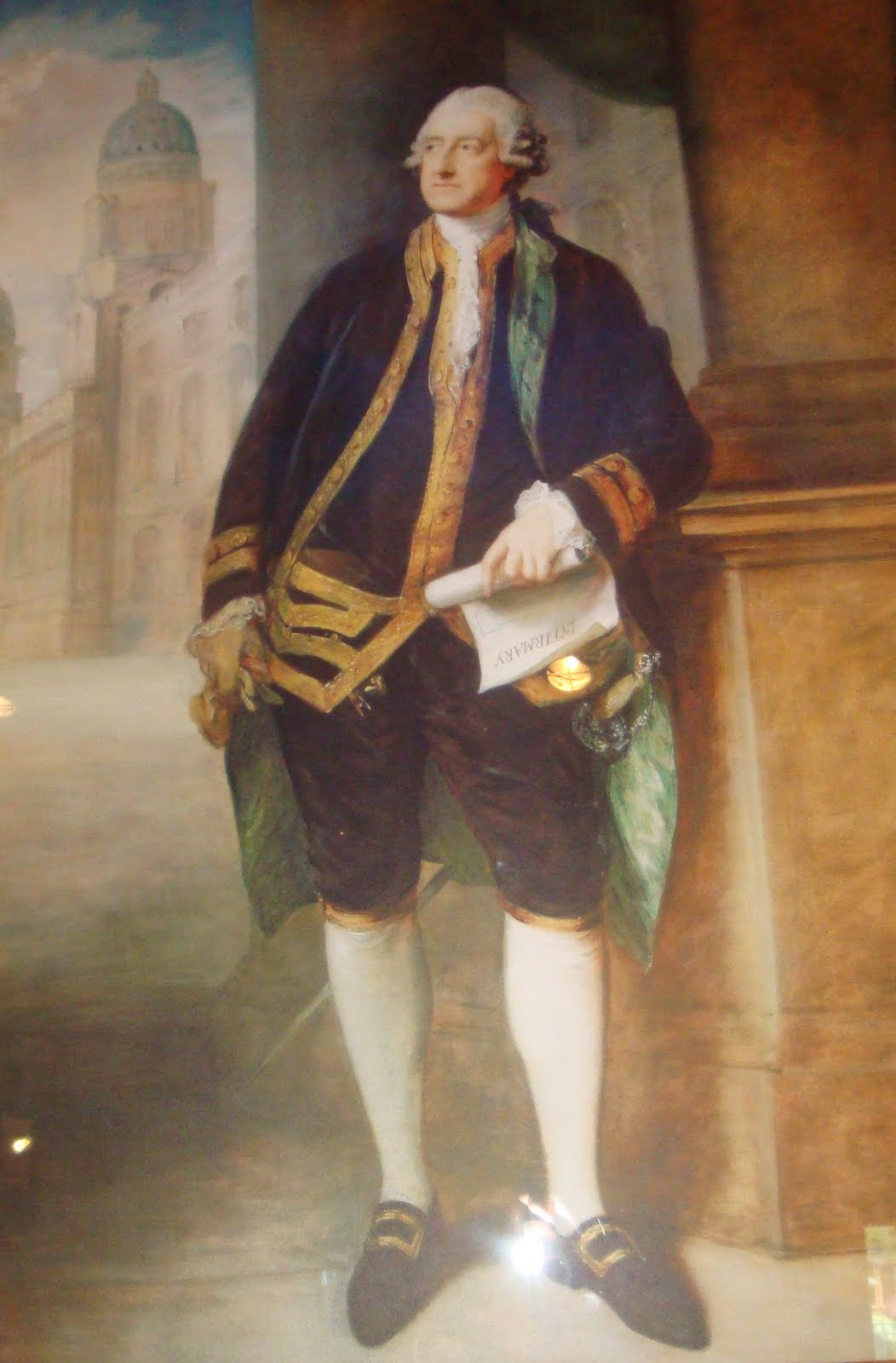 As the story goes, Montagu was so busy that he had very little time for food and came up with the idea (possibly while playing a game of cards) of putting meat between two slices of bread for a quick and easy meal that could be eaten on the run. As a result, in 1762, the sandwich was named in honor of its inventor. Now, nearly 250 years later, the Earl of Sandwich restaurant continues this tradition and boasts that it is home to "The World's Greatest Hot Sandwich." The Earl of Sandwich's illustrious history and tradition is set forth in the restaurant's official charter and aptly describes the restaurant's premise and objective:
Atmosphere:
Earl of Sandwich has become extremely popular and is always crowded no matter what time of day you go, but especially during the peak dining times. For this reason, seating (or lack thereof) can become a real issue. The restaurant offers both indoor and outdoor seating, but it can sometimes be difficult to find a table. This can clearly be seen on extremely hot or colder days because people do not want to eat outside and there is not enough indoor seating to handle everyone. The seating area inside is not very big and the tables are packed very tightly together. Combined with the large crowds, this makes it a little loud inside the restaurant.
If you are looking for a quieter dining experience, it is probably best to find a table outside.
All that being said, there are several aspects of Earl of Sandwich's atmosphere that are very appealing. The restaurant's high ceilings give it a much-needed open feel (especially with the tables being so close together) and the light fixtures, book shelves, faux fireplace, and fresh-cut flowers on every table give a little touch of refinement to what is an otherwise very causal and laid-back environment.
The classical music playing in the background is also a nice added touch, even though it can be somewhat difficult to hear at times. All this helps to give the restaurant a little taste of 1762; you can almost feel as though you are sitting in John Montagu's parlor waiting to play a game of cards.
An aspect of the atmosphere that probably goes unnoticed by most guests is the Earl of Sandwich Historical Society. Located around the corner from where you place your order, the Historical Society is a full wall that features maps, pictures, paintings, and other information about the history of John Montagu.
Here you can find, among other things, a portrait of the Earl of Sandwich as well as the family coat of arms. It really helps to give the restaurant a level of detail and history that goes beyond what you would typically expect to find in a counter service restaurant.
The Menu:
One of the things that stands out most about the menu at Earl of Sandwich is the sheer number of options. Each of their sandwiches are $5.99, are made to order, and served on one of their fresh artisan loafs. The menu includes The Original 1762, with fresh roasted beef, cheddar, and a creamy horseradish sauce, The Earl's Club, featuring roast turkey, smoked bacon, Swiss cheese, lettuce, tomato, and sandwich sauce, the All American, topped with roast turkey, buttermilk ranch, cranberries, cheddar cheese, lettuce, and tomato, the Italian, which includes salami, capicola, roasted ham, mortadella, mozzarella, tomato and a zesty Italian dressing , The Full Montagu, featuring roast beef and turkey with sharp cheddar and Swiss cheese, romaine lettuce, tomato and the Earl's mustard sauce, Cannonballs, with meatballs, mozzarella parmesan cheese, and marinara sauce, the Tuna Melt, featuring albacore tuna salad and Swiss cheese, the Chipotle Chicken Avocado, topped with grilled chicken, bacon, cheddar, avocado, lettuce and chipotle sauce, the Hawaiian BBQ, featuring roasted ham, grilled chicken, Hawaiian BBQ sauce, Swiss cheese, and fresh pineapple, the Ham and Swiss, topped with roasted ham with Swiss cheese and the Earl's mustard sauce, the Holiday Turkey, complete with turkey, stuffing, gravy and cranberry sauce, the Caprese, topped with mozzarella, tomatoes, fresh basil, and balsamic vinaigrette, the Caribbean Jerk Chicken, with grilled chicken, roasted red and banana peppers, and a spicy jerk sauce, and the Best BLT, featuring smoked bacon, lettuce, tomatoes, and seasoned mayonnaise.
The menu does not stop with sandwiches, but also includes an array of wraps, all of which are $5.99 as well. Among these are the Buffalo Chicken, with grilled chicken, cheddar, romaine, tomato, buffalo sauce, and ranch dressing, Chicken, Bacon & Avocado, topped with grilled chicken, bacon, romaine, avocado, bacon, tomato, cucumber, and balsamic vinaigrette, the Baja Chicken, featuring grilled chicken, cheddar, romaine, tomato, fajita seasoning, chipotle seasoning, and balsamic vinaigrette, the BBQ Ranch Chicken, which includes grilled chicken, cheddar, romaine, cilantro, tomato, crispy onions, BBQ sauce, and ranch dressing, the Thai, with grilled chicken, romaine, Chinese cabbage mix, sweet chili sauce, and Thai peanut dressing, the Chicken Caesar, topped with grilled chicken, parmesan, romaine, croutons, and Caesar dressing, and the Spicy Tuna, which includes albacore tuna salad, romaine, tomato, kalamata olives, pepperoncini peppers, chipotle sauce, and balsamic vinaigrette.
For those looking for something a little on the lighter side, there are also a number of salads available, which are also $5.99. These include The Earl's Cobb, topped with grilled chicken, smoked bacon, Swiss and cheddar cheese, tomatoes, cucumber, cranberries and ranch dressing, the Baja Chicken, featuring romaine, grilled chicken, cheddar, cilantro, avocado, tomato, roasted corn, black beans, tortilla strips, and a red wine vinaigrette, the Chicken Caesar, with grilled chicken, field greens and romaine lettuce, parmesan cheese, croutons, classic Caesar dressing, the Chicken, Berry and Almond, featuring spinach, grilled chicken, fresh strawberries, fresh blueberries, almonds, and balsamic vinaigrette, the Greek, which includes romaine lettuce, grilled chicken, feta, tomato, kalamata olives, pepperoncini peppers, and a zesty Italian dressing, the Asian, featuring romaine, grilled chicken, Chinese cabbage, mandarin oranges, almonds, wontons and an Asian dressing, the BBQ Chicken, which includes field greens, grilled chicken, cheddar, cilantro, tomato, crispy onions, BBQ sauce and ranch dressing, and the Thai Chicken, with field greens, grilled chicken, Chinese cabbage, sweet chili sauce, wontons, and a Thai peanut dressing.
There are also various side items available for purchase, including potato salad ($1.99), pasta salad ($2.29), the coleslaw ($1.99), and potato chips ($1.29). It is really a menu that offers something for everyone and the hardest part is really deciding what you want to order.
Despite all the variety on the menu, I have a small number of mainstays that I gravitate to each visit. This time I decided on The Original 1762, with fresh roast beef, cheddar, and a creamy horseradish sauce. I think the best place to start talking about the sandwiches is the bread because this is really what makes them so special. While bread alone does necessarily not make a sandwich, it can certainly break a sandwich. At Earl of Sandwich, however, is a highlight unto itself. Every sandwich is made to order so you know it is always going to be fresh and hot. The bread is perfectly toasted so it is slightly crispy on the outside but still soft and warm on the inside. The bread is so good that I could just go there, order some toasted bread, and be completely satisfied.
There have been times that I ordered The Original and the roast beef was a little too rare for my liking, but most of the time it is cooked absolutely perfectly with just a slight hint of pinkish color. For those of you who might be scared away by the horseradish sauce, it is not too strong at all and really serves compliment the roast beef rather than being too overpowering. The horseradish helps add to the flavor of the sandwich and gives it just a little bit of a kick, making it something more unique than your standard roast beef sandwich.
Along with the sandwich I chose a side of potato salad. The light and refreshing flavor of the potato salad provided a perfect complement to the heartier flavor of The Original. The potatoes were red-skinned and were cooked just right so as to be not too soft and mushy nor too hard. The potato salad did have a strong mayonnaise base, but also featured a slight hint of dill to provide some extra flavor. While the potato salad did not have the same "wow" factor as the sandwich, it was still a good accompaniment for the meal.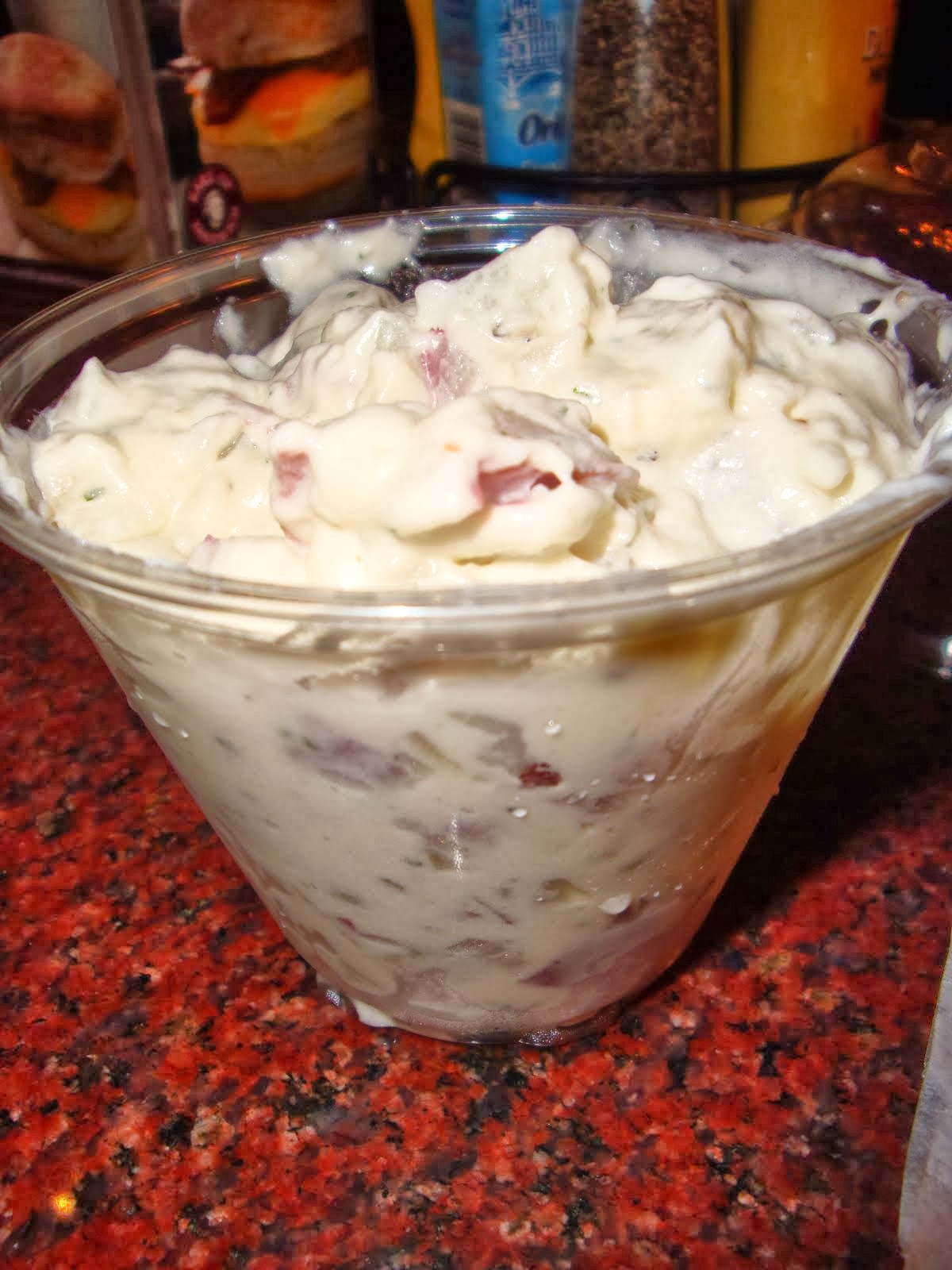 Dessert at Earl of Sandwich is definitely something that should not be overlooked. Even though the sandwiches can be very filling, it is worth saving room for dessert. Like the rest of the menu, there are a good number of dessert offerings to choose from, ranging from fresh baked chocolate chip cookies ($1.99) to brownie bites ($3.99), brownie sandwiches ($2.49), cupcakes ($2.49), bread pudding ($2.49), strawberry shortcake ($2.99), and even ice cream sandwiches ($3.29). My favorite dessert by far is the Peanut Butter-Filled Brownie Sandwich.
The one word I could come up with to describe this dessert is heavenly. The brownie is extremely moist and also has chocolate chunks throughout that gave it added texture and flavor. The peanut butter filling is extremely smooth, sweet, and creamy; the combination of peanut butter and chocolate is just perfect. This is a very rich and heavy dessert and is easily big enough to be split by two people (but it is so good that you may just want to eat the entire thing yourself).
Service:
Like with every quick service dining location, the Earl of Sandwich is able to serve a large number of guests in a small amount of time. Because the restaurant is so crowded, this efficiency takes on an even greater importance. Guests place their order at one end of the counter and are then given a pager to let them know when their food is ready. Everyone then makes their way down to the other end of the counter to pay. The service is often so fast that, by the time you pay for your meal, your pager is already vibrating to let you know to go pick up my order.
The service at Earl of Sandwich is so quick in part because they have so many people working behind the counter. The only problem I noticed was that they sometimes resorted to yelling as a way of keeping the guests moving in line. While it seemed that they were doing this in order to serve as many people as possible, it was unfortunate that it came at the expense of their interaction with the guests. I have seen other quick service locations throughout Disney World that are able to provide speedy service but still have Cast Members who are able to interact with guests in a way that is both pleasant and personable. This might be due to the fact that Earl of Sandwich is not a Disney-owned restaurant.
Dining on a Budget:
When it comes to dining on a budget, there are not too many places at Disney World that are better than Earl of Sandwich; it may be the best value on all Disney property. The prices are all very reasonable, the food is great, and the portion sizes are big. With sandwiches, wraps, and salads all just $5.99, this is cheaper than most offerings found at other counter service locations across the parks and resorts. When you also take into account that side items are just around $2.00 and desserts range between $2.00 and $3.00, you can have an entire meal for a very reasonable price. If you are dining on a budget, Earl of Sandwich is definitely the place to go.
If you have a AAA card, you will receive a 10% discount on your items.
It should also be noted that Earl of Sandwich is on the Disney Dining Plan and worth one counter service credit.
The Overall Experience:
One of the reasons why I like Earl of Sandwich so much is consistency. All the times that I have been there I have never been disappointed. I always know my sandwich is going to be hot and fresh, the portion size is going to be big, and the price is going to be reasonable. This is the recipe for success that has made Earl of Sandwich so popular. The quality of food is definitely worth having to wait in what can often be a long line. Even though it is a chain restaurant with locations across the country, Earl of Sandwich has become synonymous with Downtown Disney. Next time you are looking for somewhere to eat while at Downtown Disney, especially if you do not feel like waiting a long time for a table at one of the sit down restaurants, definitely consider giving Earl of Sandwich a try. Its cuisine may be simple (just sandwiches, salads, and wraps), but its quality is top notch and the prices are very affordable. After trying it once, you will want to go back again and again.
See past restaurant reviews by guest blogger Andrew Rossi.
Check out Reader Reviews of Earl of Sandwich and post your own too!