To all who come to this photo trivia game, Welcome! Along the way, the photos can make us relive memories and see details Walt's Imagineers put into everything we love in Walt Disney World!
Bon Voyage to the The Kertes Family on a special Disney birthday trip! And hello to Patti and Kerry McCaffrey who are in Walt Disney World now.
I wish I was in Disney, too, Patti Gumiela and Karen Smith!
Jill Hauth and Hunter Armstrong knows what we mean as Jill and the Armstrong family are going through the post-Disney vacation blues.
Here was the challenge last week:


And here's the answer: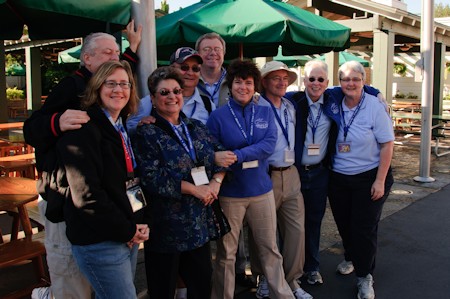 Copyright © Erin Blackwell
It's the seating at The Sunset Ranch Market at Disney's Hollywood Studios where you will find Rosie's All American Cafe, Fairfax Fare, Toluca Legs Turkey Company, and Catalina Eddie's. It's inspired by L.A.'s Farmer's Market and right by Rock 'n' Roller Coaster Starring Aerosmith, the Twilight Zone Tower of Terror, and Beauty and the Beast. You can read all about its history in Jack Spence's blog (thanks to the Hoekzema Family for the reference)!
And! The site of quite a few meet and greets for the AllEars Team, like in this 2010 picture, marking the start of 2013!
I hope you think it is a good choice for the first one of the year, Cheri Palmisano!
Susan and Mike of Team Hill was the first to send in the correct answer! Congratulations to Susan and Mike and all our winners this week! Debbie Desimone, Al Desimone, Paul Scimeca, Diane Curfman, Karen Gates, Mary Beth Tarbet, Mario De Lepper , Andrea Fifield, Jennifer Shoulders, Denise Stevenson, Stephen Heywood, Sheila Lees, Christine Homer, Andy Schumacher, The Kertes Family, Tara Druckenmiller, Cindy Derosa, Tina G., Brandi Benedict, Lori Juliff, Colette S, Donna Quinno, Shannon Wright, The O'meara Family, Julie Westberg, Bill Mckim, Julie Westberg, Megan Krainski, Karen Doshier, Michaela O'brien , Denise Sawicki, Shannon Savoia, Kenny, Tim Johansen, Mike O'brien, Roger Vollmer, Karen Ramirez, Monette Gardner, Larry , Gay Lynn Brown, Robert Hildebrandt, Brenda Mcguire, Pollyanna Buff, Andrew Swiatowicz , Kevin Carter, Diane Morris, Jonathan Thomas, Paul Knott, Kelly Cummings, Chris Masse, Dave Kanigowski, Sandy Kanigowski, Phyllis Masse, Keitjh, Chloe Simmons, Beth Mcmeekin, Patti Gumiela, Craig, Deme Grabert, Ed Hogan, Paul Moore, John Nottell, Ladonna Tisdale, Weaselmouse, Andrea Kruszewski, Rob Blundin, Krysten Toth, Lindsey S., Chris Kelly, Scott Precise, Brian Miller, The Malesky Family, Sharon Pierce, Pam Vanaustin, Kara Cummings, Vera Williams, Jennifer Smith, Hobbes And Snorky, Anjanette Tournillon, Chris, Gretchen, And Katie Barnes, Kris Nixon, Les Stewart, Tom Koval, Karen Schlumpf, Linda Scrivano, Doug Reichl, Jennifer Rupert, Julie And Kody Rider, Hoekzema Family, Chris &Maranda Nichols, Diane Furtado, Mare Aehlich, Jeff Blank, Bob Patterson, Kathy Morris, Brian Grabowski, Jason Skow, Dallas Hamilton, Bonnie Tulenko, John Dupre, Jeff Beauchamp, Alison Rosenberger, Bob Henriksen, Karrie Duffey, Jeremy Reichelt, Marguerite Garofalo, Zachary Ott, Melody O'donnell, Chloe Mayhew, Shelly Borella, Heather Hynes, Janet Thorn, Patrick Broaddus, Josh Carney, Terry Fleming, Tricia Noble, Hillary Waldroop, Kameo Crea, Jullie Pudem, Hannah M, Stephanie Linares, Karen Smith, Carri Marotto, Hunter Armstrong, Tom Armstrong, Jill Hauth, Lana Hauth, Victoria Finnegan, Stephanie Dollar, Jennifer Suhr, Derek Carty, Heidi Goodhue, Vanessa Gordon, Gabriella, Terry And Matthieu, Morgan M., Morag Lemon, Tom Buck, Carla Leger, Cathy Mager, Cheri Palmisano, Wendy Hupp, Jolynn Digiallonardo, John Pasqueralli, Palmer Family , Jeff Powell, Kirsten L Rodriguez, Patti Deluca, Emily Hudson, Elaine Kleinhenz, Chuck Sands, Jennifer Bogdan, Paul Ignudo Jr, Monica Owens, Caroline Burmester, Cindy Pennau, Jon Solomonson, Noreen Rachuba, Jim Kovacs, Mark Russell, Paul Dickson, Joanne Labbe, Chris Hills, Marie Seilus, Patti Mccaffrey, Kerry Mccaffrey, Jane Johnson, Agnes Ciotti , Danielle Ciotti Harsley, and Vicki Edwards. Each of you are entered in this month's winners' drawing.
_____________________________________________________ _____________________
Challenge #263: Where in the world is this?
We're in a different park!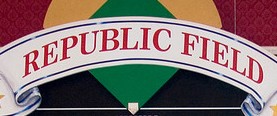 Do you know? Do you have a guess? Please send in your answer, before the end of the day on Thursday, January 17th, by clicking on the blue box below. Please do not post answers using the Feedback Form link at the bottom of this post.
See you next week, Players!


_______________________________________________________________________
Everyone who sends in a correct answer to a Where in the World Challenge this month will be entered in a drawing at the end of the month for some special AllEars® goodies!