Disney's Polynesian has always been one of my favorite resorts with its South Seas charm, prime location close to the Magic Kingdom, and its great food. In fact, there are several appealing dining options and even if you are not staying at the Polynesian it is still definitely worth a visit just to try one of these restaurants. The Kona Café is widely known for its Tonga Toast and Macadamia Pineapple Pancakes for breakfast, but also offers lunch and dinner menus featuring South Seas and Hawaiian-inspired cuisine. Captain Cook's may only be a counter service restaurant but it also features some unique offerings that you cannot find at other resort quick-service locations. Not to be overlooked, the Spirit of Aloha Polynesian Luau offers an all-you-care-to-eat feast paired with traditional music and entertainment.
Lastly, there is the restaurant that may receive more hype than any other in Disney World: Ohana.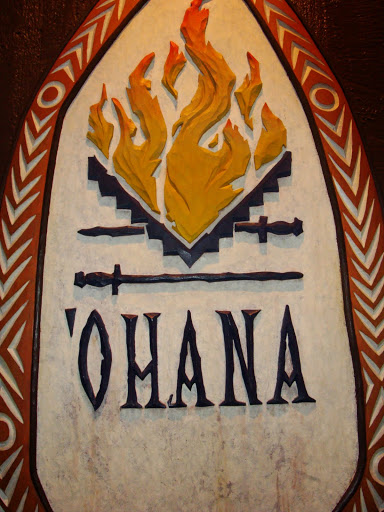 Among friends and family, people continue to tell me how Ohana is one of their favorite restaurants in all of Disney World and that they go there every time they visit. It comes as no surprise that resevrations for Ohana are some of the hardest to come by amongst all Disney dining locations. For these reasons, the bar is always set very high when dining at Ohana and yet the restaurant continues to live up to these expectations time and time again. Ohana is definitely a restaurant not to be missed and it offers a dining experience unlike any other.
Overview:
In Hawaiian the word "ohana" means family and that is a central theme for what the dining experience here is all about. Both breakfast and dinner (the restaurant is not open for lunch) are served family-style and are all-you-care-to-eat. While this restaurant will certainly appeal to everyone, it is especially good for those families with children. Breakfast features the characters Lilo, Stitch, Mickey, and Pluto who visit each table for pictures and autographs. Although dinner is character-free, it does feature live entertainment and other activities for kids to participate in. Disney is a company which prides itself in providing something for every member of the family, whether boy or girl, old or young. Walt Disney himself once said, "The important thing is family. If you can keep the family together, that's what we hope to do." Ohana is a restaurant which truly lives up to this Disney legacy, offering an experience that helps to bring families together to have a good time and enjoy a good meal.
Atmosphere:
In keeping with the family-oriented nature of the restaurant, Ohana has a laid-back and casual atmosphere. It is no surprise that the restaurant has a South Seas flare, but in a way that is more subtle and subdued in its island décor rather than over-the-top. While it does feature carved tiki statues and thatched roofs, the rest of the restaurant's décor is fairly simple.
That being said, Ohana has a certain exotic quality and an authenticity that makes you feel as though you are dining in some faraway Polynesian locale. One of the most notable features of the restaurant is the open fire pit where you are able to watch the chefs grilling the various meat skewers that will be served for your main course.
The fire, smoke, and amazing aroma coming from the grill provide some added flare to the dining experience.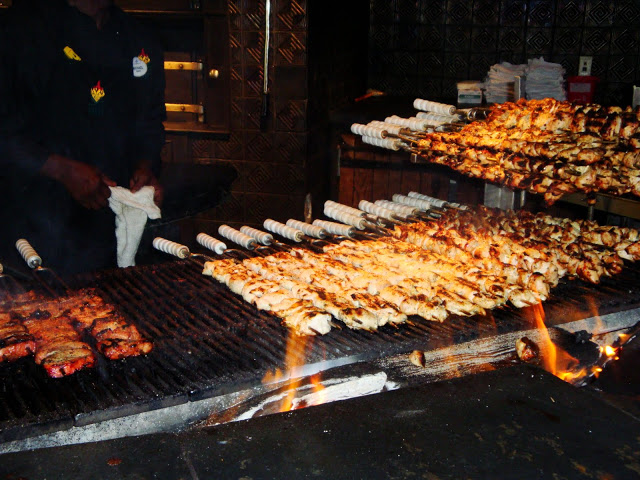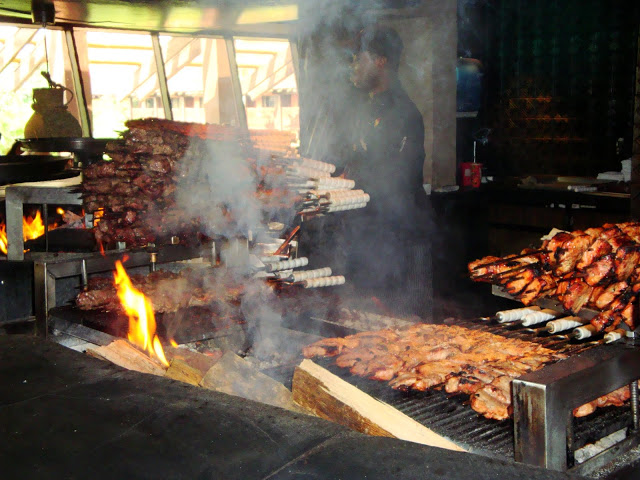 Overall the restaurant has a very open feel, thanks in large part to the fact that it is basically just one large dining room. Also adding to this sense of openness are the large windows along the perimeter of the restaurant that afford spectacular views of the resort's pool area and beyond to the Seven Seas Lagoon and even a distant glimpse of the Magic Kingdom.
The windows let in plenty of light, but as you move to tables further away from them the restaurant takes on a slightly darker feel (as is also the case once the sun goes down). Whenever I go I always try to request a table by the window because the view is definitely one of the main allures of the restaurant's atmosphere.
Another important component of Ohana's authentic South Seas feel is its live entertainment. Throughout the night an entertainer wanders through the restaurant singing and playing songs on his/her ukulele, teaching guests different Hawaiian words and phrases, and playing games with the children such as limbo and coconut races. I felt that this entertainment really gave the restaurant a more festive atmosphere and allowed for the kids to have some fun during the meal. It should be noted, however, that because of all the singing and activities going on during the course of the meal the restaurant can get a little noisy, especially when it is very crowded. If you are looking for a quiet and romantic night out this might not be the best restaurant for you, but if you are looking to have a good time with your entire family then Ohana is a great option.
The Menu:
Before talking about the food I would first like to sound this warning: whenever dining at Ohana the most important thing you should remember is to PACE YOURSELF. I can best describe dinner at Ohana in three ways: it features a prix fixe menu including a salad, appetizers, entrée, and dessert; the food is served family style and is all-you-care-to-eat; and you will most definitely get a lot of food.
The meal starts with Welcome Bread. It was served warm and soft and was very light in texture. The bread had a slight flavor of coconut and pineapple, but this was not too strong. There was enough flavor, however, that you do not even need to put any butter on the bread. As a bread lover I think I could have eaten a whole loaf myself, but it is important to know that there is still a lot more food to come.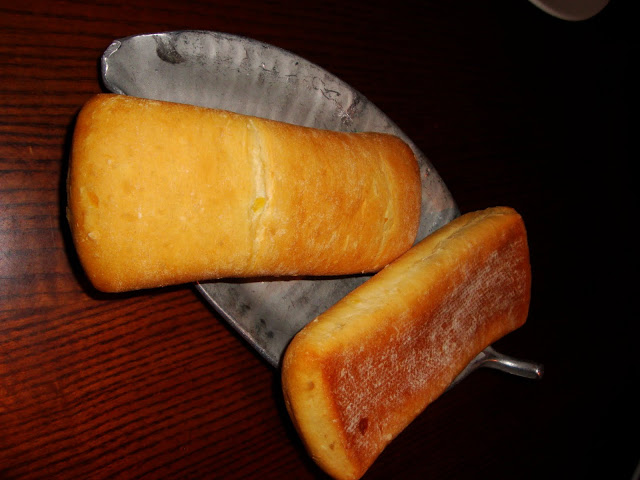 Along with the Welcome Bread was a Mixed Greens Salad with Honey-Lime Dressing. The salad was very fresh and the dressing was light and very flavorful. The flavors of the honey and lime complimented each other extremely well in a way that was neither too sweet nor too sour. It was a very refreshing way to start the meal.
Next came the appetizer that included Pork Dumplings with a sweet-and-sour sauce as well as Honey-Coriander Chicken Wings. Of the two, the dumplings were definitely my favorite. They were served slightly crispy on the edges but still soft on the inside and the pork filling was seasoned just enough to give the dumplings an added little kick. The sweet-and-sour sauce that topped the dumplings provided even extra flavor and complimented them very well.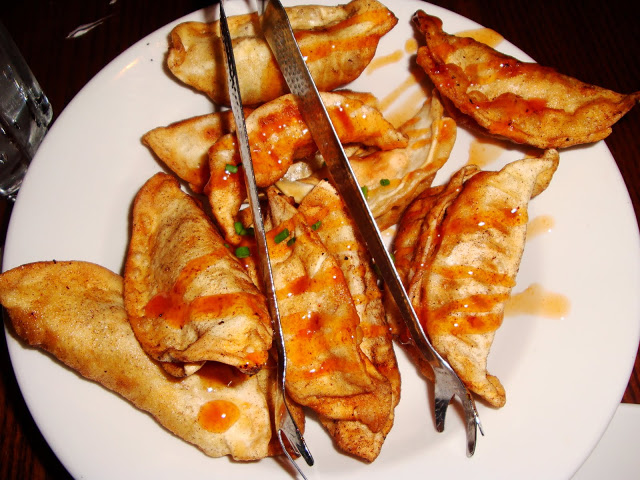 The chicken wings were also very good, but I think they would have been even better if they had been served crispy, as I found them to be a little too soft in texture for my personal taste. The sauce that topped the wings was mild and had a slightly sweet flavor, which provided a good contrast to the slight spiciness of the Pork Dumplings. The wings also came topped with sesame seeds that a little extra texture without really impacting the flavor of the wings.
Then came the entrée. By this point the amount of food was just staggering and it seemed as though it just kept coming with no end in sight. First came Noodles that were tossed in a teriyaki sauce along with Stir-Fried Vegetables. The noodles were actually one of my favorite parts of the meal and had a surprisingly sweet flavor. The light taste and texture of the noodles served as a perfect accompaniment to the rest of the entrée.
The vegetables likewise went along very well with the rest of the main course, but were served a little too undercooked and crisp for my liking.
The main feature of the entrée is the meat skewers which have been cooked over the open fire. They included Chicken, Pork Loin, and Sirloin Steak. Along with these skewers also came Grilled Peel-and-Eat Shrimp. Each of the skewered items was grilled to perfection and slightly charred just enough to add some extra flavor to the meat. The chicken, pork, and steak were also very tender and not fatty at all. Each of these grilled items was very flavorful and well-seasoned. They had enough flavor on their own that I did not even use any of the dipping sauces that were provided. While the grilled meats each had a little kick, it was the shrimp that were by far the spiciest of all. Even though the shrimp were really good and had a lot of flavor, I would have enjoyed them even more if they did not come served with the shells on them.
Overall, what I most enjoyed about the meal was that it offered a wide variety of different flavors that both complimented and contrasted each other very well. There was a good balance of both sweet and spicy flavors along with some items that were light in flavor and texture while others were stronger and heavier in taste.
As if that was not enough food, then came the dessert which is considered one of Ohana's signature items: Bread Pudding a la mode with a Banana-Caramel Sauce. This is why it is very important to save some room while you are eating your appetizers and main course because this dessert is one not to be missed. The bread pudding is extremely sweet and rich in flavor and is also very filling (just in case you are not full enough already). There was just enough banana flavor to notice that it was there, but not so much that it overpowered everything else; the sauce definitely tasted more strongly of caramel than banana. The vanilla ice cream served on top was very refreshing and complimented the bread pudding and banana-caramel sauce very well.
Even though the bread pudding was very good, I could not help but compare it to the bread pudding at Raglan Road. Having partaken of both bread puddings I would give the slight edge to Raglan Road in large part due to the fact that it is made fresh when you order it and is served piping hot. At Ohana, I could tell that they must have prepared a large batch of bread pudding in advance in order to be able to serve it quickly. At the same time, however, Ohana presents a different spin on bread pudding with its banana-caramel sauce that makes it unique from that of Raglan Road.
Service:
My only complaint about Ohana is that the meal can sometimes be too fast-paced. There have been times where everything just felt very rushed and you hardly had time to finish one course before the next course was brought out. Adding to this is the fact that the servers kept bringing out the additional courses of food without clearing the previous courses, which meant that the table quickly became cluttered with a wide assortment of dishes. The fast pace of the meal is most likely due to the vast popularity of the restaurant. The servers need to bring out the food quickly so they can get the tables turned over quickly in order to get more parties seated. Even though the meal is extremely good, it is nice to have some time to relax between courses rather than getting bombarded with one thing right after another.
That being said, I have dined there other times where this was not the case, but I often find myself having to tell the servers that we are in no rush and just want to relax and enjoy our meal. I have had servers who have been very good about not bringing out the next course until we have said we were ready. Also, I found the servers to be very attentive and are continually bringing over more food. As soon as a bowl of noodles or vegetables becomes empty, they are right there with another bowl. The servers actually give you so much food when they initially bring out the entrees that there is often little need for second helpings.
Dining on a Budget:
Ohana is not cheap. However, I still believe that you get good value for your money based on the quality of food and the amount of food that you get. If you are not necessarily a big eater or if family-style/buffet meals do not really appeal to you, then you might get better value for your money somewhere else. Ohana's price fluctuates depending on whether it is a peak or off-peak time of year. During peak season the price for dinner is $42.59 compared with $36.20 during the less busy times of year. Even at these prices, dinner at Ohana is comparable in price to many of the dinner buffets found on property, such as Chef Mickey's or Crystal Palace, but it does offer a dining experience which is far more unique and exciting than those found in these other restaurants. Therefore, while it may not be the best choice if you are looking to save some money, it does offer you a good bang-for-your-buck.
Ohana is on the Disney Dining Plan and is worth one table service credit for both breakfast and dinner, making it a very good value if you are on the dining plan. The restaurant also participates in Tables in Wonderland, offering members a 20% discount. However, there are no discounts for Disney Vacation Club members or Annual Passholders.
The Overall Experience:
Ohana has become one of my favorite restaurants in all of Disney World. Once you get past the fast-paced nature of the meal, everything else about the dining experience is top-notch. An "experience" is truly an apt word to describe Ohana because it is more than just a restaurant, but rather a little taste of the South Seas in the middle of Florida. The atmosphere, complete with live music and entertainment, and vast amounts of food combine to create a level of authenticity and immersion that is what you come to expect when dining at a Disney restaurant and one that is truly unique in all of Disney World. As its name suggests, Ohana is a great restaurant for the entire family where you can go not only for an exceptional meal, but also to have fun.
See past reviews by Guest Blogger Andrew Rossi.
Check out Reader Reviews of Ohana and post your own too!