Did you know that there's a corner in Animal Kingdom's Mombasa Marketplace that houses a small display of South African wines? No, neither did I! But there is.
The other day, I had a few hours before my flight back home, so Deb Wills and I decided to pay a visit to Animal Kingdom. As we entered the park, we noticed an intriguing sign.
Wine tasting? In Animal Kingdom? While I wouldn't bat an eye if you told me this was over at Animal Kingdom Lodge, or even in Epcot, for some reason it never occurred to me that Animal Kingdom could host such an activity.
We wandered over to Mombasa Marketplace, which is located in Africa, directly across from the Tusker House restaurant, and found this attractive little set-up, immediately to our left as we entered.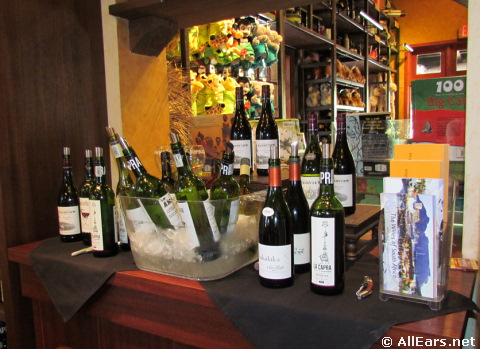 Not being much of a shopper, I can't tell you the last time I was in the Marketplace, so I'm not sure how long the wine nook has been there. But I have to say that finding it was a most pleasant surprise.
Most of the South African wines available are from Fairview, the family-owned wine and cheese business that produces its eponymous Fairview label, as well as the labels Goats Do Roam and La Capra. Sauvignon blanc, viognier, and chardonnay are among the varietals represented, along with several blends (both red and white) and a Goats Do Roam rose. Also on offer are several selections from Spice Route Wines, including a chenin blanc and red blend pinotage. Luckily for us, they also were serving a favorite we discovered at Kidani Village's Sanaa restaurant several months ago, the red blend Chakalaka.
According to Jim Killam, North Florida Sales Manager for Vineyard Brands, the shop features many of the wines you'll find offered over at the Animal Kingdom Lodge's restaurants in a spot that sees a little more traffic. Killam says the tasting event is something they host in that location only a few times a year, as it's a bit expensive to fly the winemakers up from South Africa.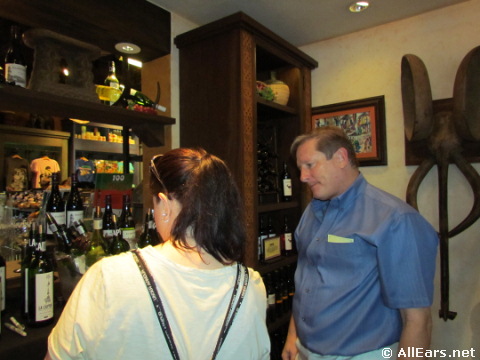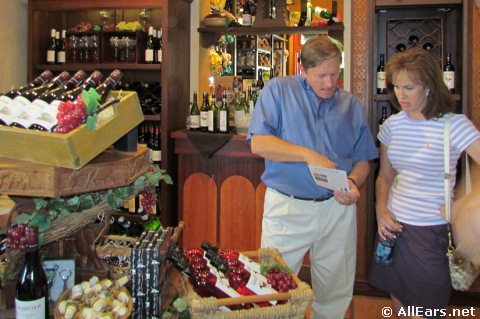 On this particular Sunday, however, Fairview's winemaker Anthony de Jager (pictured below) was on hand to sign bottles and oversee the tasting. The two or three-oz. samples being poured ranged from $2.75 to $5.25 (for the full-bodied Chakalaka). Based on Killam's recommendation, Deb tried the Spice Route pinotage, and found it to have a fruity aroma, somewhat tannic but not overly so. I had the Chakalaka, which didn't disappoint — dark cherry and fruit flavors with an oh-so-slight oakiness, just as I remembered it.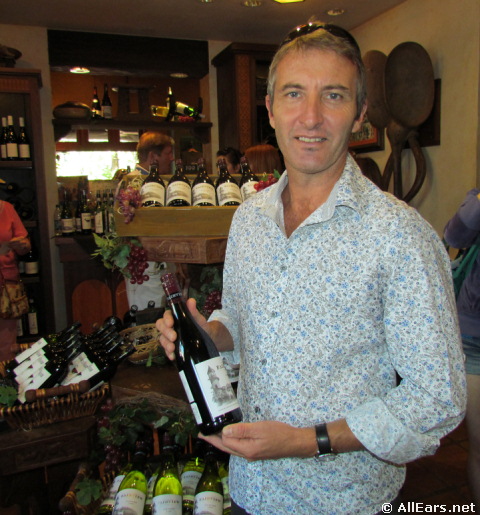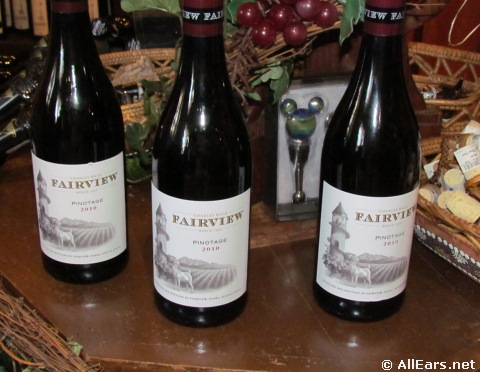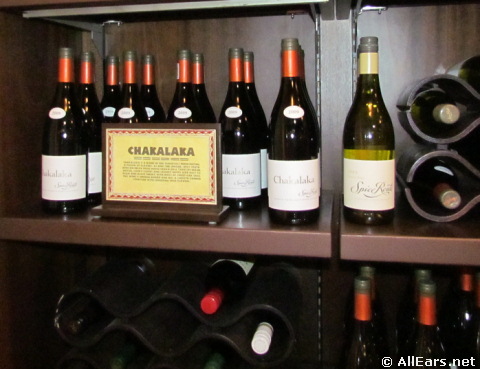 Even though they don't hold these tastings that frequently, the opportunity to try these wines in such a novel setting made for a nice change of pace. And now that I know they are there, I just might be tempted to duck into the Mombasa Marketplace to pick up a bottle every now and then.
UPDATE 3/28/12: Just obtained the pricing for the wines for sale in the shop. The following are the retail prices:
— Goats do Roam Red, White & Rose' $11.95
— La Capra Sauvignon Blanc, Chardonnay, Cabernet, Shiraz & Pinotage $14.95
— Fairview Sauvignon Blanc $16.95
— Fairview Pinotage $15.95
— Fairview Viognier $21.95
— Spice Route Chenin Blanc $18.95
— Spice Route Pinotage $21.95
— Spice Route 'Chakalaka' $25.95