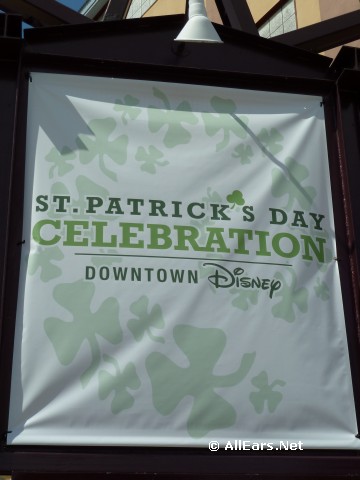 Well, it's nearly St. Patrick's Day, and even though I'm not Irish (a little bit of Welsh and English,
yes, but Irish, no) I have always observed the holiday. I wear green, including my little shamrock earrings, and sometimes even cook up a good corned beef and cabbage dinner.
But, according to the lovely people at Raglan Road Irish Pub, located at Downtown Disney's Pleasure Island, I've been doing it wrong — and they are going to be showing me, and anyone else who will listen, how to do it RIGHT this year.
This weekend, Raglan Road is celebrating St. Patrick's Day in a big way.The invitingly cozy pub, accented with warm woods, leaded glass windows and Irish memorabilia, including photos of Irish icons like sir Bob Geldof, will be buzzing with live bands playing authentic Irish music, Irish dancing, and genuine Irish cuisine.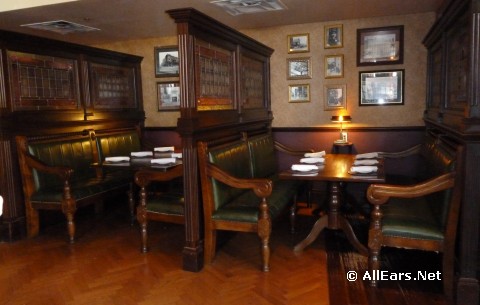 To launch the weekend, Raglan Road's Master Chef Kevin Dundon hosted a four-course lunch and culinary demonstration that featured cuisine representative of the Emerald Isle, including a traditional loin of bacon with cabbage. Having garnered many accolades over the course of his career for his high standards and inventive take on Irish fare, Dundon, who has cooked for the Queen of England and many other celebrities, is a bit of a personality himself. Handsome and charming, with the gentlest of Irish brogues, Chef Dundon worked his culinary magic while entertaining a full restaurant with little anecdotes about St. Patrick's Day celebrations and the four dishes themselves.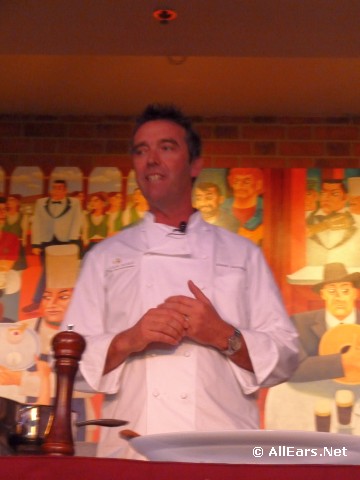 I was lucky enough to be invited to the luncheon by the restaurant, and had a front row seat to all the preparations.
Chef Dundon began with an appetizer of hickory-smoked Irish salmon, served on a bed of buttered leeks in a mead cream reduction. Not being a fan of things "smoked", I was dubious about this course, until I realized that Chef Dundon's idea of "a little bit of butter" — that is, a lot — matches my own. The smokiness of the salmon was so subtle that the freshness of the fish shined through. It was enhanced by the buttery goodness of the mead-sweetened sauce and the delicate flavor the leeks was the perfect compliment to the dish. I nearly licked the plate!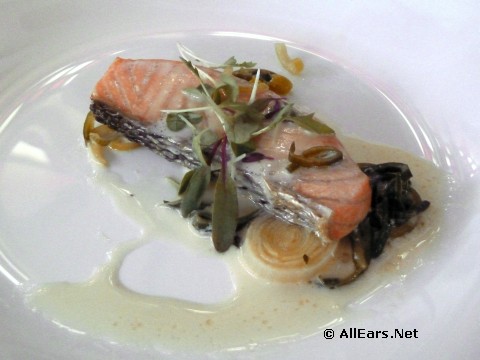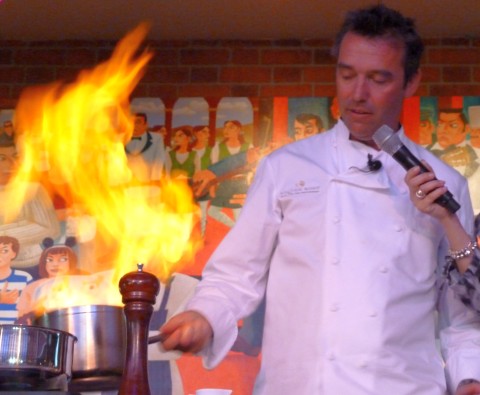 Our second course was an "espresso" of tomato and gin soup, so called due to the intensity of the tomato (or "to-MAH-to" if you're Chef Dundon) flavor. After again adding "a little bit of butter," Chef Dundon explained that he doesn't use flour in any of his soups or sauces — he relies on reduction to thicken and concentrate the flavors. No one needed to have worried that this soup would lack taste, however. Served over a dollop of creme fraiche (no, this lunch wasn't for weight watchers!), the flavor of tomato fairly burst in your mouth with each sip. Once again, societal niceties kept me from licking the bowl. That doesn't mean I didn't want to!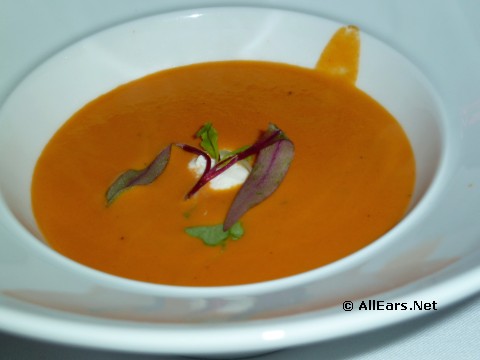 These first two courses were paired with a chardonnay from Acacia. The creaminess of the wine perfectly suited the buttery courses, and it had just the right touch of acidity.
For the main course, Chef Dundon prepared a loin of traditional Irish bacon with Irish Mist glaze on a bed of colcannon potato with a parsley cream sauce and raisin cider jus. The term "bacon" in this case, though, is a little misleading — it's more an uncured ham, carefully scored so that the flavor of the Irish Mist (a whiskey liqueur) can soak in. So if the Irish actually eat ham on St. Paddy's Day, why do we here in the U.S. celebrate with corned beef? It's what was available to the Irish immigrants who arrived in this country decades ago, according Chef Dundon. He, though, is an advocate of reverting to the "proper" dish, and attempted to sway all of us to his way of thinking with the succulent version of Irish bacon that he served up. I think he succeeded.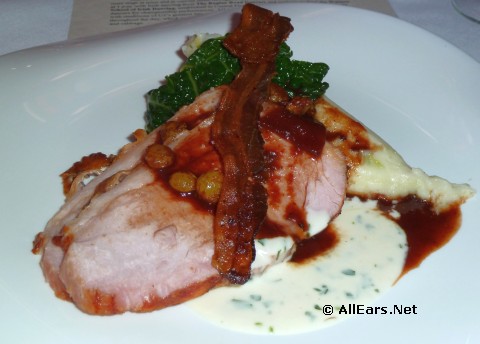 We were served a pinot noir from Acacia to accompany this course. Amy, the wine represenative from Coastal Wine and Spirits, called the full-bodied pinot the perfect pairing for the main course. Not being much of a pinot fan, I wasn't expecting much, but to my surprise, the wine complimented the course beautifully.
We concluded the meal with a jam jar filled with rhubarb jelly topped with a light, creamy panna cotta. Chef Dundon accented the dessert with a buttery, shamrock shaped cookie, to provide some crunch. This was the only course I didn't finish, and not because I didn't enjoy it, but because I was too stuffed already with so much Irish goodness I had no room.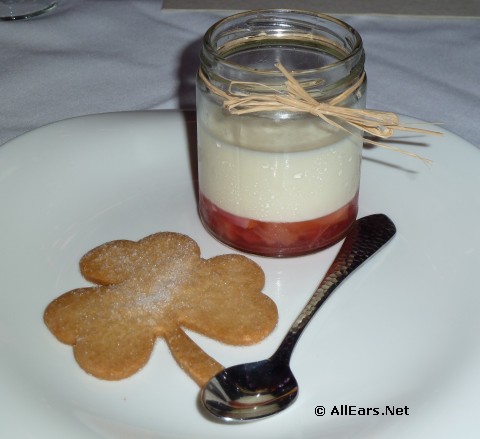 If I had had any preconceived notions that Irish cuisine was going to be boring and bland meat and potatoes, or the everyday corned beef and cabbage, they were clearly banished by this point. This year, I will be celebrating St. Patrick's Day in an entirely different (and hopefully more authentic!) way.
You can't make it to Raglan Road this weekend for St. Patrick's Day? Don't despair! The luck of the Irish will still be with you if head over on June 20, the pub's "Midsummer Night Feast." They'll be celebrating with an equally delicious-sounding menu: picnic basket of assorted pates and jams; champagne splashed raspberry sorbet; stuffed suckling pig with vegetables and a Pimm's knickerbocker glory for dessert! (Pimm's is a fruity British liqueur — notice how most of Chef Dundon's recipes include some sort of alcohol? Not that there's anything wrong with that.)
And for another taste of Ireland, it sounds like Chef Dundon has been cooking up a special
Raglan Road signature dinner menu for this fall's Food and Wine Festival. Called "an Ode to the Classics," it starts with Coquille St. Jacques and end with Cherries Jubilee. (Subject to change, of course — October is still six months away.)
For more details about the Midsummer Night Feast, or any of the events happening at Raglan Road this weekend, call the restaurant at 407-938-0300 or visit raglanroad.com. You can also make reservations for Raglan Road through Disney Dining at 407-WDW-DINE.
Read more about the St. Patrick's Day happenings at Raglan Road and Pleasure Island HERE.