Cast Member, Cast Member, I want your job. Map me a map. Sketch me a sketch. Yes, we're illuminating those ever-so-helpful folks who sit and/or stand all day long in the heat or air conditioning. Whether you're on the hunt to trade pins or the nearest water closet (them there's fancy words for bathroom), Cast Members are in high demand.
I'll be honest with you (plural). When I'm…anywhere, and someone yells out, "Hey take my picture!" I ignore the person. However, in this instance it was Jose who beckoned me with his big grin. My evil mind thought, muah ha ha ha ha ha. I can use this on AllEars.Net and so, here he is, the official Guy Who Stands Near the Bridge Leading to Dinoland. Look for him on your next visit and tell him he's all over the internet.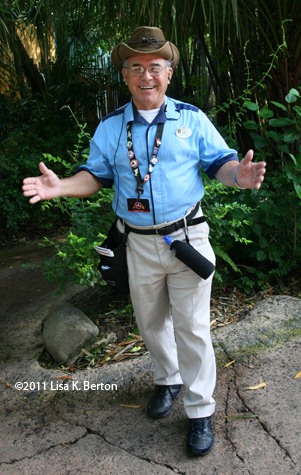 Venture back to the Picture This! blogs on Thursday and Saturday. Scott and Barrie get hollered at as well.
Find me on Facebook.