Today was the final day of "December to Remember" events – it has gone so fast!
It was another early morning for us – we got up to attend the Team AllEars® Run/Walk/Wog Yer Buns Off run, which started at 7:00. Team Captains Michelle Scribner MacLean and Mike Scopa and several other members of Team AllEars were there, as well as several other AllEars readers who came out to run with us! Most of us went around Crescent Lake and out to the entrance to the Studios and back – there was one overachiever (cough, Lee, cough) who did it twice.
Ray Sharpton, who has been so supportive on the Facebook page, and with his attendance at most, if not all, of the events, was our official starter.
Afterwards we enjoyed some well-earned pastries from the Boardwalk Bakery. 🙂
This afternoon was the event Deb Koma and I had planned together – the Around the World CHOCOLATE Challenge. We were very fortunate that the rain showers held off until AFTER our event – whew!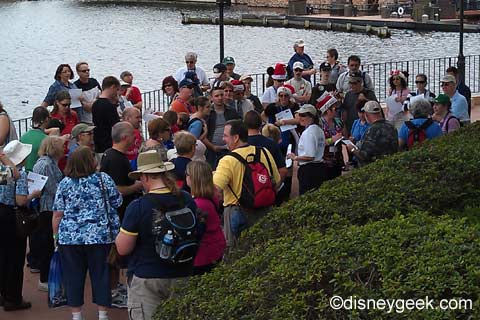 For those of you who don't know, the idea for this event grew out of something Deb and I and two other chocoholics did back in 2000, where we attempted (in one short afternoon) to eat something chocolate at every pavilion in World Showcase. You can read the article Deb wrote about it – Chocolate Around the World.
We had a special gift for everyone who was there – chocolate, of course, but the kind that melts in your mouth and not in your hand!
Thank you to the ~90 of you who attended – we hope you had a good time. Even if it apparently wasn't quite as much of a "challenge" as we had anticipated. You're all just too smart for us!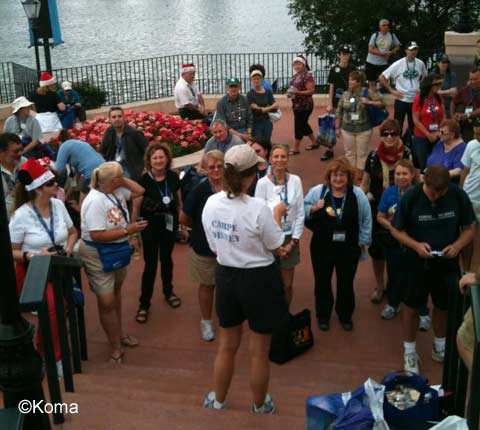 Tonight was the final December to Remember Grand Finale event. There was an Illuminations Dessert Party. Originally we were supposed to be at area in front of Italy, but it was supposed to rain, so we were moved inside to the upper floor of the American Adventure building! That was actually really a nice place to be! From the windows we could see the Candlelight Processional.
There was a very nice dessert buffet provided by our sponsors, Orlando Attractions Magazine and MEI Travel / Mouse Fan Travel.
The promised rain arrived, and it had been raining just before everyone entered, but fortunately it had stopped by the time we went out to see Illuminations at Italy. The holiday finale of Illuminations is one of my very favorite things, and I really enjoyed seeing it up close.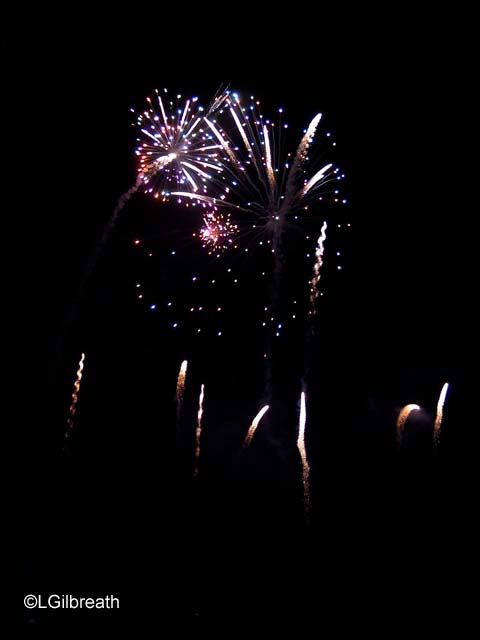 Afterwards it was time for another surprise – we all walked towards the front of the park where we rode Soarin'! Just our group – no other guests.
And then it was time to say goodbye to all our company….It has truly been a December to Remember, with so many wonderful moments. It just went way too fast!