We had the opportunity to dine at several restaurants during our trip, and try some new restaurants and new dishes.
Of course we started with an established favorite, breakfast at Pizzafari at Animal Kingdom on Thursday morning. I had my favorite breakfast bargain – the oatmeal with apples, brown sugar, and raisins, for just $2.79. They weren't quite as generous with the apples as they were the first time I had this, but it was still good and pretty filling.
Lee had the Spinach and Goat Cheese Frittata, for $6.99. It came with breakfast potatoes, but was not quite as much food as he wanted, so he went back and got a side order of bacon. (There's a lot more food on the Bounty Platter – eggs, potatoes, bacon, sausage, french toast, and biscuit, and it's only $8.29 for all of that.)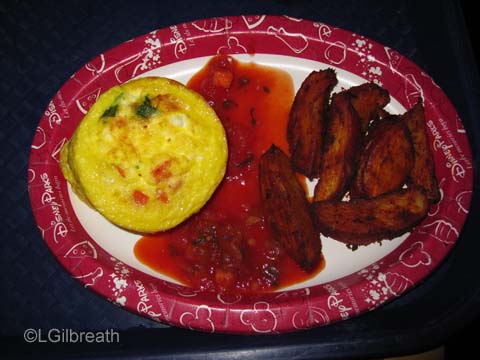 We had lunch that day at Earl of Sandwich in Downtown Disney – that's another bargain (each sandwich is only $5.99), but the lines are so long…I didn't take any photos, though. I had the All-American, which is turkey and cheddar with cranberry sauce, and Lee had The Original, with roast beef and cheddar. I also had a bowl of the broccoli cheese soup ($2.99), which was really good. I remembered to bring my AAA card, so we got 15% off with that. I wish we had an Earl of Sandwich in San Diego – though it would be really crowded here, too.
On Thursday night we ate at The Wave at the Contemporary, with DebK. We didn't have a reservation, but were seated within 10 minutes after our 6:45 arrival.
Deb and I both had the soup of the day, which was a yellow split pea soup with bacon. It was ok – it had an odd spice in it that we couldn't identify, but that neither of us cared for.
Lee had the Fall Harvest Salad with apples, candied walnuts, Midnight Moon cheese, and an ice wine vinaigrette. This looked really good and he liked it, but we thought it was a very small serving for $6.99.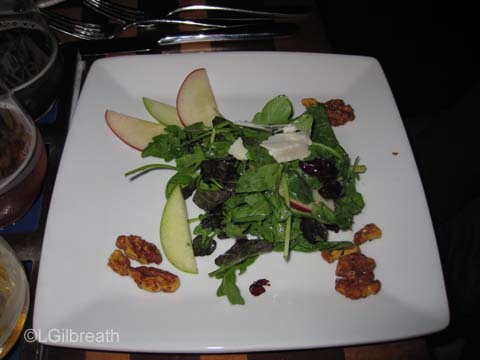 My entree was the Oven-roasted Chicken – with potato waffles and black-eyed peas and rice for $18.99. The chicken was very good. I wasn't sure what to expect from potato waffles, but the taste and texture was pretty much like regular waffles.
Deb had the "Lacquered" Pork Tenderloin. It was served on a bed of smoked and pulled pork with boniato bread pudding and corn succotash for $22.99.
Lee went back and forth between the Flat Iron Steak and the Grilled Beef Tenderloin, but decided on the tenderloin. It was served with planet carrots, mashed potatoes, and a poblano chile ring for $29.99. The chile ring wasn't what any of us expected from the description – it was more a deep-fried entire chile than a ring.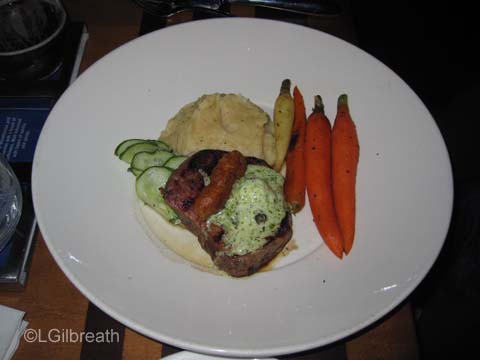 We had good service and it was a very nice relaxed, laid-back dinner.
For lunch on Friday, eight of us from AllEars had lunch (celebrating a birthday!) at the Brown Derby. We had a wonderful time with a good server and one of the managers who made it a special celebration for our birthday girl. Most people had the Cobb Salad for lunch. I actually had two appetizers – first was the fried prawn, served on a bed of polenta and wilted greens. It was very good.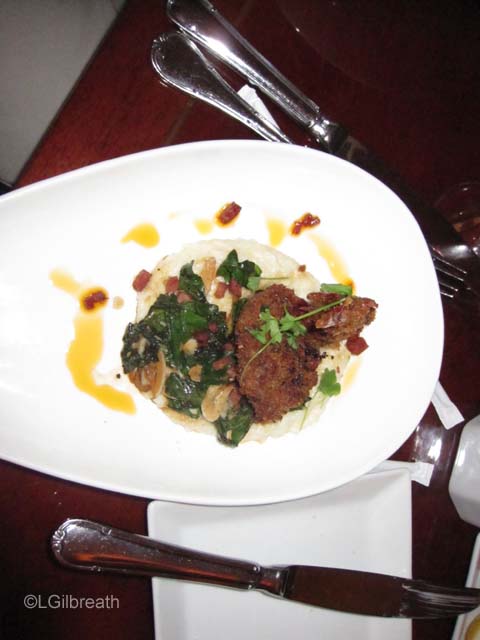 I also had the Bibb Lettuce Salad, which was a very healthy serving, unlike the one Lee had the night before. It had cherry tomatoes and parmesan cheese with some cracked peppercorns – I enjoyed it, but it's not for someone who doesn't like pepper.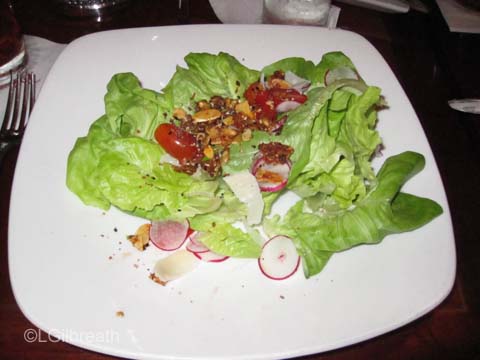 Lee and a couple of others had the Udon Noodle Bowl with with Wok-fried Coconut Tofu, Soy Beans, Sugar Snap Peas, Bok Choy, and Shiitake Mushrooms in a Red Curry Broth. They said it was very good, though the noodles were doing a good job of eluding the chopsticks. 🙂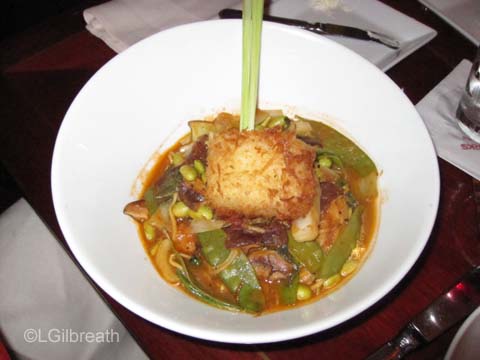 On Saturday evening Lee and I had dinner at Sanaa at Kidani Village. We'd had lunch there before, but not dinner. We arrived early enough that it was still daylight outside and we could see a few animals out on the savanna, but soon it got dark. I don't know – maybe if we'd had a window table we still could have seen something, but from where we were we could no longer see outside.
We both tried one of the Wine Flights. I had the East London flight, which included one white blend and two red blends. The white blend was really good – it had viognier, riesling, and sauvignon blanc. Very refreshing and a little sweet. The middle red (Bordeaux blend) was my least favorite – it wasn't bad, I just didn't like it as much. I had actually expected that I wouldn't care for the third wine, the Pepper Pot, but it was very good.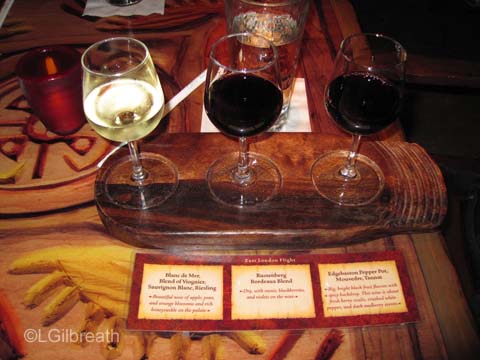 Lee's flight was three red wines, and he enjoyed all of those as well.
The Sanaa menu is always challenging for us because there's so many things we want to try! We started with the bread service. There are four choices of bread and you're supposed to choose three – I don't know why they don't just give you some of ALL of them. We really enjoyed the fresh naan and the papadum, which is kind of like a crisp tortilla cracker, only it's not made with wheat or corn. It had an unusual flavor but it was very good. We also chose three accompaniments – red chile sambal, mango chutney, and red pepper hummus. It would be very easy to fill up just on the bread!
We ordered the appetizer sampler, which came with potato and pea samosas, lamb kefta, and roasted cauliflower. I really like samosas, and these were good, and not too spicy. The lamb kefta (spicy lamb meatball) was a little bit hot to my taste. The roasted cauliflower was good – Lee let me have almost all of that. 🙂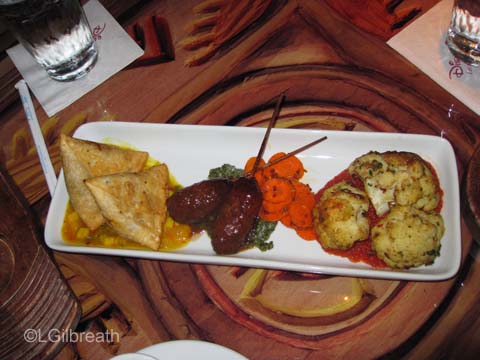 Ordering entrees was difficult! I decided to do something from the Tandoor oven part of the menu, and had the Tandoori Lamb with five grain pilaf. It was ok – it was pieces of lamb and some of them were a little bit tough.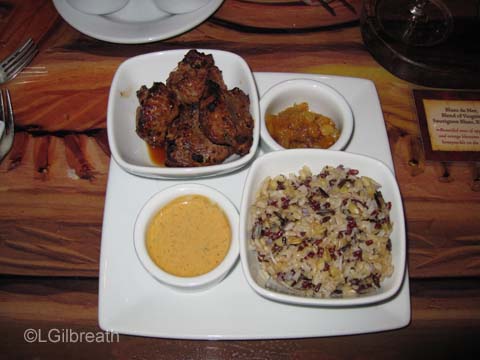 Lee ordered from the "Slow Cooked in Gravy" section, where he was allowed to choose two – he had the Spicy Durban Chicken and the Coconut Curry Lamb, with Basmati rice. They were both excellent – both fork tender and nicely seasoned.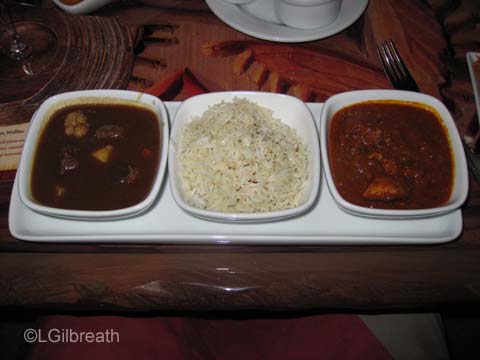 It was really a good dinner, but we passed on dessert – nothing sufficiently indulgently chocolatey for my taste.
Sunday afternoon we returned to the new Katsura Grill in the Japan pavilion to try a couple of the new menu items.
We were very intrigued by the Okonomiyaki: "savory grilled Japanese pancake with vegetable topped with a tangy sauce". I really wasn't sure what to expect. But it was good – it was somewhat remiscent of a potato pancake (though it wasn't potatoes) topped with a layer of cabbage and then the sauce. We both thought the sauce was a little bit overwhelming, and would have preferred less of it. (But you can scrape it off.)
We also tried the Curry Chicken Cutlet, which was pieces of breaded fried chicken (Chicken Katsu for those of you who have traveled to Hawaii) topped with curry sauce served over steamed rice. The chicken was very moist and flavorful and the dish was really good and very filling. It was not a spicy curry at all – it had some veggies in it and was very mild.
Our final meal was breakfast at Kouzzina with our friends Ilene and Paul on Monday. We had a terrific server (also named Laura) and it was a very nice meal. They introduced some new items on the breakfast menu not too long ago. Paul had one of the new items – the French Toast Baklava. This is made with grilled fig and anise bread with honey, walnuts, and cinnamon, and it had cinnamon apples on top. He said it was very good but very rich. It was served with choice of bacon or chicken sausage.
Lee had one of the other new dishes, the Breakfast Skillet, with eggs, Pequillo peppers, Nueske's bacon, onions, and Greek cheese on Sweet potato hash and topped with arugula. He commented on having salad for breakfast, but I think he ate all of it! 🙂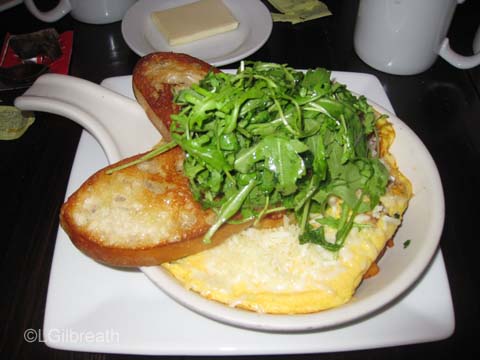 Ilene and I were more conventional, and had the American Breakfast with two eggs (scrambled), potatoes, and choice of bacon or sausage. It was good, but I suppose there was nothing remarkable about it. 🙂
We bought a new Tables in Wonderland card at the beginning of this trip, and as you can see, we got some use out of it! It hasn't paid for itself yet, though. 🙂 (For those not familiar with it, it costs $75, but gives you 20% off at most table service restaurants at WDW.)